Hey! This site is reader-supported and we earn commissions if you purchase products from retailers after clicking on a link from our site.
With the holiday season fast approaching, Christmas isn't far away. Each year, we're asking the same question? What are the best Christmas gifts to give?
Well, you can worry about the food and décor but leave the hassle of choosing the perfect tennis gift for your loved one for us. With this ultimate tennis gift guide, you'll light up your loved one's face with any budget. 
Now, you might be wondering that how can you possibly gift something to a tennis player given they have everything. Well, here's the fun fact, they don't. There are many gifts in different price ranges that are good enough to light up their Christmas and bring a smile on their faces. 
For this blog, to make the process of picking up even simpler, we've divided the gifts into four pricing categories, so you can quickly browse through the item that best fits your budget. Let's get started!
Price Guide
Budget
Options
$25-35
Travel-size massage ball
Hats featuring tennis stars' brands
Unique vibration dampeners
Epirus leather grip covers
$50-70
Water bottles 
warm-up gear
A new (classic) polo
$100-135
A modern racquet bag from the Everyday Collection
Wearable tech for tennis
A subscription box for tennis fanatics
Functional pieces of tennis history
$135+
Stylish tennis bags that work both on and off the court
Hand-crafted beach tennis racquets
Personalized tennis shoes (smith Adidas)
Luxury
Premium watches
Gifts between $25 – $35
This high-density ball is 5" in diameter will help you provide a deep tissue massage and helps reduce muscle fatigue and tightness. It also promotes flexibility and enhances performance. Ideal for targeting your iliotibial band, quads, calf muscles and more. It comes with a product manual which makes it easier for first-timers to begin.
This is a simple yet effective and useful tool that can be used on a daily basis on the go. It is also available in different color variants such as pink and grey which makes it even more versatile. 
If you don't know what a Vibration Dampener is, it is basically a tool whose main purpose is to reduce the vibration of the strings of a racquet and subsequently lessen or cancel the "ping" noise you hear when you hit a ball. Generally, these dampeners are a plain elastic band or even logos of the manufacturing companies that are in line with the frame of your racquet.
Recently, various companies have started innovating and adding a quirk to them. Emojis, national flags, and comic book-inspired, there is nothing more fun than these unique dampeners. 
Everyone likes a nicely put together tennis gear and that is incomplete without a tennis hat. Be it indoors or outdoors, a hat has now become a part of the uniform amongst sports enthusiasts. It is to protect the player from direct sun and absorb any sweating that happens during the game. 
And hence it is always a good idea to have two to three hats in rotation so you can throw them in the laundry when needed.
In case you want to opt for the fancier version, you can also opt for the classic Sun Visor cap that is a crownless version of a hat with a brim circling the head.
If the sight of your dirty grips bothers you then there is a solution. These leather grips keep your racquets looking clean and polished even when your grips underneath are less than pristine. You can also add a pop of color by choosing a color unusual than the commonly used ones like cherry red or royal blue.
They are available in a stretchable fabric to fit all sizes which make it a convenient gifting option as you won't drop a hint about the present in your mind.
Gifts between $50 – $70
None of us can survive without hydration and that is most important while you are dominating the tennis court. Water bottles these days not only serve the basic purpose but can also keep drinks hot for 12 hours and cold for a full 24 hours. They come in all different prints and patterns to keep your loved ones motivated for their game.
The water bottles recommended from swell are not only fashionable and durable but also eco-friendly and reusable. They also come with standard sized cup-holder.
These days a full-sleeved hoodie or sweatshirt is not the ideal choice as it is not the most comfortable in warmer weather and feels cumbersome around the waist. And hence well-known brands like Nike have designed a new tennis attire while keeping in mind the modern needs.
There is no denying the fact that new additions to your fitness wardrobe often act as a motivation on days where you are feeling the blues.
When you think of a classic polo t-shirt, an image of the Lacoste crocodile emblem polo comes to mind. However, as we progress there are so many lesser-known brands that are mastering woven polyester made t-shirts that provide ultimate comfort. You can also go to the classics such as Sergio Tacchini and Fila.
These tees are super versatile and can be paired with shorts, jeans and give you the ideal look when you walk out. It can also be accessorized with hats for a contemporary look
Gifts between $100 – $135
Tennis players love their bag, it's more than just normal baggage. It's a part of their tennis journey. You can choose a modern racquet bag from numerous collections across Amazon. Wilson and Yonex are offering some amazing deals. Between this price range, you should aim for premium bags and within the aforementioned budget, a premium racquet is what you'll get.
These tennis bags often come with 2 main compartments capable enough of handling your equipment and apparel. Along with that, these premium bags have technologically advanced features such as a thermo guard to protect against heat and features such as self-standing. 
Wearables are taking over the technology space in a big way. And this market has entered the tennis world as well. It was only a few years ago that Babolat introduced the Babolat Play, a sensor capable of tracking your movements and helping you calculate the data about your entire game which includes the number of shots, types of shots, spin generated to name a few.
Did you know that such a sensor existed for tennis? Simply a featherweight wristband capable of providing an entire analysis? Too good to be true right? All the stats right from your hand and all your loved one needs to do is to press a button.
3. A subscription box for tennis fanatics
You might have come across these recent subscription boxes trends. Quite possibly you might already be a part of such a subscription plan. For someone who plays tennis, a subscription box for tennis including wristbands, socks, sunscreen, changeover, and a snack would be really refreshing.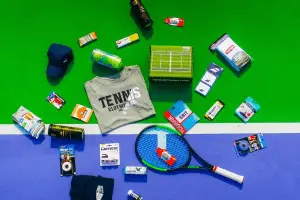 Most of the subscription service providers will allow you to customize your cart based on your preference. However, there will be many where the crate material will be a surprise. Generally, these subscriptions come with a tennis-themed gift.
Talk about innovation and the HearO tennis ball used at Wimbledon is the first thing that comes to our mind. It's alright if you have never heard of it. However, your tennis enthusiastic loved one might have. HearO is a Bluetooth enabled tennis ball speaker with great sound quality. You can compare this gift to give a football to a friend who loves soccer.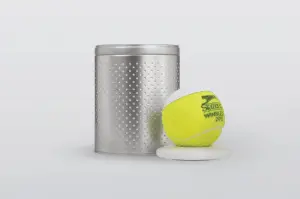 Image Credit: HearO
These trendy and tech-laden gifts though don't last for a long time do make up for a memorable time. Sure, it's not something that a person can hold onto forever. However, the excitement and thrill that these technical gadgets create are capable of keeping your loved one buzzing throughout the holiday period. 
Gifts above $135+
1. Stylish tennis bags that work both on and off the court
Having seen the budget categories it's time we check some premium stuff. Starting off the list with some premium tennis bags which work both on and off the court. You can find brands such as Epirus selling their signature collection which even though being premium are used in day-to-day life. Active lives need a bag that can keep up with the hectic schedule. And more so if you can afford to spend the money, you shouldn't be afraid, because it's money well-spent.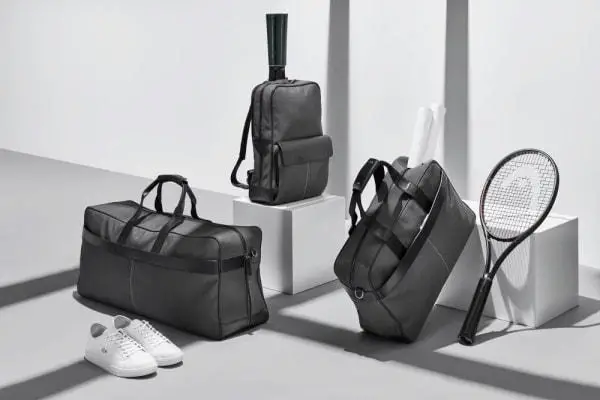 Image Credit: Epirus Bags 
The beauty of these premium bags is that they are 24/7 bags. Thus, you can literally carry them everywhere you want without having to worry about switching between your sports, formal and usual business suitcase. It saves time, energy, effort and money in the long-run. As I said, this will be an investment you'll get praised for, for years to come. These bags have been covered in GQ & Vogue and there are numerous Italian designers who are known to offer some exceptional custom-made quality.
2. Hand-crafted beach tennis racquets
Whether your loved one is an amateur or a professional tennis player. This gift will make it worth it for both of you. Why? Because vacations are incomplete without beach time and beach time is incomplete without some volleys. Now since he enjoys tennis, beach tennis is something, you'll have a great time playing.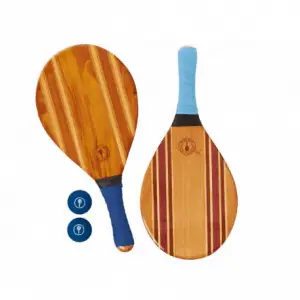 Image Credits: Frescobol Carioca
There are numerous manufacturers who design beach tennis paddles. Most of them are hand-made in Brazil. It can easily be compared to the earlier pickleball paddles made out of wood. The best part about these racquets is that they come in different shapes, colors, sizes, and details.
There's nothing more beautiful and touching than your favorite athletes' jersey and your own custom shoes. Thoughtful gifts often stay with people for years to come. So if you have a person who you want to walk that extra mile for, make sure you opt for the absolute best. And nothing's better than going out and gifting them a personalized pair of shoes. In today's time, customization of tennis shoes literally has no limits.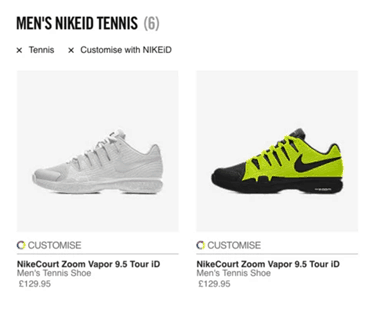 Image Credit: Nike.com
Many premium brands do allow you to order custom made tennis shoes. Nike By You is one such initiative where you can add all the elements and personality of a person within a shoe. So the next time when they wear it, they carry themselves with a pinch of extra emotion and dedication.
Luxury Budget
1. Premium Tennis watch 
Tennis and premium watches go hand in hand. The majority of tennis players love watches. There's a reason why Rolex has been the center of attention in tennis scene for the past 2 decades. As a tennis player, you want sportsmanship along with the act of feeling and looking classy. Yes, it might not be the most well-thought-out gift but it can truly be the one to remember for your loved one.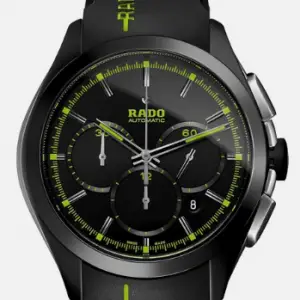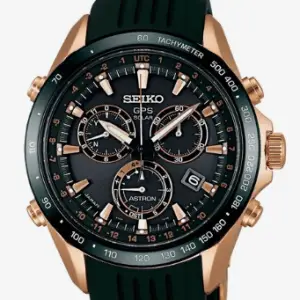 Some of the tennis watches loved by the professional tennis players include Seiko Astron GPS Solar (Novak Djokovic), Rado Hyperchrome Court (Andy Murray), Rolex Datejust (Roger Federer), and Richard Mille Tourbillion (Rafael Nadal). 
Personal Verdict
I personally prefer gifts that have meaning behind them. Yes, expensive gifts stick with us for a long time but not longer than that unique memory of us sharing a moment.