Hey! This site is reader-supported and we earn commissions if you purchase products from retailers after clicking on a link from our site.
Whether you want to take it up as a hobby or you want to become a professional, understanding pickleball can be overwhelming for beginners. If you're just starting out, you want to take it easy on yourself and understand overview of the sport rather than diving straight into the technicalities.
For this reason, I'll be sharing with you, some entry-level details which can equip you with enough information to start your pickleball journey.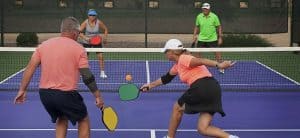 Photo Credits: Paradise News
How to Start Playing Pickleball
A simple sport which is easy on the pocket. To start with pickleball, all you need is a paddle, a pickleball, comfortable shoes and a place to play. This sport can be played indoors or outdoors. With the rise of pickleball in the USA, many community centers across the country have pickleball already available. Thus, finding a spot or balls is not necessarily a hassle in today's time. With that said, let us study about which pickleball equipment do beginners need in detail:
Pickleball Equipment for Beginners
1. Pickleball Shoes
I'd be wrong if I suggest that shoes don't matter in Pickleball. It's as important as cleats in football or running shoes for sprints. In fact, when it comes to pickleball, shoes are highly controversial and forums are flooded with queries regarding pickleball shoes. All in all. Pickleball shoes are different and to play pickleball, you should have a sturdy shoe – not your running ones.
Now that's clear, open shoes, swim shoes, cleats or hiking boots are simply not meant for pickleball. If you try to play pickleball with these shoes, you might risk yourself to a career-threatening injury before you even begin your journey as a pickleball player.
If you want a safe choice, check out some high quality tennis shoes as your safest bet when playing pickleball.
2. Pickleball Paddles
Pickleball paddles and the companies manufacturing them have grown tenfold in the last couple of decades. The rising popularity of the sport has led to an upsurge in production, which has led to the introduction of new technologies and dynamic production techniques.
Though wooden paddles were mostly used to play pickleball back in the 60s and 70s, composite paddles replaced them largely if not entirely with 99% players using composite paddles in today's time. Few points to note:
Wooden paddles are extremely heavy and can weigh up to 18-20z more than twice the weight of a composite paddle
Wooden paddles are dirt cheap as compared to the composite counterparts
Wooden paddles are still available but are not recommended by any pickleball expert
Even if you're starting with pickleball, choosing a composite paddle is your best bet
Composite paddles though a little expensive are much lighter and can help improve your game
Owing to Core, Face and Edge guard, all made up of different technologies, composite paddles allow you more freedom to be yourself.
If you need some suggestions on the right pickleball paddle for you, check out our extensive guide to best pickleball paddles for beginners .
3. Pickleball Court
Now that you've gained basic knowledge about shoes and paddles, it's time to find a space to play. Pickleball court measure 20×44 feet and are similar in size to badminton.
| | |
| --- | --- |
| | |
| Pickleball Court | Pickable Net |
In pickleball, the same court is used for singles and doubles action. The height of the net is 34" in the middle and 36" inches at the sidelines. With that said, a pickleball court isn't hard to find these days.
To test your pickleball skills, you can either contact a person who plays pickleball or searches for pickleball centers near you.
If you still can't manage to find it, head over to USAPA website and find an official center.
Pickleball Paddles for Beginners
If you want to study about the paddles in-detail, you can check our Beginner's Paddles Guide, where you can learn about everything from a paddle's material and core to its texture and pricing. As of now, let's check out the different paddle materials in the market:
Wood – Heavy, Cost-Effective
Graphite – Light & Technologically Advanced
Composite – Light, Cost-Effective & Technologically Advanced.
Now that you know, what these paddles look like, let us move towards what you shouldn't look for in a paddle when starting your pickleball journey.
Do not choose an Elongated or a Long-Board paddle, to begin with. These paddles require a great amount of accuracy and thus isn't advisable for beginners
DO NOT CHOOSE  a Wooden Paddle
Choosing a paddle below $30 isn't a wise decision. Likewise, spending above $80 isn't a good option either for beginners just starting
Avoid paddles that weigh over 8.4oz.
Likewise, avoid paddles with weighing less than 6.5oz
Having learned about what you shouldn't buy, let's move onto 5 paddles which will definitely offer you a complete run for your money.
5 Best Pickleball Paddles for Beginners
Head is everywhere. Even if you're just starting out, you might have heard the name of this sports equipment giant. Head's Radical Elite with its composite fiberglass is the perfect paddle to begin your pickleball career with.
Head Radical Elite is sturdy and very well-designed. Its large surface at 16" and weight between 8-8.3oz makes it perfect paddle for a beginner. At a lower range price point it's cheaper than Gamma and Selkirk paddles.
Gamma Fusion is a go-to-pickleball paddle for beginners. It's a great paddle for beginners looking to start their journey with an aluminum honeycomb core. It offers great balance and power.
The Gamma Fusion 2.0 is made of fiberglass composite face and boasts a larger sweet spot (largely preferred by beginners). Furthermore, you can add a custom grip to the handle and personalize it as per your need. You can grab his baby for a low to mid range price point.
Ask the experts and they'll advise you to get your hands-on Rally Tyro 2 Pro if you're starting out. It's amongst the finest paddle to begin your journey with as it offers superb control with power.
Its Nomex Core helps generate the popping sound, which motivates a lot of players. It's a great paddle to for serving and when wanting to hit the baseline. Its bigger sweet spot allows better shot execution. 
Selkirk's Prime Epic is not just my favorite paddle aesthetically but it fares pretty well in performance too. It has the perfect weight as advised for beginners and it allows great reactions on returns.
With Selkirk's Prime Epic, you achieve great balance and control, thus, you can focus on executing the shot and placement. This lightweight paddle is available for a mid range price point, making it the most expensive yet worth it paddle on our list.
Amazing Aces is doing a great job with producing pocket-friendly pickleball paddles and spread awareness about the sport of pickleball through their guides. As a beginner, their pickleball set is a great way to get yourself rolling. Their set of graphite paddles are extremely effective to begin your pickleball journey.
Though these are nowhere near Gamma and Selkirk paddles in terms of overall quality, at a low to mid range price point, you simply can't ask for more than two graphite paddles and 4 pickleballs.
The Rules of Pickleball
Pickleball is a simple sport but understanding its rules takes time. When starting out, you don't want to pressure yourself but rather enjoy the process of learning. Communicate with experienced players and get some tips and tricks when you're starting out.
Pickleball rules are pretty much simple, except for two rules – which cause headache to professional players as well. What are these rules? We'll learn about them below. But before that, let's learn about pickleball paddles and which ones are the best for beginners.
Basic Pickleball Rules
Back to where we left on rules and strategies. As mentioned earlier, there are two rules which create a lot of problems for many pickleball players. These are:
Kitchen Rule or No Volley Zone
Double Bounce Rule
Kitchen Rule or No Volley Zone
Though it's not as cumbersome as it may seem, it's really hard to understand it at first. As per the kitchen rule, when you're in kitchen i.e. the non-volley zone which is a section of 7 feet from the net on each side, you are not allowed to hit a volley with your feet inside the kitchen.
Additionally, even after you've executed your shot, you'll be penalized. Sounds simple but it isn't, especially when your sights are set on the ball. Most of the people see a loose shot from the opponent and they feel like volleying it down without realizing their position.
Thus, committing a foul in the process. If you want to stay in-line with kitchen rule and hit volleys, it's advisable to stay an inch or two from the line, so you can execute a shot without landing in the kitchen area.
Visual Guide:
Double Bounce Rule
This rule is much simpler than the Kitchen Rule. Most of the time players when facing a slow shot don't even realize that they have let the ball bounce twice. Result? Points conceded. However, a tricky aspect of this rule is that the ball needs to bounce once after the serve and the return.
Thus, you cannot hit a volley shotright off the bat. It might sound easy but it's quite easy to forget. Especially, volleys are really tempting to hit and thus you've may need to make a conscious effort to not volley immediately.
Visual Guide:
Good Pickleball Strategies
Quick Movement
Don't stay deep, keep those feet moving. Most beginners stay back even when their opponents are pressing them. Always try to attack the net and don't end up in no man's land. Once the initial shots are out of the way, try getting into the kitchen as soon as possible.
For many older players, this might prove to be a major hurdle. However, if you've got the determination, you'll still be able to move quickly enough to score a point from the kitchen.
Less Showboating
Every opponent loves that weak return. Many beginners want to hit the winner so they can pump their fist. However, in pickleball, the chances of your fist-pumping shot turning into an unforced error are quite realistic.
Don't try to hit the ball too hard. The harder you hit, the faster the return will be with little to no effort from your opponent. Be patient, read the game, let your opponent make the mistake. As a beginner, you should just emphasize getting the ball over the net on a consistent basis.
Drop Shots
Drop Shot – A simple shot which involves Serve-Return-Dinking Return with forwarding movement towards the net. One of the most underutilized shots is perhaps the best way to win easy points in pickleball. Most beginners are fazed by this challenge of landing a drop shot.
In fact, most of them, don't even dare to move towards the net. In pickleball, the one who controls the net controls the game. Thus, drop shots allow you to get into a great position before landing a point-scoring shot.
20 Tips for Beginners starting with Pickleball
Similar to other high-intensity sports, give pickleball its respect and stretch before your match
Stay loose with stretching and jumping ropes between games
Wear tennis shoes and avoid any other shoes to eliminate the risk of injuries
Try to hit your serve deep with almost no spin
Serve simple, avoid unforced errors
It's okay to arc your serve higher at first, just try getting them right initially
Keep your body aligned for a forehand shot
Play safe and simple, allow the opponents to commit unforced errors
Maintain your energy throughout the game, don't run up too much for volleys
Try targeting your shots towards the open gaps
Pick precision overpower any time of the day
Keep the kitchen rule in mind, practice throwing your body momentum in the same direction
Rising shots should be hit softly
Setting shots should be hit hard
Maintain your position –Knees slightly bent, feet shoulder-width apart and the paddle between your knees
Angle your smash shots at your opponent's feet or towards the open area
Use your opponent's kitchen to your advantage by tiring them off
Learn to land drop shots in the kitchen area
Don't lob unless to perfect the shot
Work the court only as much as your body allows
Pickleball for Beginners: Our Final Thoughts
I hope this ultimate beginner's guide to pickleball was helpful and you were able to learn about this amazing sport of pickleball in detail. If you have any feedback or would like us to cover something different, feel free to drop your opinions in the comment section below.