Luckily there is an answer to the problem and that is making sure you have the correct footwear to play in. If you choose the best tennis shoes for flat feet, it can make a huge difference.
How Does Having Flat Feet Affect Tennis Players?
Flat feet (also known as fallen arches) are a postural ailment in which the arches of one or both feet collapse. This results in the entire foot coming into near or complete contact with the ground all the time. It's estimated that 20 to 30% of the population suffer with this and so it's something that a lot of tennis players have to contend with.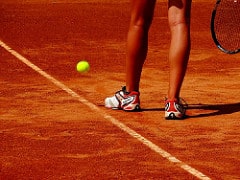 The major problem flat feet can cause is in the leg as a result of the arch of your foot not being as it should. The arch of the foot is important and has a direct relationship with the biometrics of your lower leg. Acting as an elastic connection between the front and hind foot, your arch is a safeguard so the majority of force incurred during walking or running is taken away before it reaches your lower leg.
Obviously, if you have no arch in your foot then this doesn't happen and the extra force going into your lower leg can cause pain and biometric issues. In terms of tennis, this means that all the running around court can be an issue if you have flat feet and don't correct it in some way.
Best Tennis Shoes for Flat Feet: What to Look For
The ideal solution to having flat feet but still being able to play tennis safely is to pick up a pair of the best tennis shoes designed for flat feet. Here's a guide to choosing the tennis shoes for you that will help you stay on the court longer.
Arch Support
One of the key things to look for is that there is plenty of support for the arch of your foot. The shoes should be constructed in such a way that they give your foot the arch that it lacks naturally when on. This will mean the flat footedness and symptoms associated with it are eliminated.
Arch Cushioning
In the same way as you need a shoe that will support the arch and give it shape, you also need extra protection to absorb any shock or impact when playing. All of the best tennis shoes for flat feet will have plenty of this and the specialist foam type materials they're made from will keep your feet safe and comfortable.
Style
Just because you're buying a tennis shoe to help with a specific problem, doesn't mean you have to have something that looks ugly! You're going to play for months (years if you choose our picks!) in these tennis shoes. You got to make sure they look good. Fortunately, that's not a problem as there are lots of products out there now in a range of colours and styles. Not only do they look great but they do the job well.
Comfort
In the same way as you want a good looking shoe to wear, you also need something that feels good to move in. Be sure to try them on before you buy if possible and walk around in them to make sure they are right for you. Buying tennis shoes that don't fit well will only make the problem worse not better.
5 Best Tennis Shoes for Flat Feet
The Nike Air Max Cage is an amazing tennis shoe from Nike and looks great. The style it brings to the table is second to none and you will feel like a million dollars playing in these on the court. They are also very easy to wear and don't require any breaking in. It's a case of straight out of the box and straight onto court.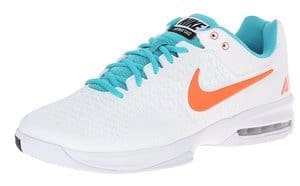 The Nike Air Max Cage has a durable XDR outsole that gives you unrivaled stability when moving across court and hitting your shots. The low arch support and Air Max Cushioning give tons of protection where you need it and will help you forget all about your flat feet. These shoes are particularly good on hard courts where the superb cushioning comes into its own.
Nike is  a worldwide leader in the shoe market and this is only one of their entries into the tennis shoe market. However, I like the Nike Air Max Cages for their mix of comfortability and style. These tennis shoes will help with your flat feet and get you back onto the court playing tennis in no time.
As always with Nike, the quality of the product is top class and they will last you a long time. Not only that, they will certainly do the job you need them too in terms of supporting the arch of your foot.
If you want the ultimate protection and comfort on court then these Asic Gel Game Points are a great choice. They have a leather upper part with built in mesh panel to ensure your feet stay cool when on the tennis court. Excess perspiration from running around is not ideal and this helps to combat that by allowing the air to circulate freely.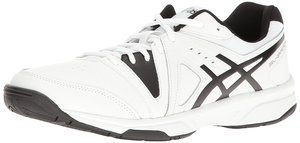 One thing I particularly like about this shoe is that the upper portion offers excellent support to your foot and keeps it in the proper alignment. No worries about comfort though! I love wearing the ASICS Gel Gamepoint tennis shoes and they allow you to move in a natural way. The major aspect of this shoe is the amount of cushioning it gives to your soles. The midsole has plenty of soft memory foam in to support your arches and reduce any pain you would normally feel.
Asics has quite a range of great tennis shoes for flat feet in all different styles but these are personally one of my favorites. They offer the perfect combination of style, comfort and protection that will get you back on court, enjoying playing tennis again in no time.
The absolute geniuses at Babolat have done it again with the Babolat Propulse Tennis Shoes! They not only look great when on your foot but also give superb protection and comfort. In terms of the best tennis shoes for flat feet, you can't ask for much more.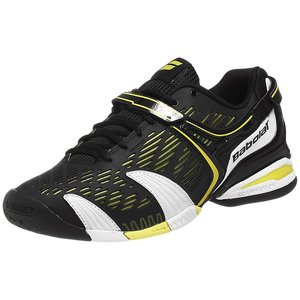 A really interesting feature in the Propulse tennis shoes is the dynamic response system built into them. This helps support your toes and ball of your foot during movement. The shoes also contain a special cushioning design that supports the whole foot in a comfortable fashion while reducing impacts to your arch. This is just what you need to help reduce the side-effects of having flat feet.
Another great touch by Babolat is the four-point support provided by a chassis style foot belt. This keeps your foot in the correct alignment and gives it fantastic protection which means you can stay out on court for longer with no pain to cut your game short.
The Babolat Propulse tennis shoes are a great choice for all tennis players with flat feet whether you're a casual or more serious follower of the sport. The arch support and overall protection they provide is superb and makes them highly recommended on our list of best tennis shoes for flat feet.
The Prince T22 are one of the best tennis shoes on the market for helping with flat feet. The patented Shockeraser protection on the heel and extra arch support are exactly what you need to reduce any pain or impact on your feet. Especially good on harder courts, the durable outsole gives superb traction and stability.
The shoes look great and are very comfortable to play in with extra ventilation to keep your feet cool. An innovative feature is one that keep your toes aligned with your heel to improve posture when on court. These Prince Tennis Shoes also offer great shock absorption in the mid-sole area which is important to avoid any discomfort when running.
The Prince T22 are very popular shoes found on the feet of tennis players everywhere and are great tennis shoes for flat feet. They are lightweight yet durable and give all the support you need where it matters most. Even better they come with a 6 month warranty against the quality and durability of the outer soles.
We couldn't do a list of top tennis shoes without an entry from K-Swiss. They are one of the leading companies in terms of innovation and design. The K-Swiss Bigshot is no exception and a tennis shoe to highly consider if flat feet are a problem for you.
With the technology and construction of these tennis shoes, you'll never have to worry about your feet sweating excessively. First, a flow cool system is built into these shoes to allow air to get to your feet and provide a breeze against them. Additionally, the moisture-controlling lining in the sole draws any moisture away from your feet resulting in a clean and dry fit inside of the shoe
A nice touch with the K-Swiss Bigshot tennis shoes is the extra padding on the collar and tongue of them. This makes them extra comfortable to wear and play tennis in. To help keep your feet in the proper alignment when playing, these shoes have a well cushioned and designed midsole that runs the length of them. In terms of support for your arch these tennis shoes are fantastic and give all you need to spend hours out on court.
With the above features and extra such as reinforced toe sections and a grip lining inside that grips your sock to keep the shoe as secure as possible, these are a fabulous choice as tennis shoes for flat feet.
 Best Tennis Shoes for Flat Feet: Afterthoughts
Flat feet can be a real issue if you have them but it doesn't mean you can't play tennis or there's nothing you can do. Picking out the right type of tennis shoe that have been designed specifically to deal with flat feet will help immensely and get you playing again quickly!
Any of the shoes listed above will be ideal for you due to the high-quality construction and support they give. The comfort and relief they provide will really help in reducing foot and leg pain. Why not pick up a pair next time you're out and say goodbye to flat feet ruining your tennis enjoyment?