Hey! This site is reader-supported and we earn commissions if you purchase products from retailers after clicking on a link from our site.
Pickleball has been rising in popularity and if you have a tennis court then you may want to consider altering the court so you can play pickleball as well as tennis.
Pickleball has been growing in popularity in recent years, so there has been more demand for pickleball courts, especially in senior communities. Often, tennis courts are adapted so you can play tennis or pickleball on them. In this case, it's easy to play pickleball on a tennis court.
If you don't have one of these near you, it can be disappointing. Luckily, there are a few other ways you might be able to still play. So can you play pickleball on a tennis court? Let's find out.
What's the Difference Between a Pickleball Court and a Tennis Court?
Those new to the sport might wonder how it's possible to put a court for pickleball on a tennis court. To understand that, you'll need to know the difference between tennis courts and pickleball courts.
Tennis Courts
The first major difference you'll notice is that tennis courts are a lot bigger than pickleball courts. Tennis courts are 36′ x 78′. They have a line shortening the width of the court for singles matches. During a singles match, the court is only 27′ wide, but the length is the same.
Tennis courts also have a "service line" cutting each side of the court in half with-wise. The rectangle formed by the service line is crossed by the "center service line." This effectively gives you two rectangles you can opt to serve from. Each is called a "service box."
Not everyone knows this, but a tennis net is a different height than a pickleball net. A tennis net needs to be 36″ all the way across.
Pickleball Courts
Pickleball courts are 20′ x 44′. They don't have quite as many lines as tennis courts. They do have a longwise center line that divides the court on either side into service rectangles.
However, pickleball has something other racket sports don't have: a no-volley zone. This is an area that extends seven feet from the net in each direction, and there is a line marking the beginning of this zone (also called the "kitchen") on each side of the court.
If you do play pickleball on a tennis court, don't forget to adjust the net! You just need to lower the center of the net to 34″. There are special pickleball tools to do this, and they aren't very expensive. You can easily find them online.
Finding a Dual-Purpose Court Near You
The easiest and most convenient way to play pickleball (especially if you're playing regularly) is on a permanent pickleball court that's dedicated exclusively to pickleball.
But unfortunately, depending on where you live, these courts are usually pretty rare. As a result, many people end up playing pickleball on a tennis court.
The best way to play pickleball on a tennis court is to find a court that is adapted for pickleball. This just means that the court has been clearly marked with lines for both tennis and pickleball.
You might wonder how many pickleball courts there are per tennis court. Where you can play either tennis or pickleball on the same court, there will just be one court. Since a pickleball court is smaller than a tennis court, the lines all fit within the tennis court.
If a tennis court has been converted for exclusively playing pickleball, you can fit up to four pickleball courts on one tennis court (we'll go into more detail on converting courts later).
When searching for tennis and pickleball courts, you might find that there are new pickleball courts further away from you than tennis courts. In some cases, keep in mind that it may be worth the extra driving time.
After all, putting down temporary pickleball court lines can take a good bit of time, especially if you're new to it. You'll need to measure to ensure the court is centered, measure out each line, and then make sure your lines aren't crooked.
If the only courts you can find nearby are only lined for playing tennis, don't worry! In a minute, we'll tell you how to create your temporary pickleball court.
Learning to Differentiate the Lines
Before we get into how to convert your local tennis court to a pickleball court, let's go over a couple of pointers to help you have the best experience playing pickleball that you can. After you permanently paint pickleball lines on a tennis court, it can be hard to differentiate the lines.
And oddly enough, it may become even more difficult if you play other racket sports. If you're used to looking down and instantly reacting to lines on the court, it's easy to confuse the pickleball lines with the tennis lines.
When painting pickleball lines, it's ideal to choose a contrasting color. But sometimes, you might find a dual-purpose court where the lines are white and pale blue (or another color close to white). That can make the pickleball baseline and the kitchen line designating the non-volley zone very hard to distinguish.
If you run into this when you play pickleball on a dual-purpose court, be patient with yourself! As you get used to the court, chances are good that you will be able to differentiate them more easily.
Does Pickleball Damage Tennis Courts?
If you're considering playing pickleball on a tennis court, you might be wondering whether it's possible for pickleball to damage a tennis court. The truth is that tennis courts are built to withstand a good bit of use, so playing pickleball on a tennis court isn't going to damage it.
Part of the reason a tennis ball wears out so fast is because of the toughness of the court. The court is more likely to eventually cause damage to a pickleball than a pickleball is to cause damage to the court!
However, if you aren't careful, putting pickleball court lines on a tennis court can damage the court surface. More often, court tape leaves residue or chalk remains on the court. This can cause confusion with the tennis court lines, and tennis players are understandably frustrated when they find their courts with extra lines and/or residue.
The residue isn't just unsightly; it can cause an uncomfortable sticky sensation on the bottom of your foot, and it can even cause players to trip. Specialized court tape is the least likely to cause residue, but it's still wise to check before you head off the court.
Make sure that you thoroughly clean up whatever you use to make temporary pickleball lines on a tennis court, and always ask permission before you do so. After all, there's enough tension and controversy between pickleball players and tennis players. You definitely don't want to give pickleball players a bad name.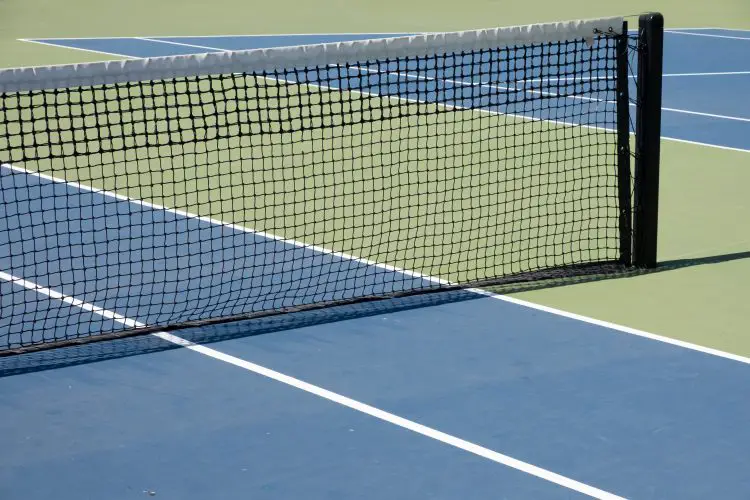 How Much Does It Cost to Make a Tennis Court Dual-Purpose?
Putting pickleball courts on tennis courts is a lot less expensive than completely redoing the existing surface. Tennis courts aren't cheap, and neither is modifying them.
If you're considering modifying your own tennis court for playing pickleball, it's useful to know how much it costs. It's more than you think!
Even if you don't have your own court to modify, understanding the time and money that goes into converting a tennis court might help you understand why more parks haven't adapted their tennis courts for playing pickleball.
To put pickleball lines on a tennis court, you can expect to pay about $6000 for permanent lines. This might seem like a lot, but when you consider the machinery, careful measurement, and expert labor needed to put lines in place, it makes sense.
If you're hosting a tournament or otherwise need professional-quality lines that are only temporary, the cost is about $250. Alternatively, you can make your own temporary lines with tape or chalk.
How Much Does It Cost to Completely Convert a Tennis Court?
Depending on the location and the needs of the surrounding community, a court owner may want to completely convert a tennis court instead of just adding pickleball lines.
The cost of all the materials plus the labor can vary pretty widely. After all, you have a couple of layout options. You can fit up to 4 pickleball courts on one tennis court, but some people want a little more room and only include 2 courts.
All in all, completely converting a tennis court into 2-4 pickleball courts will cost about $42000 to $50000.
With prices like that, it's no wonder that most clubs, parks, and community centers opt to just add pickleball lines to existing tennis courts!
Below, we've covered two potential layouts for temporary or permanent tennis court conversions. These layouts are great if you need more than one pickleball court at once.
Two Courts
Whether you're permanently converting a court or just temporarily using a tennis court for pickleball practice, you may want to consider the two-court layout.
You can fit 2 pickleball courts on one tennis court with some room to spare. You just include two courts lengthwise, one on each side of the tennis net.
To do this, you will need two portable pickleball nets (or more permanent pickleball nets if you're permanently converting a court).
The two-court layout is a great one for beginners. If you leave the original tennis net up between the two pickleball courts, it works as a barrier to stop the pickleball from rolling from one game to another. And of course, when you're brand new to the sport and haven't quite mastered pickleball paddles, the ball may fly out of bounds more than you'd like.
Four Courts
You can temporarily or permanently divide a tennis court into four separate pickleball courts. With this one, you situate each pickleball court in one corner of the tennis court.
Keep in mind that instead of installing one tennis court net, you will need four pickleball nets. And if you're new to pickleball, remember that pickleball nets are two inches lower than tennis net height in the center!
While this is a very space-efficient way of converting a tennis court, it can start to feel a little crowded. As you likely know already, the "thwack!" sound of pickleball paddles hitting the ball can get very loud. And if you have three other pickleball games going on very close to you, the sound can get distracting. Plus, as we mentioned above, there's always the risk of a pickleball flying into the wrong court!
How to Draw Pickleball Lines
As you saw above, the cost to permanently paint pickleball lines is pretty high. And most people don't have tennis courts in their backyards, anyway.
Don't despair if all the indoor and outdoor courts near you are only for tennis; there's an easy and inexpensive way to temporarily convert a tennis court. The answer to "can you play pickleball on a tennis court?" is still "yes!"
Note: Before we go into how to do this, make sure you get the permission of whoever manages the tennis court you're planning to play pickleball on. Since there is some risk of certain kinds of tape damaging the court, some managers would rather you not.
What Lines Do You Need to Draw?
Before you start converting your tennis court to a pickleball court, it's a good idea to have a general sense of the lines you need to lay down.
– Baselines. This is the line at each end of the court, running parallel to the net. It is 20′ long.
– Kitchen Line. This is the line that runs parallel to the net. Each side has a kitchen line that is 7′ back from the net. It designated the non-volley zone.
– Centerline. This line runs down the middle of each court. It runs from the baseline to the kitchen line.
– Sidelines. Don't forget these! They run perpendicular to the net and mark part of the court boundaries. Each line is 44′ long.
As you can see, the lines themselves aren't too complicated. But to make sure everything goes as smoothly as possible, it's a good idea to bring a measuring tape and a court diagram with you!
You'll also need to decide how you're going to draw your lines. Many people use tape, but we've discussed a strategy for drawing lines in chalk too.
Drawing Lines With Tape
Masking tape or special "court tape" can help you quickly map out your temporary pickleball court. You can even find special line sets with pre-cut tape for the kitchen line, etc.
All you need to do is lay out the tape properly. To do this, it's a good idea to have the following things:
Your tape or line set
A steel tape measure
Pickleball line set or temporary tape
A tennis net adjuster for lowering the net
A pickleball court diagram so you know what to put where. Ideally, use a diagram that illustrates a pickleball court set up inside a tennis court.
A kit will give you directions, and you can find countless tutorials on taping tennis courts online. This video tutorial shows you the quick and easy way to temporarily make a tennis court a pickleball court.
The playing surfaces for most racket sports take well to temporary tape. But in some cases, you can also use chalk. Visit our Painting Pickleball Lines on a Tennis Court: 8 Steps guide for more information!
Drawing Lines With Chalk
If the tennis court you want to use is managed by a person or company, chances are good that they would rather you use tape than chalk. After all, if you want to remove chalk before you leave, you'll have to wash it off.
If you are in a situation where marking lines with chalk is an option, the best thing to do is get a steel tape measure. For each line, draw a chalk line beside the measure. Be careful to keep your lines straight!
The best type of chalk to use for this is the large, thick sidewalk chalk designed for kids. If you use the type of chalk typically used on chalkboards, it will run out very quickly. That becomes very frustrating!
How to Play Pickleball if None of These Work
So you now know the answer to "can pickleball be played on a tennis court?" is yes. But what if you run into a situation where no nearby tennis court is ok with adding pickleball lines, even with tape?
It would be awesome to just build your own permanent pickleball court and start painting pickleball lines, but most people can't do this.
But as long as you have some paved space that's at least the size of a pickleball court, you can still make temporary outdoor courts.
To do this, just use a pickleball line kit, tape, or chalk to create your court. Make sure you get your measurements exactly right. It can be a little tedious, but it will make your playing experience a lot more fun!
Once you have your court, you'll need a net. Thankfully, many sporting goods companies offer portable pickleball nets. These nets have a metal stand at each end so you don't need to situate them on the ground.
Master Playing Pickleball on a Tennis Court!
Depending on where you live, playing pickleball on tennis courts may be relatively easy or relatively hard. If you find a court with both tennis court lines and pickleball court lives, your challenge will be to keep track of which lines are which (and to remember to lower the net!).
If there are only plain tennis courts where you live, you may be able to put down tape or chalk. Just check with the court manager first. If you're like most who play pickleball, you love the sport enough that you'll certainly find a way to play.
FAQs (Frequently Asked Questions)
How do you make a pickleball court out of a tennis court?
If you want to temporarily convert a tennis court, you can draw or tape pickleball court lines on. Just make sure they contrast enough with the tennis court lines! You also need to lower the center of the net so it is 34″ in the center. If you want to permanently turn a tennis court into pickleball courts, you can fit up to four pickleball courts on a single tennis court. If you do this, each of the pickleball courts will need its own net. Most organizations just add pickleball lines to each tennis court so each court can be used for both.
Can you use a paddle tennis court for pickleball?
Yes, you can. A pickleball court measures 44′ x 20′, and a paddle tennis court measures 60′ x 30′. So just like with a standard tennis court, you can use chalk, tape, etc. to put down pickleball court lines.
What is the difference between a pickleball court and a tennis court?
Four pickleball courts fit inside one standard tennis court. So of course, the dimensions are different — a pickleball court is 44′ x 20′ and a tennis court is 78′ x 36′ for doubles. For singles matches, there are lines shortening the court width to 27′. Also, a pickleball court has a line delineating the no-volley zone. The no-volley zone extends seven feet out from the net on each side.
Is pickleball easier than tennis?
On the surface, pickleball is much easier than tennis as it doesn't work the body quite as much due to the slower speed and smaller running space; however, this does not mean that it doesn't have any level of strain or difficulty. Pickleball is full of different shots which can differ in terms of ability and some are straining on the lower back. Mastering the majority of shots can help to increase your reaction time and speed. 
Is a pickleball court the same as a tennis court?
As discussed in this guide, pickleball courts are a lot smaller than tennis courts. On average, you can fit around four pickleball courts in a regulation-size tennis court meaning that there should be plenty of space for you to alter your tennis court accordingly. 
Conclusion
In conclusion, pickleball is a great sport to play on your tennis court but bear in mind that you will have to make adjustments to the court to accommodate the different game lines. Also, think about the surface of your tennis court and decide whether it is suitable for pickleball.
Whether you want to alter your tennis court to play pickleball or are planning to build a dedicated court, there are an array of options so you can incorporate pickleball into your court's construction.