Tennis Equipment
Babolat Pure Drive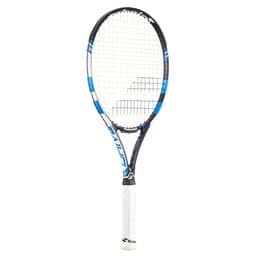 No tennis Christmas gift guide would be complete without a tennis racquet at the top of the list. This Christmas, surprise yourself or your friends with a new tennis racquet. Our main recommendation this year is the Babolat Pure Drive for it's sheer versatility. Anyone from a beginner to an advanced tennis player can learn something from this racquet.
If you like hitting shots from the baseline, you'll love this tennis racquet. Although I hit on it more in my review, the Babolat Pure Strike is a monster everywhere on the court. From baseline play to serves to volleys, there's nothing the Pure Strike isn't built for.
Wilson 75 Tennis Ball Pick Up Hopper
Make your life a 100 times easier by grabbing a hopper for Christmas this year. If you've never used a hopper before, you won't believe it. You'll be able to hit many more balls than you're used to just because picking them up is so easy with a hopper.
Just position the hopper over the tennis ball, push slightly, and bam! You've done it. No bending over and no kneeling on the ground required.
This particular hopper (and the reason we recommend it) can hold up to 75 balls at a time. It is also made out of steel so you won't have issues with deterioration any time soon. Want to use it to feed balls to another player? Just flip down the legs and this hopper stands up.
Wilson Federer Team III Bag
Treat yourself this holiday season by grabbing a new tennis bag to hold all of your racquets. Don't be the person holding all of their stuff in their hand. The Wilson Federer Team III Bag can carry three racquets at a time and also had two storage pockets to hold smaller things such as your phone, keys, and wallet during the match.
Trust me, I've been on both sides of this. I've been the guy holding his racquets and a pile of stuff in his hands as I walk towards the court and I've been the guy showing up with a sweet new tennis bag before a match. Having a tennis bag is well worth it.
Tennis Apparel
Adidas Men's Tennis Court Polo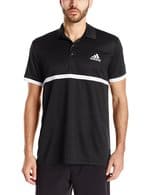 Show up to the tennis court looking great in this Adidas Tennis Polo. I have a couple of these polos in my wardrobe and they are extremely comfortable.
Made especially for tennis players, the material is Climalite fabric which feels soft against your skin and wicks away sweat. This men's tennis polo is also available in different colors as well. Whether it's for on the court or for casual wear, pick up one of this tennis polo's today!
Womens V Neck Pullover Sports Shirt
Look great on the tennis court in this smoking hot pink V Neck pullover! This shirt was designed specifically for women who like to remain active and run around the tennis court.
The front of the shirt is made out of a special double layer fabric preventing awkward sweat stains. Additionally the stretch fabric and trim design lets you move naturally so you can easily swing your racquet from start to finish.
HEAD Men's Break Point Short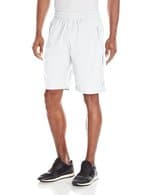 For the men, grab a couple extra pairs of white tennis shorts this holiday season. It is annoying sometimes, but the truth is that a lot of tennis courts and tennis clubs require white tennis shorts to play.
Instead of complaining, stock up while this shorts are cheap because prices will increase as it starts to become primetime tennis season again.
Nike Court Pure Womens Tennis Skirt
Show up to the court in new tennis gear for the new year after Christmas. These Nike tennis skirts run to the mid thigh and are made out of Dri Fit which absorbs sweat easily and is extremely comfortable.
They are available in different colors as well to go with the rest of your tennis outfit.
Tennis Words T-Shirt
When you're off the court, you can still show your love for tennis with this awesome tennis t-shirt. Perfect for men or women tennis players, this tennis t-shirt displays a word cloud of tennis-related terms. This is the perfect tennis t-shirt to wear to school, work, or as casual wear. Let people know you're a tennis player and proud of it.
Stocking Stuffers
Asics Sport Wristbands
Perfect as a stocking stuffer, this wristbands keep the sweat off of your forehead and allow you to see clearly through a match. Cheap and simple, these Asics wristbands are perfect for absorbing sweat on the court. Whether you're playing inside or outside, keep the sweat out of your eyes with this set of wristbands.
Overgrips
Cheap but important, overgrips are definitely one of the best stocking stuffers for tennis players. If you've been playing tennis a lot recently, you know how the grip gets worn down. Rewrap your racquet in an overgrip for Christmas so that when the new year begins, it'll feel like a new grip.
This particular HEAD overgrip is designed to maximize friction while absorbing sweat to prevent your tennis racquet from slipping out of your hands. For under $10, it's a steal as a great stocking stuffer.\
Santa Claus Vibration Dampers
While you're playing tennis on a indoor court, remember to stay festive with this Santa Claus Vibration Dampeners. This vibration dampeners perform two duties and I'd argue one is more important.
They prevent your racquet from vibrating so much after a hard volley or serve BUT they also look like a fat Santa holding a tennis ball. And that is funny. I think you know which one is more important right? (Hint: It's the fact that they look like Santa).
You can't resist these cute vibration dampeners this holiday season. Don the Santa hat and put on this Santa Claus vibration dampeners and you'll ready for your next tennis match.