Hey! This site is reader-supported and we earn commissions if you purchase products from retailers after clicking on a link from our site.
If you enjoy playing tennis, you are likely aware of the impact that your equipment can have on your performance.
Though your tennis racket may be well made it is not indestructible, so you should expect the strings to suffer a breakage from time to time. 
Regularly restringing your racket plays a crucial role in preventing tension loss and wear. If you have never had to restring your racket before you may be wondering how much does it cost to string a tennis racket.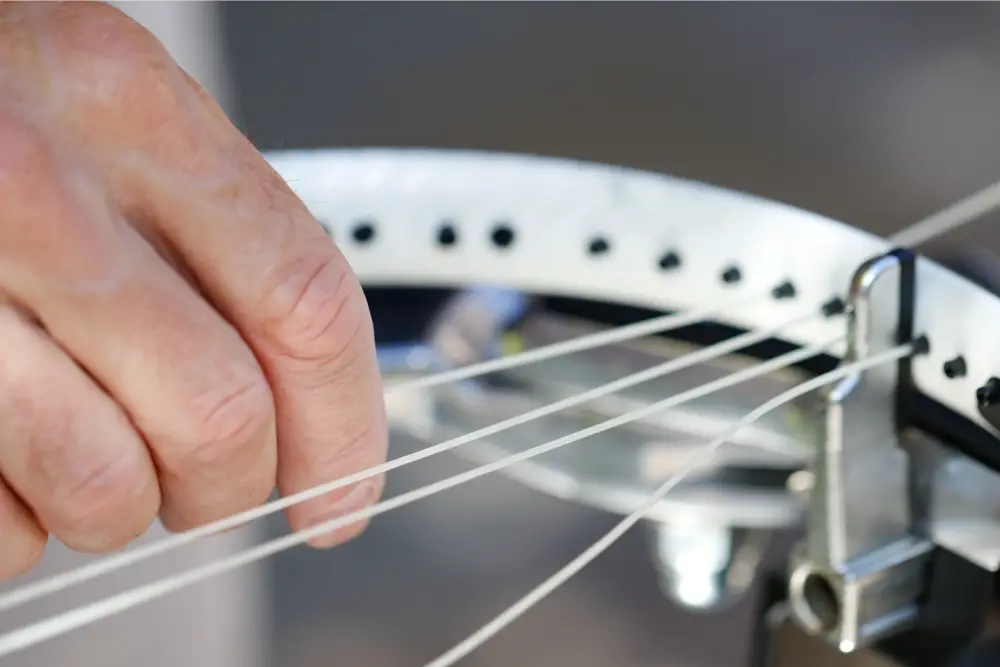 We have provided you with all of the answers in our guide below. 
There are 2 factors that are going to influence the cost of stringing a tennis racket. They include the price of the strings and the cost of labor.
Whilst the average cost tends to be around $40, it can cost as little as $20 or more than $70. Other factors such as the manufacturer of your racket and the frequency in which you play can also affect the cost. 
The Cost Of The Strings
First, let's take a look at the price you are likely to pay for the strings themselves. Again, there are a few factors that are going to determine the price.
If you choose strings from a well-known brand, then, of course, they are going to be more expensive, with some costing as much as $50.
Do not worry if this is not within your budget because there are cheaper alternatives available with certain varieties retailing between $5 to $20. 
Most manufacturers sell their strings in sets with enough to string one racket. You may find it more cost-effective to purchase a set consisting of multiple reels because you then have plenty available for future uses. 
It is also worth noting that there are different types of strings available. Nylon strings are the most affordable and will therefore retail towards the lower end of the price range, whilst multifilament strings are considerably more expensive. 
Remember that the price is sometimes reflected in the quality and durability of the strings. This isn't to say that all of those retailing at a cheap price are going to break shortly after being fitted, but it is something to be aware of when contemplating which strings you are going to opt for. 
The Cost Of Labor
It is possible to string a tennis racket yourself, however, you will need to ensure that you have the necessary equipment available and expertise. Lack of skill is going to result in inconsistent results. 
A tennis stringing machine will restring your racket for you. For beginners who are using the machine for the first time, the process may take a couple of hours, but for those who are more experienced, a racket can be strung in as little as 30 minutes. 
Should you decide to invest in a stringing machine, you should expect to pay anything from $300 to £3000. The price is going to vary depending on the type of machine that you choose.
If it is going to be something that you get a lot of use out of, you may consider it to be a worthwhile expense, however, you can take it to a professional who will be able to do it for a cheaper price. 
Most stringers charge between $10 and $20 to restring a racket. Depending on who you go to, it may be more than this.
The amount that they charge will depend on their skill set as you will typically find that those that are more advanced will charge more. The area in which they are situated is also going to be influential and will usually be reflected in the price that they charge. 
If you play for a club, you will often find that they offer a service to their members and students. This is super convenient as it saves you from the hassle of trying to find a shop to take it to.
Also, if this service is not the main source of income for those who are providing it, you will typically find that they do not charge as much.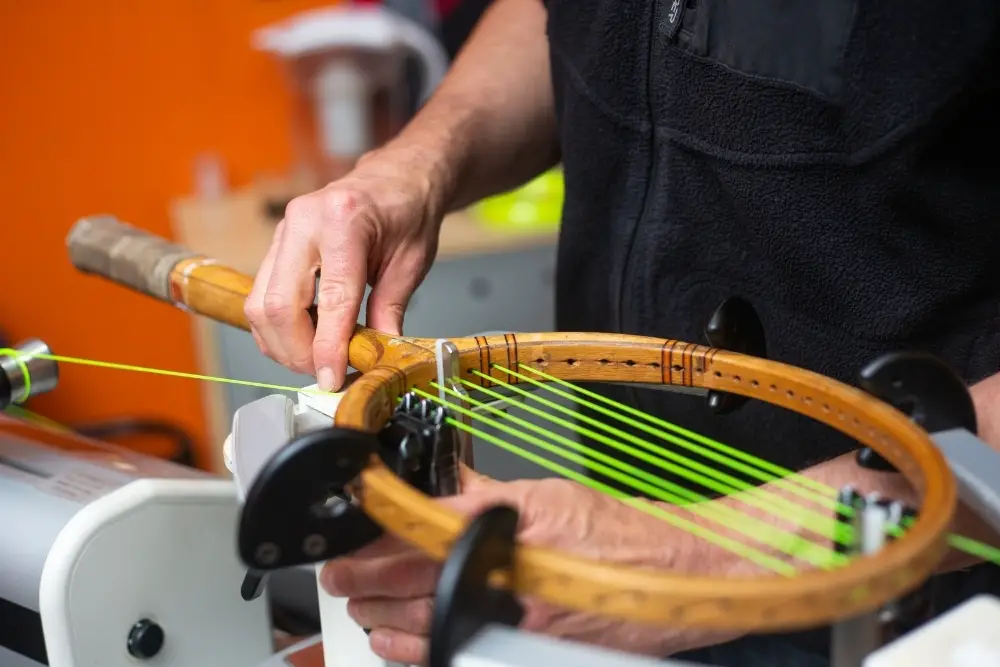 The Frequency In Which You Play
As we have mentioned, besides the cost of labor and strings, several other factors will affect the price that you pay.
If you regularly participate in recreational tennis games or you play at a professional level, then of course you are going to find that your racket needs to be restringed quite often.
This is because it is subjected to more force and wear. For this reason, you may find that it requires restringing at least three times throughout the year.
If you only play occasionally, it is likely that your racket will only need to be restrung once a year so it is not going to be a regularly recurring expense. 
How To Identify When Your Strings Need To Be Changed
If you are new to tennis, you may be wondering how you can identify when new strings are required. Looseness is one of the most obvious indicators that your strings need changing.
If you find that you are constantly having to tighten them during a game, it is time to take it to restrung. You may also be able to tell by looking at the strings.
Signs of wear are likely to be evident if some time has passed since you last had your racket restrung. 
Final Thoughts
As you can see, several factors are going to contribute to the cost of stringing your tennis racket. If you intend to do it yourself, you have to pay for the strings as well as the machinery.
If you take them to a stringer, you will need to pay the cost of labor. Some stringers will include the cost of the strings in the price, but others will ask you to have them already bought.
Properly maintaining your racket will prevent wear. It will also reduce the frequency in which you find yourself taking your racket to be strung.