Hey! This site is reader-supported and we earn commissions if you purchase products from retailers after clicking on a link from our site.
Every tennis player knows that the most important piece of equipment they own is their tennis racquet. So today, let's look at how to choose the best tennis racket for you. I'll talk about how each element of a racquet affects how it plays, the different types of tennis racquets, and lastly how you should choose a tennis racquet.
Let's get started!
Racquet Characteristics
Weight/Balance
Weight is the most important factor of a tennis racquet. You can instantly feel the weight of a tennis racquet when you pick it up. Weight influences how long you can play with the racquet, the vibrations, and affects the maneuverability of the racquet.
Most racquets weigh between 9 – 13 oz. Heavier racquets (typically 11.5 – 13 oz)  transmit more power to the ball, are more stable, and transmit less shock to the player's arm. That is why I commonly recommend people with tennis elbow buy a heavy racquet.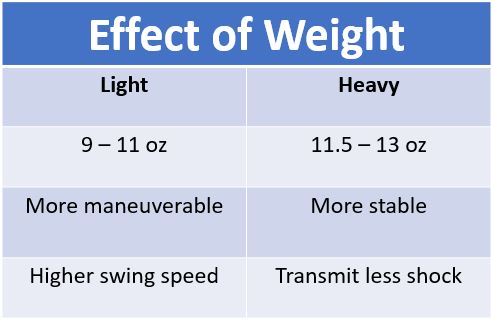 Lighter racquets (9 -11 oz) on the other hand are more maneuverable and have a higher swing speed than heavier racquets. If you're shorter or lighter than most people, a lighter racquet may be your best choice of racquet.
But what also matters is how the weight is distributed. Weight can be distributed equally along the frame (referred to evenly-balanced) but most commonly, tennis rackets are described as head-light or head-heavy.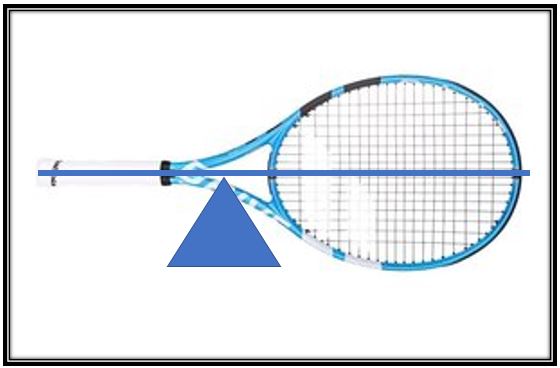 The Babolat Pure Drive shown here is 4 points head light. The triangle depicts the balance point for this racquet.
Most intermediate and advanced players prefer head-light racquets which means that the racquet head weighs less than the racquet handle.
Note: You can test this yourself!  Place your racquet on your hand and try to find the point where the racquet is evenly balanced. If the racquet is head-light, this point will commonly be 1 – 1.5 inches to the left of the racquet head. This is referred to as the balance point.
Head-heavy designs are less common but still available on many tennis racquets today. The Wilson Hammer series is perhaps one of the most well-known. Head-heavy designs place power where it's needed most at the point of impact between the tennis ball and the racket.
Frame Stiffness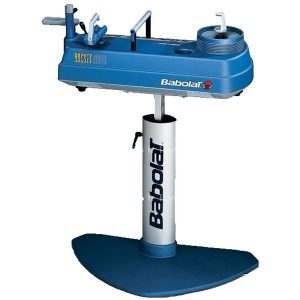 Frame stiffness is something that few people take into account when choosing a tennis racquet but it drastically affects the feel of each tennis racquet. The racquet frame stiffness is typically measured using a common machine known as the Babolat Racquet Diagnostic Center (RDC).
All frame stiffnesses range between 50 – 85 with 85 being the stiffest. Most modern racquets range from 60 – 75.
A stiff tennis racquet will give you more power but also transmit more vibration. Stiffer tennis racquets are generally less comfortable than flexible tennis racquets. Also, stiffer racquets are slightly worse at providing spin than more flexible racquets.
If you have or in the past suffered from tennis elbow, go with a more flexible tennis racquet. While it won't have as much power as a stiffer racquet, it'll feel more comfortable and easy on your arm.
Length
A standard racquet length is 27 inches but tennis racquets can range all the way from 27 to 29 inches long. 29 inches is the legal limit for tournament play so almost no tennis racquets are designed to be longer than that.

Length affects the amount of leverage you have when you hit the tennis ball. A longer racquet means more reach on your ground strokes and more power on your serves.
Most tennis racquets that feature a longer length also weigh less than their regularly sized counterparts. This is done to ensure the racquet remains maneuverable even as it gets longer.
Now, most players can easily switch racquets to one that is a ½ inch longer without any problems. Personally though, I've always stuck with the standard 27 inch racquet length. What more do you need?
Head Size
The head size of the racquet is essential in determining how much power the racquet has. A racquet with a larger head will provide more power than a racquet with a smaller head.
A larger head size also provides greater forgiveness for off center hits. This is especially useful for beginners just starting to hit the ball.
Head sizes can range all the way from 85 sq in to 135 sq inches! However, you'll see most players playing with a head size anywhere from 93 to 105 sq inches. This range of head sizes provides a good mix of control and power.
String Pattern
When talking about string pattern, there are two main styles we need to talk about. Open and closed string patterns. An open string pattern is one where there are fewer crossing strings.
Common open string patterns are 16 x 18 or the most common, 16 x 19. A closed string pattern has more crossing strings than an open pattern. The most common closed string pattern is 18 x 20.
So what are the differences? How does the use of a open or closed string pattern affect your game?
Well, due having less strings, an open string pattern provides playing with a better feel for the power and additional power and spin. One of the features of an open string pattern is that the tennis ball rebounds further with less strings.
However, an open string pattern comes at the expense of decreased durability. Heavy hitting players using open string patterns tend to break their strings more frequently than if using a closed string pattern.
Closed string patterns provide greater string durability and control over the tennis ball. However, they provide less power and spin to players. Lots of heavy hitting top spin players love closed string patterns because their tennis racket can withstand the force of their shots.
Tennis Racquet Types
In order to simplify the choosing a tennis racquet process, manufacturers generally make tennis racquets to fit into one of three categories: Power/Game Improvement, Tweeners, and Player's racquets which roughly translate to beginner, intermediate, and advanced levels of play.
Wondering whether it's racquet or racket, visit our guide!
Each category of tennis racquet has a certain set of characteristics. We'll get into them below.
Power/Game Improvement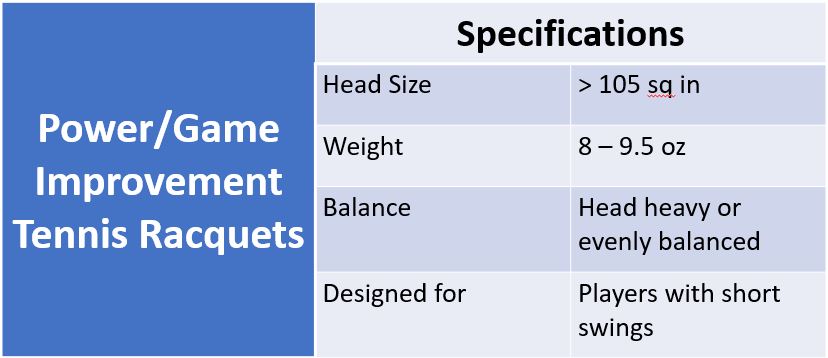 Power/Game Improvement tennis racquets are primarily designed for beginners just starting to play tennis. Typically, they will incorporate big head sizes so players can easily hit the ball and be very forgiving during off-center hits.
If you're a beginner, visit our best tennis racquets for beginners guide!
This type of racquet is best for players who have short and/or slow swings. If you have a longer swing or like to swing especially fast, these "Power" tennis racquets will likely be too powerful for you.
One of my all time favorite tennis racquets from this category is the Head Ti S6. With a large head and plenty of power, it's the perfect starter racquet for any person starting to play tennis.
Tweener Racquets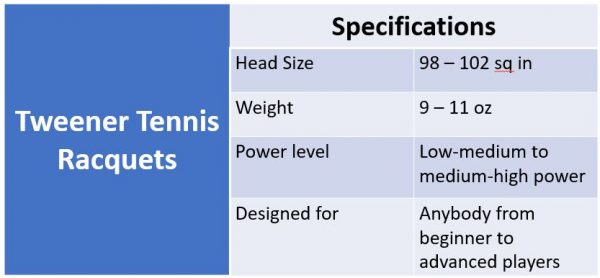 Best for players moving beyond game improvement racquets, Tweener racquets are that perfect mix in between power and control. If you've played tennis before and have mastered the basics, you should probably be playing with a tweener tennis racquet.
These types of racquets feature slightly smaller head sizes than the Game Improvement category of tennis racquets which results in additional control for the player. Some of my favorite tennis racquets available today are described as "tweener racquets"
One of my favorites is the Babolat Pure Drive. Filled with power and control, this racquet will have you blasting forehands and backhands from the baseline. It's perfect for any player who has any level of previous tennis experience.
Player's Racquets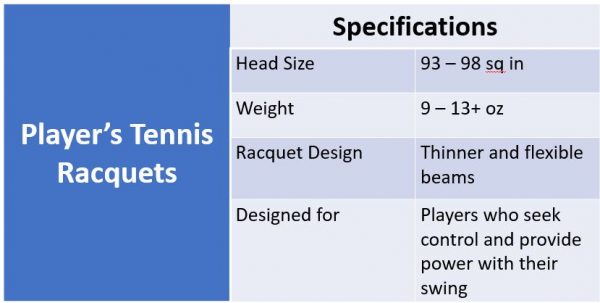 Player's racquets are what you'll see when watching the pro's play. Roger Federer, the all time great, plays with probably the most iconic player's racquet the Wilson Pro Staff RF97.
These racquets are stiff, unforgiving, and feature smaller head sizes. While these racquets may be unfriendly to the beginner, in the hands of an experienced player these tennis racquets are the best available currently.
My favorite player's racquet right now is the Babolat Pure Strike. In this series, Babolat took the Pure Drive and tweaked for more control and spin. Using the Babolat Pure Strike out on the court, I've seen an immediate increase in my game.