Hey! This site is reader-supported and we earn commissions if you purchase products from retailers after clicking on a link from our site.
Some pickleball players have a low opinion of the dink, believing that it's a shot reserved for players who can't hit hard shots or lack the strength to maintain a volley.
But the dink is actually a difficult shot to use correctly, and when done right, it's a great addition to your toolbox as a player. Let's take a closer look at the pickleball dink!
What's a Pickleball Dink?
So what is a dink in pickleball? A dink is a type of controlled drop shot. When dinking, you hit the ball in an arc whose apex is on your side of the net. The ball falls just over onto your opponent's side of the court. The goal is to have it land in the non-volley zone.
As you know, your opponent can't just hit the ball back from the kitchen; they have to let the ball bounce. Usually, that means they need to hit the ball upward to return the shot. And you can't really hit a power shot when you're hitting the ball up!
Of course, sometimes just seeing a shot is the best way to really learn it. This video illustrates a well-executed pickleball dink!
You might also hear the term "cross-court dink." A cross-court dink is just what it sounds like. You're hitting a dink, but instead of hitting it right over the net, you're hitting it diagonally across the pickleball court.
This shot is more likely to force an error. After all, your opponent needs to get to the ball, get ready and hit the ball back.
The cross-court dink is tougher to master, so make sure you're confident with more straightforward dinking before you move on to this one. But once you're a solid intermediate player, the cross-court dink can be a real asset in your player's toolbox.
What's the Point of Hitting a Dink?
The dink shot pickleball players use is unlikely to become the single winning shot of a game. Rather, the main point of dinking is to extend a game long enough that your opponent makes a mistake. Or more than one. Essentially, it's useful procrastination! Here's how a dink can work in your favor:
It Slows Down the Game
As you know, when the ball goes into your opponent's kitchen, they can't just hit it immediately back. They need to wait for it to bounce before returning the shot. That in itself slows the game down quite a bit.
And if you've been playing pickleball for any length of time, you know that a pickleball doesn't bounce very high! So to return the shot, your opponent will need to hit the ball up (after the bounce) so it clears the net. It's next to impossible to hit the ball hard when doing this, so there's a good chance the shot will be easier to return.
It Keeps Opponents on Their Toes
Of course, since dinks can be difficult shots to return, your opponent may even have an unforced error. The opponent may accidentally hit your dink straight into the net or miss the ball entirely. Cross-court dinks in particular can be hard to get to!
A dink is an especially good shot to use if your opponent tends to rely on fast shots. Slowing the game down will often trip them up.
It Can Tire Out Your Opponent
Running to get a dink, making sure you stay low during the hit, and then rushing to get back to the ready position can be tiring. Sprinkling some dinks into your game can start to wear down your opponent and make errors more likely.
When Should You Dink?
Shot selection is a key part of pickleball strategy. To be a great player, you need to size up your opponent's position and choose your next shot quickly.
You know that if you use a dink shot every chance you get, your opponent will wise up quickly. So when in the game should you hit a dink shot?
Many seasoned or professional players recommend using a dink or similar drop shot right after hitting the ball relatively deep down the court. That way, your opponent really has to run for the ball and then dive to hit it right after the ball bounces.
But what really matters is the shot you use after the dink. When the ball bounces near your opponent's feet as it does with a dink shot, your opponent's return will likely not be too powerful. Your opponent may also be out of breath or just regaining the ready position.
When this happens, make your next shot a deep one. Unless your opponent is especially good, they will likely make a mistake. It's a lot harder to run backwards to hit a shot than it is to run forwards!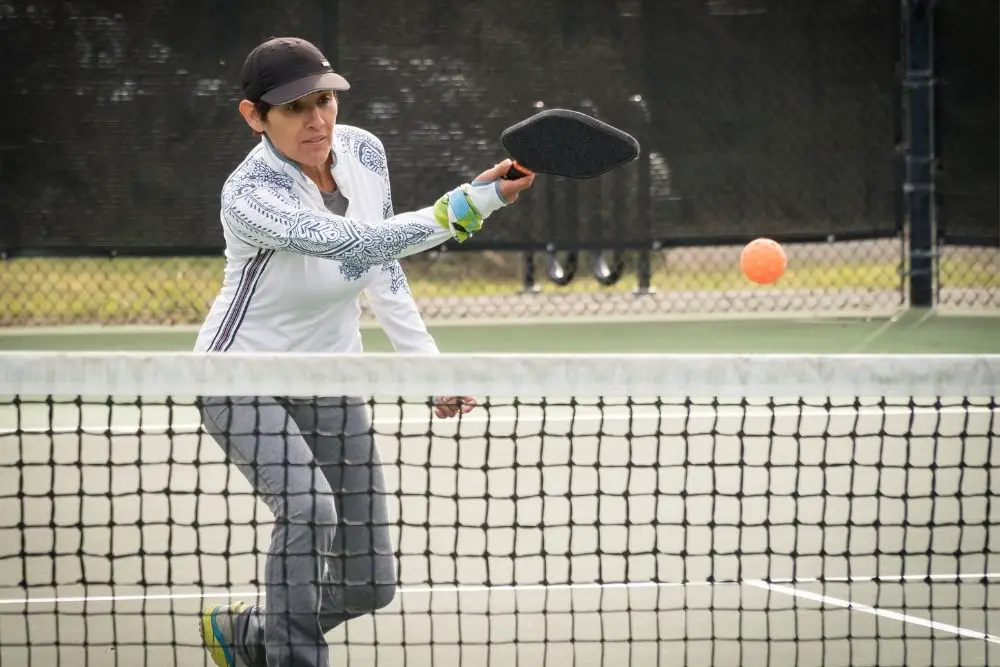 When Should You NOT Dink?
The pickleball dink shot is a great tool. But like any strategy, you don't want to use it over and over. If you've ever seen a pickleball game where two players (or four players) get into a dink battle, you know that it's not exciting. It's just a series of slow dinks over the net. Getting into a dink battle is also not fun for either player!
This is probably common sense, but if you don't feel confident hitting dinks during practice, don't try to dink during a game. Most pickleball players see the dink as more of an intermediate shot than a beginner shot. If you try and hit a drop shot like this one without mastering the technique, you just might hit it too far into the air and off the court. It's not a great way to lose a point.
Tips for Hitting the Perfect Dink
So now you know the answer to "what does dink mean in pickleball?" You also know the basics of how to execute a dink. But as you learn this particular shot, you'll want to know that every aspect of your technique is pristine. After all, you'll save time if you learn the shot right the first time!
Here are some tips to help you master dinking:
Get ready
Be mindful of the kitchen line
Watch the ball
Perfect the upward hit
Keep the ball away from your feet
Imagine "lifting" the ball
Keep the hit low (but not too low)
Regroup quickly
Get Ready
To prepare for a dink, you'll need to be in the ready position close to the kitchen line. Keep your knees bent and your feet roughly shoulder-width apart.
You'll also want to get your paddle ready. Make sure you have a relatively loose grip and are prepared to make short, compact shots.
Be Mindful of the Kitchen Line
A good dink shot is most often hit from the non-volley zone line, so try to keep your body right by the line. If you need to move to get to the ball, do your best to step out sideways (keeping your body parallel to the line). If you cross one leg in front of the other, you'll come out of the ready position, and hitting a good shot will be harder.
Watch the Ball
In order to make well-placed shots, you need to see exactly what the pickleball is doing before it hits your paddle. Make sure you pay attention!
Watching the ball is especially important when dinking. That's because you don't want to hit the ball straight in front of you; it will hit the net! Instead, get your paddle under the ball and hit upward.
You don't want your paddle face to be totally flat; hold it at a bit of an angle. It takes practice to get that angle exactly right, but once you do, it becomes muscle memory.
Perfect the Upward Hit
Dinks take a long time to master because of how precise you need to be. The ball needs to be over the net, but not too high over the net. When you practice, do your best to make sure the apex of the ball's flight is on your side of the net. This makes sure that when the ball comes down, it will be in the opponent's kitchen close to the net.
Most pickleball players tend to stand close to the non-volley line when playing. So if the ball lands near the net, your opponent will need to really dive to hit the ball after letting it bounce.
Keep the Ball Away From Your Feet
When dinking, you usually hit the ball relatively low. But don't wait until it gets close to your feet. Hitting a pickleball when it's close to your feet is unnecessarily difficult, and it's also harder to hit a shot your opponent won't be able to return. You'll have a better chance of hitting a great dink before the ball comes that low.
A good rule of thumb to help you make sure you do this every time is to make sure you hit the ball in front of your body. That will make it easier to really get under the ball and plan your shot (as opposed to scrambling to hit it before it hits you!)
Imagine "Lifting" the Ball
If you want to force an error on your opponent's part, the mechanics of the dink are really important. Bend your knees and stay low. Think about keeping your wrist and elbow in a relatively fixed position and "lift" from the shoulder.
You might be tempted to flick your wrist. Don't do that! A good dink, like any good drop shot, is ultimately about control. Keep your wrist firm. You want the lift from your shoulder to be gentle and steady. Think about lifting "through" the ball. After all, a dink shot is smooth and slow. You're pushing it into a neat arc, not slamming it over the net.
Keep the Hit Low (But Not Too Low)
When dinking, you don't want the ball to fly needlessly high over the net. But give yourself some room: if you hit the pickleball too low, it will just hit the net and you'll lose the point. If you practice dinking with friends, you'll start to develop a feel for just how high you need to hit the ball.
Regroup Quickly
It's easy to watch your dink and hope it lands right where you want it to. But a good pickleball player stays prepared. As soon as you hit your dink, get back in the ready position right by the kitchen line as soon as you can. After all, depending on how the shot lands and your opponent's skill level, the shot you get in return may be different than you expect.
Learning to Use the Dink Shot to Your Advantage
Learning new pickleball strategies and then trying them out in a competition is one of the most fun parts of the game. Whether you've just learned to use side spin or are mastering dinks, you're probably excited to try them out.
Watching pickleball channel videos, practicing various scenarios with friends, and perfecting your technique will help you develop the perfect pickleball dink!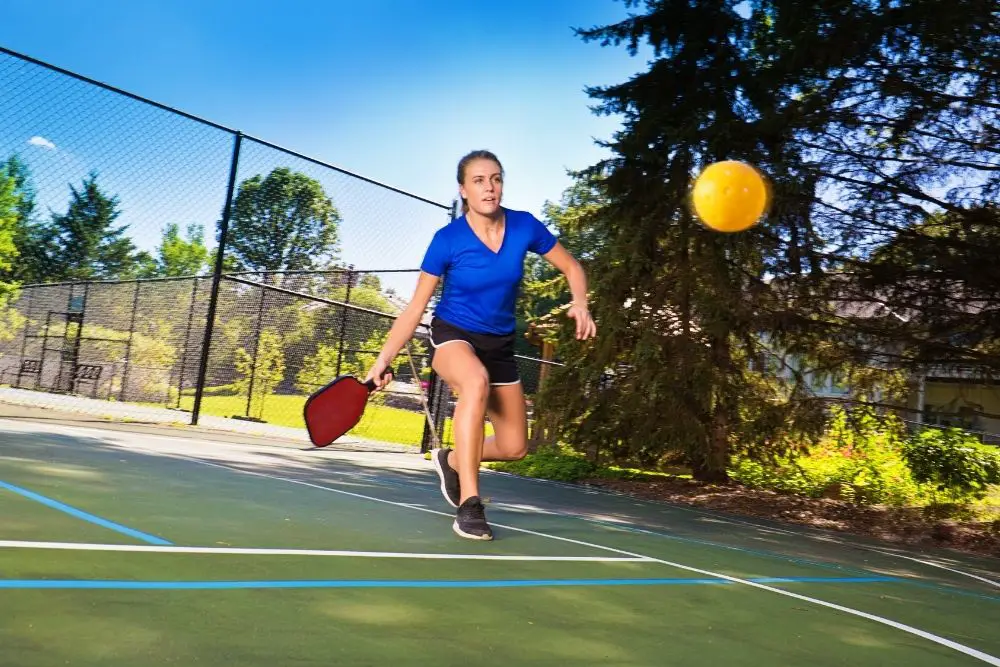 FAQs (Frequently Asked Questions)
Do you have to dink in pickleball?
No, you don't have to dink. That being said, a good dink shot can be very challenging for even a better pickleball player to return. So if you can get good at cross-court dinks, these can be very useful shots to add to your arsenal.
How do you play dink in pickleball?
To hit a dink, you hit the ball when it is somewhat low. The ball arcs over the net and lands in your opponent's non-volley zone, or kitchen. In order to return the ball, your opponent won't be able to use a powerful shot, so a good din shot gives you an advantage
When should you dink in pickleball?
If your opponent is an aggressive player, a dink shot is a good way to catch them off-guard. A good dinking strategy involves interspersing dinks with other shots to prevent your game from becoming predictable.