Hey! This site is reader-supported and we earn commissions if you purchase products from retailers after clicking on a link from our site.
In our series The Pro's: Racquets and Equipment, we've seen that a number of pro's don't play with the racquet you think they do. While people deep into tennis trivia and forums accept this as a fact, a lot of people don't realize that these Pro's are not playing with the racquet it looks like they're playing with.
Most Pro's do not play with the racquet you think they are playing with.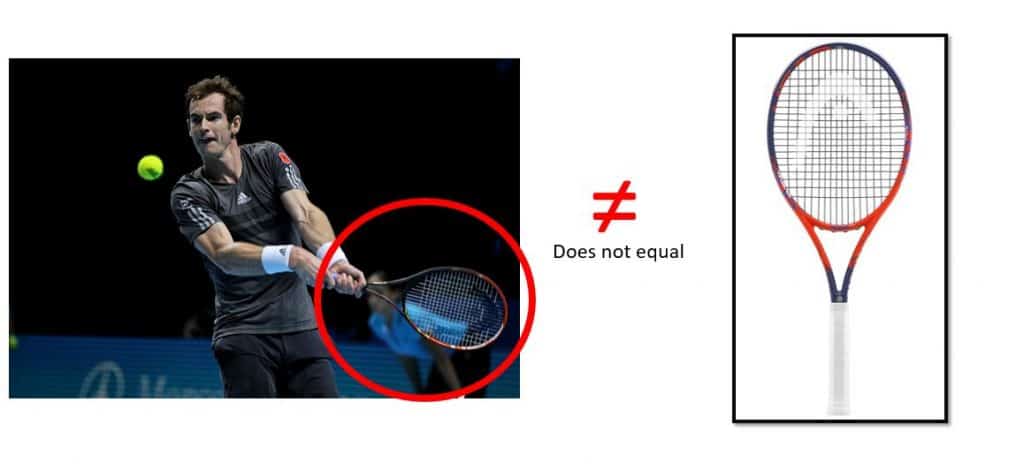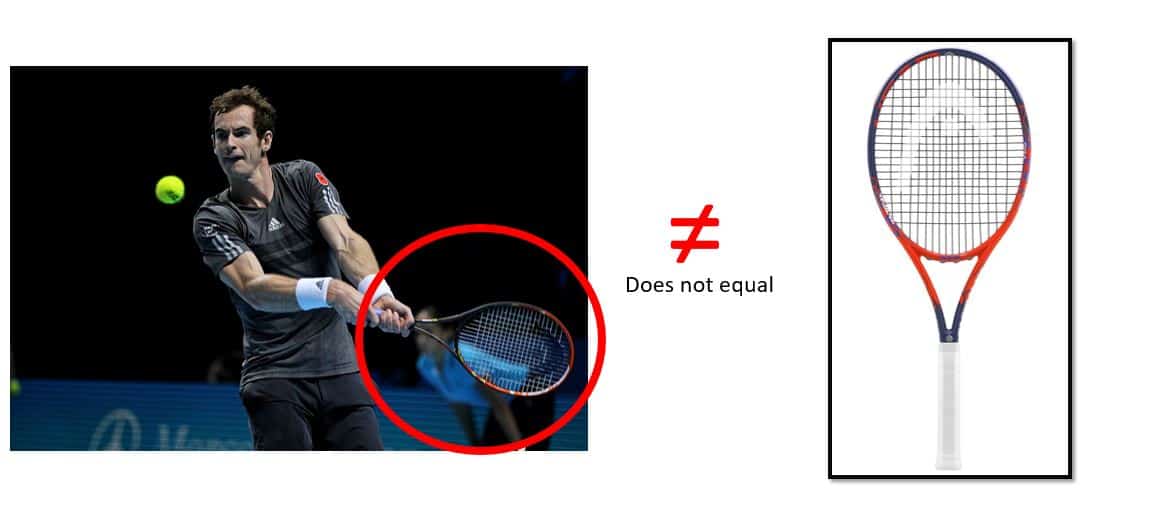 Andy Murray does not play with the tennis racquet that it looks like he plays with. He actually plays with a much older version of a Head tennis racquet.
And that's going to be the point of this article. I'm going to take you through the tennis racquets you think they play with, what they actually play with, and then I'm going to tell you why they do this.
The Scandal
Pros such as Andy Murray, Novak Djokovic appear are listed under prominent websites as playing with tennis racquets such as Head Graphene Touch Radical Pro and Head Graphene Touch Speed Pro. They do not actually play with this racquet! Want to know which racquets they actually play with? Check out this series telling you the truth about each pro: Andy Murray  Novak Djokovic.
Each of these pro's tennis racquets are merely painted to look like the new versions they supposedly play with. That's why if you look purely at the color scheme, you'll see no difference.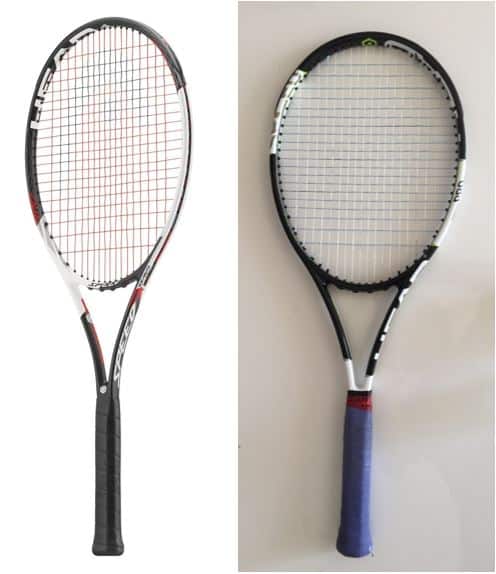 Left- The Head Graphene Touch Speed Pro Right- Djokovic's real tennis racquet. The head shape is the most significant difference here. The left racquet is more oval shaped compared to the right racquet which has more of a circular shape.
So how can we tell the difference? In essence, it's actually pretty hard. You have to know what to look for and really examine every photo you can find of the racquet. Here's some differences that can be spotted by looking at photos:
Differences in drilling pattern
Differences in gromments
Different mold/layup from the imposter racquet
Insider information
Of all of these, the two easiest to find are either the different mold or just having somebody on the inside tell you about it, i.e. inside information.
A different mold refers to the shape of a tennis racquet. A mold governs the physical shape of the tennis racquet such as head size, beam width, beam height, and whether the head of the racquet is more oval or more circular-like. The shape of the head of the racquet is especially easy to tell from photos and can be the clue that gives it all away.
Why Do They Do It?
Mainly players don't intend to trick the public but they do by falsely representing the racquet they play with. So why do they do it? I'll explore a number of reasons.
Comfortable & Predictable
These pros have grown up from the junior levels playing with the same racquet. And all of a sudden, when they get a big sponsorship, they're expected to play with a different racquet? They're spent years learning the ins and outs of their specific racquet model. They know how the racquet reacts in common and weird situations.
In short, the pro's grow up playing with one racquet and this racquet becomes predictable for them over time. In the pro's, matches are defined by a couple of points. Playing with a new racquet could cause some unforced errors and boom! Your chance of winning Wimbledon is gone.
Their Sponsor
Now, I believe a lot of the reason for this fraud behind the pro's racquets is because of the sponsorships. Let's take Head for example. Head has 5 silos of racquets: the Speed, Radical, Instict, Prestige, and Extreme series. Each of these silos is aimed at different types of tennis players and more importantly, each series is endorsed by different pros.
However, almost none of these pro's actually play with racquets from the series they supposedly "sponsor"! How can you sponsor tennis racquets if you don't use them to win championships?
Let's take a look at what the pro's sponsor and what they actually play with in tournaments when it matters.
Head Sponsored Tennis Pros
Series
Pro Tennis Player
Supposedly Plays With
Actually Plays With
Speed
Novak Djokovic
Head Graphene Touch Speed Pro
Old Head Microgel Radical
Radical
Andy Murray
Head Graphene Touch Radical Pro
Instinct
Tomas Berdych
Head Graphene Touch Instinct Pro
Old Model Radical
Extreme
Richard Gasquet
Head Graphene Touch Extreme Pro
Old Instinct
Prestige
Marin Cilic
Head Graphene Touch Prestige Pro
Every one of the big name tennis pro's that Head sponsors do not play with the actual version of the racquet they sponsor.
The Truth About Tennis Racquets
Here's the truth. A revolutionary technology for tennis racquets doesn't come out every 1-2 years. Most so-called "new" tennis racquets are just slight adjustments over old frames with a different paint job.
So next time you see somebody like Andy Murray or Novak Djokovic playing in a tennis tournament and think to yourself, I want to be like him, I want his racquet, here's some advice.
Most websites will lie to you about the racquet they actually play with. Tennis Warehouse is the worst one. Here, we will never intentionally lie to you about what racquet we play with.
Check out our series on the matter: The Pro's Racquets & Gear . If you don't see a pro and want to know which racquet they play with, drop us a note in the contact us form .
Realize that these are PRO's. Often times, beginner to advanced tennis players can't handle the tennis racquets the pro's are swinging in these tennis tournaments. A far better idea would be to look at your skill level and evaluate which racquet would be best for you from you. On that, we have a few ideas.