Hey! This site is reader-supported and we earn commissions if you purchase products from retailers after clicking on a link from our site.
Having the right gear can make a real difference in your pickleball playing experience. And if you're serious about pickleball, you've probably put a lot of thought into choosing your paddle and the type of ball you play with. But there's all sorts of other fun stuff you can use! Here's a guide to choosing the right pickleball accessories to up your game.
Gloves
Every time the pickleball paddle hits the ball, you get a little bit of a shock to your hands. But if you want to avoid your grip slipping and try to not get blisters or calluses, a pair of great pickleball gloves will help!
Good gloves have padding or a cushion on the palms to help reduce fatigue and keep you comfortable. Most also have vents and gussets to help keep you cool and comfortable. If you want a recommendation, the Franklin Pickleball Glove is the official glove of United States Pickleball championship tournaments.
Paddle Grips
Any pickleball paddle you get will come with a grip. However, especially if you have a more budget-minded paddle, the grip may be thin. Thinner grips don't absorb much shock, so playing with one of these paddles can get uncomfortable.
Luckily, with the right pickleball paddle grip, you can protect your hands and play with more comfort and confidence on the court. You can choose a grip or an overgrip. A grip replaces the existing grip on your paddle. On the other hand, an overgrip covers the existing grip.
So why go for an overgrip? This is a good idea if you want to increase the circumference of the grip — a good move if you have larger hands.
Grips and overgrips are great for cushioning the handle to absorb some of the vibration from hitting the ball. But they're also excellent for playing in the heat. The sweatier your hands get, the more likely it becomes that you will drop the paddle.
What type of grip you choose is up to you. Some are textured to help you hold the paddle more securely. Others are more tacky to help you keep your hands in place.
A good grip or overgrip is a great way to personalize your paddle. They come in many different patterns and colors. So whether you're buying one for yourself or someone else, you can have fun picking out and using one.
If you're looking for a good grip, check out the Prolite Diamond Grip. This one has a comfortable amount of cushion, and it is specially designed to stop sweat from dripping down the paddle grip. That way, you can play on even the hottest of days without worrying about your hand slipping on the paddle!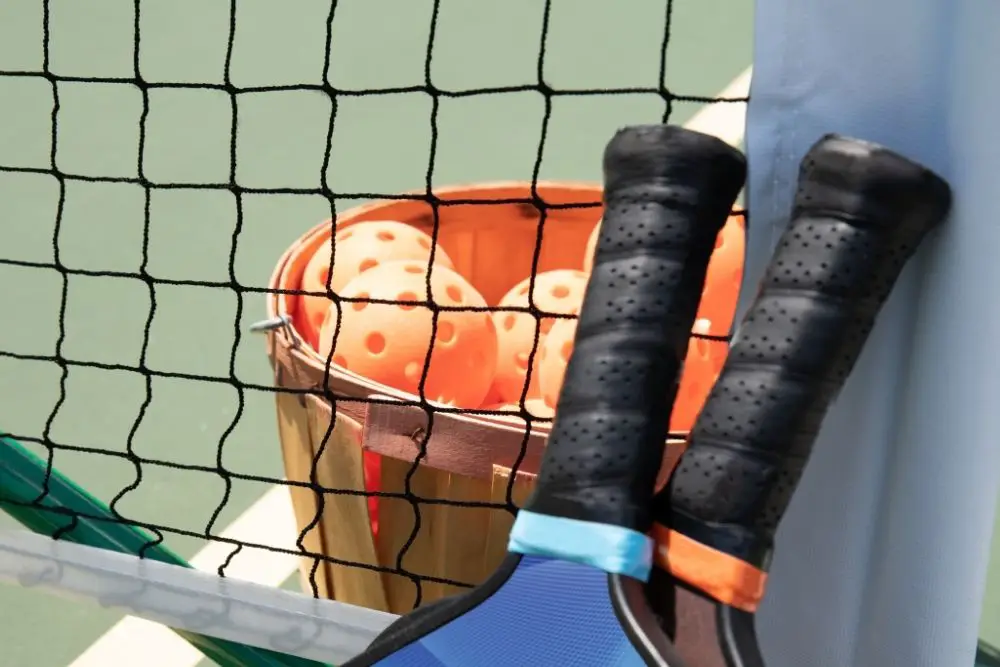 Ball Collectors
If you're practicing repeated hits (especially with a pickleball machine), there comes the dreaded time that you need to walk around the court and pick up all the balls.
But with a ball collector (also called a ball tube) you don't need to do that. A ball collector is basically a vacuum for pickleball; it's a tube connected to a basket. You just need to press a button, and the tube sucks the pickleball into the basket.
There are all different ball collector sizes out there. On the smaller size, you can opt for something like the Tourna pickleball tube.This one holds up to 17 balls. On the larger side, you might want something like the Tourna Pickleball ball collector. This one holds up to 45 balls!
Gear Bags
You can find a wealth of gear bags on just about any pickleball site. And depending on your preferences, you can opt for a sling bag (goes over one shoulder), duffel bag, or backpack.
Bags are one of the easiest accessories to personalize. You can go for a bright, colorful aesthetic or something more understated. You can even opt for a monogram.
If you're serious about playing, a bag is a must. You can carry balls, paddles, gloves, extra grips, tape, a water bottle, and just about anything else you need.
One of the best bags out there is the Franklin Pickleball X Elite Performance Sling Bag. It comes in five different colors and is compact enough to be easy to carry. However, it has a large amount of storage space for everything you need. And don't worry if you have a lot of gear — its strap is padded for comfort.
If you prefer the extra space afforded by a duffel bag, check out the Pickleball Fanatic Duffel Bag. This one has plenty of pockets for organization, and you can use either the shoulder strap or the carry handle. Plus, there's a colorful pickleball graphic on the side!
If you want a sleek, striking backpack, the Onix Pickleball Durable Backpack has a square design with plenty of mesh and zippered pockets. The back and shoulder straps are padded. And despite its high-end look, it's remarkably affordable.
Paddle Covers
Paddle covers may not seem like a big deal, but they're a must if you want to protect your gear. Paddles are very prone to scratches and other damage, so especially if you keep yours loose in a bag, having something to protect it can really extend its life.
Tiger Pickleball makes a very well-cushioned paddle with a universal fit for any paddle type. It's highly durable, so you'll get many years of use out of it.
Court Tape
If you don't live close to a pickleball court, you may find yourself playing on a tennis court. But if you don't have the proper lines on the court, it can be challenging or even impossible to play well.
That's where court tape comes in. It's specially designed for sport, and it's a quick and easy way to temporarily mark out an entire pickleball court, including the kitchen. While it sticks well, it's also easy to remove without residue.
This tape isn't very expensive, and there are seemingly endless options out there. Pickleball Central, a website dedicated to pickleball supplies, offers an inexpensive yet great-quality tape.
If you've never used pickleball court tape to temporarily turn a tennis court into a pickleball court, this video shows you how.
Scoreboards
A scoreboard might not be an absolute must for the casual player, but it's certainly great to have. After all, when you're highly focused on your game, it can be hard to remember the score.
A portable scoreboard is a great choice, as it can go with you to any court. The Upstreet Portable Scorekeeper is a board that lets you keep score for 2-3 people. And for each number section, it goes up to 99.
Ball Holders
A ball holder is a useful tool for carrying a few extra balls as you play. That way, instead of chasing down the ball every time, you can simply grab a ball from the holder and keep playing!
The Tourna Pickleball Ball Band is a lightweight, breathable option. It fits over pants, shorts, or a skirt, and it's small enough that it won't have a negative effect on your game.
Sometimes, you might find yourself in a position where you need to carry even more pickleball. In that case, you might want to choose the Ballszie Pickle Holder. This one holds up to 8 pickleballs. So it doesn't swing around and get in the way, it fits on your back. It has adjustable straps so you get a close and comfortable fit.
Gifts and Other Fun Stuff
Accessories for playing pickleball are great, but if you're interested in getting a gift for a friend or family member who plays (or even something for yourself), there are plenty of different types of gifts you can find on just about every pickleball gear website:
Mugs
T-shirts
Hats
Scorekeeper bracelets (has number beads so you can keep tack of the score!)
Towels
Paddle-shaped charcuterie boards
Keychains
Notepads
Decorative signs
Finding the Right Pickleball Acessories
As you can see, there are lots of categories of accessories you can find to make your time playing pickleball more fun. Of course, some of them (like pickleball machines!) are major purchases, but others, like gloves and paddle grips, are inexpensive things that can still make a big difference in your playing experience. Think about what you need, and have fun shopping!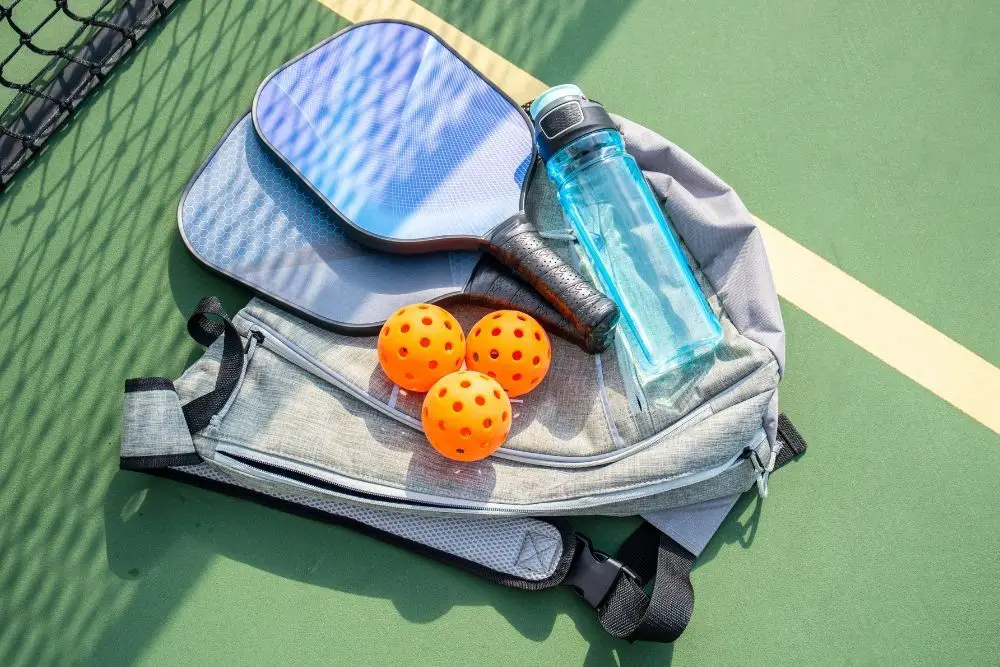 FAQs
Still have some questions about pickleball accessories? Here are some answers:
What accessories do you need to play pickleball?
To play pickleball, you need a racquet and pickleball at minimum. However, there are several accessories you can get to make the experience a better one. Gloves, scoreboards, ball holders, paddle grips, and ball collectors can make your playing time easier and more fun.
Where can you get pickleball accessories?
Luckily, pickleball accessories are pretty easy to find. You can go to just about any well-known sports store or find them online.