If you're just looking for a quick answer, I personally recommend the Babolat Pure Aero tennis racquet to every one of my intermediate level students. With a lightweight frame, this racquet helps you develop a fast swing speed and finetuned control. You'll need both of these skills to quickly go from intermediate to advanced!
As an intermediate tennis player, you're interested in or have even played competitively and are looking for the next step to get better.
Want to know how to instantly improve? Find the best tennis racquet that fits you.
As an intermediate player, here is where your choice of tennis racquet becomes very important. The wrong choice will hinder your development causing you to lose more matches and hurt your form.
The right choice will feel perfect in your hands. You'll be able to easily dominate your opponents and truly grow as a player with the racquet.
Here are my personal top choices for intermediate tennis racquets in 2020.
IMAGE
PRODUCT

Editor's Choice

Offers a great amount of speed and spin
Dampens vibrations and prevent injury
Perfect for aggressive players who want to start developing a longer, faster swing

VIEW LATEST PRICE →

Runner Up

Strong enough to absorb the power of other players
Offers a large sweet spot
Great racquet for players just transitioning

VIEW LATEST PRICE →

Offers amazing control
Has enough weight to give you power and stability
Has an easily maneuverable frame

VIEW LATEST PRICE →

Good at vibration dampening
Has an isometric string pattern
Open string pattern provides an unreal amount of spin

VIEW LATEST PRICE →

Adds control on top of immense power
Designed to dampen vibrations in the frame
Perfect all-court racquet for intermediate players

VIEW LATEST PRICE →
Upgrading your equipment to suit your skill level is vital because as you progress in the sport, what you need from a racquet changes.
As an intermediate player, you don't need the racquet to generate all the power for you. That's what beginners do.
As you progress, more and more of your power should come from your swing. That gives you much more control over where and how deep the ball goes.
For intermediate players, you need to move away from the big head size and short swing tennis racquets. Instead look for more control and touch.
When you're playing competitively, you want a tennis racquet built for control as much as one built for power. Look below for some of the characteristics needed at an intermediate tennis player level.
Characteristics of the Best Intermediate Tennis Racquets
Extra Control
As a beginner, you will place 90% of your focus on getting enough power to get the ball over the net and not have your opponent immediately smash it back.
That's why the best tennis racquets for beginners feature a large head size and lots of power. They're built to make sure that any beginner will get the ball over the net.
However, as you get better, beginner tennis racquets limit you and can hurt your form!
You see, once you master the basics, your swing will slowly start getting longer and more fluid.
If you're still using a beginner tennis racquet instead of a tennis racquet for intermediate players, you'll soon start having more unforced errors.
That's why you need tennis racquets built for control as an intermediate tennis player.
Your attention needs to shift to having more touch and feel in your game instead of just trying to get the ball over the need. You need to start hitting shots where you want to and have the ability to put different spins on them.
As a more advanced tennis player, you will be spending time on adding control to your game and you need a racquet to help you with that goal.
Heavier Weight
Compared to beginner tennis racquets, intermediate tennis racquets tend to be slightly heavier.
While they require a little more effort to swing, you'll instantly see more power and control in your tennis game.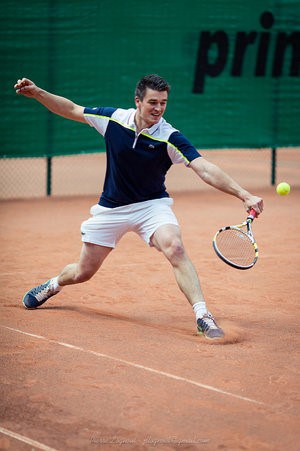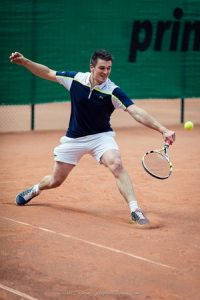 A word of warning though – slightly heavier is the key! The last thing you want to do is switch from a 9.5 oz tennis racquet to one weighing 12+ oz (like the RF Pro Staff).
This is the quickest way to injure yourself.
A slightly heavier racquet will give you better heft and feel for the tennis ball throughout play resulting in more explosive strokes and improved playability.
The best intermediate tennis racquets will also be more solid in terms of being able to receive and return powerful shots from your opponent.
And, contrary to popular belief, heavier tennis racquet do not lead to tennis elbow!
In fact, heavier tennis racquets are sometimes better for the best tennis racquets for tennis elbow. They actually absorb more vibrations protecting your elbow!
More Spin
As you move from beginner to intermediate to advanced, you'll notice that the very best players don't overwhelm you with just power. They add spin. And, lots of it.
That's why when you move away from beginner racquets, one aspect you need to focus on is spin capability.
Some of the best tennis racquets for intermediate players don't blow your mind away with sheer power but they more than make up for it with the spin.
Specific string patterns and frame design allow you to add tons of spin to your shots. This is a very important technique as you progress in your game and your choice of racquet directly affects that.
The difference in your strokes is what separates the amateurs from the better players and the choice of racquet can drastically improve your game quickly.
Stable Grip
A stiffer tennis racquet will feel more stable in your hand when using it. This is especially important when playing a stronger opponent where you might need to take the power off their shots in order to return them effectively.
It's worth it to look for something that feels comfortable yet solid when choosing an intermediate racquet.
Doing this will ensure you get a intermediate tennis racquet that will help you improve your game while being pleasant to play with.
5 Best Racquets for Intermediate Players
One of the best intermediate racquets, the Babolat Pure Aero is built for tennis players who want to dominate from the baseline. If you remember nothing else from this pure aero racquet review, remember these 3 aspects:
Superb Spin Immense Power Fast Swing
The Pure Aero offers a great amount of speed and spin with superb stability. The weight is 10.6 ounces which is the perfect weight for an intermediate tennis player racquet (although it'll feel light in your hand).
On the court, the Pure Aero feels as light as air. It's designed to help intermediate players lengthen their strokes and become more fluid – and it definitely succeeds.
You'll be able to feel the tennis ball brush the strings of this tennis racquet and effortlessly apply spin.
The 16×19 string pattern and frame design both contribute to applying topspin – so much that the tennis ball will bounce right over your opponents head.
To people experiencing tennis elbow, don't fear. Babolat introduced a special Cortex system to dampen vibrations and prevent injury while hitting with the Pure Aero.
The Pure Aero is perfect for aggressive players who want to start developing a longer, faster swing and use spin to dominate their matches.
This racquet is also famously used by Rafael Nadal! See here for our full review of the Babolat Pure Aero racquet.
The Wilson Ultra 100 is like the Swiss Army Knife of tennis racquets. This tennis racquet is perfect for all-court play and excels at blending each aspect spectarulay.
While other racquets dominate at spin (Babolat Pure Aero), comfort (Yonex 100), or power (Babolat Pure Drive), the Wilson Ultra 100 does them all.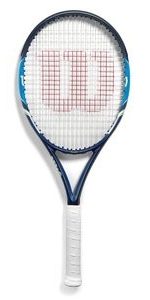 The Wilson Ultra 100 places so highly on this list because it offers something to every player.
It has the power to be good for baseliners but offers extra feel for those who like to be at the net. This superb feel is great as it allows you the sensitivity and control to improve your game.
At 11.2 ounces strung, the Wilson Ultra 100 is strong enough to absorb the power of other players while giving you enough punch in your own game to compete.
The head size is still big enough to offer a large sweet spot which will continue to help in connecting with the ball properly.
A 16 X 20 string pattern and just the right amount of stiffness in the frame gives great response and spin to your shots.
This is a great racquet for players just transitioning from a beginners tennis racquet.
If you're unsure of your playing style (whether you want spin, power, comfort, or something else), this is the intermediate tennis racquet to choose.
This is a fabulous racquet for the aspiring intermediate player and one that has become very popular these days.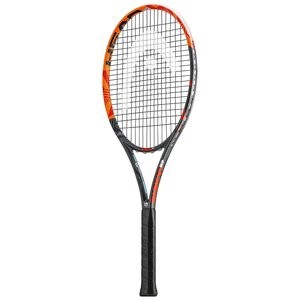 With a smaller head size of 98 inches, this racquet offers amazing control helping in placing your shots accurately or playing volleys, drop shots etc.
As an intermediate tennis player, you'll see that with a smaller head size, the sweet spot will be a little more difficult to hit but you'll have much more control.
The beauty of the Head XT Radical is in the stiffness of the frame and ability to deliver powerful shots with spin.
The frame of this tennis racquet will give you a feel for every shot you hit. This is invaluable feedback as you continue developing into an advanced player.
This does come with drawbacks though – this racquet will not be good for you if you've been experiencing tennis elbow or have in the past.
Coming in at 10.4 ounces, it's lighter than some racquets on this list but has enough weight to give you power and stability.
The Head Graphene XT Radical also has an easily maneuverable frame which enables you to play shots to all areas of the court and add variety to your game.
The frame is 6 points Head Light which will enable you to easily flick the racquet and develop a fast swing speed – exactly what you need as an intermediate tennis player.
The head light balance combined with the 16 x 19 string pattern will give extra pop to your volleys and amazing amounts of spin to your ground strokes.
Favored by many pro's such as Martina Hingis and Nick Kyrios, the Yonex 100 is a fantastic racquet that provides all the attributes you will need to develop your game further.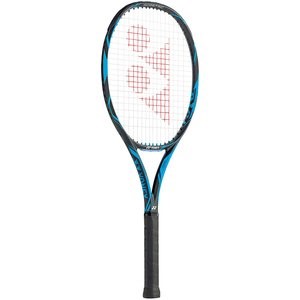 While lesser known in the US, Yonex tennis racquets are known for being comfortable above all else.
Quite simply, no other tennis racquet on this list is as good at vibration dampening and "arm feel" than the Yonex 100.
The Yonex 100 features a 50/50 mix between stiffness and flexibility in it's frame which gives you enough punch and power in your shots and volleys while remaining flexible enough to absorb the shock of striking the ball.
The head size is 100 inches, slightly larger than most intermediate tennis racquets, but it gives the Yonex 100 the extra punch and power that it needs.
One of my favorite things about this tennis racquet is the isometric string pattern. For players, this leads to a bigger and more sympathetic sweet spot. This will reduce your unforced errors and keep you playing longer.
The frame and the isometric string pattern together give the racquet a responsive, lively feel that aids in giving you more control in your shots.
The open string pattern provides an unreal amount of spin and allows you to easily apply it to any of your shots. At 10.6 ounces it feels solid but still light enough to swing easily and have amazing playability.
In terms of comfort, the Yonex 100 has everything else beat.
If you're looking for a tennis racquet that's more forgiving, comfortable, and easier to play with, than any other tennis racquet, you have to check out the Yonex 100 today.
Another top tier tennis racquet from Babolat comes in last (but not least) on our list. Can you guess what a tennis racquet called the Pure Drive is best at?
You guessed it, POWER.
The Babolat Pure Drive is built for adding power to every shot on the court: from serveys, forehands, backhands, volleys and more.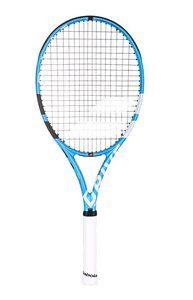 Where the Babolat Pure Aero focuses on spin, the Babolat Pure Drive focuses on power. You'll see the difference immediately from when you pick up this tennis racquet.
A little lighter than the Babolat Pure Aero (11.2 oz), the Babolat Pure Drive weighs in at 10.7 oz.
Intermediate players love the Pure Drive because it takes their beginner tennis racquets and adds control on top of immense power.
When you swing with this racquet, you'll feel the impact of the tennis ball giving you feedback while remaining very arm friendly.
Babolat designed a new technology called Cortex Smooth Feel to dampen vibrations in the frame before they reach your wrist and elbow.
With the FSI string spacing, the strings are tightly compacted in the center sweetspot while further apart near the edges. This gives the Pure Drive power exactly where it needs it the most.
One drawback of FSI spacing though, is that it reduces forgiveness for off-center shots.
Players love the Babolat Pure Drive (see our full review here) because it's lightweight, produces plenty of power, and has enough control to keep your shots in play.
It's the perfect all-court racquet for intermediate players looking for power without specializing in one area just yet.
If you're still developing your game, love to hit aggressive shots, and go for the winner probably more than you should, you'll love the Babolat Pure Drive.
It'll feel like an extension of your hand and personality out on the court. The smooth handling and amount of feel it gives is superb.
Best Intermediate Tennis Racquets: Afterthoughts
If you're at the stage of moving up to intermediate level then it's fairly certain you are committed to tennis and are serious about improving.
Buying the correct equipment as you progress is crucial in honing your technique and become a better player.
As you continue playing tennis though, start evaluating your game on a "rubric".
How good are you at groundstrokes, volleys, serves?
Where are most of your unforced errors?
What's your playing style
These are the questions that will guide in becoming a better tennis player and moving from intermediate up to advanced tennis. At the intermediate level, you're really just looking for a tennis racquet that can grow with you.
At the advanced level, you want to specialize more and find a tennis racquet that fits you and your game. For that, look towards my guide on the best tennis racquets for advanced players.