Hey! This site is reader-supported and we earn commissions if you purchase products from retailers after clicking on a link from our site.
If you're looking for a quick answer, I personally recommend the HEAD Ti. Conquest Tennis Racquet to every one of my intermediate level students. With a lightweight frame, this racquet helps you develop fast swing speed and fine-tuned control. You'll need both of these skills to quickly transition from an intermediate player to an advanced player!
at a glance: our top 5 intermediate tennis racquets
Once you've mastered the basics, tennis becomes much more about form and control than simple repetition.
If you're an intermediate tennis player, I'm sure you thought about playing competitively and are looking for the next step to get better.
Want to know how to instantly improve? Find the best tennis racquet that fits you.
Here are my personal top choices for intermediate tennis racquets in 2022.
IMAGE
PRODUCT
 

 

Editor's Choice

HEAD Ti. Conquest Tennis Racquet

Head Performance
Great For Beginners
Head Light Advantage

VIEW LATEST PRICE →

 

Runner Up

Offers a large sweet spot
Great racquet for players just transitioning
Strong enough to absorb the power of other players

VIEW LATEST PRICE →

 

OPPUM Adult 27" Graphite 100% Full Carbon Pro Tennis Racket

The whole frame is made of graphene carbon material
There are 8 colors to choose, suit for men, women and youth
 Quality After-sales Service

VIEW LATEST PRICE →

Good at vibration dampening
Has an isometric string pattern
Open string pattern provides an unreal amount of spin

VIEW LATEST PRICE →

Lightweight
Suitable for Beginner or Recreational Teenager / Adult Player.
High Cost Performance

VIEW LATEST PRICE →

Designed for aggressive players
Perfect balance of comfort and power
More spin due to increased width

VIEW LATEST PRICE →

Adds great precision and spins to every shot
Great for defending against heavy hitters
Strong frame ensures minimum vibrations

VIEW LATEST PRICE →

Crisp, easy to control, touch
Enlarged frame size for consistency
Great for players who like to play aggressively at the net

VIEW LATEST PRICE →

Very lightweight yet powerful
Offers amazing control
One of the best racquets in the market

VIEW LATEST PRICE →

Adds control on top of immense power
Designed to dampen vibrations in the frame
Perfect all-court racquet for intermediate players

VIEW LATEST PRICE →
As an intermediate player, your choice of tennis racquet becomes very important. The wrong choice will hinder your development causing you to lose more matches and hurt your form.
The right choice will feel perfect in your hands. You'll be able to easily dominate your opponents and truly grow as a player with the racquet.
Upgrading your equipment to suit your skill level is vital because as you progress in the sport, what you need from a racquet changes.
As an intermediate player, you don't need the racquet to generate all the power for you. That's what beginners rely on.
As you progress, more and more of your power should come from your swing. That gives you much more control over where and how deep the ball goes.
For intermediate players, you need to move away from big head size and short swing tennis racquets. Instead, look for more racquets with better control and touch.
When you're playing competitively, you want a tennis racquet built for control as much as one built for power. Look below for some of the characteristics needed at an intermediate tennis player level.
Characteristics of the Best Intermediate Tennis Racquets
Extra Control
As a beginner, you will place 90% of your focus on getting enough power to get the ball over the net. Any decent level opponent will immediately smash it back.
That's why the best tennis racquets for beginners feature a large head size and lots of power. They're built to make sure that any beginner will get the ball over the net.
However, as you get better, beginner tennis racquets limit you and can hurt your form!
You see, once you master the basics, your swing will slowly start getting longer and more fluid.
If you're still using a beginner tennis racquet instead of a tennis racquet for intermediate players, you'll soon start having more unforced errors.
That's why you need tennis racquets built for control as an intermediate tennis player.
Your attention needs to shift to having more touch and feel in your game instead of just trying to get the ball over the net. You need to start hitting shots where you want and have the ability to put different spins on them.
As a more advanced tennis player, you should be spending more time adding control to your game and you will absolutely need a racquet to help you do that.
Heavier Weight
Compared to beginner tennis racquets, intermediate tennis racquets tend to be slightly heavier.
While they require a little more effort to swing, you'll instantly see more power and control in your tennis game.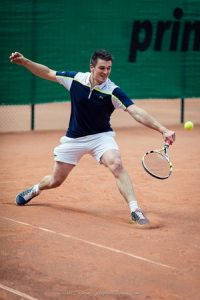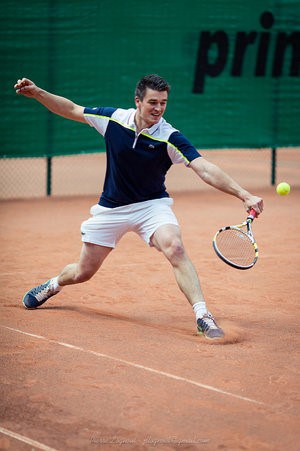 A word of warning though – slightly heavier is the key! The last thing you want to do is switch from a 9.5 oz tennis racquet to one weighing 12+ oz, such as the RF Pro Staff.
This is the quickest way to injure yourself.
A slightly heavier racquet will give you better heft and feel for the tennis ball throughout the play, resulting in more explosive strokes and improved playability.
The best intermediate tennis racquets will also be more solid and consistent in terms of being able to receive and return powerful shots from your opponent.
And, contrary to popular belief, heavier tennis racquets do not lead to tennis elbow!
In fact, heavier tennis racquets are sometimes better for tennis elbow. They actually absorb more vibrations and protect your elbow!
More Spin
As you move from beginner to intermediate to advanced, you'll notice that the very best players don't overwhelm you with only power. They add spin. And, lots of it.
That's why when you move away from beginner racquets, one aspect you need to focus on is spin capability.
Some of the best tennis racquets for intermediate players don't blow your mind away with sheer power – they also produce a lot more spin!
Specific string patterns and improved frame design allow you to add tons of spin to your shots. This is a very important technique as you progress in your game and your choice of racquet directly affects that.
The difference in your strokes is what separates the amateurs from the better players and the choice of a racquet can drastically improve your game quickly.
Stable Grip
A stiffer tennis racquet will feel more stable in your hand. This is especially important when playing a stronger opponent where you may need to counter the power of their shots in order to return them effectively.
It's worth to look for something that feels comfortable, yet solid when choosing an intermediate-level racquet.
By doing this, it will ensure you to get a racquet that will help you improve your game while also enjoying it.
10 Best Racquets for Intermediate Players
Head has constantly pushed athletic equipment into the modern world and continues to produce high-quality, high-performance tennis racquets. The Ti. Conquest Tennis Racquet is no exception.
As well as being great for beginners, this racquet is perfect for intermediate players looking to take their game to the next level.
This racquet sports an oversized 108-inch head that helps players achieve a larger sweet spot to master their precision for every shot. It also boasts a head-light balance to reduce vibration, aiding stability as you hit the pickleball with force and from different angles.
Made from Nano Titanium technology, the Head Ti. Conquest Tennis Racquet is durable and long-lasting. With a frame weight of just 9.7 ounces, this lightweight racquet is easy to use and is built to last.
The racquet that breaks away from the conventional and gives you the best of both worlds, we are talking about the Wilson Clash 100. It is among the few racquets that have managed to combine the opposite qualities i.e. power, control, flexibility, and stability all within the same frame.
With Clash 100 you can take advantage of the vertical swings in the game. It bends in a particular way, that it creates a pocket around the ball and enhances the overall feel of the frame while providing impeccable stability at the same time.
The Clash 100 is not like ordinary tournament racquets, it is loaded with technology that can enhance a player's game to a great extent. Here are the technologies that are incorporated in the Wilson Clash 100.
Free Flex: This technology is powered by the brand's signature carbon mapping that enables the bat to bend in a way and create a pocket around the ball. It enables the players to swing more confidently.
Stable Smart: A result of digital simulation, the technology provides advanced stability and power.
These technologies make Clash 100 one of the best racquets in the world of tennis.
Clash 100 comes with a 100-inch head size and a solid 11-ounce weight (strung). For stunning performance, the racquet has been given an open 16×19 string pattern.
Features:
Perfect control of the ball
Easy to swing
Lightweight but still powerful
For intermediate and advanced players
The blade line from Wilson is one of the common racquets used by tennis players. Wilson has been focusing on making tennis racquets that provided amazing spin. However, Countervail particularly focuses on providing comfort.
Blade 98 V7 is Wilson's new technology that combines carbon fibers into the frame of the racquet to keep it lightweight and help it absorb energy better. This technology also has the ability to dampen the speed of the ball so that you can take more controlled shots.
It can be difficult at first to play with the racquet but as soon as you find the right size, you will notice massive improvements in the game. The strength generated by the racquet can be a great help during the rallies. Once you get the timing right, you will be able to play any shot easily.
The racquet adds great precision and spins to every shot while the extra weight at the head does an amazing job defending against heavy hitters. It also enables the players to redirect the pace with minimum fluttering.
Wilson Blade 98 offers impeccable precision and maneuverability when hitting a volley during the game. The racquet offers superior comfort and the strong frame ensures minimum vibrations to the hand. Moreover, the string bed has a uniform feel no matter the spot of the shot.
Features:
Uses advanced 'countervail' construction
Extremely lightweight for faster swing speeds
Gives you excellent shot control
The Wilson Ultra 100 is like the Swiss Army Knife of tennis racquets. This tennis racquet is perfect for all-court play and excels at blending each aspect spectacularly.
While other racquets dominate at spin (Babolat Pure Aero), comfort (Yonex 100), or power (Babolat Pure Drive), the Wilson Ultra 100 does them all.
The Wilson Ultra 100 places so highly on this list because it offers something to every player.
It has the power to be good for baseliners but offers an extra feel for those who like to be at the net. This superb feel is great as it allows you the sensitivity and control to improve your game.
At 11.2 ounces strung, the Wilson Ultra 100 is strong enough to absorb the power of other players while giving you enough punch in your own game to compete.
The head size is still big enough to offer a large sweet spot which will continue to help in connecting with the ball properly.
A 16 X 20 string pattern and just the right amount of stiffness in the frame gives great response and spin to your shots.
This is a great racquet for players just transitioning from a beginner's tennis racquet.
If you're unsure of your playing style (whether you want spin, power, or comfort), this is the intermediate tennis racquet to choose.
For intermediate players who are aiming to get to a professional level, the Oppum Adult Graphite 100% Full Carbon Pro Tennis Racquet is well worth considering.
Made with Graphene Carbon Fiber, one of the strongest materials known to us, you can be sure that you are getting an ultra-tough and durable racquet. It will not go out of shape and provides the best handling and performance in its price range.
This racquet's main selling points are its lightweight nature and extreme strength. It incorporates the latest technology to provide greater stability as well as optimized energy transfer for more power. Its 16/19 string design enhances spin during fast rallies and you will love how fast the ball speed is when using it. It's like a powerful trampoline effect on the ball.
These racquets are perfect for tournaments due to the extra spin and power. If you're an aggressive type of player, this may be the model for you.
Lightweight and powerful, the Senston Tennis Racquet weighs only 9.1 – 9.8 ounces (260-280 grams) allowing players to play freely without any discomfort. Again, this model is ideal for beginners and intermediate players due to its easy to hold and swing design.
This tennis racquet is available in a wide range of attractive colors to suit all players. When we consider its technological design, we love the introduction of its one-piece molded technology. This provides high intensity as well as extreme durability so you can use this for a very long time.
Power is another impressive feature of the Senston racquet. It helps you achieve an excellent hit acceleration as well as sufficient stroke control. Its open string pattern enhances the power further as well as adding more spin to the tennis ball.
You don't just get the racquet as this comes in a package including 2 racquets, 2 premium quality protective carry cases, 2 vibration dampers in different colors, and 2 overgrips. Talk about value for money.
Wilson has been dedicated to providing the best tennis players with its wide line of racquets. To take it to a different level, Wilson collaborated with tennis maestro Roger Federer to create the brilliant PRO Staff RF97.
The PRO RF97 is a one-of-a-kind racquet that is brilliant in every way. It has been made with 'Amplifeel Technology' that provides a cleaner and enhanced feel of the racquet.
Amplifeel allows the players to customize the handle grip, providing additional handle comfort, and maximizing the feel in each racquet and player segment.
The Pro Staff 97 is designed perfectly for aggressive players who don't stay at the baseline. It has an amazing balance which gives you a great advantage at volleys. In addition, the enlarged frame size can also act to your advantage by ensuring that you don't mishit the ball.
The racquet is made with a combination of Graphite and braided Kevlar. This amalgam provides a pure, solid and consistent feel that the players have been looking for in tennis racquets for decades. This durable construction also helps with vibration reduction enhancing the touch of the racquet.
The frame size has numerous benefits too. It provides a larger area for sweet spots and is more forgiving when it comes to off-center shots. The overall composition offers amazing rally consistency to the players.
Features:
Classic, solid feel on volleys
Great for improving at the net
Crisp, easy to control, and touch
Enlarged sweet spot
Greater head size for consistency, especially with off-center shots
More power compared to the previous version
Favored by many pro's such as Martina Hingis and Nick Kyrios, the Yonex 100 is a fantastic racquet that provides all the attributes you will need to develop your game further.
While lesser known in the US, Yonex tennis racquets are known for being comfortable above all else.
Quite simply, no other tennis racquet on this list is as good at vibration dampening and "arm feel" as the Yonex 100.
The Yonex 100 features a 50/50 mix between stiffness and flexibility in the frame which gives you enough punch and power in your shots and volleys while remaining flexible enough to absorb the shock of striking the ball.
The head size is 100 inches, slightly larger than most intermediate tennis racquets, but it gives the Yonex 100 the extra punch and power that it needs.
One of my favorite things about this tennis racquet is the isometric string pattern. For players, this leads to a bigger and more sympathetic sweet spot. This will reduce your unforced errors and keep you playing longer.
The frame and the isometric string pattern together give the racquet a responsive, lively feel that aids in giving you more control in your shots.
The open string pattern provides an unreal amount of spin and allows you to easily apply it to any of your shots. At 10.6 ounces it feels solid but still light enough to swing easily and have amazing playability.
In terms of comfort, the Yonex 100 has everything else beat.
If you're looking for a tennis racquet that's more forgiving, comfortable, and easier to play with, than any other tennis racquet, you have to check out the Yonex 100 today.
Another top tier tennis racquet from Babolat comes in last (but not least) on our list. Can you guess what a tennis racquet called the Pure Drive is best at?
You guessed it, POWER.
The Babolat Pure Drive is built for adding power to every shot on the court: from serves, forehands, backhands, volleys, to other strokes.
The Babolat Pure Aero focuses more on the spin, and the Babolat Pure Drive focuses more on power. You'll see the difference immediately from when you pick up this tennis racquet.
A little lighter than the Babolat Pure Aero (11.2 oz), the Babolat Pure Drive weighs in at 10.7 oz.
Intermediate players love the Pure Drive because it takes their beginner tennis racquets and adds control on top of immense power.
When you swing with this racquet, you'll feel the impact of the tennis ball giving you feedback while remaining very arm friendly.
Babolat designed a new technology called Cortex Smooth Feel to dampen vibrations in the frame before they reach your wrist and elbow.
With the FSI string spacing, the strings are tightly compacted in the center sweet spot while further apart near the edges. This gives the Pure Drive power exactly where it needs it the most.
One drawback of FSI spacing though, is that it reduces forgiveness for off-center shots.
Players love the Babolat Pure Drive (see our full review here) because it's lightweight, produces plenty of power, and has enough control to keep your shots in play.
It's the perfect all-court racquet for intermediate players looking for power without specializing in one area just yet.
If you're still developing your game, love to hit aggressive shots, and go for the winner probably more than you should, you'll love the Babolat Pure Drive.
It'll feel like an extension of your hand and personality out on the court. The smooth handling and the amount of feel it gives are superb.
Head is one of the few companies that are famous for introducing ground-breaking products for sports players. HEAD's newest product MicroGel Radical Tennis Racquet is indeed a game-changer for the company. With a ravishing design and unique features, it is a perfect pick for seasoned players.
The racquet comes with a dense string pattern that assists the player in delivering fast and advanced strokes at the baseline.
The racquet comes with MicroGel technology that absorbs the impact and distributes it evenly through the entire frame providing great comfort and feel. However, the lightweight construction can be a barrier when it comes to generating enough power for the strikes.
It comes with a 98 square inch head that enables you to hit the ball further with a higher bounce a stronger pop spin with every shot. This racquet is perfect for aggressive players as it is designed to absorb high levels of shock and provides comfort while reducing stress on the hand.
The bat weighs around 10.4 ounces and is slightly heavier at the handle than the head. This uneven distribution is one of the key attributes of amazing manoeuvrability offered by the racquet. The weight distribution of the racquet renders superb balance that is widely sought after by experienced players.
Features:
HEAD MicroGel Technology distributes shock throughout the frame evenly
More spin due to the increased width
Control how deep the ball lands
Ideal for experienced players
Best Intermediate Tennis Racquets: Afterthoughts
If you're at the stage of moving up to the intermediate level then it's fairly certain you are committed to tennis and are serious about improving. One thing that you can do to accelerate your improvement is to invest in a tennis ball machine. It's something to think about now that you're getting serious about tennis.
Buying the correct equipment as you progress is crucial in honing your technique and become a better player.
As you continue playing tennis though, start evaluating your game on a "rubric".
How good are you at groundstrokes, volleys, serves?
Where are most of your unforced errors?
What's your playing style
These are the questions that will guide you in becoming a better tennis player and moving from intermediate up to advanced tennis. At the intermediate level, you're really just looking for a tennis racquet that can grow with you.
At the advanced level, you want to specialize more and find a tennis racquet that fits you and your game. For that, look towards my guide on the best tennis racquets for advanced players.