If you're simply looking for a new tennis racquet that's easy on your arm, I highly recommend the Yonex Ezone DR 100. This racquet features superb vibration dampening and is one of the most comfortable racquets I've ever tried.
Luckily, there is no need to despair if you start developing tennis elbow for there is a solution! Medical science has come a long way in understanding and treating the condition and there are tennis racquets for tennis elbow that you can buy now that makes it easy to repair and avoid.
IMAGE
PRODUCT
SIZE
SIZE

EDITOR'S CHOICE

1. YONEX EZONE DR 100

Comfortable and easy to use for men and women alike

100 sq inches
10.5 oz
Check Price

RUNNER UP

2. WILSON BLADE COUNTERVAIL

Combining power and control, the newest version of this racquet is very arm friendly.

100 sq inches
11.3 oz
Check Price
3. PRINCE TEXTREME 100T

Perfect for players who want an arm friendly racquet with lots of spin

100 sq inches
10.8 oz
Check Price
4. HEAD GRAPHENE XT PRESTIGE

Designed for stability and comfort, this racquet will let anybody with tennis elbow get back on the court.

98 sq inches
11.3 oz
Check Price
The most common question about tennis elbow is: exactly what is it? Most of us have heard of it or know someone who has suffered with it but don't know the causes or how to treat it. Getting an understanding of the causes and cures can help avoid it as can choosing the best racquet for tennis elbow.
What is Tennis Elbow?
According to WebMD, Tennis elbow is a condition where the outer part of the elbow becomes sore at the lateral epicondyle. The root cause is that the muscles and tendons of the forearm become damaged from overuse of the same motion.
This in turn leads to pain and tenderness in the elbow. Although most commonly associated with the game of tennis, it can affect a wide range of people from golfers to carpenters.
What causes Tennis Elbow?
Tennis elbow is caused by a repetitive overuse of the same motion by the arm over a period of time. In terms of tennis this means that playing the same shots frequently, as you would in a game or practice, can bring tennis elbow on.
The key problem is the repetitive nature of playing the same shots often as this can cause acute tendonitis of the exterior forearm muscles which in turn leads to the elbow becoming sore. It can also result in wrist pain such as when gripping the racquet or lifting it up to serve.
Interestingly, recent research suggests that tennis elbow can be caused by mis-hitting the ball when learning to play as this puts strain on the forearm muscles and elbow joint. It is also thought that increased playing time can lead to the condition. This is mainly applicable to pro or semi-pro players though so amateurs need not worry.
One of the most common misconceptions about tennis elbow is that using a heavier racquet can cause it and you're better off with a lighter one to play with. Research has shown this is actually not the case.
It turns out heavier racquets absorb more of the impact and vibrations of hitting the ball which is better for you as it's not going into your body. One important point to note is that you shouldn't buy the biggest and heaviest one you can find as this would be a bad idea.
Instead you should use the heaviest one that is still comfortable to hold and play with for you personally.
Cures for Tennis Elbow
There is an old saying 'Prevention is better than the cure' and this is true for tennis elbow. The best thing you can do to stop it happening to you is to learn how to properly hit common tennis shots. As above, one of the main causes is poor technique or mis-hitting the ball regularly so learning from a professional will help avoid this.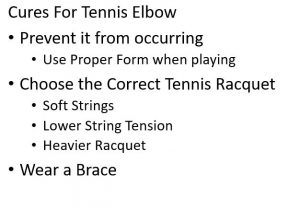 Making sure you are using the correct racquet on the court is also an important consideration. Your racquet must be the right size for you and the correct weight. Make sure that you are using soft strings like GUT strings and that the racquet has a lower string tension as this will reduce the impact on you when you hit the ball. Down below, we've selected the best tennis racquets for tennis elbow for you!
If you have already got tennis elbow then the best advice is to take a break from playing until it goes away. Rest is the best cure for this type of condition so if you feel any pain in the elbow, take it easy until it feels better! Some people find it useful to visit a professional physiotherapist for some gentle joint manipulation if rest doesn't work. The physio will manipulate the joints of the elbow and wrist in an attempt to cure the problem.
Braces for Tennis Elbow
In some cases some players will wear tennis elbow braces around their arm. These devices wrap around the elbow area and have been shown by studies to reduce pain and inflammation. These braces can be very helpful to the tennis players who are trying to maintain their game and stop tennis elbow early.
One of my favorite braces is the Simien Tennis Elbow Brace. This small and compact brace fits just under your elbow in order to prevent your tennis elbow from getting worse. With the Velcro construction, you can rest easy knowing that one size fits all. This brace for tennis elbows works by applying pressure to your elbow using a gel pad and it is one of the most effective(and well liked by customers!) on the market today.
Best Tennis Racquets for Tennis Elbow
One of the best ways to prevent getting tennis elbow is to use the right tennis racquet for tennis elbow. This will be slightly different for everyone as we are all unique but there are some general things to look for when buying a racquet for tennis elbow.
You will want to get a head-light one with a standard length (around 27 inches) and flexible frame as this will ensure the racquet absorbs the vibrations of hitting the ball and not you. It is also advised to get a racquet with soft GUT strings and one that has a lower string tension as this will also ensure the impact from playing is taken by the racquet.
Taking all this into account, these are five of the best racquets to play with to prevent or help cure tennis elbow:
One of the best racquets out there for tennis elbow is the Yonex EZone DR 98. This has one of the lowest flex ratings(59) which makes the racquet flexible and easier to swing with. The strung weight is 11.4oz and it comes with soft GUT strings to reduce stress on the wrist and forearm when striking.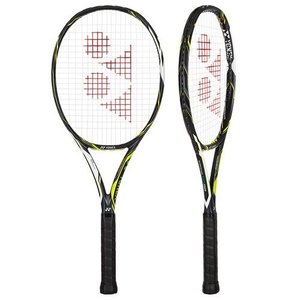 Check Price Now
The beam size is not too thick and tapers down to 19mm which again helps with making the racquet flexible. It is head light making the racquet take the strain and vibrations of hitting the ball rather than your elbow. Yonex has also included an oval pressed shaft with this racquet to help with control and flexibility.
Yonex also included a feature called Quake Shut Gel which filters out unwanted vibrations going into your wrist and hand. With all of these vibration dampening features, the Yonex Ezone is one of the best tennis racquets for tennis elbow.
This is a superb racquet to use when we are thinking about racquets for tennis elbow. It is -6 head light which makes it easy to maneuver and that the impact of striking the ball is taken by the handle of the racquet. The strung weight is 11.3 which is just about right in terms of it being easy on your arm when playing.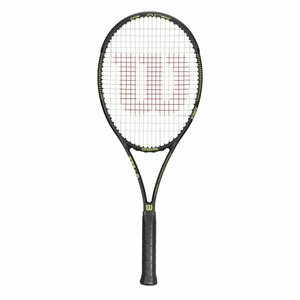 In terms of flexibility(score: 63), the Wilson Blade 98 has enough give to ensure it's comfortable to play with and absorbs the racquet on ball vibrations.
One of the best features of this racquet is that it has a big sweet spot meaning that it is easier to hit the ball properly. As we have already noted, incorrect striking of the ball is one of the main causes of tennis elbow and the Wilson Blade 98 easily prevents that.
To cut down on vibrations in your wrist, Wilson has also fitted an amplified handle to the head of the tennis racquet. This results in a great advantage when avoiding or curing tennis elbow.
Prince are well known for producing brilliant racquets and this one is no exception. As with the Wilson, it comes with all the features to help with any tennis elbow problems. The weight of it is really nice – it's not too heavy but has enough about it to take the strain of playing and protect you.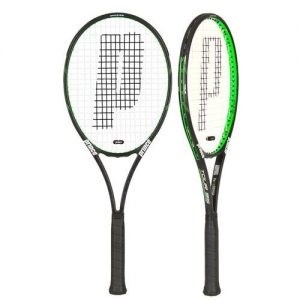 It is another head light product too so this helps in preventing undue physical stress on you when on court. The RDC Flex rating comes in at 59 which is fairly flexible and gives a nice feeling when you hit the ball with it. The strung weight is comparable with the Wilson at 11.3 and a length of 27 inches is perfect for reducing any shocks to the body that might cause tennis elbow.
Being this length and size also makes the racquet very easy to swing and play with. I think this is actually one of the main plus points – it's so easy to play with and 'arm friendly' so that it will stop any problems before they begin.
Check Price Now
The HEAD Graphene XT Prestige racquet is a great product and a great tennis racquet for tennis elbow afflicted people. The head measures 98 sq inches which may seem a little small but in many ways, this is perfect for what we need.
The smaller head makes the racquet easier to use and control your shots – this in turn takes away any problems caused by mis-hitting balls. The beam profile of it is nice and thin which leads to a flexible frame. It is another racquet that is head light with all the previously discussed advantages this brings.
The weight distribution of this racquet is heavily optimized preventing torque from going into the wrist from the handle. Overall the Head Graphene XT Prestige is a racquet for tennis elbow with the right amount of power, weight and control that makes it a joy to play with.