Hey! This site is reader-supported and we earn commissions if you purchase products from retailers after clicking on a link from our site.
As any badminton enthusiast will tell you, getting the right racket strings is vital for optimum performance. Beginners probably won't notice how the strings feel when connecting with the shuttle; however, a seasoned player understands how important the stringing process is. There's nothing worse than investing in new strings only to find they snap after a few games or they 'don't feel right.'
Table of Contents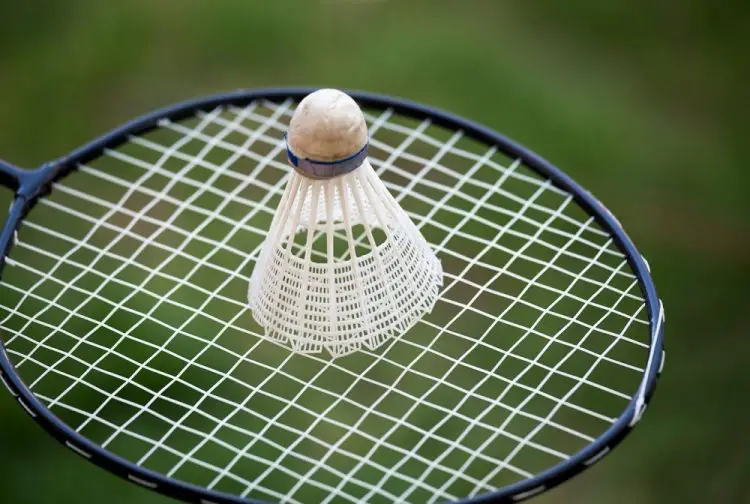 If you're new to the game, using a low-tension racket, factory-fitted strings will help you produce a more powerful shot. Strings will flex on impact; however, more serious players will be concerned with improving technique and require strings that enable more control over shots.
Before starting the search, it's helpful to ask some questions; what do I want to gain from my badminton strings? Is durability more important than repulsion? Do I want strings that will help control and technique? 
With the above questions in mind, how can you find the right strings to ensure gameplay is effective and your racket is up to the job? Read on to find the 8 best strings for fantastic badminton playing.
Best Badminton Strings
Preview
Top Pick
Title
YONEX BG Aerobite Boost Badminton String (Gray/Yellow)
Yonex BG65 Badminton String Set - White
ASHAWAY ZyMax 66 Fire Power Badminton String Set-Fire Orange
Yonex BG-66 Ultimax Badminton String 200m Reel
YONEX BG-80 Badminton String
LI-NING Badminton String No. 1 Single Package - White
Top Pick
Preview
Title
YONEX BG Aerobite Boost Badminton String (Gray/Yellow)
Preview
Title
Yonex BG65 Badminton String Set - White
Preview
Title
ASHAWAY ZyMax 66 Fire Power Badminton String Set-Fire Orange
Preview
Title
Yonex BG-66 Ultimax Badminton String 200m Reel
Preview
Title
YONEX BG-80 Badminton String
Preview
Title
LI-NING Badminton String No. 1 Single Package - White
Last update on 2023-09-17 / Affiliate links / Images from Amazon Product Advertising API
Yonex is by far the leading brand when it comes to badminton accessories. Famous for its quality and unique features, Yonex is the go-to for superior rackets and stringing requirements. 
The Yonex Aerobite boost is no exception. The hybrid combo has been designed to create a fast spin for smashes and a controlled touch for hairpin net shots. It enables players to play angled shots with extra depth, precision, and skill. 
How exactly is the Aerobite boost superior to other strings? Most badminton strings are made from Nylon, but the boost is made from Vectran. Vectran is a yarn made from liquid crystal polymer and is twice as strong as Nylon, an excellent choice for durability. 
The Aerobite boost has the thinnest strings on the market, so you don't need to trade durability for repulsion; you get a nice little 2 in 1 solution. Repulsion power is phenomenal, and the hitting sound is like music to the ears. 
Pros:
Hybrid combo strings – designed to create a fast spin and hit those angled shots with ultimate precision.
Constructed from Vectran – twice as strong as standard Nylon strings.
Cons:
Durability – even though these badminton strings are made from Vectran, some people found that their thinness made them a little weaker than expected.
YONEX BG Aerobite Boost Badminton String (Gray/Yellow)
The Yonex Aerobite Boost hybrid badminton string is a string designed to deliver heavy spin for...
Diameter: 0.72 mm. (Main) / 0.61 mm. (Cross)
Composition: Multifilament / Surface: Textured
Colour: Yellow (Main) / Gray (Cross)
Last update on 2023-09-17 / Affiliate links / Images from Amazon Product Advertising API
Yonex created the BG65 specifically with beginners in mind. Its reliability is second to none and ideal for those just starting and learning new game techniques. 
Durability is the BG65's trademark. These strings are thick, which means they can withstand even the most powerful of shots. 
The downside of the BG65 is reduced repulsion, which is less critical to beginners. The strings feel soft, enabling new players to feel the shots through the wrists and arms, which helps them connect better with the shuttle and learn how to adjust play accordingly. 
Pros:
Designed specifically for beginners – these badminton strings are the ideal choice for anybody new to the sport.
Durable – the thick, durable strings can withstand the impact of powerful shots.
Cons:
Reduced repulsion – although this is less of an issue for beginners.
Sale
Last update on 2023-09-17 / Affiliate links / Images from Amazon Product Advertising API
Ashaway is a USA brand and the oldest manufacturer of badminton strings in the world. High quality and excellent standards are guaranteed. 
The Zymax Fire products are superior to others in that they consist of multifilament strings. Several individual strings are woven together to make an extra-strong one. The advantage of this is they provide excellent power and touch and can offer better shock absorption. 
The 66 Fire is preferred by high-performance players who want more control over gameplay. The 66 Fire went through many months of change and tweaking after use in the lab and several badminton courts worldwide during the development phase. 
The result was undeniable! The sophisticated micro strings created excellent elasticity and strength, resulting in consistent reliability on the court. It's no surprise that the 66 Fire is amongst the first choice for racket strings. 
Pros:
Multi-filament strings – this means each string is constructed of several strands woven together for extra durability.
Excellent elasticity – perfect for rebounding and serving strong shots
Cons:
Color – only available in orange, which may be an issue for some people. 
Last update on 2023-09-17 / Affiliate links / Images from Amazon Product Advertising API
Back to Yonex. Although Yonex has launched a more recent string product, many badminton players prefer to stick with the BG66. The BG66 distinguishing feature is power. Overhead shots create a unique hitting sound enabling players to produce powerful smashes at speed. The springs feel thin but robust, resulting in many reviews on the BG66 that have a 5-star rating. 
Players notice the difference playing with the BG66 compared to other heavier strings. Perhaps the best feature of the BG66 strings is their control. If the string is set at high tension [27-29], shots requiring more accuracy, such as net shots, are much better managed.
The only disadvantage of this string is its durability. If not used correctly, it will break easily. So if you're not a competent player and prone to mishits, this might not be the best string to use at this stage of your badminton journey. If you're still set on buying the BG66, then be prepared to replace strings every few weeks. 
Pros:
Powerful – creates a unique hitting sound and produces powerful smashes at high speeds.
Excellent control – allows you to hit the shuttlecock with a greater amount of precision
Cons:
Durability – some people found that, if used too regularly, these strings were prone to breaking.
Last update on 2023-09-17 / Affiliate links / Images from Amazon Product Advertising API
Yonex produces various strings and can vary greatly. We've already considered two great strings that are great for control and durability, but what if you suffer from wrist problems or have a forearm injury? Do not fear; the BG80 is here! 
The strings have a thickness of 0.68 mm with multifilament Nylon; Because they are made up of thousands of twisted strands with the benefit of an outer coat, they offer excellent shock absorption, a perfect solution for those who need extra comfort due to injury. 
The strings feel soft, which lessens potential strain on joints and ligaments. However, it doesn't compromise gameplay, and it still provides decent repulsion and power. 
The downside of the BG80 is that it wears out quicker than other strings—a small price to pay to protect the body.  
Pros:
0.68mm thickness – perfect for absorbing impact shock and producing powerful shots.
Constructed from multifilament Nylon – this increases the level of impact shock, making these strings ideal for anybody suffering from a hand or wrist strain.
Cons:
These strings can wear out quickly – some people found that these strings needed replacing after just a couple of months of frequent use.
Sale
Last update on 2023-09-17 / Affiliate links / Images from Amazon Product Advertising API
Li-Ning is a Chinese brand that specializes in sports equipment. They developed the No1 string and is a popular string used by advanced players. As any serious badminton player will tell you, mastering the smash is crucial for competitive games. An effective smash will win you key points and can be the difference between winning and losing. 
The LI-Ning No1 string has a fantastic high resistance power. It is very durable, meaning it can tolerate many smashes before requiring replacement. Unlike most strings, the No1 has a stiff feel once used for a while. Most strings drop in tension, making this string a great alternative. 
You can get the No1 string in various colors; great if you want to make a statement. 
Last update on 2023-09-17 / Affiliate links / Images from Amazon Product Advertising API
The Yonex Aerosonic is a popular choice for those who play doubles. It is the second thinnest string in the world at a diameter of 0.61mm. It has very high repulsion compared to other Yonex strings, and the hitting sound is phenomenal. 
The Aresonic is the perfect string for precise and controlled smashing, and at the correct tension, will make drop shots almost effortless. 
The downside is durability. If used at maximum tension, prepare to replace the strings every few months. 
Pros:
High-resistance power – can tolerate high impact shock when rallying or serving
0.61mm – provides high repulsion and a phenomenal hitting sound
Cons:
Low durability at maximum tension – if you use these strings at maximum tension for a prolonged period you may find you need to replace them every few months. 
Last update on 2023-09-17 / Affiliate links / Images from Amazon Product Advertising API
Whilst choosing a badminton string is primarily about high performance, many players select aesthetically pleasing strings. The Yonex Nanogy 99 has an attractive look and is ideal for those who want a touch of individuality on the court. 
Nanology 99 certainly has it all with a braided fiber that's rough and original nylon coating. It provides an excellent bite on the shuttle allowing for sophisticated hairpin cuts and shots. It's the ideal string for developing advanced technical skills. 
Pros:
Braided-fiber construction – super tough even under high impact.
Excellent bite – perfect for executing sophisticated cuts and shots.
Cons:
Expensive – these are some of the most expensive strings on the market, so they aren't the best choice if you're trying to stick to a limited budget.
Last update on 2023-09-17 / Affiliate links / Images from Amazon Product Advertising API
Just when you think Yonex can't improve on their existing high-quality strings, they do! The Aerobite is a unique hybrid string that combines different coatings and gauges on the crosses and mains. It's a sophisticated string that performs well, whether smashing or playing intricate little shots. It makes the Aerobite the preferred choice for those players that want the perfect combo.  
The Aerobite is also ideal for shots that require a heavy spin and has super quick repulsion. The strings are available in white/blue/red/green. What's not to like? 
Pros:
Hybrid string – combines different coatings and gauges that help produce big smashes and intricate shots alike.
Available in multiple colors – choose between white, blue, red, and green to inject a little bit of personality into your game.
Cons:
Durability – with a thickness of 0.67mm, these badminton strings may not be as durable as some of the others on our list.
Sale
Yonex Aerobite Badminton String (White/Green)
Aerobite is a hybrid combination with different gauges and coatings on the mains and crosses
It has 0.67mm guage Main String and 0.61mm guage Cross String
Provides quick repulsion and piercing spin for hairpins and cut smashes
Medium feeling
Last update on 2023-09-17 / Affiliate links / Images from Amazon Product Advertising API
Badminton String Buyer's Guide
As mentioned already there are several factors to remember when purchasing new badminton strings. When considering strings, it's helpful to keep a few points in mind, such as: 
Durability
Power
Comfort
Control
Tension & Gauge 
Let's look in a little more detail at what you need to know before restringing your racket. 
String Tension 
You'll notice from the product review that each string is described as low, medium, or high tension, but what does this mean? 
Badminton strings are strung typically at  20-24 pounds for casual players, 25-27 for more advanced players, and 28-35 for professionals. Basically, the better you become at the game, the higher your strings should get. If you keep the same strings, you started with, and you'll quickly get frustrated at just how much it affects performance. 
Low tension enables new players to master the game and produces more power whilst learning specific techniques and perfecting wrist action successfully. Specifically, the strings can stretch when the shuttle hits the racket giving more power and speed. The greater flexibility of a lower tension will allow a new player to build up their skills and confidence before moving onto higher tension. 
It's also essential to read recommendations on your specific racket as not all rackets can cope with different tensions. 
As a player becomes more proficient at the game, moving to higher tension will allow for more control over the shuttle and the ability to play technically advanced shots. It also means that a player will have to rely on his wrist action and swinging motion to produce the power for his shots.
It could be said that mastering the wrist action is the biggest challenge to becoming a strong badminton player, so it's essential that you use the appropriate strings to enhance your game at each level. Going beyond your limit can lead to frustration and cause arm stress or injury, so make sure you consider personal comfort when choosing a string. 
String Gauge 
The string gauge refers to the thickness of the string. Measurements are usually between 0.61mm to 0.75 mm. 
One of the joys of playing badminton is the satisfying sharp sound you hear when a shot is played. The thinner the string, the louder the sound. It's recommended that beginners use a thick string as it's more durable and produces more power due to the high tension mentioned above. 
Professional Restringing 
Restringing a badminton racket is a skill in itself. Don't be tempted to restring your racket yourself. Choose a professional stringer for a high-quality service. It takes years to perfect the art of restringing, and it is an intricate job. 
The correct tension and thickness are vital, so it's always best to leave it to the professionals. Look for reviews and ask for recommendations where you can. 
Materials 
The most common material used for badminton strings is Nylon. Nylon is strong, durable, and relatively inexpensive. Monofilament string is typically made from Nylon, although other materials have been added in recent years, such as polyether and polyester. 
The advantage of monofilament strings is their fantastic durability, ideal if you don't want to restring your racket regularly. 
The other type of string is multifilament which are thousands of tiny fibers woven together to make a string. Multifilament is a popular choice for professional and club players as they're very powerful but soft and hold tension excellently. The soft fibers make them comfortable on the arms and are great if you play regularly. 
A recent addition to the world of badminton strings is the hybrid string. These consist of a combination of monofilament and multifilament. The monofilament is used for the central part and crossed with the multifilament for the crosses.  The hybrid is an excellent blend for durability but soft enough to protect muscles and ligaments from injury. 
Another innovative string development is the textured option. The textured string combines a solid base with several wraps. In addition, there is a final wrap to create an uneven or rough surface. A textured surface means more bite on the shuttle, which increases power and speed.
Frequently Asked Questions
What tension should my badminton strings be?
Badminton string tension depends on how long you've been playing and how proficient you are. The part of the racket often referred to as the 'sweet spot' or the ideal place that a shuttle should land differs in size depending on the string tension. Low tension strings will mean a more prominent sweet spot that helps less experienced players consistently hit the shuttle. The better you become, the higher the tension. 
When you increase to higher tension, you can control the shot and work on accuracy and technique. 
It's helpful to discuss stringing and tension requirements with professional players or those that restring rackets for a living to get a good idea of what strings you should choose. 
What's the best brand for badminton strings?
Branding is a personal choice, but it's helpful to conduct some research before deciding on strings. As highlighted in the product review, some brands have more options than others, but it doesn't necessarily make them superior. 
Look out for reviews on different types of strings, or you could join online forums and ask for recommendations based on your specifications. 
When should I restring my racket?
If you're new to the game of badminton, you may be wondering how to identify when to restring your racket. Do not fear; a few telltale signs can help you know when it's restringing time. 
Depending on the tension you choose, strings can lose the tension after a couple of games. If your strings become loose, you will be unable to complete quick shots, and you'll soon notice the difference in gameplay. 
As a rule of thumb, if you are playing 3-4 times per week, you will need to restring your racket approximately every three months. 
Does tension depend on what racket I have?
Based on some of the information presented here, you may have decided precisely what tension you want your badminton strings to be but may be wondering if racket choice makes a difference. The short answer is yes! What should you factor in?
Powerful rackets will need a higher string to diminish some of the power from the racket itself. Again,  if you're a new player, a lower-powered racket with a looser string is preferable for a better-controlled game. Try to avoid low-powered rackets with high strings and vice versa. If possible, invest in two rackets and see what works best for you. 
Choosing the right strings for your racket needn't be daunting. With the right research, you can find the perfect combination of racket and string to play an awesome game of badminton consistently, and you never know …. You may be heading for the Olympics in less time than you think. Happy playing!