Hey! This site is reader-supported and we earn commissions if you purchase products from retailers after clicking on a link from our site.
Every year, millions of people tune in the Grand Slams and the major tennis tournaments to watch the pro's play. But what do the pro's play with in these tournaments? My name's Julian and this is an ongoing post in a series called The Pro's: Racquets and Equipment. 
Our player today is Alexander Zverev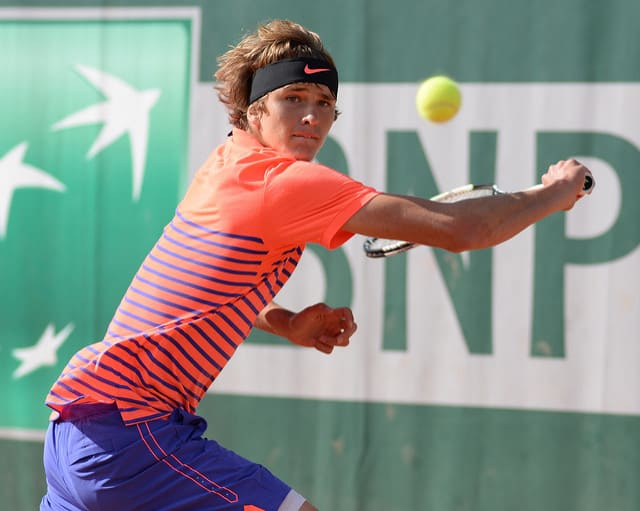 and the question we're answering is
What racquet does Alexander Zverev play with?
Alexander Zverev's Racquet:
Just like other pros, Zverev does not play with the racquet you think he does. Alexander Zverev is endorsed by Head which is why media outlets say he plays with a Head Graphene Touch Speed MP Racquet. He does not play with this racquet!
Currently most professionals believe that Alexander Zverev plays with the HEAD IG Speed MP with a 18×20 string pattern. This tennis racquet is balanced to be head light which allows players to control the accuracy of their shots better. The frame is highly flexible which puts a load on your arm but it does absorb most of the vibration from striking the tennis ball.
One of the best aspects about the HEAD IG Speed MP is how it performs on serves. The tight string pattern combined with the control this racquet provides, gies players a combination of power and accuracy that is deadly to opponents. Zverev's serve has been clocked at around a 130 mph which could be in part due to this racquet choice.
Here are the full details of Alexander Zverev's real tennis racquet:

Alexander Zverev Bio:
Only 21 years old, Alexander Zverev is making history right now as the youngest player in the ATP top 30. He was born in Hamburg, Germany as the son of a former Russian tennis player. His older brother, Mischa Zverev, also plays tennis. Zverev turned pro in 2013 at the age of 16 and it took him only 4 years to be ranked in the ATP Top 10.
In May 2017,  Zverev defeated tennis legend Novak Djokovic in the 2017 Italian Open final to win a Masters 1000 title. Later that year, he won his 2nd Masters 1000 title by defeating Roger Federer. Afterwards, he reached his highest ATP ranking to date of the #3 player in the world for men's singles.
As of the time of this writing, he is still ranked #3 in the world.