Hey! This site is reader-supported and we earn commissions if you purchase products from retailers after clicking on a link from our site.
Every year, millions of people tune in the Grand Slams and the major tennis tournaments to watch the pro's play. But what do the pro's play with in these tournaments? My name's Julian and this is going to be part of a series called The Pro's: Racquets and Equipment. 
Our player today is Andy Murray.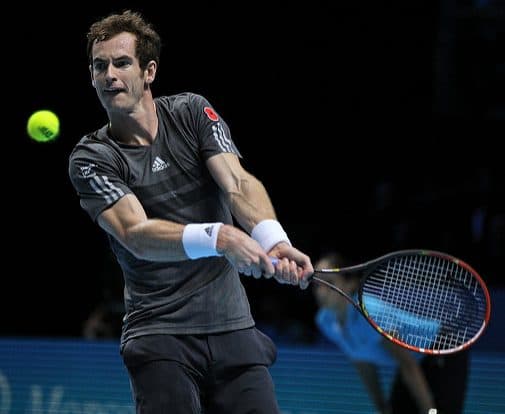 and the question we're answering is
What racquet does Andy Murray play with?
Andy Murray's Racquet:
While Andy Murray is a prominent celebrity with the Head Radical line of tennis racquets, his racquet is a little more unique.
Contrary to popular belief, Andy Murray plays with the Head PT57A Graphene XT Radical Pro. This is NOT the  Head Graphene Touch Radical Pro that Tennis Warehouse says he plays with. While the racquet is painted like that, it is actually the Head PT57A.
Here are the specifications for Andy Murray's tennis racquet:
Andy Murray Head PT57A Graphene XT Radical Pro
Head size
98 sq in
Length
27 in.
Strung Weight
12.4 oz
Strung Balance
332 mm
Stiffness
58
Grip Size
4 3/8
Grip Type
Karakal PU Super Grip + Overgrip
String Pattern
16 x 19 (but he has been seen playing with 16x18 a couple times)
Now the reason Tennis Warehouse doesn't say that this is actually Andy Murray's tennis racquet is probably because it's not available to the public. You can't buy the exact racquet that Andy Murray plays with at Wimbledon!
What is available is the Head Graphene Touch Radical Pro. Much like the Head PT57A, this racquet will take your skill and amplify it to the next level. Providing a muted feel to reduce vibration, the Touch Radical Pro rewards ample topspin and forces your opponents back from the baseline.
Andy Murray Bio:
Coming from the great land of Scotland, Andy Murray was born in 1987 and played in his first grand slam at Wimbledon at the age of 18. Despite coming in ranked 374th, he made it to the 3rd round, the farthest of any Scottish tennis player that year. He won his first ATP title at the SAP Open the next year and his award winning career began in earnest. In 2012, at the age of 25, he won the US Open thus receiving his first Grand Slam title.
Just a year later, he also won Wimbledon. Since then, Andy Murray has been routinely ranked as one of the best men's tennis players in the world.
As of April 3rd 2018, he ranks #30 in the ATP rankings.