Hey! This site is reader-supported and we earn commissions if you purchase products from retailers after clicking on a link from our site.
Babolat is one of the leading manufacturers of tennis equipment. In recent times, the brand has amassed a huge customer base because of its quality tennis racquets. For any player, playing at any level – Beginner or advanced, Babolat has something for everyone.
The best part about this brand is that they don't simply introduce new racquet lines every year. They instead place their focus solely on improving their existing products. A fine example of this methodology is the Babolat Pure Aero. The Babolat Pure Aero was designed specifically for Rafael Nadal all the way back in 2004 and he remains the most famous player who uses this racquet.
| IMAGE | PRODUCT | Head Size | Weight | |
| --- | --- | --- | --- | --- |
| Top Pick | Babolat Pure Aero | 100 sq inches | 11 oz | Check Price |
Babolat Pure Aero Overview
Regardless of where you're playing or what level you're playing at, you know that the Pure Aero is a hugely popular choice. The yellow and green black mean machine is usually remembered with Rafa's hands wrapped around it slamming power shots across the court. It's a true baseliner racquet capable of hitting shots with a great amount of spin and power. If you've seen Nadal play, you already know how he unleashes fire and fury upon his opponents.
The Babolat Pure Aero line is known for generating substantial power. The 2019 version of the Aero is much lighter and has replaced the heaviness of Aero Pure Drive with pure control and spin capability. This racquet has great potential and has played a huge role in transforming the modern baseline game since its inception in 2004.
Babolat Pure Aero Specifications
| | | | |
| --- | --- | --- | --- |
| Head Size | 100 sq. in | Swing Weight | 327 |
| Length | 27 inches | Stiffness | 69 |
| Strung Weight | 320 g | Beam Width | 23 mm /26 mm /23 mm |
| Unstrung Weight | 300 g | Composition | Graphite |
| Balance | 4 pts Head Light |  Power Level | Medium |
| String Pattern | 16 x 19 | Stroke Style | Full |
| String Tension | 50-59 pounds | Swing Speed | Fast |
| Pre-Strung | Unstrung | Grip Type | Babolat Syntec Pro |
Babolat Pure Aero Design Review
The Babolat Pure Aero is one of the most well thought after racquet in terms of design. The racquet comes out aggressive owing to its traditional yellow and black color combination. Its classy new cosmetic adds up to the overall feel of the racquet. Though it carries the same moniker as its predecessor, you can see how this racquet has a great shape appealing to all types of players. With an elliptic head shape, not only does it showcase the visual appeal but also lends itself to creating a head size perfect for generating power and spin.
The Babolat Pure Aero comes in a Yellow/Black and Orange/Black combination and features an Evo beam technology. Evo beam technology is a fancy word that means the racquet thickness changes at different points which changes the racquet flex and improves the response time and ball feel. Based on the feedback it received from players, Babolat updated the cortex dampening system to cover the 9 to 3 o'clock areas. This gives the Pure Aero a slightly softer feel at impact when compared to previous versions.
Weight
Babolat Pure Aero weighs around 11.2oz, which makes it an ideal mid-weight racquet and steady to hold and play. Its weight allows increased mobility and shot flexibility. The Pure Aero boasts a 4 points head light balance placing more weight near the handle. For players, this gives you more control over the racquet and allows you to swing the racquet through the air faster – thus generating more power.
String Pattern
Babolat Pure Aero features an open string pattern with a 16×19 pattern. The polyester strings do a great job of silencing the strings on at the time of impact. It's due to these polyester strings that provide a muted feel. Now, this comes as a massive upgrade as players in the recent past used to complain about the lack of connection. Thanks to the tweaked parameters in the 2019 version, the racquet is much tighter upon connection.
The Babolat Pure Aero 2019 features a tighter string pattern which comes with a better sweet spot.
How it feels to play with the Babolat Pure Aero
By far the most important aspect of any racquet is how it makes you feel on the court. Here is where the overall design, build-quality and the weight of the racquet really come into play. Much to my pleasure, the Babolat Pure Aero is neither light nor too heavy in my hands. What's fascinating about this racquet is how even being so lightweight, it felt strong and sturdy in my hand.
As I started warming up, I quickly realized one thing for certain – the Babolat Pure Aero is built for players who love to swing fast while maintaining control. The tennis racquet absolutely dominates in terms of spin and power due to its sturdy frame and construction. But let's evaluate each aspect of the racquet and how it felt on the court.
Pure Aero Head Size
Babolat Pure Aero comes with a head size of 100 inches, which is perfect for beginner-intermediate players all the way up to advanced players. Typically, as players get more skilled in tennis they gradually decrease the head size of their racquet. In this case, though the head size felt perfectly proportioned to the Pure Aero. My brother, who often uses racquets with 98 sq inch head size liked it too. Surprisingly, he found out that he was able to hit more accurate shots with that extra 2-inch headroom. And guess what? After we practice, I had to order one for him too.
I personally love racquets with 100 sq inch head size because they allow you to exert more control. After all, it's not just about blasting the ball, it's also about the placement. Due to its improved headroom, you have more control and freedom in moving from side to side whilst chasing the ball.
Moreover, the lightweight feel of the racquet prevents movement hassles which can lead to tired arms and overall fatigue.
Easy handling & Maneuverability
Babolat Pure Aero is easy on the hands. Babolat claims that the Pure Aero is one of the most innovative racquets in the market which makes shot execution easy. While I don't typically believe everything they say, I really can't disagree. Having played over 50 hours with this tennis racquet, I've certainly experienced it myself. The best part? I was able to get comfortable with the racquet within an hour. Usually, adjusting to a new tennis racquet takes time when I switch racquets but not with this one. I was hitting forehands, backhands, and slamming shots all over the court.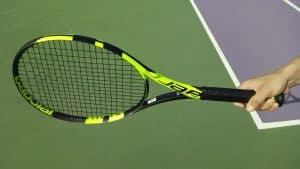 Since the racquet feels great in your hands, you can cut through the air quickly – leading to the name Pure Aero. A racquets' ability to stand firm during the quick back and forth is a testimony of its quality and Babolat Pure Aero doesn't disappoint in regard to maneuverability.
Baseline Power
I like to play near the baseline a lot. Many people even after months of practice, find it hard to dictate the match from baseline. The Babolat Pure Aero makes the tedious task of playing from baseline effortless thanks to its raw power.
It's the overall control and power which makes the Babolat Pure Aero a preferred choice for a lot of WTA and ATP professionals. That capability combined with it's superb spin and you'll feel unstoppable as you rip forehands and backhands from the baseline.
Shot Execution
This is an aspect where this racquet provided an amazing experience. The Babolat Pure Aero's ability to reduce vibration by absorbing impact helps to place your shots seamlessly. In order to provide more controlled shot execution, Babolat added Cortex technology which provides excellent feedback on every shot. This allows you to quickly finetune your strokes and get immediate feedback.
An amazing aspect of this racquet is the consistency through which we can feel the shot we hit and what will be the desired outcome. The moment the ball connects with your racquet, you'll understand if you've mistimed your shot or not.
Players who prefer playing from the baseline will definitely fall in love with this racquet. From my experience, it has been refreshing and encouraging thus far. Especially, when you want to hit those groundstrokes.
Babolat Pure Drive vs Pure Aero
Most of the tennis enthusiasts can recall Aero as a model endorsed by former World #1 Rafael Nadal. The Pure Drive though it draws a similar same name, does have slight differences between it and the Aero.
The primary difference, of course relates back to their names. The Babolat Pure Drive (see our review here!) is built solely for power while the Pure Aero is more aerodynamic – allowing it to move quicker through the air and generate more spin. Players need to generate more of their own power with their swing while using the Pure Aero versus the Pure Drive – which provides plenty of power through it's head and strings.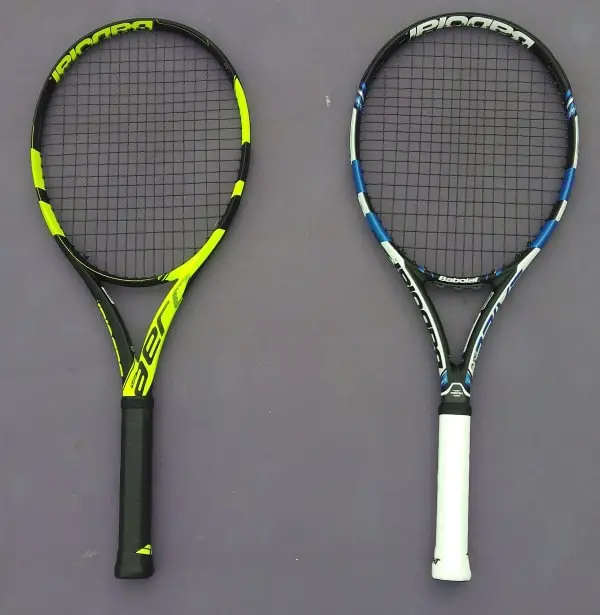 As you can see in the image above, the Babolat Pure Aero on the left has a slightly different shape along with the string pattern design. The Pure Aero is thinner and is slightly more flexible than its sibling.
Pure Aero vs Pure Drive: Which to choose?
The Babolat Pure Aero is much more suited for players with fast swing speeds and who prefer maneuverability and quick movements around the court. With it's weight and aerodynamic design, aggressive players who prefer a slightly heavier racquet will love the Babolat Pure Aero.
Contrary to that, the Babolat Pure Drive provides a lot of it's own power as it's name Pure Drive might imply. The Babolat Pure Drive excels at generating power from the baseline and is a great all around tennis racquet. I will say that I think the Babolat Pure Drive is probably a better choice for beginners to intermediate players. At times, the Pure Aero can be hard for less skilled players to handle fully.
Babolat Play
Babolat first introduced the Babolat Play system around five years ago as a way to give players access to a "smart" tennis racquet. At the time, it was hard for people to wrap their heads around the concept. However, today, the same technology is being used to redefine the way you execute shots. The Play sensor is designed to fit into the handle of the racquet to provide you tips and information about your shots.
How to use Babolat Pure Aero with the Babolat Play Sensor
A few select numbers of Babolat racquets feature the Play Sensor pre-embedded in the handle. You can see the racquet featuring the Play Sensor having a logo at the bottom of the handle. If the sensor isn't embedded in the handle already, you can purchase the sensor as an add on through Amazon.
If you're a beginner who's just starting out or someone who's advancing but lacks proper guidance, Babolat's Play Sensor can give you a lot of information on how to improve. Inside the handle, there's a lot going on. How this works is that you download an app on your phone and it shows you every detail you need to know. This includes the number of shots you hit, the power you're applying, the spin you're generating, the type of shots you hit (flat, slight, topspin) and other mind-boggling details such location of the ball at the time of contact.
Why should you buy the Babolat Pure Aero 2019 over 2018?
Apart from being one of the most commercially successful Babolat tennis racquets, the Babolat Pure Aero tennis racquet is also the simplest of them all. It's loved by amateur and professional players alike. The likes of Rafael Nadal have advocated its excellence in many international tournaments.
There's no doubt that it's amongst the finest tennis racquets out there. The difference between Aero 2019 and 2018 is that Pure Aero 2019 is easier to get a hang off and get started whilst Aero 2018 took some time to get adjusted to.
Babolat Pure Aero: My Personal Recommendation
With the Babolat Pure Aero, you get the perfect combination of comfortable feel, the balanced weight, and better head size which helps you control the proceedings. So, all you want to do is to time amazing shots with this racquet and allow your opponent to do the running try to chase your well-executed shots.