at a glance: our top 5 badminton rackets for beginners
Before I get started, I always like to give you by quick picks. These are all badminton racquets that I have personally played with and they offer a perfect mixture of traits for a beginner.
IMAGE
PRODUCT

Editor's Choice

Head light
4U weight class
Comes pre-strung

VIEW LATEST PRICE →

Runner Up

G4 grip size
Comes pre-strung
Has a built-in T joint

VIEW LATEST PRICE →

Has the famous Sword frame
Easy to use
Comes in a 4UG5 configuration

VIEW LATEST PRICE →

Comes in a 3UG5 configuration
Very durable
Very maneuverable

VIEW LATEST PRICE →

70-74g weight class
Great for use in the front court
Ideal for women and children

VIEW LATEST PRICE →
Best Beginner Badminton Rackets
Now, I've specifically chosen these 5 badminton racquets because I think they are the absolute best choices for a beginner. These racquets are cheap, user friendly, and absolutely perfect for people just learning the sport of badminton.
I've also provided slightly more expensive alternatives. These racquets are designed to grow with you as you learn.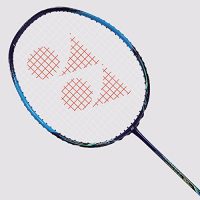 Generally you don't want to go with too cheap of a racquet, especially for badminton. Cheap racquets tend to have two-piece builds and aren't made of carbon fiber. The Nanoray70DX is one of the easiest racquets to use on the market and is widely available in many general sporting goods stores.
It is head light, 4U weight class, and has a G5 grip which are all characteristics that a beginner should be looking for. This racquet comes pre-strung, but I suggest going with BG65 or BG80 at 24lbs for a good starting point in custom stringing.
Alternative: Yonex Nanoray 900
#2 – Yonex Voltric 8 ETune 4UG5 (For power players)
Moving up a bit in the price range, this racquet is built for players who are physically stronger. It is also a racquet that offers customizability built in, thanks to the E Tune grommets by Yonex.
Adding or removing the grommets allows the player to change the balance point of their racquets ever so slightly.
Be warned, though. With each change in the E Tune system, a fresh restring will be required as the grommets cannot be removed while strings are still in the racquet.
This racquet, like the Nanoray, is also available in 4UG5 and in most sporting goods stores.
Alternative: Yonex Voltric 80 ETune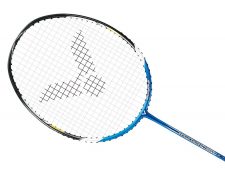 The Bravesword 1900F shares the same colour scheme as the legendary Bravesword 12, one of the best doubles racquets in the world. You may be wondering if it shares anything other than the paint job though, and the answer is yes.
It has the famous Sword frame that the Bravesword series is known for, making it the most aerodynamic frame design in badminton.
This racquet is easy to use, not too stiff and comes in a 4UG5 configuration.
Alternative: Victor Bravesword 12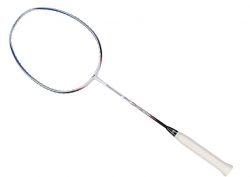 This is an even balance racquet, which makes it ideal if you do not know what you want. A bit heavier than the others coming in at 3UG5, it is still very maneuverable in the front court yet capable in the back court.
This racquet also features Li Ning's version of the sword frame, although a bit rounder than the Victor version. Li Ning racquets also have a reputation of being very durable.
If that is a quality you are looking for in your racquet, or you just don't know what type of racquet you like, look no further.
Alternative: Li Ning N7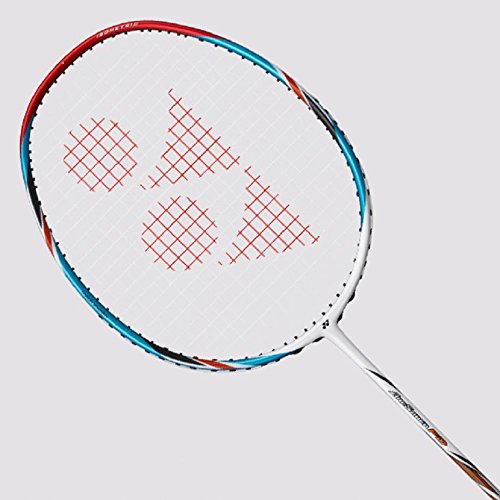 This racquet is one of the lightest ever made by Yonex. The F weight class of racquet is a mere 70-74g, a whole 10g lighter than a 4U racquet. This makes it ideal for females who lack the arm strength or for younger children.
However, you should be careful when choosing this racquet. With long term use you may find it detrimental to use this type of racquet, as it does not promote muscle growth due to its light weight.
If you do not plan on using it for too long, however it is a joy to use in the front court, movements will be very quick and agile.
Alternative: Yonex Arcsaber Flashboost
Beginner Badminton Racquets: What You Need to Understand
Weight
Standard badminton racquets come in 3U (85-89g) or 4U(80-84g). These are common for every badminton brand out there and is the range from which you will most likely be choosing your racquet from.
Only in specialized cases, such as for a young child or a female player, will you want to stray outside of this weight range into 5U, or even F (70-74g) weights.
Generally, as a beginner, you will be looking for one in the 4U weight category. This provides a nice balance of ease of use, as well as enough weight to build some strength.  While weight is an important factor, a 3U racquet can still feel light depending on the other two factors.
Grip Size

Grips nowadays come in G5 (81mm) or G4(84mm). I highly recommend getting a G5 grip size, solely because it is easier to build up a grip by adding more layers, than it is to shave down the wooden handle.
As you progress as get better, you will find yourself favoring a thinner grip. This is because as your technique advances and grows, you will use more finger and wrist strength, rather than relying on your shoulder and forearm.
Small grips allowing for more finger strength, while bigger grips, although more comfortable, do not allow for more advanced shots and will limit your play as you continue to grow.
My recommended configuration for a beginner is G5 with the factory grip and one 0.6mm over grip.
Balance
The balance of your racquet is its biggest defining characteristic. If a head light and head heavy racquet both have 3UG5 configurations for weight and grip, they will feel drastically different.
As a beginner, it is not as important to decide on what kind of balance you prefer now, but you will eventually find one that is right for you. Personally, I favored head light racquets when I was first starting.
As areas of my own technique improved, I found certain aspects lacking, so I switched to a heavier racquet and that is what I am using right now. For a good starting point, I would recommend getting an even balance (290-295mm) racquet.
Note: The way to find a racquets balance point is to put your finger in the middle of the shaft and balance it parallel to the ground. When you have found this point, measure it from the bottom of the racquet to that point, and you will have your balance point. (Another way is just to look at its specifications!)