I'm Julian and I'm here to answer these questions and let you know the best badminton shoes available today. Let's get down to it.
IMAGE
PRODUCT

Top Pick

Provides excellent support for your arch and ankles
Lightweight
Maintains a high shoe structure

VIEW LATEST PRICE →

Most Affordable

Constructed of leather, polyester mesh, and a custom material called "durable skin"
Asymmetric upper shoe design
Rubber sole provides enough traction

VIEW LATEST PRICE →

Has a graphite plate inserted under the middle portion of the shoe
Designed to reduce pressure on the big toe
Prevents sliding at the edge of the sole

VIEW LATEST PRICE →

Features a prominent gum rubber sole for extra traction
Features a snug fit
Has a low ankle design

VIEW LATEST PRICE →

Features a soft bottom with a rubber sole for extra traction
Has a good ankle support
Affordable and comfortable

VIEW LATEST PRICE →
Badminton Shoes: The Basics
First, let's get the basics down. Do you need badminton shoes? No, not really, but they do help your game a lot. Put simply, badminton shoes are designed for the unique movements to badminton. When you're jumping around or sprinting from courtside to courtside, your other shoes might give out. Possibly resulting in a broken shoe or even a broken ankle. Badminton shoes help alleviate these concerns when playing.
Ok I get that I should invest in badminton shoes now. But how do I choose?
There's only one main thing I like to tell people when looking for badminton shoes. First, and most important, you have to know your player style. Are you aggressive or prefer to sit back on the baseline?
Find Your Playing Style
Are you an aggressive player or baseliner?
If you don't know, let me help you. All you have to do is answer the questions below.
When playing, what area of the court are you usually in? Close to net (volleying or smashing for example), Near the baseline, the middle, or everywhere?
Which would you prefer? Smashing a difficult winner down the sideline, making a quick volley for the win, or consistently hitting your shots creating difficult situations for your opponent.
Now be honest with yourself! Hitting a winner feels great but think back to the last time you played. Is that what you really did EVERY shot?
If you answered Question 1 with either close to the net or everywhere, you're most likely an aggressive player who likes to move around a lot. This means you'll require badminton shoes that feature a large pivot point in order to make quick turns and stop on a dime.
If you answered Question 1 with near the baseline and Question 2 with consistent hitting your shots, you're most likely a baseline badminton player who focuses on control and shot placement. You may not be smashing the shuttlecock every round but you make your opponent run around and force difficult shots.
Badminton Shoes for Aggressive Players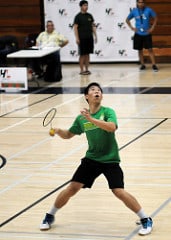 With your constant movement and powerful shots, you're going to need shoes that provide great traction and the ability to turn on a time. You'll also want your badminton shoes to be lightweight.
With your constant movement, your badminton shoes are a game of ounces. You don't want to feel like you have lead weighing your feet down!
Let's summarize:
 Lightweight                    Great Traction                       Large Pivot Point
Badminton Shoes for Baseline Players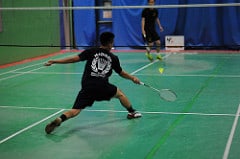 You may not be moving as much as a more aggressive player but badminton still requires a lot of quick turns and short sprints. You should be looking for badminton shoes that provide stability and support to ensure that no ankles turn the wrong way on those short sprints. One feature that many people overlook is impact protection. Many regular shoes just aren't built for the stress of repetitive take offs and landings.
Let's summarize:
Stability & Support                     Impact Protection                                 Lightweight
Choosing A Badminton Shoe: Other Important Qualities
Snug Fit
For both aggressive and baseline players, arguably the most important part of badminton shoe is ensuring a SNUG fit. This impacts everything from feeling comfortable to being able to turn quickly and sprint. Professional badminton players often get custom badminton shoes that are custom molded to your feet.
Ensure, whatever badminton shoe you buy, that it fits well and it conforms to the shape of your foot well. If you have wide feet make sure the shoe you're buying accommodates that.
Sole Construction
This is important because it determines how much traction a specific shoe will give you. While the traction does depend on your playing surface, if you know the type of surface, you know the type of sole you should get. I'll lay them out below.
Cement – This is very uncommon surface and frankly, not that great. If it's your default court though, choose shoes with rubber soles. The rubber will give you traction and make turns easy.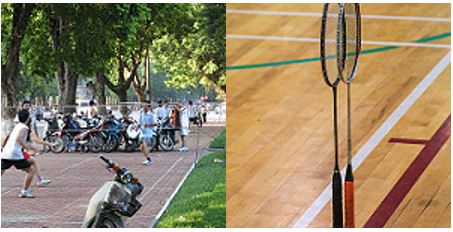 Wood/ Polyurethane – For these surfaces, you should be looking at badminton shoes with a gum rubber sole. These have similar qualities to a rubber sole but have increased traction and are typically higher quality.
One thing that is very important to keep in mind is to get shoes that have Non-Marking Rubber! Many courts or badminton clubs have specific rules saying that your shoes cannot leave marks on the floor. Make sure that your badminton shoe says that it is Non-Marking somewhere.
Best Badminton Shoes
Every badminton player I've ever talked to has spoken great things about the Men's Gel Rocket 7 shoes. After trying them out for myself I see why. Asic shoes are traditionally known for their stability and the Gel Rocket 7 is no exception. These shoes provide excellent support for your arch and ankles. In badminton especially, this ankle support is amazing. There's nothing worse than turning an ankle on a quick pivot.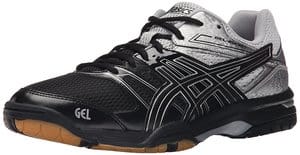 One special thing I like about the Asic Gel Rocket 7's is the special gel cushioning they have built into the sole. If you're an aggressive player, you'll be jumping and putting a lot of pressure on your soles and knees during badminton. The Gel Rocket 7's cushion impacts and landings very well for badminton players allowing you to play longer.
These shoes are light on the weight giving you the freedom to move around quickly. Asic is unique however, in that they were able to maintain a high shoe structure with such a light weight. This was done using a lightweight mesh.

I do have one note specific to the Gel Rocket 7's though. There is a new version currently out called the Gel Rocket 8's. In many ways, I think the 8 is inferior to the Rocket 7's! Gel Rocket 8's seem to wear quicker and are less comfortable than the Gel Rocket 7's. If you're thinking about picking up some badminton shoes, go with the ASIC Gel Rocket 7's.
Yonex is a big name in the badminton space and they've used their past experience to form a perfect shoe for badminton players. The Power Custion SHB-02 is constructed of leather, polyester mesh, and a custom material called "durable skin". This material is arranged in the shoe to prevent lateral movement in the foot. For players, this means you can easily shift direction across the court without fear of your ankle turning.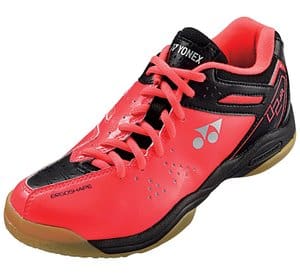 One interesting thing about the Power Cushions is the asymmetric upper shoe design. Yonex specifically designed this shoe for badminton players and this unique design reduces the stress placed on your feet when playing badminton.
Additionally, numerous famous badminton players have complimented this shoes on their capability to keep up with fast footwork. Trying on these shoes for myself I see what they mean. On the court, the rubber sole provides enough traction to easily grip the court. That, combined with the sturdy design, allows every player to move around the court as quickly as they want.
One note, is that this Yonex shoe should be purchased a ½ size larger than normal. These shoes run especially tight (which is good!) but for the most comfortable fit, purchase a ½ size up.
Yonex might appear a lot on this list of the best shoes for badminton but I believe you'll see why with the Yonex SHB 65Z. This is one of Yonex's latest models and one of the shoes I am actively trying out currently. It incorporates the powercushion technology talked about above which reduces impact forces and stress upon landing.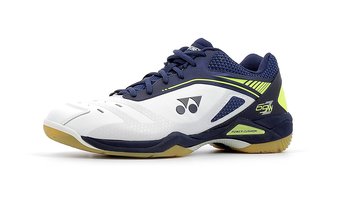 One aspect that's cool about this shoe is that there is actually a graphite plate inserted under the middle portion of the shoe. This was done by Yonex to increase the shoe stability while reducing the weight.
Yonex also specifically designed the exterior of the shoe for badminton players. There is special fabric to reinforce the outside of each shoe to prevent sliding at the edge of the sole. For badminton players who like to make swift turns and short sprints, this is absolutely essential. It is nice for Yonex to take this into account with this special design.
If you've ever had problems with your big toes, you'll love the Yonex SHB 65Z. Yonex polled badminton players and found that lots of players have issues with their big toes either sliding into the shoe or putting immense pressure on them. This shoe was specifically designed to reduce pressure on the big toe making it great for swift footwork.
A classic, the Asic Gel Upcourt shoes are used by indoor court players everywhere. From volleyball and racquetball to indoor soccer, the Asic Gel Upcourts perform equally well for badminton. These shoes feature a prominent gum rubber sole for extra traction on the court.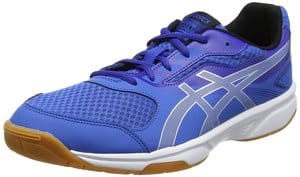 To reduce force to the feet, Asic has placed gel padding in the rear half of these shoes. This helps on hard impacts and landings during badminton and Asic is the master of this gel technology.
One feature that I liked but others had concerns about, is that the Asic Gel Upcourt shoes are very narrow. If you have wide feet, you may want to order a size up for a more comfortable fit. Personally, I prefer narrow shoes when playing badminton as they conform to my feet better. And, as we've learned above, a shoe that features a snug fit, can be a great badminton shoe.
Another prominent feature of the Asic Gel Upcourt 2's is their design around the ankle. This feature a low ankle design so there is minimal ankle support for players. While this does reduce the weight of the shoe, it does so at the expense of prominent ankle support. If you're prone to twisting your ankle, you might want to look towards other badminton shoes such as the Yonex SHB 65Z.
That being said, the Asic Gel upcourt is a staple of the indoor court shoes market and for good reason. These shoes are affordable and get the job done for badminton players.
The badminton shoe brand of choice for the Korea and Malaysian National Badminton teams, the Vicotr badminton brand is to be respected. You don't hear too much about Victor badminton shoes but they're there and a number of badminton players have been raving about them.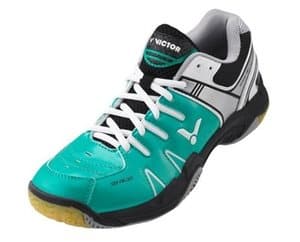 The Victor SHA610's feature a soft bottom with a rubber sole for extra traction. When trying out these shoes, I found these to be very comfortable and soft on my feet. These shoes also feature good ankle support which I find especially important in badminton.
The design of this shoe helps to reduce the large stresses on your feet during impact, a fact that I especially liked on the court. Overall, if you're looking for an affordable and comfortable badminton shoe, I highly suggest the Victor SHA610G.