Hey! This site is reader-supported and we earn commissions if you purchase products from retailers after clicking on a link from our site.
You've got your badminton racket and you're about to step onto the court when a thought strikes you. Shoes? Do I need special shoes for badminton? You can't go out there with just your regular tennis shoes can you?
I'm Julian and I'm here to answer these questions and let you know the best badminton shoes available today. Let's get down to it.
IMAGE
PRODUCT
 

Top Pick

Flexible sole
Adjustable 
Extra toe protection 

VIEW LATEST PRICE →

Durable
Comfortable
Protective

VIEW LATEST PRICE →
VIEW LATEST PRICE →

Light
Good grip
Indoor and outdoor options

VIEW LATEST PRICE →

Excellent grip
Support
Durable

VIEW LATEST PRICE →
Badminton Shoes: The Basics
First, let's get the basics down. Do you need badminton shoes? No, not really, but they do help your game a lot. Put simply, badminton shoes are designed for the unique movements to badminton. When you're jumping around or sprinting from courtside to courtside, your other shoes might give out. Possibly resulting in a broken shoe or even a broken ankle. Badminton shoes help alleviate these concerns when playing.
Ok I get that I should invest in badminton shoes now. But how do I choose?
There's only one main thing I like to tell people when looking for badminton shoes. First, and most important, you have to know your player style. Are you aggressive or prefer to sit back on the baseline?
Find Your Playing Style
Are you an aggressive player or baseliner?
If you don't know, let me help you. All you have to do is answer the questions below.
When playing, what area of the court are you usually in? Close to net (volleying or smashing for example), Near the baseline, the middle, or everywhere?
Which would you prefer? Smashing a difficult winner down the sideline, making a quick volley for the win, or consistently hitting your shots creating difficult situations for your opponent.
Now be honest with yourself! Hitting a winner feels great but think back to the last time you played. Is that what you really did EVERY shot?
If you answered Question 1 with either close to the net or everywhere, you're most likely an aggressive player who likes to move around a lot. This means you'll require badminton shoes that feature a large pivot point in order to make quick turns and stop on a dime.
If you answered Question 1 with near the baseline and Question 2 with consistent hitting your shots, you're most likely a baseline badminton player who focuses on control and shot placement. You may not be smashing the shuttlecock every round but you make your opponent run around and force difficult shots.
Badminton Shoes for Aggressive Players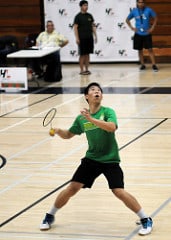 With your constant movement and powerful shots, you're going to need shoes that provide great traction and the ability to turn on a time. You'll also want your badminton shoes to be lightweight.
With your constant movement, your badminton shoes are a game of ounces. You don't want to feel like you have lead weighing your feet down!
Let's summarize:
 Lightweight
Great Traction
Large Pivot Point
Badminton Shoes for Baseline Players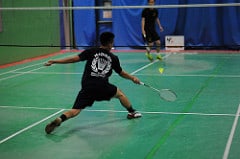 You may not be moving as much as a more aggressive player but badminton still requires a lot of quick turns and short sprints. You should be looking for badminton shoes that provide stability and support to ensure that no ankles turn the wrong way on those short sprints. One feature that many people overlook is impact protection. Many regular shoes just aren't built for the stress of repetitive take offs and landings.
Let's summarize:
Stability & Support
Impact Protection
Lightweight
Choosing A Badminton Shoe: Other Important Qualities
Snug Fit
For both aggressive and baseline players, arguably the most important part of badminton shoe is ensuring a SNUG fit. This impacts everything from feeling comfortable to being able to turn quickly and sprint. Professional badminton players often get custom badminton shoes that are custom molded to your feet.
Ensure, whatever badminton shoe you buy, that it fits well and it conforms to the shape of your foot well. If you have wide feet make sure the shoe you're buying accommodates that.
Sole Construction
This is important because it determines how much traction a specific shoe will give you. While the traction does depend on your playing surface, if you know the type of surface, you know the type of sole you should get. I'll lay them out below.
Cement – This is very uncommon surface and frankly, not that great. If it's your default court though, choose shoes with rubber soles. The rubber will give you traction and make turns easy.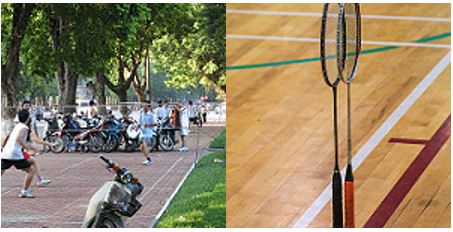 Wood/ Polyurethane – For these surfaces, you should be looking at badminton shoes with a gum rubber sole. These have similar qualities to a rubber sole but have increased traction and are typically higher quality.
One thing that is very important to keep in mind is to get shoes that have Non-Marking Rubber! Many courts or badminton clubs have specific rules saying that your shoes cannot leave marks on the floor. Make sure that your badminton shoe says that it is Non-Marking somewhere.
Best Quality Badminton Shoes
Now you have an understanding of why you need specific shoes and what to look for, here are 10 badminton shoes available to purchase:
The Li-Ning Saga is a great choice for power players, as they're super light and have extra layers at the front to preserve the life of the shoe. The multiflex sole incorporates an extra patch of rubber that allows for fast and circular movements, making it a great choice for comfort and movement. It also has x structure that further protects the heel and is adjustable. 
Pros
Flexible sole
Adjustable 
Extra toe protection 
Cons 

Not great if prone to over pronation
The power cushion range is a super comfortable option and provides better stability than its predecessors. It offers great shock absorbing power. It is lightweight and helps reduce stress on the knees and legs. 
Pros
Durable 
Comfortable 
Protective 
Cons 

Only available in black and blue 
What makes the Aerus Z unique is it's the lightest badminton shoe Yonex has ever developed. If powering around the court is your style, then these shoes are ideal to help produce fast reaction power. 
The Aerus boasts an extra layer of PU film that makes the shoe resilient to stress and is consistently strong.
Pros
Cons

Not as much protection for ankles as heavier shoes
The Python deluxe shoe range is good for any racquet sport and comes with three options; indoor mid, indoor low and outdoor low. They have excellent grip and are seriously comfortable. 
Pros
Light 
Good grip 
Indoor and outdoor options 
Cons 

Sizes come out rather small 
The Babolat Shadow is a special court shoe designed for advanced players. It provides the ultimate in support and injury prevention. It offers a unique grip that is 3 dimensional that can tolerate jumps and turns as well and responds well to abrupt movements throughout the court. 
Pros
Excellent grip 
Support
Durable
Cons

The bright orange Aerus 3 is a favorite for Yonex lovers. Super light with a breathable design, this shoe offers durability and gives more air exchange than most other shoes. It's effortless for light footwork on court, and has a comfortable power cushion inside to control movement and increase power. 
Pros
Bright colorful design 
Light but supportive 
Power cushion 
Cons 
Can be on the snug side 
Heel cup slightly narrow 
The Adidas Essence will help improve agility and offers midsole support with superior cushioning. They're lightweight and the high quality outsoles are waterproof and durable. The rubber outsole creates a great grip for indoor courts without compromising the floors. The medium width means that they fit securely on wider feet. 
Pros 
Affordable
Light 
Protects indoor courts 
Cons 

Less cushioning than most court shoes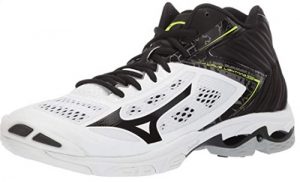 The Mizuno lighting is designed for fast players. The breathable outer mesh creates controlled cushioning and feels stable whilst retaining lightness of foot. It features INTERCOOL — a unique ventilation system for shoes. It helps reduce heat build up during games, keeping feet cool and comfortable. 
Pros
Cool 
Cushioning 
Stability 
Cons 
The toe box is quite large and slightly rigid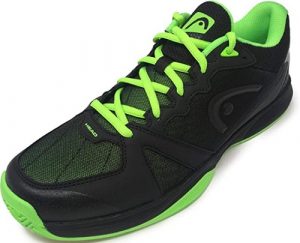 The Head Revolt is a sturdy choice of shoe. Although stiffer than some, this shoe has a strong energy frame design that provides stability consistently. There is a layer of TPU on the toe, which prolongs the life of the shoe and creates a low down feel. Ideal if you find that connection with the ground assists control. 
Pros 
Strong
Low to the ground 
Long-lasting 
Cons 

Slightly stiffer than most 
Narrow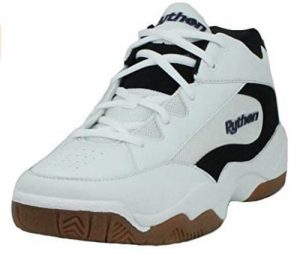 For the wide feet gang, the Python Wide is a great solution. Although a wide design and a mid cut shoe, it's surprisingly lightweight. Die-cut insoles offer great shock absorption as well as deodorization. 
The shoe molds to the foot nicely, providing excellent support to the ankle, reducing the risk of injury. 
Pros 
A secure wide foot option 
Shock absorption 
Good support 
Cons 

Sizing not always that accurate 
So, now you're clued-up on why you need shoes, what to look for, and see a selection of options. It's time to choose the shoes and get out on the court and do what you love best… playing badders!