Hey! This site is reader-supported and we earn commissions if you purchase products from retailers after clicking on a link from our site.
Ever thought about the benefits of using a tennis ball machine? Most of us see it as a sturdy block capable of firing a ball in a certain direction.
| IMAGE | PRODUCT | Price Range | Ball Capacity | |
| --- | --- | --- | --- | --- |
| Top Pick | SpinshotPlus Tennis Ball Machine with Phone Remote | $1500 – $2000 | 120 | Check Price |
| Runner Up | Lobster Sports Elite Liberty | $1000 – $1500 | 150 | Check Price |
| | Spinshot Pro Tennis Ball Machine | $1000 – $1500 | 120 | Check Price |
| | Spinfire Pro 2 | $1500 – $2000 | 200 | Check Price |
| | Spinshot Lite | under $1000 | 50 | Check Price |
| | Lobster Phenom II | $2000+ | 250 | Check Price |
From helping you perfect a shot to improving the overall efficiency of your shots, a tennis ball machine is perhaps one of the most crucial investments you can make to become a better tennis player.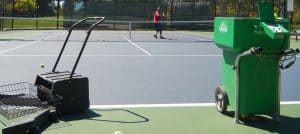 Image Credit: Lifetime Activities
One of the biggest advantages, if not the biggest, is the sheer consistency of a tennis ball machine. More than any teacher, instructor, or friend can do, a tennis ball machine can feed the EXACT SAME elevation, spin, and speed to you again and again.
Even if you were to practice with Nadal, Federer or Djokovic, they won't be able to feed you shots at a constant speed and height let alone the direction.
Is it worth buying a Tennis Ball Machine?
Yes, if you want to become a better tennis player.
It might be expensive upfront but given the lifetime of the machine and how many times you'll be using it; you won't regret anything in the long run. For instance, if you've been practicing shots using a wall or may trying some other ways to sharpen your execution, imagine what a machine can do to help you.
Tennis ball machines can help you hit repetitive shots so you can improve your consistency while playing tennis. Furthermore, you don't have to wait for anyone and you can practice anytime and anywhere you want.
The best tennis ball machines allow you to choose the type of shot you want to practice and then you can focus on hitting those particular shots till you progress. Not only does it improve your accuracy but your overall form when you hit a shot.
The only reason why most tennis practitioners refrain from buying a tennis ball machine is perhaps the price tag. But trust me, you get the best training partner who can keep going till you call it quits.
You can be pushed to your limits and test your abilities with the help of a tennis ball machine. Sure, it cannot replace a partner and doesn't provide the exact match feel or experience, but it can propel you towards the same.
If you have a professional trainer, then that's the best way to hone your tennis skills. But let's be honest, there's a limit and a cost to which they can go to train you. After that, it's just you and your willingness to train. Here's where using a tennis ball machine can really help you hit those repetitive shots and expand your tennis skills.
6 Reasons why you should buy a tennis ball machine
An ever-present training partner
The primary reason why I love tennis ball machines is that you don't need a hitting partner to refine your skills. Even if you're not an avid tennis practitioner, a tennis ball machine will help you add training modules other than your regular sessions.
You can go out and practice any time you want without having to work around multiple people's schedules. On any given day when your training partner isn't available, you can just place the machine in your car, find a nice spot and start practicing (that's if you don't have a court in your backyard).
Leeway in training
Having a tennis ball machine enables you to practice the type of shot you want and at the frequency you want. Thus, you can sharpen certain strokes that you want to improve upon. Forehand? Backhand? Overhead? Volleys? Just set the angle and you're good to go.
With the help of a machine, you can focus on the details and the specifics of every shot you hit.
Furthermore, you have the freedom to control the angle and thus you don't have to ask someone to hit the ball in a specific way over a long period of time.
Helps you practice consistent shots
Repetitive shots even with consistency can turn out to be a boring affair for your partner. Sooner or later they'll lose the spark and their willingness to hit it. With tennis ball machines, you get accurate shots consistently. The machine won't get bored and would feed you with shots again and again.
On the contrary, a coach or a pro instructor can only hit consistent balls until a limit. Thus, tennis ball machines are great to not just place the ball in a certain direction but also to decide the amount of spin, speed, and frequency you need.
Flexible Control
Not only do you control the direction, but also the speed, spin, height and frequency of the shots that come at you. A top-quality tennis ball machine will help you to tweak settings so you can simulate a true hitting session. By adjusting the speed, you can work on specifics such as hitting a drop shot using a backspin – there are endless possibilities.
If you want to alternate between backhand and forehand shots, your tennis ball machine will be able to oscillate from one angle to the other between low and high shots thus helping you practice a particular shot from all angles.
Form Focus
Working your form is an indispensable way of improving your overall tennis skills. Tennis Ball Machines do a great job of improving your reflexes and building muscle memory.
The frequency at which you practice your strokes will determine how quickly you become good at hitting those strokes. When it comes to form, sure, you can't replace a coach as you'll need feedback but you can use it to work upon the feedback by consistent practice.
Having mentioned all the reasons as to why you should own a tennis ball machine, here are a few which discourage practitioners from buying them.
Expensive
Before you even scroll down, it's important to know that tennis ball machines are expensive. The simple reason for that is the longevity and mechanics. You will find tennis ball machines between the range of $500 to $5000. If you choose one of the best tennis ball machines under $1000, you won't get everything you want necessarily. However, that doesn't mean that $3000+ machines will change your game all by itself.
Regardless of the machine you buy, all of it will ultimately rely on your personal skills. I love the machines between $2000-$2500 range because that's the sweet spot for machines that have good features and come at a slightly affordable price.
Hard to Transport
A primary reason why people who can afford tennis ball machines don't buy them is that they feel it's too heavy to transport. Let me assure you that this depends upon model to model. In general, though these machines feel heavier to lug around they do have certain features.
Most of the top machines come will battery-operation and wheels which makes moving them quite easier.
Having said that, advanced machines are bigger in size, they hold higher amount of balls and thus they weigh more. Thus, these machines can't be transported frequently from one location to the other.
Manual Effort
This might sound crazy but yes, most practitioners don't like machines because they are required to pick all the balls and load it. As fun as hitting sounds, collecting the balls doesn't have a ring to it.
So, if you use a tennis ball machine, you'll spend a good amount of time collecting and loading the balls. I personally don't see it as a stumbling block because I use one of the best tennis ball hoppers where I can collect and hold tennis balls. Using a tennis ball hopper will allow you to gather all the tennis balls quickly.
Cheaper Alternatives
Many tennis practitioners believe that repetitive practice cannot improve your form. And while that's true, you can't deny that with the help of a professional trainer, you can actually build upon the foundation.
So, having a tennis ball machine in no way hinders your progress. If your form is off, any machine won't be able to help you. However, if your form is right, you can use machines to turn your weaknesses into your strength.
Does a tennis ball machine help improve your game?
I consider a tennis ball machine to be one of the most revolutionary training equipment ever developed in the sport. It has the capability to help you improve your game tremendously. You can regulate the shots the way you desire and that in my opinion makes a lot of difference.
Regulating the spin, adjusting the speed, height and direction of the ball are just a few of the many features that a tennis ball machine has. They aren't an expensive substitute for a coach or a practice partner but they can help you become consistent and capable of hitting quality strokes.
Is a tennis ball machine a worthy investment?
At first glance, you'll probably close the window you're browsing and if not, you'd be like "No way, I'm spending this much on just a bulky good for nothing equipment''. But what I want you to do is think about it.
Most of the $1000+ machines have a sturdy build and should work for 5+ years. Imagine the difference when you're able to consistently practice and hit good shots. Tennis ball machines aren't for everybody. They're for people who want to be better, people who want to win consistently. If that's you, then you need a tennis ball machine to take you to the next level.
If you're serious about tennis and want to get better, a tennis ball machine can significantly help you.
Of course, you want to choose a machine based on your budget and skill level. If you're just a couple of months into practice, I won't recommend you go buy a $2000+ machine because that won't make any sense.
You should start with a small budget of $500- $1000 and upgrade as you progress.
For instance, after two years of practice, you'll feel you're ready for the oscillating machine which can help you with your footwork, thus, making $2000+ investment will make sense during that period.
If you see a tennis ball machine as a long-term investment, you won't feel scared of the price tag. Just remember that set realistic expectations and choose the machines which will help you fall in love with training.
How much does a tennis ball machine cost?
A tennis ball machine costs between the range of $500 to $5000. Based on your level, you should choose a machine which has the most suitable features. Take into account factors such as mobility, wheels, oscillation, weight, ball carrying capacity and so on.
Price is not the only factor that you should use to judge a machine. Most importantly, your level should help you determine the best machine, if you're a beginner, you shouldn't spend $1500+ dollars on a machine.
Similarly, if you're an intermediate, a tennis ball machine between $2500-3500 will fulfill most of your requirements.
How long Do Tennis Ball Machines Last?
An important factor when determining the price is – how long will you use the tennis ball machine? I personally see a machine as equipment which can pay for itself if I use it frequently. If I feel I will only use it for a limited number of sessions, I don't buy it.
If you commit to using it on a weekly basis, only then would you be able to make the investment count. If you're serious about tennis, you'd want to practice every week. Even if it's once a week, that's absolutely fine.
Choosing the Best Tennis Ball Machines:
If you're into reading autobiographies, I'd totally recommend Andre Agassi's autobiography. In that book, he states that his Las Vegas home court with black tennis balls was his fiercest enemy.
Given what he has achieved in his career, it'd be an understatement to suggest that his tennis ball machine just 'polished' his game.
It doesn't matter how you play tennis and what level you play, a tennis ball machine can truly assist you. Having said that, I'd like to clarify that choosing a tennis ball machine is not an easy task.
You must know about the key features and pit them against the price you're paying. Thus, you have to be picky about what you choose. Below are certain parameters that you should take into consideration before purchasing a tennis ball machine.
Weight
The weight of the tennis ball machine makes a lot of difference. Not only does it have to be solid but also stable when standing on the court. Most of the machines might have weight differences which might seem negligible at first but end up making the most difference. For instance, the Bazook tennis ball launcher weighs 2lbs, however, it won't fare well against a machine that weighs 20lbs.
An ideal weight for the tennis ball machine is 40lbs. Moreover, ideal machines should have wheels so you can easily transport them. Even if you don't relocate them, it's important to remember that you'll be moving them across the court, thus wheels will play a crucial part.
The weight and design of your machine are important but at the same time, they shouldn't come at the cost of mobility.
Power
After weight, power is the second most important parameter. Based upon the place where you wish to place the machine, you'd need a power supply. You can either choose a machine that works on a battery or a cord power supply. If you play on outdoor courts, battery-powered machines work great with batteries lasting for 2-4 hours.
Personally, I feel 2 hours of backup is enough as that's how long my single session lasts. On the contrary, if you're practicing indoors, then the power cord machine works well with an electric outlet right next to your court.
Ball Carrying Capacity
Many people emphasize this particular feature too much. However, I don't feel it's as crucial as the two mentioned above. Many practitioners get excited hearing the number of balls a machine can carry.
To be honest, the number of balls the machine carries doesn't matter that much. When the tennis ball machine runs out of balls, it'll give you the perfect opportunity to take a break and catch your breath a little.
I think that machines with a capacity of 100-300 make more sense as compared to the ones which carry 400-500. I'd advise you have a machine which has a ball-carrying capacity between 120-200.
Propulsion
These might sound technical but we can't get around it by overlooking them. These two points are quintessential when buying a tennis ball machine. Under this, you should check out the following points:
Direction – Does the machine use two spinning wheels for ball feeding or air pressure?
Top Speed–60 mph limit for beginners, 80 mph limit for intermediate or pro players. The minimum speed should be at 10-20 mph
Feeding Interval–Look for more flexibility. Strictly set intervals of 3, 6 and 12 seconds are common but a wide range of feeding intervals between 1 to 60 is preferable with time range between 2-10 seconds.
Spin–If you just want a machine for flat strokes, you can go for a cheap option. However, if you want to practice a wider range of strokes, your machine should have a spin feature. This will allow the tennis ball machine to apply topspin and backspin (underspin), so you can improve on those shots as well.
Oscillation
Alternate Direction–You don't want your 120-150 balls coming in the same direction upon regular intervals. Thus, tennis ball machines with great oscillation prevent stop-start action by helping you with vertical and horizontal oscillation.

Simpler machines just have a horizontal oscillation whereas premium tennis ball machines have vertical oscillation as well. You can search for a two-line oscillation pattern if you want both of them.

Elevation Control–You can choose between manual or electric elevation. The electric elevation is often convenient since you can program it as per your needs. On the contrary manual elevation requires you to pull and move the handle to adjust the height.
Remote Control–Though not necessary, it can be a handy feature if you want to control the machine from across the court. Without remote control, you're required to switch on the machine and run to the other side before the shot arrives. With Remote Control, you can click the button and choose when you want the ball to come towards you. You can even manage the machines using a dedicated app.
Drill programming–Most of the premium machines have programmed drills that have sequences with shots. These can be individual shots or entire sequences. You can adjust these and even reprogram them completely based upon your needs.
Are Tennis Ball Machines Under $1000 Worth It?
Tennis ball machines under the $1000 price range are designed for beginners. These machines help you work on basic shots. Thus, beginners who want to master basic shots and improve their fundamentals, these machines are great to get started. However, you shouldn't expect a lot of features from <$1000 machines.
Preprogrammed drills along with electric elevation are features you won't get in this price range. At the same time, the propulsion and oscillation are quite basic, thus, you won't be able to simulate match conditions with these tennis ball machines.
Top Tennis Ball Machines
Spinshot Plus tennis ball machine is the world's best-selling tennis ball machine. There are plenty of reasons why you should go for this bad boy. You can easily program any type of drill on it. It's the only tennis machine which doesn't have any plastic material and still weighs 41lbs only.
You can use the free phone app to program the machine as per your preference. You can set speed, height, angle, spin and feed rate. In addition, there are flexible power options available with this model. Last but not least, it is the only machine with De-Jam Design.
| | |
| --- | --- |
| Size | 18″x12″x20″ |
| Weight | 41lbs |
| Power | Battery & Cord Supply |
| Mobility | Yes |
| Ball Carrying Capacity | 120 |
| Preprogrammed Drills | Yes |
| Price | $$ |
| | |
| --- | --- |
| Pros | Cons |
| Mobility | Low ball-carrying capacity |
| Best-selling machine |   |
| Preprogrammed drills |   |
| Remote Control |   |
Lobster's Sports Elite Liberty is a tennis ball machine that offers great portability. Its 8-inch large terrain wheel ensures smooth movement. It's extremely easy to transport and store. It offers an optional external battery pack which allows you to extend the court time.
By plugging the battery pack into Elite's pro charger, you can get an additional 5-7 hours of juice. It also offers an optional premium charger which allows you to charge the machine under 6 hours as opposed to 18-24 hours. If you have access to power outlet, you can use optional external power supply.
| | |
| --- | --- |
| Size | 29″x21″x15.5″ |
| Weight | 35lbs |
| Power | Battery & Cord Supply |
| Mobility | Yes |
| Ball Carrying Capacity | 150 |
| Preprogrammed Drills | No |
| Price | $ |
| | |
| --- | --- |
| Pros | Cons |
| Affordable | No preprogrammed drills |
| Mobility | Heavier |
| Multiple Power Options |   |
Spinshot Pro Tennis Ball machine is similar to its sibling above. It has controllable knobs with flexible power options. Thus, you can choose between cord and battery-based upon your location. If you're choosing an ideal tennis machine for your child, I'd recommend you choose this one.
Though it just has horizontal oscillation, you can adjust the top and backspin. It's easy to use and you practice with your friends and family. It comes with an extendable hopper which makes it convenient to transfer and store. This machine can easily fit in any car's trunk and thus there are no issues with mobility.
| | |
| --- | --- |
| Size | 18″x12″x20″ |
| Weight | 35lbs |
| Power | Battery & Cord Supply |
| Mobility | Yes |
| Ball Carrying Capacity | 120 |
| Preprogrammed Drills | No |
| Price | $$ |
| | |
| --- | --- |
| Pros | Cons |
| Best-seller | No preprogrammed drills |
| Mobility | Low ball-carrying capacity |
| Multiple Power Options |   |
The Spinfire Pro 2 tennis ball machine is truly a powerhouse. With 200 ball capacity, Spinfire Pro 2 offers everything you need in a tennis ball machine.
These include horizontal and vertical oscillation, extreme spin, LCD display, 2-line drill, and a membrane touch panel. Its counter-rotating wheels help with ball propulsion and you can also set vertical and horizontal oscillation manually.
One of the most fascinating aspects of Spinfire Pro 2 is that it can memorize your drills based upon the inputs. Thus, you don't have to provide input again and again. When you turn on the machine, it recalls the last drill and thus uses the same settings to begin the current one.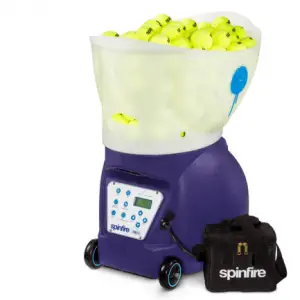 | | |
| --- | --- |
| Size | 49cm (H) x 51cm (W) x 67cm (L) |
| Weight | 52lbs |
| Power | Battery & Cord Supply |
| Mobility | Yes |
| Ball Carrying Capacity | 200 |
| Preprogrammed Drills | Yes |
| Price | $$$ |
| | |
| --- | --- |
| Pros | Cons |
| Preprogrammed Drills | Expensive |
| High ball-carrying capacity | Heavier than competing machines |
| LCD |   |
Similar to other Spinshot models above, the Spinshot lite is quite mobile too. The lite model is designed keeping junior players in mind. It has all the pro features but in a limited version. Easy to control knobs, 50 ball capacity, embedded TopSpin feature, extreme portability, smartwatch remote option, flexible power option, and horizontal oscillation options are just a few of the many features packed in this little beast.
All of these features make Spinshot Lite a go-to-entry level tennis ball machine preferably for junior players. If you want to order a remote and additional oscillation feature, you can do so from the website. It has extendable handles that add to the convenience in transit.
It's super light and can be stored in any car's trunk.
| | |
| --- | --- |
| Size | 12"x12"x18" |
| Weight | 22lbs |
| Power | Battery & Cord Supply |
| Mobility | Yes |
| Ball Carrying Capacity | 50 |
| Preprogrammed Drills | No |
| Price | $ |
| | |
| --- | --- |
| Pros | Cons |
| Affordable | Low ball-carrying capacity |
| Perfect for entry-level practitioners |   |
| Multiple power supply options |   |
| Extremely mobile |   |
Lobster Phenom II is an AC powered tennis ball machine that is designed keeping longevity, reliability, and durability in mind. This machine is fully programmable thereby allowing you to tweak and customize your own training program and drills.
Its fully random oscillation allows you change the speed anywhere between 35-80mph, you can also add a feed rate between 2 to 9 seconds and add topspin and backspin capabilities. There are 12 custom programmable drills that allow you to choose 18 different ball locations and the freedom to assign spin, speed and feed rate for each one.
If you want to add accessories, you can do so from Amazon or from the website. For instance, you can add a 20-function remote for your machine which you can operate from Android or iOS.
| | |
| --- | --- |
| Size | 32"x25"x50" |
| Weight | 151lbs |
| Power | Cord Supply |
| Mobility | No |
| Ball Carrying Capacity | 250 |
| Preprogrammed Drills | Yes |
| Price | $$$ |
| | |
| --- | --- |
| Pros | Cons |
| Sturdy Build | Expensive |
| High Ball Carrying Capacity | No Battery Power Supply |
| Programmable Drills | Not Mobile |
| App add-on |   |
Personal Verdict
Tennis ball machines can have a huge say in the overall development of your game. If you use it in combination with traditional tennis practice sessions, you're on your way to becoming a top player. The only thing that rubs a buyer the wrong way is the price but I have already discussed that in the section above. Now that you know what the best tennis ball machines are, you can pair them with the best tennis rackets to fully optimize your practice sessions.
Though you can even rent at your local club or from a tennis shop, I'd recommend you buy one. Instead of going for the alternatives, I'd urge you to spend the money and make it count. Used tennis ball machines are mostly never up to the mark and even if they seem fine visually, you will need an expert to determine if it's truly in good condition.