Hey! This site is reader-supported and we earn commissions if you purchase products from retailers after clicking on a link from our site.
Getting one of the best tennis overgrips applied to the handle of your racquet is something that you need to think about.
With the excitement of buying all your new tennis gear, it can be easy to forget about something as seemingly minor as this.
Don't be fooled however! This is an important step in beginning your tennis journey and progressing as a player.
Applying the right overgrip correctly can have a variety of benefits to help you progress and develop your game.
What exactly is an overgrip though?
A tennis overgrip is a soft, padded, cloth like tape that is wrapped around the handle of a racquet to help improve grip. You can buy them from all the main brands like Wilson and HEAD in a variety of materials and patterns.
As with a lot of things in tennis, it's a case of choosing the one you like personally and will be happiest using.
Advantages of using a Tennis Overgrip
Better Grip
One of the main uses of the best tennis overgrips is to give extra stickiness and grip to the handle of your racquet. This is obviously an advantage as it will keep the racquet in your hand better and give your game more stability when playing shots.
If you don't use one currently then you will be pleasantly surprised as to the difference they make when out on court.
Sweat Absorption
No-one likes to talk about this but let's face it, we all sweat when we've been running around for a few hours in the sun.
Even Federer and Williams do it so there's no shame in admitting it! Another benefit of using an overgrip is that it will aid in absorbing the sweat from your hands.
Some professional tennis players will even replace their grips before every match to ensure that their racket won't slip out of their hands.
Similar in effect to the previous point, tennis overgrips will give you a better grip and stop your racquet from sliding about in sweaty hands at crucial moments.
This might not sound like much but once it's saved you a game point or won you a match then you will see the importance.
Comfort
The bare handle and grip on your racquet are nice enough right? Wrap it with an overgrip of your choice though and you will instantly feel the difference.
As tennis overgrips are made from a soft material, they often give added comfort and pleasure to using your racquet when out on court.
With the amount of time you spend out on court, it's really worth investing in a great tennis overgrip in order to make it as pleasurable an experience as possible.
Expanding the grip circumference
Even if you spend a long time looking racquets before buying your perfect choice, they can still need some customisation to be suited to you as an individual. One of the aspects this is true for is the handle circumference.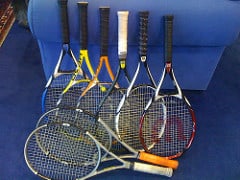 You may find that the circumference of your handle is too small which is bad as this will mean it will spin when you hit shots and not fit snugly in your hand.
The answer to this rather than buying another racquet is to pad it out with overgrip.
You just need to wrap enough around the handle until it is the thickness you want and you're all set to go.
Preserves the original grip handle
After using your racquet without an overgrip for a while you may find the original grip is wearing away.
Rather than buying a whole new expensive racquet, you may wish to consider wrapping it with a good tennis overgrip.
By doing this you will revitalise the grip on your racquet so it is playable again but also help preserve the grip that is still left on the racquet.
It will also pad out the handle to the perfect size again for control and comfort.
HOW TO APPLY AN OVERGRIP
Generally, overgrips are applied from the bottom of the handle upwards. Before you start, it is advisable to clean the original grip of the racquet with soap and water before drying it off.
This will help the overgrip attach to the racquet and stay in place better.
You start by wrapping the narrow part of the material from the handle butt cap and proceed up to the throat of the racquet (the section between the handle and head).
You wrap the overgrip in an overlapping fashion by about 1/6 of an inch as you go.
Once you have reached the throat of the racquet, you then need to trim any excess that is left off.
The best way to do this is at an angle and then putting grip-finishing tape on afterwards to keep it in place.
5 BEST TENNIS OVERGRIPS TO BUY
Coming in at just over $6, these are a great deal. Wilson is one of the best and most well known brands in tennis and for good reason. They always produce fantastic products that do the job whether you're an amateur or pro.
Check Price Now
These best tennis overgrips are no exception as they are extremely comfortable and great to use. They're easy to put on as well so you won't be wasting time you could be on court trying to apply them.
In terms of stability, they're spot on and keep the racquet in your hand all game.
Even better, this is a 3 pack meaning you will enough to keep you going for a while and not have to go out to buy more straight away.
Coming in as #1 on our list of best tennis overgrips, the Wilson Pro Tennis Racquet Overgrip is great to use and a bargain deal.
Another popular brand, HEAD has been making tennis equipment for a long time. This experience really shows in the design and manufacture of this HEAD Super Comp overgrips.
Check Price Now
They are the cheapest on our list at under $5 so that is a major advantage for the budget conscious amongst us. The tennis overgrips themselves are comfortable and sturdy – applied properly they should last you a while before needing to be replaced.
The feel of them is nice and tacky which gives a secure feel in the hand when playing. They are great at stopping your hands from getting too sweaty which for an overgrip is a major advantage.
I love Babolat and I'm not alone – lots of tennis players adore their products and these overgrips carry on that excellence.
Although a bit dearer than the Wilson ones, they are under $10 for a pack of 3 which is very affordable for a tennis overgrip. The Babolat Pro Tour Overgrip feels very soft when on but  it retains some of that stickiness to absorb your sweat and keep your racquet in your hand. Not only that but they look great also which is always something to think about when going out on court.
If you're considering getting an overgrip to use then these would be a great buy. They give your game a real control and stability in your shots which is fantastic.
The Gamma Supreme Overgrip is an excellent choice for players looking to improve their performance.
As these grips are made from an absorbent material, your hands will remain dry as you hold your racket and this will provide you with greater control as you take your shot. You will also benefit from improved comfort as you aren't going to be confronted by an accumulation of sweat or moisture.
Thanks to the tacky surface, these overgrips are easy to apply and they also accommodate racquets with longer handles. Moreover, they are also extremely durable and have been made to deliver long-lasting use.
Available in an array of colors, you can customize the appearance of your racket. They are also available in multiple quantities from a pack consisting of as little as 3 to as many as 60. For this reason, you can select the amount required for the frequency in which you play.
If you are looking for a high-quality, durable tennis overgrip, this tape from ALIEN Pros is a strong contender. The PU material absorbs sweat which means that you can play without having to worry about the racquet slipping away from your grasp due to sweat or moisture..
Each lot of tape is precut and is 1" wide, 43.3" long, and 0.02" thick. This makes them super easy to install as you simply need to wrap it around the handle of your racquet and then seal it. After doing so you are ready to play.
Not only are these grips compatible with tennis racquets but they can also be used on badminton, racquetball, and squash racquets as well as dumbbells and pickleball paddles. Moreover, there are several different options available in regards to quantity so you can select your required amount.
The Best Tennis Overgrips: Afterthoughts
As you can see, using an overgrip on your racquet has a wide range of benefits and can help in improving your game immensely.
They also look pretty cool and can give your equipment that personal touch which we all love.
Best of all, they're not expensive so it's a no-brainer as to whether you should use them or not.
If you look at all the professionals in the sport, they use overgrips without exception which shows how important they are. Get wrapping and it will feel like you have brought a new racquet but without any of the cost.