Hey! This site is reader-supported and we earn commissions if you purchase products from retailers after clicking on a link from our site.
Let's get it straight, high school can be where you get serious about a sport. Whether it's tennis, soccer, football, or any sport in high school, do well enough in high school and you'll have college scholarships thrown at you and the possibility to play in D1.
In high school, you should make every effort to become the best tennis player you can be. So, will finding the best tennis racquet for high schoolers help you out? Absolutely. From beginner to advanced players, your choice of tennis racquet has a huge role to play in the game.
If you're a beginner, visit our best tennis racquets for beginners guide!
If you're a high school student who happens to love tennis, keep reading because this blog has a special recommendation section to help you choose the perfect racquet for your situation.
Does the weight of a high school tennis racquet matter?
This is like asking why does the weight of a baseball bat matter? Of course it matters!
You see, when you're at an intermediate level, you want to have control over your shots. You want to emphasize and fine tune the little details such as spinning, smashing, volleys, and other strokes.
When you have a great tennis racquet for high schoolers, it helps you focus on these elements. For instance, when you hit a shot, you see the direction of your racquet changing. In such a case, you can't rely on light racquets.
Intermediate level or high school level implies that you have a perfectly balanced racquet which can withstand the power of your opponent's strike or to hit an ace yourself.
One thing to also consider is the weight of a tennis racquet that you can support while in high school. You're still growing in high school so you may not want to be playing with advanced tennis racquets which tend to be heavier.
You should be aiming to find a light to medium weight tennis racquet. Sometimes these are also referred to as tweener racquets or intermediate racquets.
Factors to Consider When Buying High School Tennis Racquet
At every stage of your tennis career, the attributes of your tennis racquet matter. From size to length and string spacing, there are several variables which can help you choose the right racquet for high school.
When choosing a racquet, you must decide whether you want to go for power or control. Based upon your choice, the specification of the racquet would differ. But as a general rule of thumb for buying tennis racquets for high school tennis players here's the key specification you should be looking for:
Head Size: 100 sq.in head size (ideal)
String Pattern: 16/16 for Power, 16/19 for Control
Weight: 10 – 11.5 oz
Here's a basic visual guide for your assistance: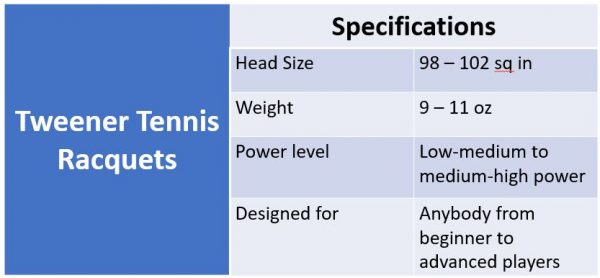 There are many other factors such as racquet technology, beam, length, balance and grip size. However, the three specifications mentioned above are the most important ones.
What Tennis Racquets do most High School Players Use?
As always, let's look to data to see what everybody else uses in high school!
Below are the most popular Tennis Racquet brands used by men and women ranked in the top 100 players in the world.
While I wouldn't recommend to choose their exact racquet (too heavy), all of these brands are good choices for a high school tennis racquet.
You can see that Wilson tennis racquets leads, with Head and Babolat coming in 2nd and 3rd respectively.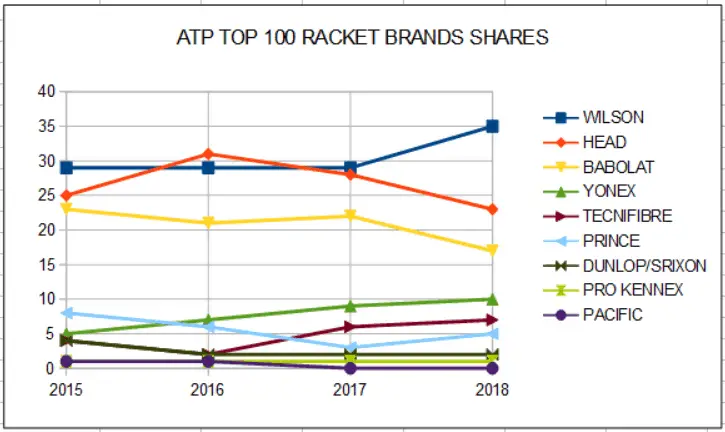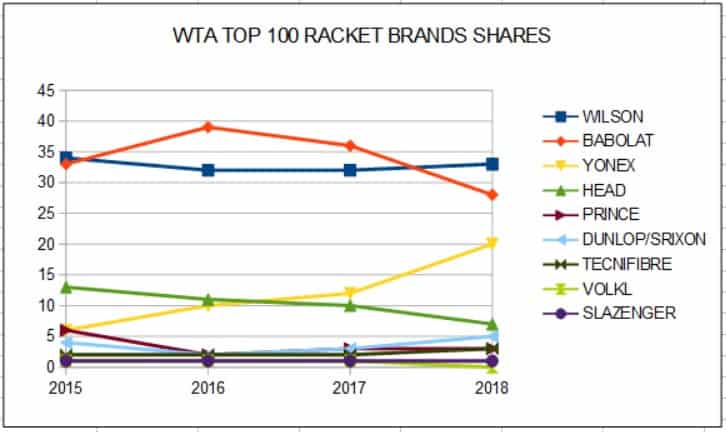 Though these numbers can be biased based upon the sponsorships and collaborations, it does give away a fair share of insight in the racquet world. Now that we know, what's trending at the professional level, we can focus on our transitioning stage.
7 Best Tennis Racquets for High School
If you're looking for a lightweight racquet, then this tweener racquet from Wilson – leading tennis equipment manufacturer, is the best option for you. Weighing 9.6 oz (strung), it gives you an extra edge when it comes to maneuvering and swinging those shots. Its frame is as sturdy as the professional tennis racquets and its lightweight is perfect for groundstrokes and power.
Wilson Ultra 100 specifications:
| | |
| --- | --- |
| Elements | Details |
| Head Size | 100 |
| Strung Weight | 11.2 ounce  |
| String Pattern | 16×19 |
Talk about the most complete intermediate racquets in the market and this one will surely lead the line. It offers an unmatched amount of spin and control. Its wide frame along with a solid string pattern helps you achieve extra spin with comfort. It's 100 square inch frame is the perfect size for transitioning players and you can do almost anything from hitting groundstrokes to pulling a shot from the baseline with this racquet.
Babolat Pure Drive specifications:
| | |
| --- | --- |
| Elements | Details |
| Head Size | 100 |
| Strung Weight | 11.2 ounce  |
| String Pattern | 16×19 |
 If power and control are what you're seeking then you must look no further than the Babolat Pure Strike. It has a great feel to it and is perfect for shots from near the net or the baseline. Though there's not much room for a spin on this racquet, it'll serve you the best if you rely on power.
Babolat Pure Strike specifications:
| | |
| --- | --- |
| Elements | Details |
| Head Size | 100 |
| Strung Weight | 11.2 ounce  |
| String Pattern | 16×19 |
Amongst the most trustworthy tennis racquet manufacturers in the world, the Textreme Warrior is quite affordable as compared to the Babolat range. It's a great racquet to improve your spin and control. With the integration of advanced technology, not only can you generate extra power but achieve considerable spin as well.
Prince Textreme Warrior 100 specifications
| | |
| --- | --- |
| Elements | Details |
| Head Size | 107 |
| Strung Weight | 11.1 ounce  |
| String Pattern | 16×18 |
With its vibration dampening feature, the Wilson Pro Staff 97 helps improve the comfort and reduce the strain on your arms during long practice sessions. It's a great racquet to generate spin and is perfect if you're looking to improvise the fundamentals of power and spin. The overall graphite design makes it aesthetically pleasing and the thin frame allows superior control.
Warning: Though extremely capable, the Wilson Pro Staff is heavy! Make sure to feel this racquet before buying. For a lot of high school players, this racquet will be too heavy for them.
Wilson Pro Staff 97 specifications:
| | |
| --- | --- |
| Elements | Details |
| Head Size | 97 |
| Strung Weight | 12.5 ounce  |
| String Pattern | 16×19 |
Perhaps the most affordable tennis racquet alongside Prince's Textreme Warrior 100, the Microgel Radical is flawless when it comes to absorbing and distributing the impact of the ball. Thus, it offers better comfort and overall control over your shots. This is a popular choice among transitioning or recreational players. Though it's less powerful than other racquets, it does make up for it with other features.
Head Microgel Radical specifications:
| | |
| --- | --- |
| Elements | Details |
| Head Size | 98 |
| Strung Weight | 10.4 ounce  |
| String Pattern | 18×20 |
For groundstrokes and volley lovers, this racquet is a treat. With 18×20 string pattern and a stable narrow frame, this 100 square inch racquet offers complete control and power. Whether you play from the baseline or the net, its lightweight build and unique design help to deliver the best shots.
Head Graphene Touch Speed Pro specifications
| | |
| --- | --- |
| Elements | Details |
| Head Size | 100 |
| Weight | 10.4 ounce  |
| String Pattern | 18×20 |
Understand your racquet needs first
Working our way backward. Now that you've seen all the option, you might think 'This is it!'. Trust me, it's not. These are just recommendation.
At the end of the day, everything boils down to your personal preference which relies on your playing style. So before you go on and spend a single penny on any of these racquets, ask yourself these four questions:
What type of player are you?
What type of swing do you aim to achieve?
Do you prefer power or control?
Are you a singles player or doubles?
What type of player are you?
What do you think separates Roger Federer and Rafael Nadal? It's the style of play. So, when I say, what type of player are you? I'm referring to your style of play. Are you more technical like Federer or you're tenacious and powerful like Nadal? When you realize your strengths, not only will it help you to choose the right racquet but will help you understand your playing style as you transition from a high school player to a professional player.
What type of swing do you aim to achieve?
There are two types of swings – faster, longer swing and short, slower swing. If you're developing faster and longer swing, you should choose a racquet with head 95 – 100 square inches.
As in this case, you don't need assistance with power rather control. In contrast, if you're seeking extra power and have good control, you should look for a racquet from 103 to 110 inches.
Do you prefer power or control?
As a high school tennis player, the emphasis is usually on finetuning your control and placing the ball exactly where you want it. This includes developing your swing and learning to generate more power.
Whether you're working from the baseline or near the net, the weight and size of your racquet will play a crucial role. The only thing that rests upon you is whether your playing strategy relies on power or control. Because ultimately, that decides everything. Racquets with big frames and large sweet spot have more power whereas the ones with smaller frames offer more control.
Are you a Singles player or Doubles? or Both?
Based upon your game style, you can choose your ideal racquet for a singles match. However, the same racquet may or may not work in your favor when you're competing in a double's match.
For instance, if you prefer playing near the baseline and like to hit groundstrokes, racquets with less mobility with bigger sweet spot and extra power might work in your favor.
Conclusion
Buying the ideal racquet is not a decision you should take in haste. Evaluate all the points before investing your hard-earned money.
Based upon your playing style and your personal preference, you should pick the right tennis racquet for yourself. We tried to simplify the process so you could understand and determine which tennis racquets suits your style the best while you're in high school.
Hope this guide helped, if you have any questions, feel free to drop them down in the comment section below!