Hey! This site is reader-supported and we earn commissions if you purchase products from retailers after clicking on a link from our site.
Along with tennis elbow, plantar fasciitis is one of the most common injuries suffered by tennis players.
Plantar fasciitis is characterized by sharp pain in the heel of your foot. The pain is normally worse right when you wake up and take your first few steps and after you stand up and walk around after sitting for a while.
at a glance: our top 5 tennis shoes for plantar fasciitis
Plantar fasciitis can be incredibly painful and cause you to limit your walking. One of the easiest ways to cure plantar fasciitis though, is to have the right tennis shoes designed for plantar fasciitis.
Top 5 Tennis Shoes for Plantar Fasciitis
K-Swiss are one of the biggest names in tennis shoe manufacturing. In fact, they're so cool looking(at least I think so) and well-known a lot of non-tennis players wear them as street shoes too.
The K-Swiss Grancourt II is one of the best tennis shoes for anyone suffering from plantar fasciitis due to the superb support it has for the arches of our feet. The protection and padding it provides really helps in making you move more naturally around court. In addition, there is extra cushioning in the heel to stop any shock from playing damaging that.
These tennis shoes for plantar fasciitis are fantastically designed shoes and durable enough to stand up to the demands of playing the sport. Extremely comfortable, they will feel great from the minute you put them on. The K-Swiss Grancourt II also has great grip due to the specially designed soles that provide extra traction and take any hard impact away from your foot.
Although designed specifically for tennis, these shoes look great and could easily be worn off court also. As usual with Nike, they are well made and of a high quality in terms of workmanship and materials.
The Nike Zoom Vapor contains Adaptive Fit Technology which mans the shoe wraps around your foot from the arch to the side of the shoe and laces to give a personalised, stable fit. They also have substantial heel cushioning in them to protect it from the impact of playing. Together the stability and heel protection will reduce inflammation and any pain.
These shoes are comfortable to wear and do not require a break in period. I will warn you that these shoes are slightly narrow so take that into account if you have wide feet. Nevertheless, the Nike zoom Vapor are superb shoes and definitely qualify as one of the best tennis shoes for plantar fasciitis.
The Adidas Barricade are a brilliant shoe and will give you the comfort, support and looks you need from a tennis shoe. The shock absorption they offer is second to none due to the design and construction of it.
Adidas have put the Adiprene material in the heel of the shoe for superb protection from impact when on court. In addition, this material is in the front of the shoe also to give maximum propulsion and efficiency. All these features are ideal to keep the pain and inflammation caused by plantar fasciitis away.
The Adidas Barricade was my very first actual tennis shoe and the support it provided my feet and ankles was amazing. The Adidas Barricade is one of the strongest choices I can recommend as a tennis shoe for plantar fasciitis. The construction, support, and even the price point (hint it's affordable!) will make this your favorite tennis shoe seconds after you put them on.
Always putting out quality products, New Balance are a big player in the market. The 1296 V2 is a fantastic tennis shoe and one you( and your feet!) will quickly come to love.
The New Balance 1296 V2 makes it's impact on the tennis shoe market by being so comfortable and stylish to wear. It contains lateral support and stabilising technology to keep your feet in the best, neutral position when wearing them. As with all the shoes we've looked at, they have great padding for your foot and heel to keep impact and plantar fasciitis at bay.
Some people have reported that they can fit a little smaller than your normal shoe so it may be worth bearing that in mind when ordering them up. The stability and protection they offer is amazing though and makes them easy to recommend.
Lightweight yet very durable, the Hypercourt Express is a joy to wear and is highly durable making sure it will last you years of playing tennis on hard surfaces. A nice touch is the pivot point in the sole to help with sharp turns in the middle of a game.
The K Swiss Hypercourt Express also has a flexible yet strong EVA mid-sole to give more protection. They really feel very stable as you move around court which is a big bonus.
The padding and cushioning for your whole foot is very good and will help reduce any injuries from running or jumping. They are especially good on harder courts where this extra protection comes into its own.
This shoe is fabulous and carries on the K-Swiss tradition of combining innovation with design. Crucially for us, it also offers the safeguards we need to protect our feet from plantar fasciitis by providing stability and comfort to everybody who puts these shoes on.
Are they comfortable? If they aren't comfortable, don't be afraid to return them or choose a different pair. The best shoes for plantar fasciitis for you are the ones that are most comfortable. Always listen to yourself and your feet first before anybody else.
Choosing the Best Tennis Shoes for Plantar Fasciitis
Cushioned Heel
As we learned above, plantar fasciitis is caused by repetitive pulling and pushing on the fascia on the bottom of the foot. This is most often caused by frequent heel strikes such as when you run or walk frequently.
The best running shoes for plantar fasciitis need to have extra cushioning on the heel to stop this from happening.
While running, the extra cushioning will help take and distribute forces and impacts across the entire foot not just your heel. You'll be able to feel the difference immediately after you put these shoes on.
Good Arch Support
People with dropped or flat arches in their feet are especially susceptible to plantar fasciitis. Normally, the arch of your foot works as a spring to help distribute the impact of your foot striking the ground on each step.
With the arch of your foot not there, your feet will be experiencing much more force while running or playing tennis, resulting in more pain.
The good news is that having a flat arch is a very common problem and many tennis shoes and running shoes are specifically designed to help you with this.
Tennis shoes designed to help with plantar fasciitis will have support in to help with the arch of your foot and give it extra protection.
Stability
This is a consideration for anybody buying the best tennis shoes to be honest but especially anyone with plantar fasciitis. It is critical that the shoe you buy fits securely and snugly while still being comfortable.
Doing this will prevent any issues with the tennis shoes fitting poorly as you move around court and help to prevent any injuries. Your tennis shoes must fit well so the foot is compressed and any issues related to rubbing or repetitive movement against your foot are solved.
Comfort
With the last thing to consider, let's get back down to the basics. You need to remember the most basic question: do the tennis shoes feel comfortable to wear? Always try your shoes on and walk a couple feet with them on.
What is Plantar Fasciitis?
What exactly is plantar fasciitis? In medical terms, plantar fasciitis is caused by repetitively pulling the periosteum from the calcaneus.
I'm not a doctor though, and I'm sure you're not either. Here's what that means: Plantar fasciitis is the inflammation of the ligament that connects the heel to the toes.
The pictures below help explain what plantar fasciitis is more clearly.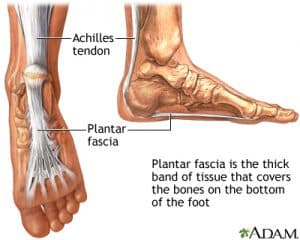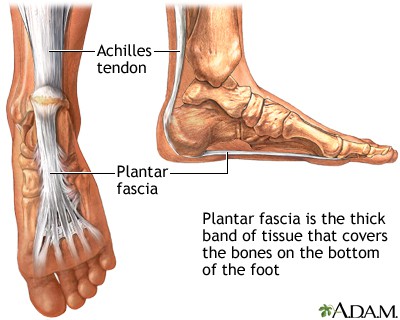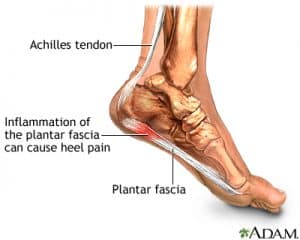 As you can see, the plantar fascia is tissue on the bottom of your foot. It surrounds all of the bones on the bottom of your feet.
If your shoes aren't comfortable, they won't feel good on your feet and you won't want to wear them. The good news is that, you can have both. There are comfortable tennis shoes that are also great for plantar fasciitis.
Plantar Fasciitis occurs when the plantar fascia is overstretched or overused. This can be used by running, walking, playing sports or more activities.
Symptoms of Plantar Fasciitis
The primary symptom of Plantar fasciitis is severe pain in your heel.
Other than that, there really aren't any other symptoms!
Can you play tennis with Plantar Fasciitis?
It is possible to continue playing tennis while you're experiencing plantar fasciitis but it can be difficult!
Before you play, it's essential to warm up. Place a tennis ball on the ground in front of you, gently step on it, and roll it around the bottom of your foot.
This will help massage the fascia in the bottom of your feet loosening them up before you play and helping to prevent pain.
Cures for Plantar Fasciitis
As with other sports injuries, an ounce of prevention is worth a pound of cure.
However, if you do start experiencing plantar fasciitis, just know it should go away by itself after a couple of months.
If you want to speed up the process though, here are the most recommended cures for plantar fasciitis.
Rest
Rest nearly always works to help cure injuries and plantar fasciitis is no exception. If you've been running, walking, or playing sports a lot recently, take a short break for a week or two.
See if resting your feet and keeping your feet off of it helps out. If it does, then great!
Especially when you're running or playing tennis, if you have pain in the heel area of your foot during or afterwards, then take time out to rest the foot totally. Doing this gives the body time to heal and hopefully allow the tender area to become strong again.
Ice Your Heel
After you get back from a run or playing tennis, putting ice on the bottom of your foot near your heel can help reduce the pain and bring down any swelling if there is any.
As always, a good treatment plan will involve 10-20 minutes of ice and then a break and then 10-20 minutes of ice again.
Ice is not a long-term solution though, so if you really want to cure your plantar fasciitis, keep reading.
Insoles for Plantar Fasciitis
Every solution to plantar fasciitis listed so far has been short term. Specialized insoles for plantar fasciitis however are more of medium to long term solution.
These insoles are designed to fit into your tennis or running shoes and help ease the pain of plantar fasciitis when you're walking, running, or playing sports.
The biggest benefit of insoles for plantar fasciitis is that they can be molded directly to your feet and fit inside your shoes.
If you have a pair of running or tennis shoes that you simply love, grabbing a pair of insoles would be a great solution to keep you on your feet.
I have always used these Dr. Scholl's Plantar Fasciitis insoles and I've found them to be absolutely wonderful at helping with any foot pain. They are specifically designed for plantar fasciitis and easily support your entire foot.
If you're really struggling with heel pain though – to the point where you can barely walk, an insole will not be enough.
For people with extreme plantar fasciitis or people just looking for a long-term permanent solution, the absolute biggest change you can make is by getting the best shoe for plantar fasciitis.
New Tennis Shoes
The most recommended option is to spend some time to research and pick the best tennis shoes to buy for plantar fasciitis. Doing this will ensure you are playing with shoes that are designed specifically to help you with your heel pain and get you walking, running, and playing normally again.
Plantar fasciitis is a common enough affliction that there are many popular brands who makes shoes for plantar fasciitis so you should have no trouble finding ones you like. If you are currently suffering with this sort of injury, you would be surprised at what a difference new shoes can make.
Best Tennis Shoes for Plantar Fasciitis: Final Thoughts
Choosing the right footwear is crucial for any player but especially true for anyone who suffers from plantar fasciitis. Getting the correct tennis shoe with the right mix of stability, cushioning and comfort is the key to helping prevent or solve the issue. If you are unlucky enough to be affected by this injury currently, buying a new pair of tennis shoes could be your best answer to getting back on court again.