If you just want my quick recommendation for the best tennis string overall, I'd recommend the Babolat RPM Blast. These strings are affordable and give all of your shots a great mixture of power and spin.
at a glance: our top 5 tennis strings
Despite this however, they are often the thing we think about least when buying our tennis equipment. Often an afterthought, we spend hours choosing racquets and clothes but mere minutes on the strings.
Why are the strings we put on our racquet so crucial? Although it might seem like it, not all strings are created equal and this means different strings are better at different things. Depending on your individual game, your choice of tennis string could greatly help your game.
Taking this into account, you can see just why we should spend as much time thinking about our strings as we do about everything else. It could be the difference between you playing amazing and winning every match versus having just an "okay" day.
IMAGE
PRODUCT

Editor's Choice

Made from cow serosa
Holds tension well
Excellent comfort

VIEW LATEST PRICE →

Runner Up

Thin yet durable
Gives more playability and touch
Gives good amounts of spin

VIEW LATEST PRICE →

Synthetic tennis string
Elastic feel and response
More durable than natural gut

VIEW LATEST PRICE →

Offers excellent control and spin
Provides good durability
Does not snap easily even for power hitters

VIEW LATEST PRICE →

All polyester strings
Durable
Affordable

VIEW LATEST PRICE →
Best Tennis Strings: Characteristics
Price
The price of tennis strings can vary depending on the material they are made out of and the brand. Typically they will go from around $5 to $15 for synthetic tennis strings to around $25 to $50 for a set of natural gut tennis strings.
The price can also depend on factors such as the gauge of the string(how thick or thin it is) and if they are sold by the individual set or on a reel.
If you break a lot of strings, buying a reel of string may be cheaper in the long run then buying an individual set every time.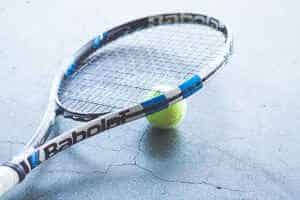 Durability
Tennis String durability is simply how strong tennis strings are and how long they last before they break. The more durable the more tennis string, the longer it lasts. The most durable best tennis strings tend to be made out of polyester.
The disadvantage is that as the durability increases, you lose more feeling from the strings and they tend to transmit more forces to the racquet and to your arm.
You can also lose tension in the strings after playing with the same ones for a while so it's important to check and maintain your string tension often.
Tension
Different types of string have different preferred tensions but you can also make manual adjustments also. Lower tension will give you more power but you're at higher risk of strings breaking.
Using a higher tension string will avoid this and give you greater control on the court but higher tensions tend to transmit more vibrations, leading to the possibility of tennis elbow.
The tension you will play with in your strings is to some extent a personal choice based on what you want from your racquet. Whether you want more power or more control will inform what tension you decide to go for.
Elasticity
This refers to the flexibility in your strings and how responsive they are. In general, the more flexible they are the more power they will give you.
The string elasticity can also give a nice feel to your shots as they will spring back from hitting the ball to their original position easier.
Strings such as Nylon are known for being most elastic and this may be the way to go if this is suited to the way you want to play.
String Gauge
In tennis, strings all have a gauge which ranges from the thinnest (19) to the thickest (15). Yes, it's backwards! The lower the gauge, the thicker the string!
The gauge of your string will affect the way your racquet plays and how you strike the ball.
Thinner strings will give you more spin and feel which in turns improves the playability of the racquet.
If you go for a thicker string it will be more durable and give you extra power. As a general rule, thinner strings will break more easily because (duh), they're thinner.
As with a lot of things in the game, you need to choose a gauge based on your individual game.
The Different String Types
Natural Gut
These are the original strings manufacturers strung their racquets with back in the day. Still popular in the modern age, they are made from natural material such as sheep gut.
While some man made strings come close to matching their qualities, there's nothing that quite feels the same.
A lot of pro's and tennis purists love using natural gut strings due to the mix of power, control and spin. The natural material they are made contains these qualities and explain why they offer this to your game.
The best examples currently are made by Wilson and Babolat.
One of the downsides with these strings is that they are not the most durable and can snap easily. This simply means you will have to spend more money buying replacements and more time repairing your racquet.
These are also usually the most expensive type of string which may be a consideration for some players. Most pro's play with natural gut because money isn't a problem. For the rest of us, it may not be worth it.
Synthetic Gut
As the name would suggest these strings are designed to give the same feel as natural gut but are man-made from Nylon instead. O
One of my favorite examples of this sort is the Prince Synthetic Gut string which is very popular with frequent tennis players.
These are the ideal strings for the majority of players as they give a crisp feel to your shots and good power.
This all-round appeal makes them one of the best selling types of string around and you will usually find pre-strung racquets are sold with Synthetic Gut strings.
In addition, they are very playable and comfortable which is a result of the effort to make them as close to natural gut as possible. Synthetic Gut Strings are also relatively cheap which is a bonus for the budget conscious player.
While they offer more strength then natural gut they are not as durable as a polyester string so they will break more easily than them. Although they come close, they don't quite give the feel of a natural gut string.
Polyester
Polyester tennis strings are very strong and stiff which can be ideal for players who break strings a lot with other materials, especially professionals.
Another great feature of Polyester tennis strings is that they give you loads of topspin to put into your shots.
The payoff for this though is that you lose a certain amount of feel in your play which might be a big thing for some players.
They can also lose tension quite quickly which will affect the performance of the racquet if they're not tightened up again. With being a bit stiffer, they can also be hard on the arm if you're not careful.
Kevlar
The latest development in tennis string technology is Kevlar. They originally became popular with players looking for less breakage and tension loss during matches. Gradually, they have filtered to amateur players who appreciate the benefits they bring.
These are fantastic strings for the power and control they give to your game. Tennis strings made out of Kevlar also give you loads of spin and make it easy to add it to your shots.
The main reason for using Kevlar tennis strings is for their durability. If you're a chronic string breaker, these are the strings that will finally be able to keep up with you.
The price of these best tennis strings is average in comparison to others.
One drawback of their durability is that they are quite hard on the arm so Kevlar strings are not too suitable for junior players or anyone who uses a tennis elbow brace.
Also, the added durability does come at the expense of the touch and feel of the racket being dampened.
Hybrids
In some ways this isn't a string in its own right but a combination of two different strings on one racquet. It is still worth considering though as stringing your racquet in this way can give you the benefits of each type of string to suit your play.
When stringing this way you use one string going horizontal which is called the cross and the other going vertical which is called the main.
Typically, you would have a durable string as the main to reduce string breakage and a more natural string on the cross for comfort.
The main drawback with this method is that it is expensive as you need around 20ft of each string to do it.
It is also tricky to put on and time-consuming so you might need a professional to do it for you.
How Do Tennis Strings Affect Your Game
Your choice of tennis strings can affect every part of your game. From the power your racquet generates to the amount of spin you can put on the ball, your tennis strings matter.
To help you in your search for tennis strings, I've listed my personal choice for tennis strings based on what you want in your tennis game.
Best Tennis Strings For Power
If you're looking to add some power to your racquet, you'll want a tennis string that is thin yet durable and able to withstand powerful shots. The best tennis strings for power I've played with have been the Technifibre X Biphase Tennis Strings.
These strings are actually a multifilament mix which claim to be the closest synthetic strings to replicating the feel of natural gut at a third of the price. Playing on the court, you'll feel the difference from these strings immediately.
They'll certainly put some extra oomph into each of your shots. As a side effect of their unique manufacturing, they'll also last longer than other synthetic strings.
Best Tennis Strings for Control
When looking for strings to help you control the tennis ball, you want to look for firm polyester strings. These strings will bite deep into the tennis ball creating a "ball pocket" which will allow you to place the ball anywhere on the court with ease.
For control, I've particularly liked the Wilson Revolve tennis strings.
These strings are made out of polyester which makes them highly durable. One feature which makes this tennis strings perfect for control is that they feature a low friction coating designed to help the strings create amazing spin and accuracy.
Best Tennis Strings for Topspin
If Nadal can use these strings and produce an insane amount of topspin, so can you. The Babolat VS Touch tennis strings are uniquely suited to producing topspin.
With a special shape, each of the strings can impact the ball hard enough to create massive topspin overwhelming your opponent.
Best Tennis Strings for Tennis Elbow
Your choice of tennis strings can drastically affect how bad your tennis elbow flares up or how long you can play tennis before getting tennis elbow.
For tennis elbow, you want especially soft strings that prioritize comfort and minimizing vibrations above everything else.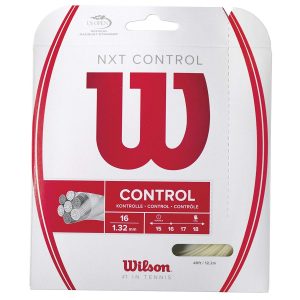 If my elbow starts hurting, I like to use these Wilson NXT 16 Strings. I've found these to be the best tennis strings for tennis elbow.
I can feel the difference instantly on the court. These strings mute the response from the racquet minimizing any pain to your joints.
If your tennis elbow gets worse, you may want to try the use of a tennis elbow brace as well. For more detailed suggestions, check out our guide to tennis elbow here.
Top 5 Best Tennis Racquet Strings
1 Babolat VS Touch BT7
The Babolat VS Touch BT7 are an outstanding example of natural gut tennis strings from Babolat. Made from cow serosa, they give all the feel and playability you would expect from a natural gut string. They also give a good amount of power to your shots still and excellent comfort.
These great tennis strings hold tension well which is a bonus as you will not have to spend time adjusting this to keep the same feel in your racquet. As with all natural gut strings, the main downside is the fragility of them as they can break quite easily especially for hard hitters.
2 Prince Original Synthetic Gut Strings
Our next set of strings from Prince show off the many benefits of synthetic gut strings and why they are commonly considered the best tennis strings. The Prince Original Synthetic Gut Strings give explosive power due to the material they are made from along with a lively feel on impact.
The gauge of this particular string is 16 which is quite thin but they retain durability still due to their design. The thinner gauge is important as it gives more playability and touch which most players love.
These synthetic gut strings do give good amounts of spin but not quite as much as a natural gut string. While they offer many of the benefits of natural gut, the tennis strings don't quite match it in this aspect. The price is certainly better though, coming in among the cheapest strings on the market today.
3 Wilson Synthetic Gut Power String

The Wilson Synthetic Gut Power String is a synthetic tennis string from Wilson who use Nylon as their material of choice in producing it. A great choice for the majority of players, this is truly one of the best tennis strings on the market today. It is priced on the cheaper end of the scale for tennis strings but don't be fooled – this is not at the expense of quality.
The elastic feel and response you get when playing a shot with these strings on your racquet is superb and very similar to natural gut. They are more durable than natural gut though which is great news for all players, whatever their level.
While similar in feel to natural strings, they don't give quite the same amount of spin or sensitivity. Also, they are not quite as arm friendly although certainly not uncomfortable to use.
4 Luxilon Big Banger Ace
The Luxilon Big Banger Ace strings are making quite a name for themselves in the sport. They offer what is the Holy Grail in tennis – power, spin and durability. In terms of power, the feel and response they give is stiff and full of energy.
Spin is not a problem with these strings as they give you spin in abundance and enable you to add it to your shots with ease. They are very strong as well and do not snap easily even for power hitters or regular players.
While not the cheapest, they are quite arm friendly but not so much as a natural gut string.
5 Babolat RPM Blast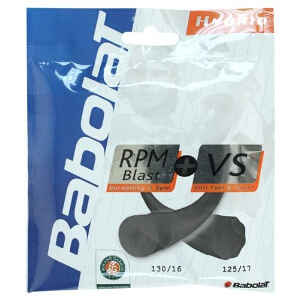 A polyester string, the Babolat RPM Blast is very popular within tennis, due in no small part to being Rafael Nadal endorsed. These best tennis strings are superb and one that a lot of people use and love.
The main feature with these strings is the power and spin they give. You can really get a generous amount of each using them especially if your technique is good. As with all polyester strings they are durable and will last you a long time.
The drawback with the Babolat RPM Blast tennis strings being so strong and stiff is that you lose a certain amount of touch and feel with them compared to other types of string. These strings are definitely an impulse buy with a low price point.
Best Tennis Strings: Afterthoughts
The strings you put on your racquet will make a huge difference to your game and how you play.
Do yourself a favor and take your time to think about which strings would suit you best and help you become better.
If you do, then you will see the benefit in terms of your racquet being strung with something to help rather than hinder you.