Hey! This site is reader-supported and we earn commissions if you purchase products from retailers after clicking on a link from our site.
When we think about tennis there are some companies that are synonymous with the game.
These are brands that have played a huge part in the development of tennis and made a big impact with their range of fantastic products. Wilson is one of these major brands and their popularity within the sport increases with each passing year.
Famous for its innovative use of new technology in their range of racquets, Wilson is a company that every player knows. Their long history and associations with many famous names, past and present, ensure they are a manufacturer who can be relied upon for quality and design.
Characteristics of Wilson Tennis Racquets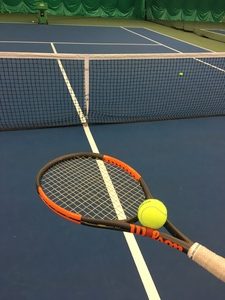 As with all manufacturers, Wilson racquets have their own certain characteristics that make them unique and instantly recognizable when you use them. These qualities cut across the whole range of racquets they make, meaning that when you buy Wilson you know what you are getting.
Power
Wilson racquets have long had a reputation for producing power and being able to put a little extra into your shots. They can be a little heavier than others you can play with but this is what helps put extra energy into your strokes. The innovative use of materials such as high performance carbon fiber during racquet construction also helps provide more power than standard tennis racquet material.
Spin
The string patterns and string material that Wilson use in the majority of their racquets make it easy for players to generate spin. The amount of spin that Wilson racquets achieve and how simple it is to apply to the ball explains why they remain so popular. If you are looking to improve or add to this part of your game then Wilson is definitely the brand to look towards for a new tennis racquet.
Feel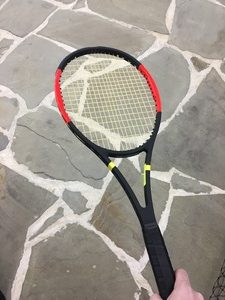 Perhaps one of the best thing about their racquets is the control you have when using them. The responsive string pattern and string bed along with the racquet balance make Wilson equipment easy to place the ball where you want. You can see why players like Roger Federer use Wilson racquets as the feel they give suits their game perfectly.
High Quality Design and Build
Wilson have a well-deserved reputation for designing and producing high quality racquets. Their equipment will last for years if treated properly and their brand is renowned for its strength and durability.
In addition, Wilson tennis racquets are known for constantly pushing the boundaries in terms of materials used and how their racquets are built. This innovation and attention to the aesthetic aspect of their equipment ensures Wilson racquets not only look good but feel great to play with.
Famous Players who use Wilson Tennis Racquets
Roger Federer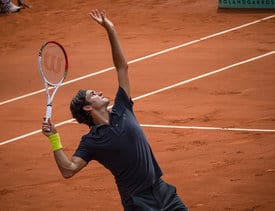 Is there a bigger name in world tennis? The Fed Express is a true tennis great and remains one of the best currently playing today. Wilson really pulled a masterstroke when they signed him up to use their racquets.
The prestige he brings to them is immense while their equipment has helped him to reach the top. His most famous collaboration with Wilson led to the production of the Wilson RF Staff 97, a best selling tennis racquet today.
Serena Williams / Venus Williams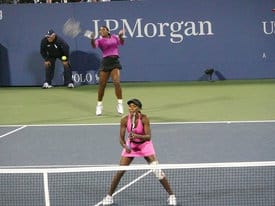 The ever dominant Williams sisters have been as successful in the Women's game as Federer has in the Men's. Individually they both routinely make it the finals of each open and their double's prowess is almost unmatched.
Their power and attacking style of play perfectly suits Wilson racquets and explains why this partnership has been so successful.
Victoria Azarenka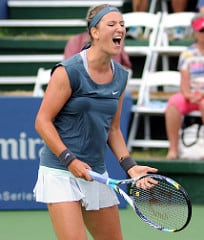 A former world number 1, Belarus born Victoria Azarenka is well known as one of the top players in the modern game.
She has made history in her career to date by winning the Australian Open, making her the only Belarusian born player to win a major singles tournament.
Her passionate, powerful style of play make her and Wilson a great fit.
Company Background
As a company, Wilson can trace their roots back a long way which explains why they are so respected in the sport. Originally founded in Newcastle , England in 1913 they were renamed the 'Thomas E Wilson Company' in 1915 after Thomas Wilson became president.
Initially they were more involved in baseball and American football but their major move into tennis didn't happen until after World War II. The famous tennis player Jack Kramer signed with the company and his signature range of racquets really made them a big player in the tennis market. This was followed up in 1979 when Wilson tennis balls were used in the US Open for the first time.
They continue to innovate and progress in the modern age with the help of the athletes they are associated with and their team of cutting edge designers. Based in Chicago, Illinois they currently employ over 1600 people globally and sell to customers in over 100 countries.
Best Wilson Tennis Racquets
With such a large brand and spread of racquets, it can be hard to choose which one would be perfect for you. I've played with Wilson racquets all of my life (I'm a complete fanboy if I'm being honest) so I've picked up a few things and laid it all out in this wilson tennis rackets review.
I've shared with you my findings for the best Wilson tennis racquets below.
Wilson ProStaff RF97
Co-designed by Roger Federer, the ProStaff RF97 is a great tennis racquet especially for intermediate to advanced players . If this applies to you, this racquet will be a step up in class that will instantly improve your game.
The Pro Staff has a 97-inch head size(it's in the name of the racquet) which gives a smaller surface for striking the ball but this pays off with the additional control it affords you. As with all the best Wilson tennis racquets, it is perfectly balanced and very easy to play with. The 12 ounce unstrung weight is fairly heavy but this helps deliver unrivaled power  when hitting the ball.
The string pattern is 16 x 19 which makes it great for getting lots of spin onto the ball. The control this racquet gives you is superb, making it simple to put the ball exactly where you want too. Many intermediate and advanced players use this racquet when playing tournaments and it's easy to see why. The sheer control and power that you can generate with this racquet is unparalleled among other tennis racquet manufacturers.
Wilson Hyper Hammer
Looking for another good Wilson tennis racquet but not quite ready for the Wilson Pro Staff RF97? Fear not, the Wilson Hyper Hammer is exactly what you are looking for. Designed especially for beginner to intermediate players, the Hyper Hammer delivers oversized power in a lightweight package.
The Hyper Hammer features a head size of 110 inches which delivers exceptional power from the baseline. Coming in a strung weight of 9 oz, this racquet is light enough to be comfortable but definitely packs a punch. After all it's not called the Hyper Hammer for nothing.
This racquet has a total length of 27.5 inches which give you a little more leverage and reach than a standard racquet. Coming in a low price also, the Wilson Hyper Hammer easily makes the list of best Wilson Tennis racquets.
Wilson Juice 100S Spin Effect Racquet
One of the best Wilson tennis racquets designed especially for people who love spin, the Wilson Juice 100S features Wilson's Spin effect technology to bring your tennis game to the next level. Spin Effect reduces the number of cross strings on the racquet which in turn allows you to produce more spin instantly without changing your swing at all.
Wilson claims that the Juice 100S can easily produce balls that are an extra 2 inches above the net and allow the ball to drop quicker. This allows you to hit your shots and pin your opponent back on the baseline.
Not to be outdone at net, the Juice 100S Spin Effect also features AmpliFeel technology which reduces vibrations throughout the racquet. This allows you to keep your racquet steady as you volley at the net. One benefit is that this also adds power to the racquet and reduces stress on the elbow for more frequent players.
For players looking to up their game instantly, you can't go wrong with the Wilson Juice 100S.
Wilson Federer Adult Tennis Racquet
Designed more for beginners, the Wilson Tour Slam racquet is Wilson's attempt to capture those people just starting to pick up a racquet and play tennis. As such, this racquet is designed to get you hitting the ball over the net every time.
This racquet is medium weight at 11.5 ounces strung which allows you to easily swing it while also retaining power in your shots. The weight is balanced towards the handle with it being 3 points head light. This allows you to get real power into your strokes and swing the Wilson Adult Tennis racquet easily.
The Wilson Tour Slam comes strung in a 16 x 19 pattern with Wilson Nylon strings enabling you to generate a lot of top and backspin on your shots. This tennis racquet also has a large head size which is designed to be more forgiving if you hit a shot off-center(always a great thing for beginners). A larger head also has the added advantage of providing more power when hitting the ball.
This is a great all-round racquet and at it's current price point, it almost can't be beat for beginners looking for their first racquet.. Wilson have done their usual great job of making the Wilson Adult Tennis Racket solid while still ensuring it looks stunning.
Wilson Burn FST 99
This racquet is one for the baseline hitters amongst us! Built for speed, it's fast speed head technology is designed to be swung faster which translates into hitting the ball bigger. This is obviously useful if your game is built around hitting from the baseline. It has a unique X2 Ergo handle which is very comfortable which I noted especially while hitting backhands with this racquet.
Fitting in with the comfortable handle, the unstrung weight is 10.9 ounces which is fairly light and shows how easy to maneuver this racquet is. A 99 inch head size proves perfect for being a big enough surface to hit the ball with while keeping a nice feeling of control, particularly when playing volleys.
All in all, this adds up to another superb racquet from Wilson especially for the baseline players. It has a great balance between control and power which makes it a very playable racquet indeed.
Final Thoughts on Wilson Tennis Racquets
Wilson is a colossus of a company dominating the game of tennis like a Serena Williams serve or Federer forehand. Their continued desire to produce better, more innovative products marks them out as a company to watch. Not only that but their racquets look so good and are so fantastic to play with that it's no wonder they are the choice for many players, amateur and pro alike.