Hey! This site is reader-supported and we earn commissions if you purchase products from retailers after clicking on a link from our site.
Nobody likes washing their tennis shoes. But what are you to do when you get stains on them? Your beautiful shoes look dirty and tarnished. Nobody has time to hand dry their tennis shoes (but if you do, continue reading for our 3 biggest tips). You know why you're here today.
To answer the age old question, can my tennis shoes go into the washing machine?
Well, can they?
In short: YES.
Read on to discover the exact steps you need to take in order to clean your shoes and prevent them from tearing up your washing machine.
When it comes to maintaining tennis shoes, there are two primary methods to wash out a particularly nasty stain.
Hand washing
Machine Washing
Seems obvious what the difference is, right? The first one is where you use your hands and the second is where you're too lazy, so you opt for a washing machine.
On a serious note, should you consider washing your shoes in a washing machine? Let's go through the advantages and disadvantages.
The first thing you should know is that, tennis shoes are required to be washed differently than clothes. Tennis shoes have to be washed and cleaned in a gentle way, so you don't end up breaking the shoe material.
Washing Machine: Most of the people that resort to the washing machine for shoes are either short on time or they can't stand the smell of their own shoes. There's definitely something to be said for simplicity. Nobody enjoys washing their tennis shoes meticulously, wiping them down, and then waiting several hours for them to dry.
Advantages of using a Washing Machine while washing tennis shoes:
Deep/Easy Cleaning: If they were white, they might have turned off-white, yellow or brown by now, based upon where you were playing. Using a washing machine helps to clean the shoes by removing deep stains, dissolving discolorations and dirty residue. Thus, deep and easy cleaning is the biggest benefit of using a washing machine.
Saves time: As mentioned earlier, you just have to toss those tennis shoes into the machine. It's less of hard work and pretty time-saving. For many people, the less time they have to spend with the equipment, the better it is for them. And tennis shoes, similar to the other equipment in your sporting arsenal are no different.
Easy Odor removal: if you can't even stand the smell, this is perhaps the best option. Using a washing machine to wash your shoes is great when wanting to remove the odor. Hardly anything can beat a washing machine round when it comes to refreshing your tennis apparel including your tennis shoes.
Important Note: Additional care must be taken to set the spin, so the washing takes place gently. You must wash your shoes gently as you don't want to break the shoe material.
Disadvantages of using a Washing Machine while washing tennis shoes:
Faster Breakdown: It's no secret that an active pair of tennis shoes generally last around 6 months to a year depending on your activity level. Experts recommend replacing your court shoes every 6 months. As shoes start to wear, the material begins breaking down and starts being less supportive of your feet. Thus, to avoid any injuries caused due to a mishap, it's advisable to change shoes every 6 months. Additionally, if you use a washing machine to wash your shoes, this breakdown happens faster and thus, you need to replace your court shoes within 5 – 9 months instead of lasting up to a year.
Clean isn't better than faded: While it's true that you'll get the true color of your tennis shoes back, over time, they will look worn and faded just like our clothes. Sure, the material does have a lot of say in this matter. But in general, your shoes, though new, will eventually look worn out within a couple of months.
Cold water isn't a messiah: Remember when I said, they needed special treatment? Well, here it is – Cold Water. Though many people follow the recommended cold-water wash, it's no secret the tennis shoes do change in shape or size every time their washed. Which means that if the next time you find your shoes a little shrunken, don't blame your foot size. Now, this might not be a problem on a normal day but during a competitive event, this might be quite deceiving.
Cleaning Manually: A traditional approach towards cleaning the shoes is perhaps what leads you here. Most of the people believe the washing machine damage the shoes, and whilst they are not entirely wrong, there's more to manual cleaning than just the complex labor.
Advantages of cleaning your tennis shoes manually:
Longevity: The first point has to be longevity. By far, people who clean their tennis shoes with their hands intend to extend the life of their shoes. They do so by emphasizing on proper soft wash with care and also better handling of the shoes during the clean-up thereby preventing the material from breakdown.
Satisfaction: You wouldn't believe but this abstract factor does stand true. There's a unique satisfaction in cleaning your shoes after a productive slogging on the court. As my father would say, "it builds character" when you're scrubbing your shoes with a toothbrush trying to get a nasty stain out.
Deep cleansing: As deep as you'd like your washing machine to clean, it can never touch every nook and corner as your hand. Thus, if you're a clean freak, you'd want to target the little areas yourself.
Disadvantages of cleaning your tennis shoes manually:
Tedious process: Who wants to get their hands dirty after a tiring session of sports? Not many. As good and cleanliness freak as it sounds, one still can't deny the fact that washing the shoes with your hands is tiring. It takes a lot of effort, something you're not willing to make the post a drained-out session on the court.
Time-consuming: Apart from being a tedious process involving meticulous cleaning, using your hands is time-consuming too. Most of the people using the washing machine would like to use this saved time in a productive manner.
Due Diligence: Unlike machine wash, if you don't clean your shoes with due diligence, your not so soothing fragrance in your shoes will come back to haunt you after your next session on court. Thus, not only do you have to clean but deep clean so to ensure you get the odor out from every corner.
How to wash your shoes in a washing machine?
When washing your shoes in a machine, you ought to be extra careful. Mind you, those are tennis shoes which you're tossing in there..
Read the tag: As mentioned earlier, each tennis shoes have its unique washing instruction on the tag. Thus, check the instruction, see what's the shoe is made of – is it leather? Is it synthetic? Once you learn about the material, you can move ahead.
Remove the laces: This is an obvious step yet the most common mistake. Do not forget to remove the laces before throwing the shoes into the washing machine.
Use soft materials: Before you toss the shoes into the washing machine, you might want to get the dirt off including the mud and gunk at the bottom of the shoes. Majority of the time, the particles stuck under your shoes can spell trouble for your washing machine.
Add towels to surround the shoe/put the shoe into a mesh bag. Not only does it prevent the sound, but it also keeps the shoes from banging inside the tumbler and possibly damaging your washing machine.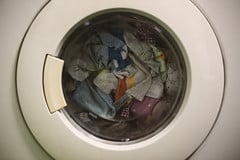 Detergent time: Once, you've added the shoes and towels, add a limited amount of detergent. (Do not add more than 20-25% of what you generally add)
Wash with cold water on a delicate cycle.First, make sure that you choose a cold cycle while washing and rinsing. Second, read the manual or check online about the most delicate cycle.
Remove the shoes and let them dry: Do not leave your tennis shoes in the dryer. THAT's NOT RECOMMENDED. Thus, remove your shoes as soon as you're done the washing and just let them dry in the natural heat or keep them in front of a fan.
How to wash your shoes without a washing machine?
Many people prefer washing the shoes by themselves. If you're new to this or aren't aware as to how you can do it. Here are certain steps to get you started:
Create the magic paste: A tennis shoes cleaning paste comprises of equal parts of soda and laundry detergent. (You must choose clear laundry detergent over colored as the latter might leave a stain on mesh if it isn't properly rinsed out)
Remove the laces: You need this step regardless of your cleaning method. By removing the laces, you simplify the cleaning process. It also allows you to wash the stains and marks with freedom.
Use a toothbrush: Sounds silly but it really works. Using your toothbrush or shoe cleaner brush, you'll want to scrub the soles and the outer region of the shoes. Scrub the inner part of the shoes lightly and use a tiny amount of soda while doing so.
Wipe off the Soda: Using a wet sponge, you can wipe away the magic paste from the sole. Sponge as much as required.
AIR DRY
Can I put my ASICS/Nike/Adidas Babolat Tennis Shoes in the Washing Machine?
From the odor to wearing and fading, a lot actually depends upon the material of your shoes. As a sports enthusiast, you must take pride in knowing about the material your shoes are made up of. Why does it even matter? Because it will help you predict longevity and will help you maintain your shoes better.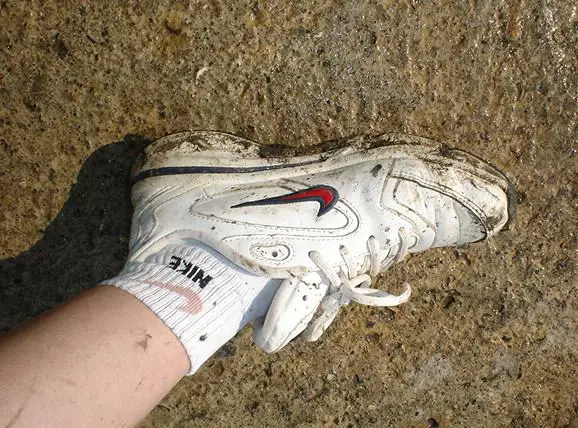 Every manufacturer provides different washing instruction for the shoes they sell. Most of this instruction is largely based out of the integral shoe material. Thus, they need to be washed while keeping the manufacturer's note in mind. For instance, if your shoes are made of leather or suede (fully or partially), you wouldn't want them to be placed anywhere near the washing machine. Contrastingly, synthetic and rubber do not seem to have a problem with washing machine.
Here are certain brands and the materials their tennis shoes are made of:
| | | |
| --- | --- | --- |
| Brand Name | Materials | Okay to Wash? |
| Asics | Upper body: Synthetic Mesh Midsole: Memory Foam Outsole: Rubber | YES |
| Adidas | Upper body: Synthetic Mesh Midsole: Adiprene Mold Outsole: Rubber | YES |
| Babolat | Upper body: Polyamide Fibers and Kevlar Mesh Midsole: Memory Foam Outsole: Rubber | YES |
| New Balance | Upper body: Synthetic Leather & Mesh Midsole: Absorb Foam Outsole: Rubber | YES |
| Nike | Upper body: Synthetic Breathable Mesh Midsole: Phylon Outsole: Rubber | YES |
Furthermore, there's most probably a tag attached with washing instructions on your tennis shoes, so you might want to pay attention to that before you toss your shoes into the washing machine.
How to Get Rid of Smelly Shoes (Doesn't Require Washing)
As mentioned earlier, it's not just you. It happens with everyone. Odor-free shoes are a myth unless you read this next part. Here are some great hacks to remove odor from your tennis shoes without even washing them!
Add baking soda to insert: Ah, the savior! Baking soda's everywhere. Well, it is because it's effective. By pulling the inserts out and sprinkling soda, you're able to help absorb the moisture which causes the odor and are able to normalize the shoe smell. Once, you're ready, shake the soda into the garbage and carry on.
Use charcoal deodorizing bags: If the first option came off as gross to you, this might actually work for you. You can use these bags which are generally reusable for up to 2 years to soak up the odor. Not just that, it also returns shoes with fresh smell. You don't have to wear the beg, just place them inside your shoes.
Essential oils help too: Just like the two hacks above, few drops of essential oils might as well save your day. These oils are the best odor neutralizers and can work wonders. Some of the well-known oils include lemongrass, tea tree, lavender, and peppermint.
Conclusion
I hope the detailed guide above will help you improve the longevity of your tennis shoes. The simple hacks above might as well improve your overall confidence. As an athlete, I understand the importance of donning the right pair of shoes, especially which smell right – unless you want to use it as a strategy against your opponent. Just joking. Now you have it. The key to not just washing the tennis shoes but maintaining and improving the longevity of your shoes. Be it a pickleball or a tennis match, it's your show up looking great in your clean tennis shoes.