Hey! This site is reader-supported and we earn commissions if you purchase products from retailers after clicking on a link from our site.
The best-selling tennis racket in the market today, the Head Ti S6
is an absolute monster of a tennis racket. Its combination of power, weight, and balance makes it a very good buy for almost anybody getting into tennis currently. Are you not convinced if it's right for you? Read on to see this tennis racket review to find what I think are the best parts of this racket and who should buy it.
| IMAGE | PRODUCT | SIZE | WEIGHT |   |
| --- | --- | --- | --- | --- |
| Top Pick | Head Ti S6 | With a light frame and large head, this racquet is perfect for beginners. | This is one of the best racquets for any beginner looking to start playing tennis. | Check Price |
I think the most important aspect to go over first is simply how this racket feels hitting the ball. We'll get to the specific characteristics of the Head Ti S6 later on in this review but let's start with how this racket feels to play with on the court.
Hitting the Ball: Playing With the Head Ti S6 Tennis Racket
First things first, this racket is big. With a head size of 115 sq inches and a 27.75" inch length it feels big in my hands. Now the head size or length isn't a bad thing but it is a big part of handling this racket.
When I hit the first tennis ball of my session, I was astounded at the sheer power of this racket. Consider yourself warned.
I found myself only having to partially get set and follow through in order to get the ball over the net. It's important to note that most of the power comes with the racquet with the Head Ti S6. This is perfect if you're a beginner because you're just learning!
When I was learning tennis, I forgot to turn my hips, drop my racquet back, and follow through completely all of the time! The Head Ti S6 is designed specifically to apply to beginners with short and compact strokes. In fact, this racquet makes it as easy as possible to hit the ball over the net.
Another way it does this is the large head size. The 115 sq in head size makes it hard for players to miss the ball entirely and I found that there was a lot of forgiveness for off-center shots. For just hitting the ball and getting it over the net to your opponent, the Head Ti S6 can't be beaten.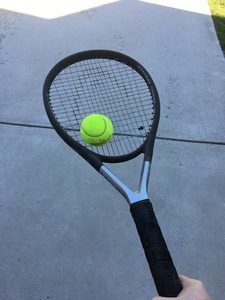 If you have a more fluid stroke with a long backswing and a big followthrough, you will most likely find this racket too powerful for you. I would suggest looking towards the Wilson Pro Staff 97 or one of Babolat's line of rackets instead of this one.
To see how the physical construction of this racket plays into how it feels on the court, continue reading below!
Head Ti S6 Racquet Characteristics
Head Size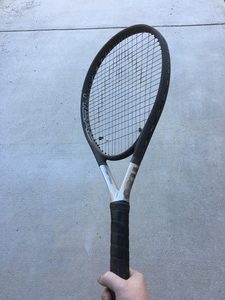 This head titanium tennis racket has a head size of 115 sq inches which is one of the largest common head sizes among tennis rackets in the market today. What this means to players is that there is a much larger sweet spot with which to hit the ball. For those players who just can't seem to hit the ball no matter how hard they try(kid or adult), you should look into the Head Ti S6 titanium tennis racket.
Head size is so important when beginning to play tennis as it dictates the size of the sweet spot (the ideal spot to hit the tennis ball for best power/spin) and the area which you can contact the ball with. Another important factor is forgiveness for off-center hits. When I started playing tennis, I'm pretty sure I hit the tennis ball more with the frame of my racquet than with the strings.
With the string pattern Head choose, this racquet is very forgiving. Even if you are a little off from the sweet spot, the Head Ti S6 deals with it smoothly and easily.
Length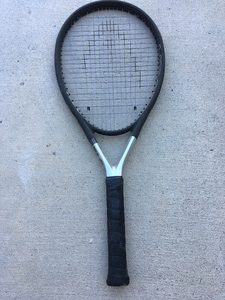 What also helps with hitting the ball is the larger-than-average length. While most rackets have a length of 27 inches, the Head Ti S6 actually extends that to a total length of 27.75 inches. If you are having trouble getting to some of those hard-to-reach balls, this extra length will help you a lot.
One advantage of the extra length is that it increases the distance from your hand to the racquet head. Besides giving you a longer reach, this also helps you blast the tennis ball over the net.
Now, if you are worried about playing with a longer racket, don't be! There have been numerous studies that show that players can adjust up to a 1-inch difference in length between racquets. It might take you a day or two before you're completely used to it compared to your old racquet, but you'll be playing with this head titanium tennis racket for the next 6 months!
What're two days adjusting to a new length compared to the next 6 months of fun you'll have to play with this racquet?
Weight and Balance
The Head Ti S6 weighs a little under 9 ounces with a full weight of 8.9 ounces. Holding it in your hands, it feels very light for the amount of the power that this racquet has. The good news is that if you are not used to playing tennis for hours, you'll appreciate the Head Ti S6 over some of the heavier rackets.
Besides the exercise from simply swinging a racquet, the lightweight Head Ti S6 titanium tennis racket also takes a lesser toll on your elbow and shoulder than a heavier racquet such as the Wilson Pro Staff RF97.
String Pattern
The Head Ti S6 titanium tennis racket comes strung with head synthetic gut which is one of the better strings out there. It will allow you to put some topspin on the ball and have your shots land in the court and then fly straight over your opponent's heads.
One advantage this string has is that it is known for its durability. That combined with the other aspects of this Head Ti.S6 tennis racquet, means that you'll be blasting balls back at your opponent for a long time before any maintenance is required.
Who Should Buy
Looking at this head titanium tennis racket in my hands, I think it is clear why the Head Ti.S6 appeals to so many tennis players. It's the combination of a large sweet spot, power, and lightweight that makes this one for the masses.
I think anybody who is just getting into tennis or plays casually should definitely look at the Head titanium Ti.S6 first before considering other more advanced rackets. And, while I don't believe you should buy a tennis racquet based on price, the Head Ti S6 titanium tennis racket is very cheap when looking in comparison to similar rackets.
If you are anywhere from a beginner to an intermediate player who simply wants to get onto the court and start hitting some balls, the Head Ti S6 is the perfect tennis racket for you.
On that note, visit our guides on Best Tennis Racquets For Beginners & Best Intermediate Tennis Racquets for additional options!