Hey! This site is reader-supported and we earn commissions if you purchase products from retailers after clicking on a link from our site.
Tennis is a sport that is enjoyed by many on both a professional and recreational level. If you are new to the game, you may be wondering how long you can use a ball from your newly opened canister before it needs replacing. We have provided you with the answers in our guide below. 
The longevity of your tennis ball is going to be determined by several factors including the type of ball that you use and the frequency in which you play. It will also depend on whether you are playing professionally or for recreational purposes.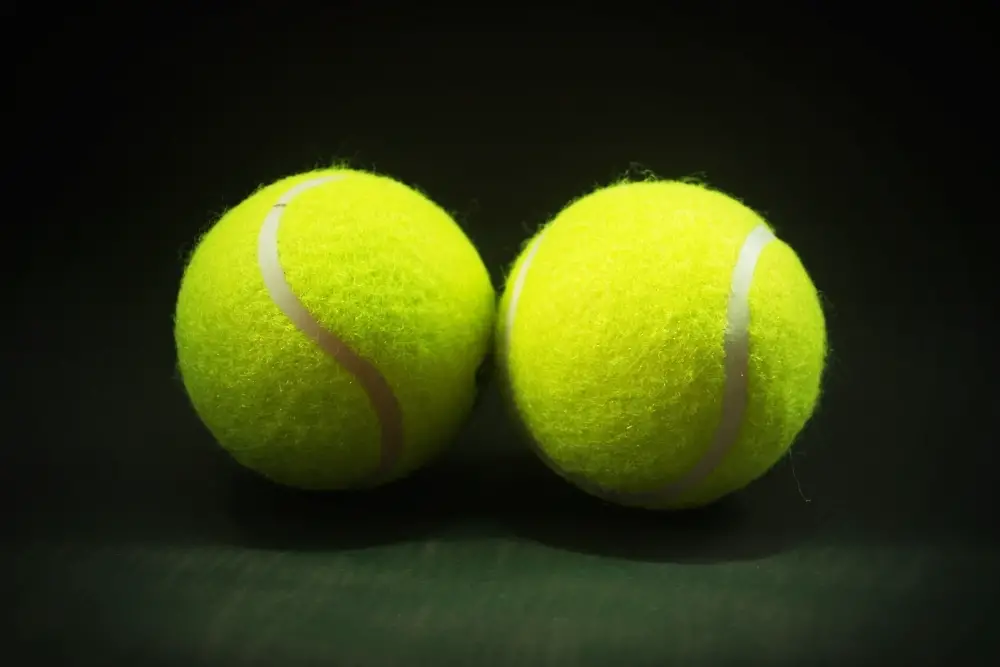 The majority of tennis balls will deliver around 2 to 3 hours of use in one playing session. If you are playing professionally, it is recommended that you replace your tennis ball ahead of every match.
An unopened canister of tennis balls is expected to last for approximately two years. Even if they remain unopened for the duration of this time, you should replace them as tiny leaks can affect their quality and useability. 
What Factors Are Going To Affect The Lifespan Of A Tennis Ball?
As we have mentioned there are many factors that will affect the durability of your tennis ball. We have listed them below.
Recreational vs Competitive Play
The level at which you play tennis is going to influence how long the ball lasts. If a ball is repeatedly hit with force it is going to begin to wear sooner. Those who enjoy playing recreational tennis can expect to enjoy between 1 to 4 weeks' use of their tennis balls before having to use a new one.
This time frame is fairly broad but is affected by the regularity in which you play. If you regularly engage in a game then your tennis ball may only last for 1 to 2 weeks, if you play occasionally, your ball is likely to last for the maximum length of time.
If you play competitively, you will need to replace your tennis balls much sooner. Pressurized tennis balls in particular will struggle to endure such intense use. In a game of competitive tennis, the ball is hit with a lot more force. This is going to cause it to wear sooner.
For this reason, you should expect your tennis balls to last for approximately 2 to 3 hours. After this time, you will then need to begin using a new one as this will ensure that your performance isn't compromised. 
Pressurized vs Pressureless Tennis Balls
The second factor that is going to determine the lifespan of your tennis ball concerns the type of ball that you use. Pressurized tennis balls tend to be the most popular option. They come in a plastic, vacuum-sealed container that helps to retain their pressure. 
The pressure enhances the bounce of the ball hence why they tend to be used by competitive players. When used for moderate recreational play, a pressurized tennis ball is expected to deliver between 1 to 4 weeks of moderate use. When used for competitive purposes, they will last for a maximum of 3 hours. 
Pressureless tennis balls tend to be thicker as they are designed with a thick rubber core. This eliminates the need for a lot of pressure hence why they come in containers that have not been vacuum sealed.
The structure of these tennis balls means that constantly hitting them can be quite a tiresome task, hence why they are not recommended for competitive play. Often they are used for practice purposes and have an impressively long lifespan. When used for recreational play, a pressureless tennis ball can last between 1 to 3 years. 
What Causes Tennis Balls To Go Bad?
Now you may be wondering why tennis balls go bad. Air leaks generally tend to cause pressurized tennis balls to lose their pressure. Regularly opening and closing the canister results in reduced pressure.
As a result, you will likely notice that they do not bounce as much against the ground. Furthermore, over time, tennis balls will naturally begin to release pressure as they cannot keep it contained within their core. 
How To Identify A Tennis Ball That Needs To Be Replaced
Several signs will indicate whether your tennis ball needs to be replaced or if it remains usable.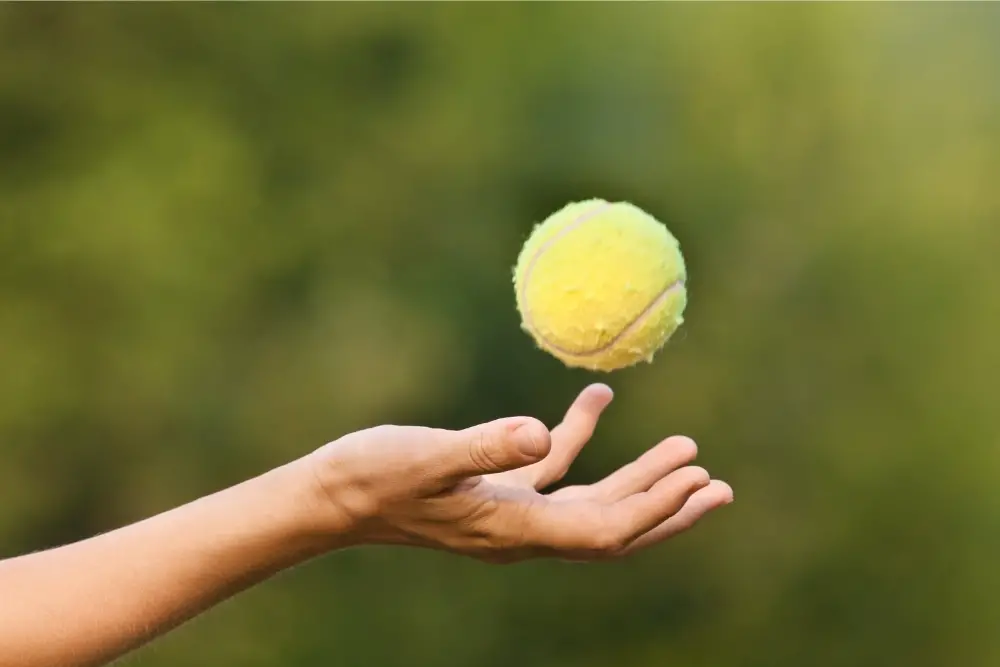 Bounce
A change in the bounce of the tennis ball is going to be one of the most telling factors. If the ball does not bounce as much as normal you will need to swap it out for a new one.
If you are unsure as to whether the bounce of the ball is low, we would advise you to compare it to another. If the other ball is much bouncier then you have your answer. 
The Feel Of The Tennis Ball
There will be noticeable differences between the feel of an old, used tennis ball and a new one. Hold the tennis ball that you are using in one hand and a new one in the other.
A new tennis ball will feel stiff and difficult to squeeze. With an old tennis ball, you will be able to pinch the sides together as it is flatter and not as stiff. 
The Sound
Likely, you will be able to detect a difference in the sound of an old and new tennis ball. When hitting a new tennis ball or one that is in good condition, it will make a sound that is similar to that of a ping. However, an old tennis ball will make more of a hollow sound that is very much like a thud. 
Final Thoughts
As you can see, there is not a set answer to this question as the lifespan of a tennis ball can vary depending on a number of factors. If you take regular trips to the tennis court, you will likely need to replace your tennis balls quite regularly.
Remember that differences in the sound, feel and bounce of the tennis ball will indicate whether or not it needs replacing.