Hey! This site is reader-supported and we earn commissions if you purchase products from retailers after clicking on a link from our site.
When pickleball was first starting to pick up momentum it used to be hard to find pickleball courts near you. For me, when I started playing pickleball, it gave me an opportunity to see different parts of my town and the local area. I love socializing and thus I didn't mind researching and contacting people to find pickleball courts in the 10-20 miles diameter.
But for most people, that simply isn't realistic. The best pickleball court is the one that is available and close to you.
Even today, for beginners, it's tough to find pickleball court if they aren't well-connected with pickleball communities. So today, I'm going to give you some personal tips on how to find pickleball courts near you.
Different Ways to Find a Pickleball Court Near Me
1. Using "Places2Play" App
Though there are numerous ways in which you can find a pickleball court near you, the best one for me is the Places2Play app. This app helps you locate open pickleball courts in your area. It's the easiest and the fastest way to locate a court near you.
All you need to do is to download the USAPA smartphone app and you'll find a court within a couple of minutes. One caveat though: the Places2Play app is only for iOS, so Android and other users can follow the other ways of locating the court, listed below.

Like any location-based app, you're required to grant it the location access. Once, you allow it, it'll automatically show the places where you can play pickleball around you. Not just the court, the app also provides you weather information – though basic, it comes in handy.
To download the Places2Play app, visit the app store and type the keyword "USAPA". Lastly, don't confuse the Places2Play app with USAPA mobile app, both are different apps for different purposes.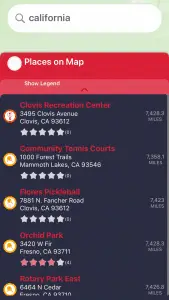 DOWNLOAD THE APP
Once you've downloaded the app from the app store, you can open it scroll through the app and check out all the menus and navigations to get accustomed to the app.
First, there are two ways of finding pickleball courts near you – Enabling Location or Adding your zip code. Many people who aren't comfortable with providing their location can search using places and zip codes.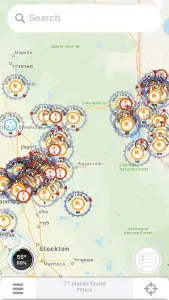 UNDERSTAND THE APP ICONS
In the image above, you can see a lot of icons in yellow and red color along with blue stamps. You might find them to be confusing initially but don't worry. These are simple to understand. The orange mark is for outdoor, the red is for indoor, and at some places where there's a blue mark, it's hybrid.
Orange icons signify outdoor locations in and around the area whilst the red icons portray the indoor locations. Blue, on the other hand, is a mixture of the two. Also, you can see that there's a grey ring around these icons.
These are nothing but a wind barometer! It gives you a fair idea of wind – from which direction it's going to come from before you step out to play. Personally, I've had a mixed experience with the wind barometer. However, I've shared the general idea with you.
On the red icon, you will see a dollar sign while the yellow icon displays padlock. That's because both of these places might be free to play or might require you to pay. The icons with the $ indicate that you need to spend money on a particular location to play pickleball whereas the padlock suggests that you can play for free.
LOCATING A GAME
The best part about the Places2Play app is that it even provides you with an added description alongside the pickleball schedule and some mandatory information. For example, if you want to play at a premium facility, the app will tell you how much it may cost along with providing a point of contact with whom you can talk. 
2. Contacting a Local Ambassador
The best way to locate a court is to directly get in touch with the trustworthy and popular body known for handling and promoting pickleball in generation i.e. USAPA. It's responsible for the overall organization, maintenance and nurturing of pickleball across the USA.
What you should know is that USAPA has provided ambassadorship to some people within a particular city, state or territory. Since it's the one responsible for promoting the game on the national and international stage, it does provide you with a point of contact in your region.
You can find ambassadors in your region [here].
To learn about pickleball courts near you, you can reach out to these ambassadors and they help you find pickleball courts based on your level. Depending upon your level, you can choose between beginner, intermediate and advanced levels and which location is suitable for which type of player.
Even if you're using the Places2Play app, I'd still recommend you seek the help of a Local Ambassador because they can provide valuable advice and steer you on the right path from the start.
3. Becoming a Part Of Pickleball Facebook Groups
Facebook is great because it serves as an incredible platform for following pages you love and bonding with like-minded people through groups.
You can join pickleball Facebook groups to meet and talk with people following and sharing the same passion for pickleball as yourself. You can post a query in the group about pickleball courts near you.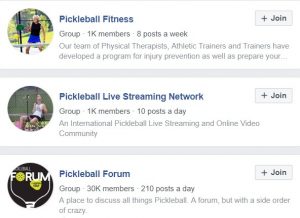 Even if you don't have someone from your locality, there are plenty of people who would help you out with a possible solution. People using Android phones often rely on USAPA website and Facebook Groups for more details.
As you can see from the image above the group Pickleball Forum has 30k members and posts about 200+ posts per day. In such an active group, your query won't go unnoticed.
4. Local Pickleball Meet-Up Groups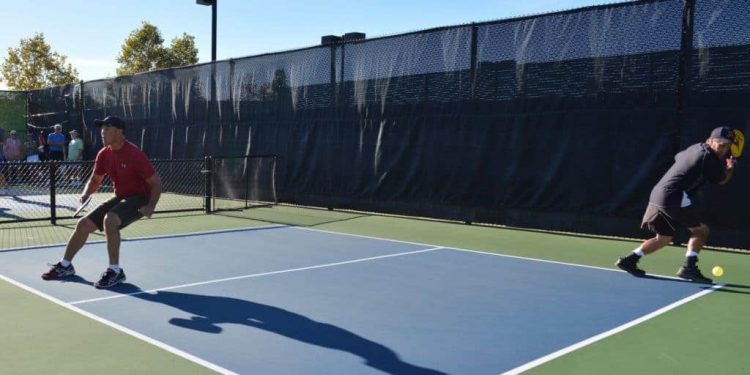 There are many local events and meetups organized by the local pickleball groups. These offline events are a great way to become a part of the pickleball community. You can learn about these events from Facebook Groups, by contacting your regions ambassador, or by joining a group on Meetup.com.
At such events, you can mingle with anybody – beginners, intermediate and advanced level players. Once you become a part of this group, you can start playing friendly games and as you improve, you can sign up for the tournaments with the one you forged great chemistry.
As a beginner, start off with buying an inexpensive pickleball set. Once you gain experience, then you can switch onto proper paddles, nets and pickleball balls. Just don't overthink everything and first try to get started. Once, you do that, everything else will just fall in its place.
5. Going To Your First Pickleball Game
Going to your first game of pickleball will feel like a massive task. I remember going to my first pickleball game and being completely stressed out. Much to my pleasure, I was comfortable with fellow players within 15-20 minutes.
From my personal experience, pickleball players are extremely gracious and cooperative. There's a common connection as the love for pickleball which passes the good vibes through people. The pickleball community at large is very friendly and cooperative.
6. Setting Up a Pickleball Game Near You
If you have a friend or two who are extremely enthusiastic about pickleball, you can set up a temporary pickleball court for a weekend. You can invite people over for the weekend and announce the same through Facebook groups. Setting up a temporary pickleball court is easy and straightforward. You can even do it in your backyard if you have enough space.
How to Find Pickleball Courts Near Me if I'm not from the U.S?
Perhaps one of the most common questions posed by international pickleball players. USAPA in the U.S has a comprehensive list that has names of all the places where you can play pickleball, these are organized state wise.
However, if you're in a different country, your best bet would be to find a local pickleball forum or join a Facebook group with members from your own country. In recent years, pickleball has gained momentum in countries such as Canada, Korea, Japan, Indonesia, India, Australia, New Zealand, Thailand, China, Malaysia, Hongkong, the U.K., and Singapore.