Hey! This site is reader-supported and we earn commissions if you purchase products from retailers after clicking on a link from our site.
Witnessing other players land the volley shots with such ease while you fumble all the time at the net is kind of disappointing. Yes, you've been trying to get it right for some time now but still can't seem to find a way to pull it off.
Not to worry because here at Racquet Sports Center, we're going to teach you how to volley in the next 15 minutes. Read below for how!
For beginners, a volley shot can be difficult especially, when they lack proper guidance on how to do it. For this reason, we've made this guide which comprises of checklists filled techniques, drills and tips on how to get it right. If you practice the drills and apply the right technique, not only will you learn how to volley but how to execute it cleanly!
How to grip the racquet?
The first step towards hitting a clean volley is by learning how to grip the racquet. Only after you master the grip, will you be able to become an effective net player.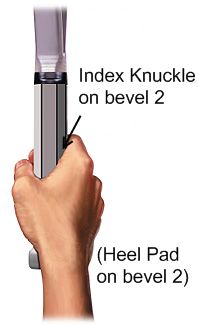 Tennis Grips Visual Representation | Photo Credit: Busy Tennis Players
Majority of the tennis coaches advise incorporating the continental forearm grip. That's exactly what professional tennis players use.
A continental forehand grip allows you to play both forehand and backhand volleys without having to worry about switch-ups.
On the contrary, if want to do a swinging volley to move closer towards the net, you can use a groundstroke grip momentarily. However, once you execute the shot, switch back to the continental forearm grip.
Footwork while executing a volley
A perfect grip needs to be executed along with quality footwork to get the desired result. What's the point of a good grip, if you can't sort your feet out?
The volley is a timing-oriented shot with the power transitioning upwards through your legs and not through your arms. When it comes to volleying in tennis, there are two main aspects which you need to focus on:
Split step: A split step is a general stance which professional tennis player get into when facing a lofted shot. When in split step stance, make sure to stay on the balls of your feet. You should start the split step as soon as your opponent hits the ball. The split step is exactly what it sounds like.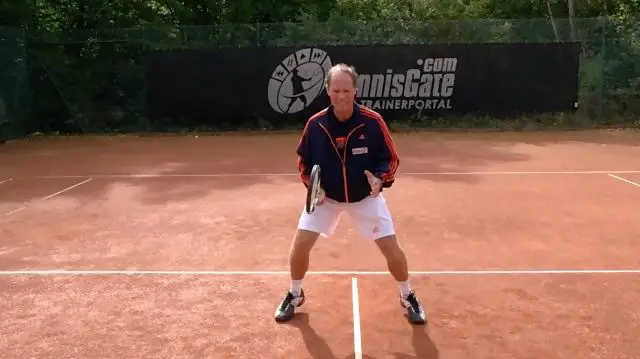 Split Stance | Photo Credit: Tennisgate.com
How to perform the Split Step:
You should already be at the net. As soon as your opponent hits the ball, lightly jump up and spread your feet to shoulder width apart. This puts you in the perfect position to perform a forehand or backhand volley.
Step forward: Once, you're active in a split step and have observed your opponent's shot, it's time for you to reply. When stepping forward, remember that if you're executing a volley with your right forehand, you'll need to step across with your left foot and vice-versa.
Here are certain points that you should keep in mind when stepping forward:
Use the opposite legs to proceed forward
Be ready for a shot coming towards your backhand
Synchronize your footwork with your shots (i.e. step forward at the time when you're about to connect with the ball).
Remember that stepping forward helps give power to your volleys and helps you "punch" the tennis ball over the net. Don't forget this part! Proper footwork is essential to a great volley.
Forehand Volley Technique
Majority of the tennis players like to play with their forehand as it's more comfortable. It's easier to control the racquet and redirect the shot as compared to the backhand.
If you want to perfect the forehand volley, you need to understand the technique first. To execute a clean forehand volley, keep your hand extended in the opposite direction and slightly tilt your wrist.
As you're about to hit the forehand volley, move the opposite hand towards your body. Herein, both your arms will be moving towards each other. Using this technique will help maintain control and balance.
Here's how you execute a crisp Forehand volley in different scenarios:
Change the direction of the ball: If you want to change the ball's direction, you just have to flick your wrist slightly along with the racquet position.
Crosscourt volley: If you want to hit a volley in the opposite direction, you'll need to place your racquet in front of your wrist.
Straight volley: If you want to hit the volley straight, you should close your split stance a little and open up your wrist with the head of your racquet placed slightly backward than usual.
Note: Small wrist movements can make a big difference as they can change the direction of your shots entirely.
Backhand volley technique
Considered to be the weakest volley by professional tennis players, Roger Federer is the master at executing these.
To hit a crisp backhand volley, you are required to close your feet and hips as you're analyzing your opponent's shot. Sorting your feet and hips movement early will help in getting the volley right.
Before you hit the volley, place the racquet slightly behind your head. As you hit the shot, you'll automatically open the hips and move the racquet forward to get the sweetest of connection.
Common mistakes beginners make when attempting a backhand volley
Placing the racquet too high: Remember, you don't want to chop down. If you place your racquet too high, you risk getting the angles wrong. You should have your tennis racquet around your chest level. Observe Federer's movement in the video below and you'll get to learn a lot about the racquet placement.
Racquet Placement Visuals:
Standing stiff: The ball isn't going to come your way; you have to move towards it. Thus, do not stand stiff and learn to cover the court like Gael Monfils. Even when you're about to volley the ball, make sure you're composing.
Applying power: Most beginners make the silly mistake of applying power on a backhand. You have to apply little to no power on your backhand. You simply want to redirect the shot by trying to change its angle through the connection between your tennis racquet and the ball.
Learn to Land The Volley
Starting off with volleys is not simple. Especially, when you're practicing wrong. Landing the volley is frustrating at first because your shots are barely able to make it to the net.
Remember, when it comes to volleys, you don't want to push the ball or apply pressure, you just want to feel and redirect it. Though professional players do punch the ball to generate distance and power, you don't have to do it when you're starting out.
At their level, with years of practice, they can easily connect with the sweet spot, as if it were a part of their subconscious. For you, it's crucial to get the timing and the footwork right.
Watch this detailed video by Essential Tennis and you will certainly improve:
Improving Technique: Simple Volley Tips
It's not easy to execute the volley at first with so much to remember. However, if you break the technique down, it actually becomes quite easier to execute.
Move as a unit: When wanting to hit a volley. Commit yourself. Don't get caught up in two minds. You especially don't want to get caught in no-mans land. When you start running from the baseline, get to the net quickly! As you approach the net is when you're the most vulnerable.
 Next, when you approach ball with the mindset of executing the volley, you must move your body as a unit. This means you should sync your footwork with your arm movements when you hit the shot.
Forward Momentum: When attempting a volley, ensure that your body momentum is in the forward direction. You don't want to leap too far but just a tiny bit. This momentum goes a long way in improving the power and the overall execution of the shot.
Keep your wrist firm: Though the role of wrist movements isn't visible in a quick-paced professional action, it does make a difference when you practice it yourself. When you hit the ball, you want to do so with a firm wrist.
Practice your footwork: I've already stressed about the importance of footwork in the section above. Practice it by yourself. You can do so with the help of a wall. See what mistakes you're making and try to improve them.
Position yourself: Often undermined, the position does make quite a difference. You need to read your opponent's mind and observe as the shot's being hit. That way, you'll be able to position yourself correctly without having to cover much ground. The closer you are to the net, the better the connection you'll be able to make and the quicker you'll be able to win the point.
Simple Volley Drills
You don't want your well-executed volley to be bogus, but rather an active part of your game plan.
 How do you make it so? By practicing volley drills. These drills will help make your volley skills flexible and will help maintain a good form and technique.
Volley Wall: Yes, you have to do the same thing, except your net is replaced by the wall. When doing this drill, start slow with short touches and as you keep on advancing, you can keep increasing the distance. What makes this drill unique is the unpredictability when you begin with it. If you want to quickly advance, try recording yourself.
Wall Practice
Try 15 forehand volleys
Try 15 backhand volleys
Mix the two as you advance
Volleys with your partner: It's the same drill, except your partner replaces the wall. So now you're exchanging volleys with them. Yet again, the best part is the unpredictability and it will help you to read your opponent's mind and predict their next move. With enough practice, you can easily increase the distance as you progress and will eventually find yourself doing the drill from the service line.
Keep increasing the distance as you progress
Practice a mixture of both backhand and forehand
Try to get the form right (Focus on your movement and footwork)
Trying to connect with the sweet spot
Doubles Volley Drill: If you're already progressing with the wall and partner drill, it's time to add some spice. This time, a four-person drill wherein two people stand at the baseline and two at the service line. Service line feeds the alternating players and they need to hit it within the diameter of the single's area with no lobs allowed. Once, you master it, then you can play an open court with lobs.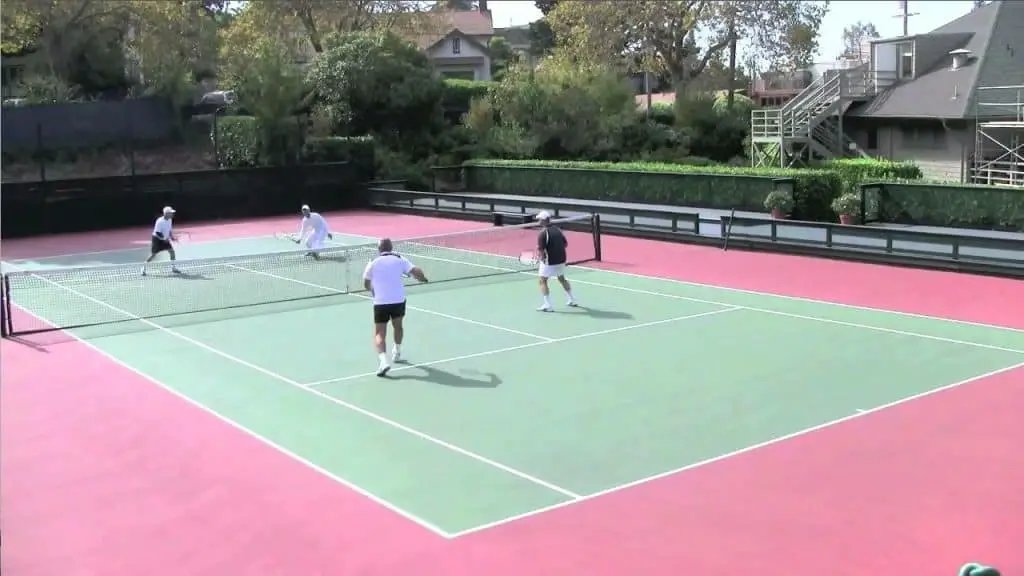 Conclusion
Alright, we've reached the end of this blog and I'm sure you're pretty high in confidence right now. This was a beginner's guide on how to volley in tennis. I hope we've covered all the essential points and shared something new and interesting with you.
Lastly, practice your volleys and belief in yourself. Always stay confident and do not undermine your abilities! If you're still facing any issues, feel free to drop them in the comment section below.