Hey! This site is reader-supported and we earn commissions if you purchase products from retailers after clicking on a link from our site.
Pickleball over the years has witnessed the introduction of some great paddles. While there are ones that are well known, there are others that are legendary in stature. The Onix Z5 Graphite pickleball paddle is one such pickleball paddle that is extremely popular and loved by pickleball players everywhere.
The Onix Z5 Graphite Pickleball Paddle can be found amongst the best pickleball paddles in the sport seen in pickleball players' hands across the country. The most notable name associated with the Onix z5 Graphite is Tyler Loong, a professional pickleball player. One of the greatest aspects of the Onix Z5 is that it's the perfect pickleball paddle for everybody from beginners (link) to advanced pickleball players.
Here we will present our Onix Z5 review!
| IMAGE | PRODUCT | Weight | Face | |
| --- | --- | --- | --- | --- |
| Top Pick | Onix Z5 Graphite Pickleball Paddle | 7.8 oz | Graphite | Check Price |
Onix Z5 Graphite Pickleball Paddle: The Design
The Onix z5 Graphite pickleball paddle works wonders because it's designed to deliver. With a large sweet spot, hard face and a technologically advanced core, you get the best of power and accuracy.
The wide space with a large sweet spot allows you to connect with the ball easily. Whether you're a beginner or an advanced player, connecting with an incoming shot will never be a hassle. Its core helps generate power and pop when you swing hard.
By far my favorite element in this paddle is the weight and feel. From our Onix graphite Z5 pickleball paddle review, we categorised it in the lightweight-midweight category, generally a medium weight graphite paddle that helps hit power shots. It's like a well-designed machine where each part works in tandem by complementing each other.
If you're interested in graphite pickleball paddles, visit our Best Graphite Pickleball Paddles guide!
Onix Pickleball Paddle Shape
The Onix Z5, as opposed to newer elongated shape paddles, features a classic widebody. The paddle shape improves the versatility and has inspired the new paddle manufacturers considerably. Onix still uses the widebody paddle and has integrated the same structure in its current line of paddles.
Though elongated paddles have quickly become a trend, many pros still prefer the simplicity on offer by the old widebody paddles. As for beginners, the wide face comes with a larger sweet spot and hard surface which helps them to connect easily.
Onix Z5 Pickleball Paddle Specifications
Weight
The Onix z5 Graphite weighs 7.8oz which makes it a well-balanced paddle. It's neither lightweight nor heavyweight meaning it's extremely easy to maneuver. The overall medium weight paddle can differ between 7.5 to 8.1oz based upon the paddle you choose and the grips you add. Overall, the Onix z5 Graphite paddle is designed to offer you well-balanced gameplay.
Onix Z5 Face
The Onix z5 Graphite has a widebody face which is important for pickleball players, especially beginners. It gives them the large sweet spot which makes the connection much easier. As for the core, this pickleball paddle features a Graphite face. Graphite pickleball paddles are largely recommended by experts for players as they provide a great pop off the paddle while still keeping the paddle lightweight.
Length & Width
The Onix z5 Graphite at 15.5" has the most common length in pickleball paddles. This is the standard length for pickleball paddles across the board. However, when it comes to width, The Onix Z5 has a width of 8.3" which makes it much broader than the general 8" width paddles.
Grip & Handling
The Onix z5 graphite pickleball paddle has grip size paddle dimensions of 4-1/4" which makes it sit perfectly in my hands. It's the ideal size that doesn't have an excessive hand room which can lead to loose shots. Furthermore, this paddle features a cushion grip which gives you that convenience.
Onix Z5 Core
Onix z5 Graphite pickleball paddle is well-rounded in regards to the core material. It features a technologically advanced Nomex, paper honeycomb core which helps you hit powerful shots with ease.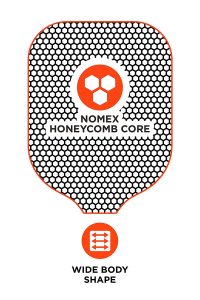 Onix Z5 Pickleball Paddle Specifications
| | |
| --- | --- |
| Onix Z5 Graphite | Specifications |
| Weight | 7.8oz |
| Weight Range | 7.5-8.1oz |
| Face Style | Widebody |
| Face Finish | Graphite |
| Paddle Length | 15.5" |
| Paddle Width | 8.3" |
| Grip size | 4-1/4" |
| Grip Type | Cushion Grip |
| Paddle Handle | 5" |
| Core Material | Nomex, Paper Honeycomb core |
| Color Options | Blue, Green, Yellow, Pink Purple, Red, White, Yellow |
| USAPA Approved? | YES |
Onix Z5 Graphite Paddle – Play Style
Pure Power
As mentioned above, the Onix z5 paddle is made of Nomex honeycomb which is a carboard-like material essentially dipped in resin. The surface is hard yet lightweight allowing it to remain stable and generate an extreme amount of power during play.
Interesting face: Nomex is also used in the creation of firefighting helmets as it's a very fire resistant material. In pickleball though, Nomex is known for its superb power generation. Add a large sweet spot and you get a dangerous combination comprising of power and accuracy.
Simple and Effective Face
Experts will suggest you start your pickleball journey with a composite or a graphite paddle. Graphite paddles made of lightweight material provide a lot of freedom in movement and maneuverability. Its face, along with its size and core combined make up a simple formula for success on the court.
Popping Nature
Graphite paddles have an oomph factor and that is a distinctive "popping" sound. While the Onix z5 graphite paddle is a lightweight paddle, its graphite face allows it to generate the pop. In most pickleball paddles, the force is absorbed as soon as the shot connects with your paddle.
With Onix z5, the ball bounces right off the face and hardly absorbs any force which enables players to hit power shots and send the ball roaring across the net.
Feedback on Every Shot
One of the things that can rapidly help a beginner pickleball player improve is the feedback that their paddle gives them. This is one aspect that the Onix Z5 absolutely excels at! If you hit the ball slightly off from the sweetspot, you can instantly tell and adjust accordingly.
Throughout the course of a game of pickleball you'll be able to feel yourself adjusting to the paddle and stepping up your game making this pickleball paddle an invaluable tool for any pickleball player trying to get better.
Colors & Variety
One thing I love about Onix and Gamma pickleball paddles (link) is the colors on offer. You can literally choose from a multitude of colors. Not that it affects your performance in any way, but it's always great to have options. As far as the Onix z5 graphite goes, you can choose between green, blue, pink, orange, white, yellow, and purple.
Onix Z5 Paddle – Drawbacks
Cosmetic Appeal
While there is a multitude of color variants, the overall graphic, in general, is a little lazy in my personal opinion. Looking on the Internet, it seems like people in the pickleball community agree. The Onix Z5 simply lacks the stunning visual edge as compared to Selkirk or Head pickleball paddles.
They also add the website address and phone number right to the base of the product. Imagine that on a baseball bat or a basketball? It doesn't really make a lot of sense. You aren't going to call them asking for assistance just as you're about to serve.
I'm not saying it's completely useless, but adding it to the base of a paddle just takes away from the rest of our design.
Slightly Tilted Towards Power Rather Than Balance
While there's no doubt that the Onix graphite Z5 pickleball paddle offers well-balanced play, one cannot downplay that it leans towards the power side more as compared to balance. Due to its popping nature, it generates more power and naturally tends to hit more powerful shots. Sometimes this can result in a little less outstanding ball control when compared to other pickleball paddles.
The Onix Z5: The Perfect Pickleball Paddle for You?
While there are a couple of very minor drawbacks to the design, the Onix graphite Z5 pickleball paddle is probably the closest thing to a "whole package" pickleball paddle that I have ever seen. The Onix Graphite Z5 pickleball paddle reviews lead us to the following conclusion:
It's very affordable
It's well rounded (slightly tilted towards power but that's a great thing for beginners and aggressive players)
It features a large sweet spot
It will help you improve as a pickleball player. As you progress in pickleball, the Onix Z5 graphite is the perfect pickleball paddle for you to do it with. This pickleball paddle is used by everybody from beginner to advanced pickleball players.
For beginners who are looking to get started with pickleball, the Onix z5 graphite would be my top recommendation.
Or, if you're a player who loves to hit powerful shots while also ensuring you can control where the ball goes, the Onix z5 graphite paddle is the perfect tool in your arsenal.