Hey! This site is reader-supported and we earn commissions if you purchase products from retailers after clicking on a link from our site.
When someone mentions the word 'Pickleball', it no longer sounds like a strange word. It's no longer a soft sport but rather a rapidly spreading phenomenon that has got people talking everywhere. If you are unaware of it, let us break it to you. Pickleball is a game that combines tennis and ping pong, as well as their unique sets of rules and gameplay, which makes it more interesting.
Pickleball was founded in the US in the year 1965. Initially, it was started as an improvisation for a badminton game. However, within a few decades, it has transformed into an established sport. The game is played with paddles that bear resemblance to tennis rackets. Just like tennis has a tennis ball, it is played with a Wiffle ball. The game is played with 2 players on each side and has a smaller court than a tennis court.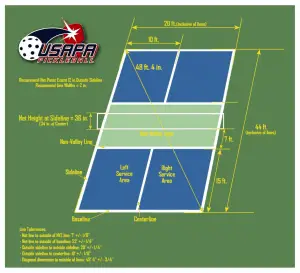 (Source:Tennis Express)
Pickleball: the fastest growing sport in America
Coming back to the popularity of the game, this game has grabbed the attention of all kinds of people in the US. From kids and adults who participate in the game to sports enthusiasts and researchers. If you are curious to know about the momentum of pickleball's growth you can watch the video below:
Let's start with the players and understand the reason for pickleball's huge following.
What makes pickleball fun and popular?
Easy to play
Pickleball as a sport is super easy to learn. If you are familiar with any of its derivatives such as tennis, ping pong, or badminton you wouldn't find it difficult. All you have to do is hit the ball across the court and ensure that the opposite team is unable to hit it.
Physical and Mental Fitness
Pickleball involves a lot of body movement which is required to hit the ball. This process makes it great for fitness and a 15-minute session can get your body some great exercise. Moreover, the competitive spirit and fun game conversations can relieve depression and anxiety.
Inexpensive setup
Pickleball does have specific size dimensions for its courts and kits that include paddles and a Wiffle ball. However, if you visit the USAPA's website, you will find directions to a makeshift pickleball court that can be made inside a tennis court. The game's gear i.e. striking paddles and Wiffle ball comes at a low price too. You can find the paddles and Wiffle ball on Amazon.com for a range of affordable prices.
To know about other reasons that make pickleball popular and addictive you can refer to the video below:
How popular is pickleball?
People in the US love the sport and that's the reason why it has been able to garner attention in such a short span of time. The game is being played in elementary schools, community recreation clubs, country clubs and even behind bars. Yes, pickleball is being played jails too and the inmates are crazy and passionate about the sport.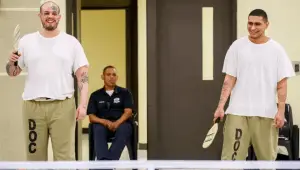 (Source: USA Today)
As the game is in a growing phase, it is easy to keep a record of the number of players playing the game. According to a report released by the Sports and Fitness Association (SFIA) in 2019, the game had 3.3 million players in the USA.
In the report released by SFIA, the participation statistics of pickleball are follows:
Among the 3.3 million players who play the game, 2 million were 'Casual' players who play 1-7 times in a year. 
1.3 million were 'Core' participants who play 8 or more times a year.
Pickleball has a 9.7% Average Annual Growth Rate (AAGR) of all the players who became associated from 2015 to 2018 and a total growth rate of 29.1% over three years.
62% of participants who play pickleball are male whereas the number of females grew from 33% to 38% percent over the duration of three years.
The average number of all the pickleball players is 41 years old.
The Core players involved in this game have an average age of 54 years and the casual players have an average age of 33 years.
64% of the Core players are aged between 55 years or more.
84% of the Casual players are aged between 54 years or lower.
From the year 2015-2018:

 The percentage of Core players between the age of 54 and younger, grew from 25% to 36%
The percentage of Casual players aged 54 and younger increased from 78% to 84%
The increase in the percentage of players both Core and Casual that are less than 55 years in age; shows a faster growth among young players.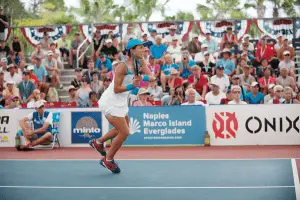 (Source: Naples Illustrated)
The percentages by age of Total, Core, and Casual participants are:
| | | | |
| --- | --- | --- | --- |
| AGE | TOTAL | CORE | CASUAL |
| 6-17 | 16.7% | 8.1% | 22.2% |
| 18-34 | 28.0% | 11.4% | 38.6% |
| 35-54 | 20.3% | 16.3% | 22.9% |
| 55-64 | 14.9% | 24.6% | 8.7% |
| 65+ | 20.2% | 39.6% | 7.7% |
The 3.3 million pickleball players are equivalent to 1.1% of the USA population of 301M people who are 6+ years old. The 1.3M core players are equivalent to 0.43% of that population.
The regions of the USA with the largest number of participants are:

South Atlantic (FL, GA, SC, NC, VA, WV, & DC) = 276,000

East North Central (WI, MI, IL, OH, & IN) = 268,000

Pacific (CA, OR, WA) = 260,000

Mountain (AZ, NV, NM, UT, CO, ID, WY, & MT) = 164,000

These four regions account for 74% of Core players

The regions with the fastest growth are the South Atlantic and Mountain with an AAGR of 19.5% and 18.0% respectively.
The eastern region of the Mississippi River has around 750k core players which make up 58% of the Core players.
The above numbers that show the statistics of growth in the number of pickleball players over the years are sufficient to prove that pickleball is the fastest growing game. This rapid growth one of the major reasons why it has caught the attention of the researchers, who are trying to find the reason behind it.
Conclusion
Pickleball is a great sport and if you haven't tried it yet; you should soon. I hope the information mentioned in the blog has helped you to understand the growth of pickleball over the years. If you have any doubts or queries, you write it in the comments below.