Hey! This site is reader-supported and we earn commissions if you purchase products from retailers after clicking on a link from our site.
The Prince Tour 98 ESP Tennis Racket is a tool that can greatly improve your skills in no time. The Tour 98 is a well-rounded racket that's able to give you increased control over the ball although you must provide the power using your swing.
IMAGE
PRODUCT
Strengths
Limitations
 

Top Pick

Prince Tour 98 ESP Tennis Racquet

 

Featuring unparalleled control, the Tour ESP can produce accurate shots all over the court.
This racquet should be a bit heavier if you want to hit harder shots constantly.
Check Price
The Prince Tour 98 Tennis Racket: Summary
A lightweight and versatile racket, the Prince Tour 98 ESP is perfect for players who want more control and feel over each of their strokes. The unique string pattern of 16×16 allows players to easily put more spin on the ball than ever before.
If you are trying to get more topspin on your shots or simply want to work on your control, the Prince Tour 98 is for you.
Now, I know your first consideration when looking for a new tennis racket is probably not price because often you get what you pay for. In this case however, I found out that the Prince Tour 98 ESP has an absurdly low price compared to other racquets of it's caliber.
And throughout this review, you'll see that Prince has maintained the same excellent quality control on this racquet as well as it's others. For racquets designed with intermediate players, this racket comes in a chunk cheaper than comparable racquets with no loss in quality. You can check out the savings here!
Prince Tour 98 ESP Tennis Racket: On the Court
The Prince Tour 98 ESP Tennis Racquet features a bold yellow design with a smaller head size of 98 sq inches.
Since this is the most important feature of Tour 98 ESP Tennis Racket, we'll spend the most time here. There are, of course, some incredibly good things about Tour 98 ESP Tennis Racket's performance, and there are a few drawbacks, but they're not necessarily deal-breakers.
Starting out, immediately you can see that this is a versatile, well-balanced tennis racket. Most amateurs will have an easy way to learn the tricks on how to control their ball direction, how to properly spin the ball, and so on.
Now, the most important thing about Tour 98 ESP Tennis Racket is that you know how to use all of the advantages it can offer you, and how to minimize the apparent drawbacks:
Improved spinning technique
The configuration of strings on Tour 98 ESP Tennis Racket provides a considerable boost to your spin shots. Whether it's top spin, underspin, or side spin, this Prince racquet can handle it all.
The 16×16 strings is the perfect combination for tennis players that know what they're doing – a medium hit-point will give you all the space you need to properly spin the ball.
The accuracy of your shots is one of the most important things in the game. The Prince Tour 98 ESP Tennis Racket provides you with increased ball control due to the latest ESP Spin Technology.
The ESP spin technology combined with a 98 sq inch head size give you the control and spin capability to place the ball exactly where you want it on the court.
Now, some people don't know how the design can have an impact on the overall performance of a tennis racket. Most rackets are elliptical, but some shapes are somewhat "round". This affects the hit-point – the point of impact where the ball lands on the strings.
The frame of the Prince Tour 98 ESP is specially designed to reduce vibrations.
Larger rackets (which are often more "elliptical") provide a boost in strength while "round" rackets provide more control and increased accuracy. The design of Tour 98 ESP Tennis Racket provides a mix between this two extremes providing  you with enough power and control to satisfy any players needs.
Power through your strokes
The single drawback of this tennis racket is that it sacrifices the strength output for the sake of precision. It's pretty lightweight so you'll have to put some extra "oomph" with your swing for a proper shot.
So when you get out there on the court and set up that forehand, make sure to reach back a little farther than usual. And as always complete your swing fully. With your swing speed and the Tour ESP racket's control, you'll be winning matches in no time.
If you want to start learning how to lengthen your swing and gain more control over the ball though, this tennis racket is for you.
Tour 98 ESP Tennis Racket Specifics
Head Size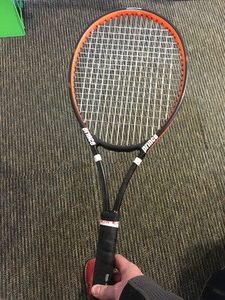 The Prince Tour 98 ESP tennis racket's head size is 98 inches long. This is a relatively small size for a tennis racket's head, but there's a manifold of benefits you can take advantage of in this case – a smaller head means that your control over placement of the tennis ball is greatly improved.
While the sweet spot is slightly smaller than larger racquets, the amount of control you have over the tennis ball is greatly improved. You can direct your shots effortlessly and apply spin.
Length
The length of this tennis racket is exactly 27 inches. As this is the USTA standard, this is a common length among these types of tennis rackets. Anybody will feel comfortable with the Tour 98 ESP racket in their hand. The size is just right when we take into account the string configuration, the weight, and the overall feel.
Weight and Balance
The weight of a racquet is one of the most important things in determining whether it improves your game or simply drags you down. The Tour 98 ESP Tennis Racket weighs in  11.5 ounces strung which falls right in between what's classified as light and heavy with a slight bias towards heavy.
Heavier means stronger punch when hitting the ball while being lighter means great control at the expense of power.  At 10.9 ounces, the Prince Tour 98 ESP feels perfect in your hand. It's light enough to swing repeatedly allowing your to practice for hours while still retaining some heft letting you smash balls from the baseline.
For balance, this tennis racket is balanced 7 points "Head Light" (HL)  which allows you to maintain control of the racket by placing the weight near your hand. On the court, I felt this helped me get the racquet head in position for difficult shots. At the net, I was easily able to get to volleys and punch through them with the head light balance.
The Prince Tour 98 ESP Tennis Racket features 16 strings vertical x 16 strings horizontal. It's another value that determines the "well-roundedness" of this tennis racket, mainly because it provides a medium hit-point surface.
Most tennis rackets have a string pattern of either 16 x 18, 16×19, or 18×20 which places the Tour 98 ESP in kind of an unique place. The benefits of having less strings are that you can better apply spin to the ball as you have more control over the hitting surface. However, some of the power of the racket is sacrificed with this string pattern.
For players who have medium to long strokes, congratulations! You won't even notice the difference in power but you will notice the incredible spin you're able to generate with this string pattern!
Who should buy the Prince Tour 98 ESP Tennis Racket?
Prince aimed this racquet at the advanced beginner to intermediate market and I think they succeeded. I would mostly recommend this racquet to intermediate players looking for more control and a slightly heavier racquet than what they have currently.
That being said beginners can play with a version of the Prince Tour too with some differences. The Prince Tour is available in a number of different head sizes which would make a much better choice for beginners. I particularly like the Prince Tour 100 which features a slightly larger head and sweetspot making it perfect for beginners!