Hey! This site is reader-supported and we earn commissions if you purchase products from retailers after clicking on a link from our site.
If you are new to racquetball and not familiar with the game-changing moves and strategies, there is a simple strategy that you can use to get an advantageous edge on your opponent with racquetball court positioning.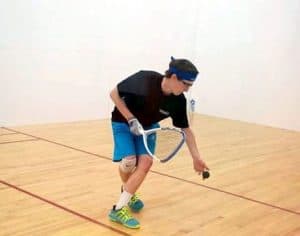 Image Credits: Cambridgetimes.ca
What is Racquetball Court Positioning?
Racquetball court positioning is all about positioning yourself in a spot on the court which enables you to dominate the game by returning the ball effortlessly and strategically, without putting in a lot of effort.
You can watch this video to learn more about court positioning:
To understand and implement this strategy, you first need to learn and remember the different areas of the racquetball court the difference between the US racquetball and a UK racquetball court.
The British version of the game is played on a 32-foot (9.8m) long and 21-foot (6.4m) wide squash court. American racquetball has 8 feet (2.4m) shorter and 1 foot (0.30m) wider court. Now that you have understood the necessary things that can help you implement this strategy, let's jump right into it.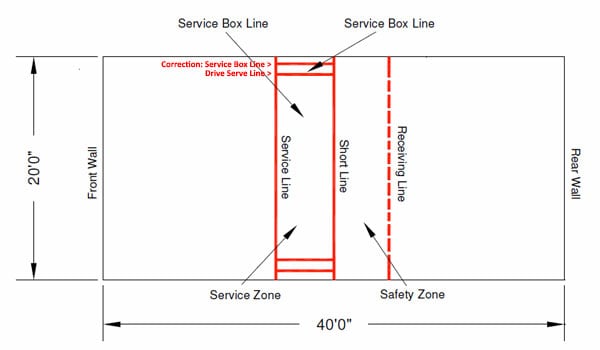 Image Credits: Colorado Racquetball Association
Where is the ideal Racquetball Court Position?
The Racquetball Court Position is an important position on the court that has a very technical approach. The right spot on in this strategy depends on your understanding of the court and some basic things that you need to know.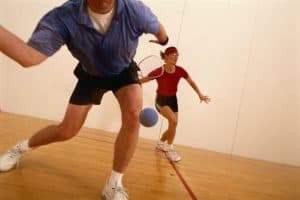 Image Credit: HuffPost
Shots that you need to lookout for:
Rollouts:
A roll-out is a shot that bounces twice in the 15 feet before the foot fault line.
Killshot:
A kill shot is a shot that bounces twice before hitting the short line. (second line, 20 feet from the front wall).
Court needed to be covered:
For this strategy, you need to focus only on the 25 by 20 feet of the court from the back and leave out the first 15 feet (the frontcourt). The best spot for this strategy is in the middle of the court at 12 ½ feet. For rallies, you need to be 2 ½ feet behind the dotted line, as the dotted line is just 10 feet behind the foot fault line.
How to play in Racquetball Court Positioning?
Since you have to stay in the middle area, there is a lot of space that you still need to cover. Most importantly, you need to hit only two types of shots at your opponent, the straight in and the cross-court.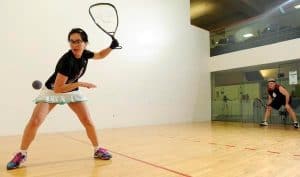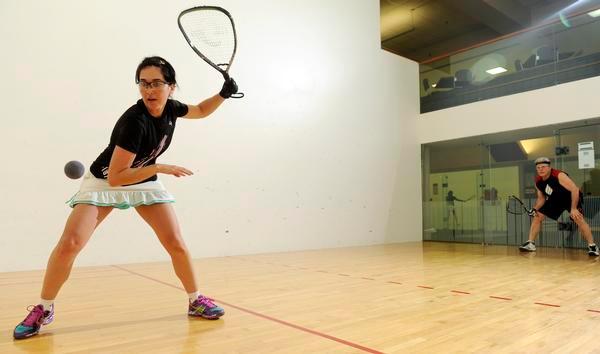 Image Credits: The Denver Post
If he/she hits from the center of the court, you must move to one side or jump to avoid the ball. If your opponent is shooting from the deep court of one of the corners behind, you can have both options to either return the ball or avoid it. Here are some things that you can do.
Move slightly to the opposite side of the court away from your opponent and turn your body to a 45-degree angle. This will allow you to see what's going on behind and also enable you to cover all the excellent shots.
Move one step towards your opponent and then turn at a 45-degree angle. This will give you good coverage during the line shot along with cross-court and wide-angle passes.
If you want to cover most court areas equally, stay in the center, keep your feet wider than your shoulder-width apart, toes facing forward, upper body, and head turned to look behind.
When moving swiftly in different directions, you need to place your foot firmly to execute the shot perfectly. You can use a good pair of racquetball shoes that provide incredible traction and stability.
Fundamentals of Racquetball Court Positioning:
Percentage of shots:
When using this strategy, you need to consider the percentages really well. A professional rally has 20 percent kill shots and the rest are rollouts. This means you have 70 percent shots that turn the game in your favor.
Image Credits: Buffalo News
Since most of the shots are played behind the short line you can take good advantage of them if you stand behind the dotted line.
Keeping an eye on the ball:
The most important rule of the game is to keep your eye on the ball. Just by following this simple rule, you can dominate the game easily. You can predict shots, avoid hinders, and even plan your winning shot by keeping an eye on the ball.
Don't block your opponent:
If the position is blocking your opponent's shots, then leaving it is the better option. Blocking the opponent's shot is an avoidable hinder that can make you lose the rally. You can be close to your opponent but must not block his/her shots.
If you feel like you are blocking your opponent's shot, always keep your racquet ready so that you can move in the nick of time and execute a perfect shot.
Read your opponent:
Another way to maintain control of the game is to read your opponent and predict his/her moves. You can play a better shot if you are able to determine where your opponent is going to hit the ball.
To learn how to watch your opponent hit, you can watch this video.
Once you start reading your opponent, with a little practice you will be able to predict the direction of the ball by looking at the foot and body angle. When looking at your opponent you need to be careful as there are chances that you might get hit by the ball.
Wearing protective racquetball glasses can be an ideal way of protecting your eyes while playing racquetball.
Conclusion:
Basic strategies if mastered well can work wonders even in the biggest tournament. With continuous practice, you will be able to execute the racquetball court position well and make use of it in the games too.
If you have any queries or suggestions regarding the racquetball court Position, you write it in the comments.