Hey! This site is reader-supported and we earn commissions if you purchase products from retailers after clicking on a link from our site.
Similar to other racquet sports, pickleball has a diverse range of shots that can be effectively used to win crucial points. However, no other shot in pickleball is as crucial as a volley. Whether it's a singles game or a doubles' contest, your ability to volley in pickleball matters the most.
If you're new to pickleball or to the concept of volleying in general, it's an action at the net wherein you don't let the ball bounce. It generally involves quick back and forth play within a short time frame with shots being rifled from one end to the other.
Why is the volley so important in pickleball?
Volley technique can be effectively used to win a lot of points in pickleball. Since the game of pickleball is mostly won or lost at the net, your volley technique can help you win or lose considerable points, which can be game-changing.
Along with forehand and backhand, tennis has many other shots such as side spin, flat, slice, block, topspin, dropshot, crosscourt and so on. In comparison, pickleball has fewer shots namely dink, drive, block shot, and volley.
Volleys make up a much more significant part of pickleball strategy and of pickleball playmaking learning how to volley in pickleball essential to your game.
What is the ready stance for pickleball volleys?
The ready stance is a positioning used in both tennis and pickleball to prepare for the upcoming shot. Typically, most players get into the ready stance before hitting a forehand, backhand, or volley.
With pickleball, the ready stance is a little different because of the kitchen rule. When you're hitting volleys, you must be aware of your position with your paddle held in a backhand grip parallel to the net.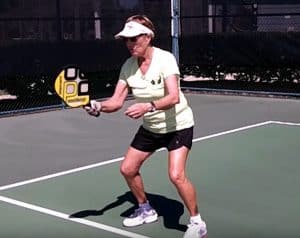 Above is the ideal pickleball ready stance which prepares you for the incoming shot. This stance and particular positioning of your pickleball paddle help your reaction time. Most likely, your opponent will try to reach the kitchen as well; thus, it's important that you execute the shot within the shortest period of time.
The ready stance shown above allows you to quickly switch into a forehand or a backhand pickleball volley without turning your wrist much. This ensures you'll be prepared for whatever shot comes your way.
Types of pickleball volleys
Though all the shots are executed either through forehand or backhand, the volleys can be classified into four different shots.
A reactive hit is a defensive shot that aims at keeping the point alive. There's little to no follow-through when hitting a reactive volley shot. Herein, the paddle face is neither open nor closed.
Used synonymously with the dink shot, it's the most common type of volley shot in pickleball. In a push volley, you have more time to react and thus you drive your response shot towards your opponent either with an open or a slightly closed paddle face. When pushing up, keep the face slightly open. If you're pushing down, keep the face slightly closed.
Roll shot is an offensive shot where you implement a little topspin on the ball. Here, with an open paddle face, your stroke should go from low to high paddle combined with a  simple wrist flick.
The catch is the most difficult shot. It's generally used to counter a fast response from your opponent. The goal of this shot is to take the sting out of the initial shot by applying backspin. You slice the ball so it creates backspin, slowing the ball down.
How to hit a Forehand Volley in Pickleball?
A forehand volley is usually executed when your opponent is near the kitchen or beyond mid-quarter. Usually, forehand volleys are either placed softly or driven deep to force your opponent off balance.
To execute a forehand volley, you must ensure that your paddle's face is aligned with the net. Once the angle is set, you must focus on how to hold the paddle. In this regard, you should hold the grip at 45-degrees i.e. the continental grip. While doing so, you should ensure that your hands are stable, especially your wrist. As you gently push the paddle forward, you want your wrist to be completely firm. You don't want to slap the incoming shot (limp wrist) but rather guide it the other way with stability.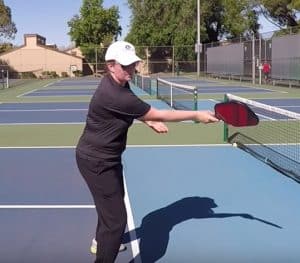 Hitting a Forehand Volley in Pickleball
Get into the ready stance
Keep your paddle face aligned
Hold the paddle in a continental grip
Make sure your wrists are stable
Use very little arm movement. It should be a punching movement where your arm only moves a couple of inches.
Bring the paddle back
Hit the shot – punch through the volley directing the ball away from your opponent.
How to hit a Backhand Volley in Pickleball?
The backhand volley is actually my preferred shot when hitting volleys because I feel like I can react faster. As you can already understand by its name, a backhand volley requires you to bring the pickleball paddle close to your body before releasing it. When hitting a backhand, you can either hit a slow blow or a fastball.
Backhand Volley with Backspin
Often times, pickleball players sacrifice a little power in their backhand volleys in order to apply more backspin. Backspin slows the ball down and causes it to drop rapidly forcing your opponent to quickly react if they want to stay in the point.
There are a couple of ways you can apply backspin. First, you should open the paddle face slightly when you connect with the ball. This allows it to get up and over the net with less power. As the ball starts to leave your paddle, you want to slice down going from a high position to a low position. This will apply backspin to the pickleball.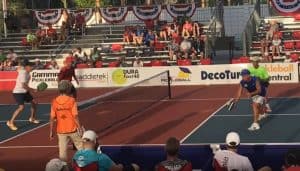 Backhand Volley with Topspin
Backhand volleys, when attempting to hit a faster ball, are often hit with topspin. This shot is less used than backspin since it's hit at a faster pace. As a consequence of this, backhand volleys with topspin are a lower percentage shot than the regular backhand volley and backhand volley with backspin. At the same time though, if you execute and time it correctly, you'll make your opponent's life extremely difficult.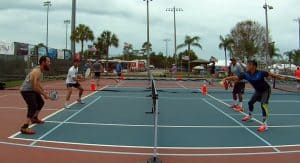 To hit a topspin volley, the paddle face has to move up and down in a perpendicular direction. The swing path has to be from low to high. This will allow you to control the height of the ball as well as the distance. Topspin volleys force the ball to drop quickly and then bounce up rapidly often times throwing your opponent off balance.
Get into the ready stance
The paddle should be up and above the wrist
Movement should start from elbows and not from the shoulders
Paddle face has to be perpendicular to the court
Do not swing the paddle downward
Punch the ball
Professional Pickleball Volley Tips
Beginners often tend to avoid hitting volleys. Simply stated, people aren't quite comfortable with hitting volleys at first. Most of them allow the ball to bounce by stepping back so they can hit after the first bounce. However, a game of pickleball is won or lost at the net. Thus, giving away the net position by not hitting volleys in pickleball can cost you the match let alone a few points and unforced errors.
Almost anyone can hit forehand and backhand volley with considerable practice. As a player who's just starting out, a major problem is when to hit the volley. The simple answer is that whenever you get an opportunity, you should go for it. Yes, you have to abide by the non-volley zone, however, sooner or later you'll get better at it and will be more comfortable about hitting volleys from anywhere.
You should hit volleys at any opportunity you get. Why? Because it gives less time to your opponent to react. Furthermore, volleys eliminate the possibility of a bad bounce caused due to inconsistency. Overall, the volley is a powerful shot that is a potent weapon in any pickleball player's arsenal.
3 important factors to hit an effective volley
As mentioned earlier, the tip of your paddle should be pointing in the upward direction. You should create an angle with your wrist and not your shoulders.
As per Sarah Ansboury, you should emphasize on creating a V shape between your paddle and wrist. Herein, the paddle should be above the wrist whereas the tip towards the ball.
Whether you're hitting a backhand volley or a forehand volley, you should generate the power from your elbows and not just wrist alone. When you just try to hit a shot with your wrist, the shot lacks power and accuracy. By using your elbows, you add power to your shot.
When hitting volleys, your grip on the pickleball paddle makes a lot of difference. The way you hold your paddle single-handedly determines how effective your volley is going to be. Thus, gripping the paddle with your fingers is a better option than just resting it in your palm. In order to generate a pop, you should hold your paddle as firmly as you can.
Start by learning the stance, the paddle placement and grip before you jump on shot execution.
Mistakes to Avoid when Volleying
Volleying involves minimal movement but there are a lot of mistakes some pickleball players make. However, every pickleball player – beginner or advanced usually commits 3 major mistakes.
Hitting the ball hard when it's traveling low
When you try to force low angled shots, you'll likely commit an unforced error i.e. it'll either pop up high or end up in the net. Neither option is ideal.
If you angle it high it will fly out of bounds or it'll provide your opponent with the opportunity to smash the shot. For low shots, you should opt for a backhand volley and try to put some backspin on the ball.
Don't force power on those low, difficult to reach, volleys. Even a soft-cross court dink is fine, where you place your shot to your opponent's backhand.
Getting too close to your body
Most of the pickleball players stay stationary which is a big mistake. By not moving your feet, there's a high chance that you'll get caught off guard. It's crucial for you to be on your toes and emphasize on good footwork. Great footwork will allow you to dance around the court and help you hit volleys with ease.
Remember, the V-angle I mentioned above, that's essential in creating an opening. To improve your footwork, you can try lateral movements before the match begins so you're flexible and comfortable with movements as you're playing.
Pushing back due to lack of confidence
Pushing back to the mid-court or off the kitchen is like signaling the opponent that you can't handle volleys. Stay up at the net and dominate the area. Moving back won't help your case and eventually leaves you in no man's land.
Sure, moving back gives you that extra split second to execute a shot. However, at the same time, it's also creating a gap in front of you which your opponents can capitalize on, which is far more dangerous.
Key Pickleball Volley Strategies
Pickleball is not an offensive game in that the goal is typically to prevent unforced errors over trying to score quick points. However, the volley in pickleball adds speed to the mix and can help end points quickly.
When you're up against a weaker player, hitting forehand volleys and quick shots can put your opponent on their back feet allowing you to rapidly dominate the match.
However, when you have a tougher challenge, you should play defensively and cautiously whilst maintaining consistency in your shots. Deep responses are better than fast shots against experienced players.
Here are few key strategies you should keep in mind when hitting volleys
9 out of 10 times you should be at the kitchen line when hitting volleys
Hit most of your pickleball volleys at the net
Most unforced errors are committed due to excessive power
Shot placement is more important than power.
Try to aim deep instead of hitting quick
Crosscourt shots are the highest percentage shot and should be used most frequently
Try to aim your volleys at your opponent's shoes to catch them off-guard
Don't swing at a volley! Your Volley shot should either be a push or a block shot.
Maintain the tempo and keep your composure
Find your rhythm and be patient to create an opening
Conclusion
I hope this comprehensive pickleball volley guide helped you drive home with some valuable points about volley techniques in pickleball along with strategies and movement.