Hey! This site is reader-supported and we earn commissions if you purchase products from retailers after clicking on a link from our site.
If you've ever watched (or played!) a tennis match, heard "deuce" called, and became confused, you aren't alone! Deuce is part of the scoring system, but it also determines how the game is played in some circumstances. So what is deuce in tennis? In this article, we'll find out.
A Brief Rundown of Tennis Scoring
To understand deuce, you'll first need a basic sense of scoring in tennis. At the start of the game, each player has a score of zero (also called "love" in tennis). If you score once, you get 15 points. The next score gets you 30 points, and the third score results in 40 points. The next score after that is the game point.
This scoring system can be a bit misleading, as you sometimes hear people just say 1, 2, 3, or 4 points instead of 15, 30, 40, or game points.
If players tie at any point in the game, the server calling the score will say the score and then "all." So a 15-15 tie would be "15-all," a 30-30 tie is "30 all," etc.
If two players tie at 15 or 30 points, the game progresses as usual. But if you tie at 40 points (for a score of 40-all), you've reached something called "deuce." After this, the game changes a bit.
Understanding how scoring works is essential if you want to be the best player you can be. This video will give you a helpful rundown on the scoring system and what you need to know.
Reaching Deuce
Deuce refers to 40-all, or when two players reach a tie score of 40 points. The word "deuce" comes from the French word "deux," meaning "two." Nobody knows exactly how the word came to be used for deuce in tennis. But some people think it may have come from the French phrase "à deux le jeu, "meaning "to both the game."
Interestingly enough, in the French Open and other French tennis games, they use a different word when the score reaches deuce. The French word for this situation is "égalité," or "equality."
Advantage Scoring and Winning After Deuce
If hypothetical player A and player B are at 15 points and 40 points and player B scores again, player B wins the game. But when player A and player B reach deuce, it takes more than one more point to win the game.
After deuce, the next person to score two points wins the game. This is what's known as advantage scoring (or "ad scoring" or "ad points"). Say the server wins the next point after deuce. That means the server has the advantage. This score would be called out as "advantage in" or "ad in" for short.
If the opponent wins the next point, the server would call the score as "advantage out" or "ad out." Ultimately, if you're the one calling the score, you'd say "advantage in" or "ad in" if you are the person who's one point away from winning the game. If the other person is the one who's one point away, you'd say "advantage out" or "ad out."
If neither player wins both of the following two points, deuce is called again, and the cycle repeats itself.
Is There a Strategy to Win After Reaching Deuce?
Chances are good that you're playing a close match if you've reached deuce. But you might be wondering if there's anything you can do to increase your chances of winning. Of course, you'll want to make an effort to stay focused and mentally sharp. Some players opt to play more aggressively.
But often, the best strategy is to take as few risks as possible. So if you know your long shot game isn't strong, you may want to avoid long shots. Make an effort to understand the way your opponent plays and look for weaknesses, as that can be a way to potentially win the game.
Deuce Court and Ad Court
You may also hear tennis players use "deuce court" and "ad court" to refer to opposite sides of the tennis court (as divided by the center line).
As you are facing your court, the right side is called deuce court because this is the side deuce points are served to and from. The left side is called ad court because when ad points start, they are served from this side.
If you've never been in a situation where a game reaches deuce, you may not have too much experiencing serving from this side. In tennis, each point is served in deuce court until ad scoring starts.
As a side note, you may hear players call ad court "backhand court." This isn't its official name, but it's an understandable misnomer. For right-handed players, it's usually necessary to hit the ball backhand from the left side of the court. As a result, in doubles matches where both players are right-handed, the weaker player will usually play on the ad court.
Do Tennis Games Always Use Deuce?
Now you know that deuce points start when both players are tied at 40. But will every game move into ad scoring after reaching a deuce point?
The answer is no. Generally, tennis players will only use ad scoring (where a player must score two consecutive points after deuce to win) in a singles match. When playing a doubles match (a match with two teams of two players each), this system isn't used.
In some recreational tennis and even in some informal tournaments, players may opt to use no ad scoring. In no ad scoring, the first point scored after deuce results in a win. You might sometimes hear this called "sudden death" scoring, as the point right after deuce is the final point.
With this scoring, the first player to four points wins, even if the game has reached deuce.
Is There a Limit to How Many Times a Deuce Can Happen?
In tennis, there is no limit to the number of deuces that can happen in a game. Sometimes, it's a lot! The most deuces in a game happened in 1975 at the Surrey Grass Court Championships. The match was between Anthony Fawcett and Keith Glass. The players reached deuce 37 times! Glass won the ultra-long game with many deuces. But ultimately, Fawcett won the game.
With a record like that, it's understandable that some matches only require one point after deuce to win the game! But the good news is that reaching deuce this many times in a game is rare. Usually, players won't return to deuce more than six or seven times.
What About the Rest of the Match?
When a player scores two points after deuce, they win the game. But each tennis set is made up of six separate games.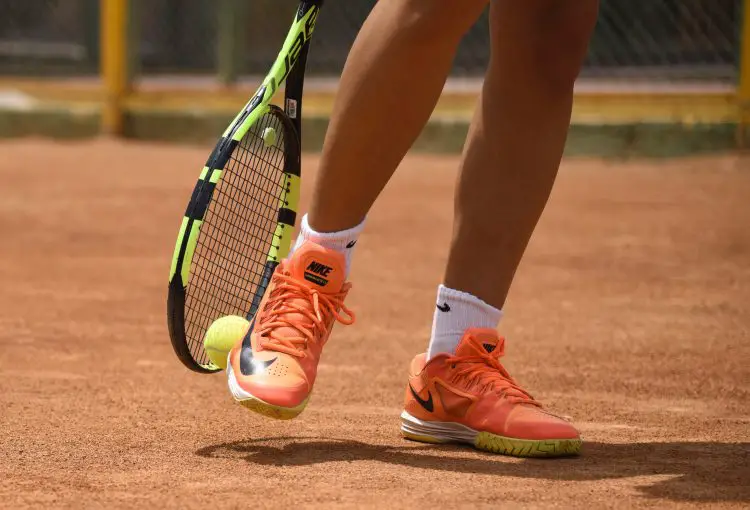 In professional tennis, the number of sets per match is different for men and women. In major tournaments, for men, best-of-five scoring is used. For women, it's best-of-three. Non-major tournaments will often require both men and women to play best-of-three matches.
Just like deuce scoring, major men's tennis requires the winner to win by a margin of two.
Becoming a Stronger Tennis Player
Especially if you're new to the sport, the scoring system in tennis (and especially deuce) can be very confusing! But when you understand the rules, you'll be able to play more confidently in matches or just on the practice court. And now that you know the answer to "what is deuce in tennis?" you'll go into your next match or practice session prepared.
FAQ
Still have some questions on deuce in tennis and what it means? Here are some answers:
What is the purpose of deuce?
Using deuce in tennis awards consistency. After all, if players have reached a tie with each winning three points (or a score of 40), they are at least fairly evenly matched. To win in deuce, a player must score two points in a row, so a small mistake won't throw them out of the game. Likewise, in deuce, one lucky shot by a less-skilled player also won't win the game.
How many deuces are allowed in tennis?
In tennis, there is no limit to the number of deuces in a game. However, deuces do not happen in doubles matches.
What is ace and deuce in tennis?
In tennis, an ace happens when the serving player hits the ball into the opponent's service box, but the opponent is unable to touch the ball. In an ace, the serving player gets the point.

A deuce is when the players in a tennis game are tied at 40-40. After deuce is reached, a player needs to get two successive points in order to win.
What is 40-all also called in tennis?
In tennis, 40-all (when each player has 40 points) is referred to as "deuce." Once deuce is reached, one player must score twice in a row in order to win.