Hey! This site is reader-supported and we earn commissions if you purchase products from retailers after clicking on a link from our site.
Note: This article was written by Samuel Ip. Samuel is an avid badminton player of over 3 years and is competitive on and off the court.
| IMAGE | PRODUCT | Weight | Strings |   |
| --- | --- | --- | --- | --- |
| Top Pick | Yonex Nanoray 9000 | 3U (85 – 90 grams) | BG65 Strings | Check Price |
How the Nanoray 9000 feels
In the past, I have used 5 rackets before using this badminton racquet (MusclePower 5, Bravesword 10, 2x Nanospeed 9900, Nanoray 10F). Having only played for 2 years before using this racquet, I decided that an investment in a decent racket was necessary in order to commit to playing badminton often.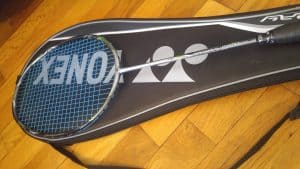 After trying several different types of rackets, I grew attached to the 'Nano' series of Yonex's rackets. Compared to other rackets, this racket is balanced, relatively light, and easy to swing. My friends and I call this racket the staple racket; great in all aspects you would want in a racket be it control, repulsion, or power.
Although, the most unique thing about this racket is how easy it is to pick up and use. In a nutshell, everyone who tries this badminton racket finds it comfortable to play with after a few rallies. Personally, I would rate this racket a 9/10.
In terms of smashing, I find it no problem to generate enough power for a killing smash when given the opportunity to. In addition, drive shots are extremely powerful and effective in-game. Serving flick serves is effortless as the repulsion this racket provides gives the user an easy time to precisely serve flick serves.
For the advanced players, the frame's unique shape at the top makes cutting your drop shots very effective. Regardless of the string and tension one may have for their Nanoray, I can say that this racket provides the reliability for repulsion and power that people seek.
Best People for the Nanoray 9000 Racquet
As an all-around racket, I strongly recommend this racket to beginners. The all-around ratings for this racket make this racket perfectly suited for the amateur. If you were to buy your first racket, they should definitely pick up a Nanoray racket for the versatility. Furthermore, the novice should definitely buy the Nanoray racket that is 3U, as that weight category is in the middle between heavy and light.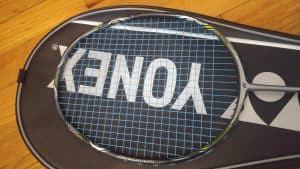 From there on, they can transition to other rackets to adjust to the type of playstyle they develop more naturally. In the end, the small nuances that distinguish rackets from each other(other than weight) nowadays are negligible to the beginner. If you are new to this game and want to pick up a racket, please do not go for anything expensive unless you have the money and resources at your disposal.
In terms of what strings one should use alongside the Nanoray, I would recommend these ones: the BG65 if you are on a low budget and are relatively new to the game. This string is the go-to string one must play with at least once with before moving onto fancier string types. As your techniques for your shots develop,  the string preference you have should shift as well.
If you are a relatively advanced player look towards the BG80, BG66 Force, or AeroSonic badminton strings. The repulsion on all these strings is top-notch.
Who should get the Nanoray 9000?
Buy the Nanoray900 whether you're a complete beginner or you're actively trying to become better at badminton. While a little bit more than typical badminton racquets, the Nanoray 9000 stands head and shoulders over others in terms of both quality and feel on the court.. This is the badminton racquet that will take you to the next level.