Hey! This site is reader-supported and we earn commissions if you purchase products from retailers after clicking on a link from our site.
The Olympics games are considered as the paramount of competitions and tournaments of its numerous constituent games. The finest players of the different countries participate in the various games to win Gold, Silver, and Bronze medals for their country.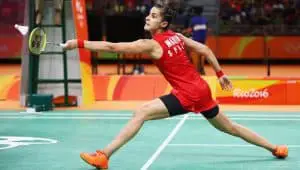 Image Credits: Olympic
Badminton is a popular Olympic game too. The game is played in different forms among men and women, while there are mixed events for both as well. However, Badminton was not always a part of the Olympics like many other games, the game has an interesting story of how it became an Olympic sport.
To learn exciting facts about Olympic Badminton, watch this video:
Badminton and Olympics:
Badminton's history starts all the way to 1873 and was officially played with the rules in the year 1877 at the Bath Badminton Club. After 16 years of its conception, The Badminton Federation of England was established, and the first All England Championships were played in the year 1899.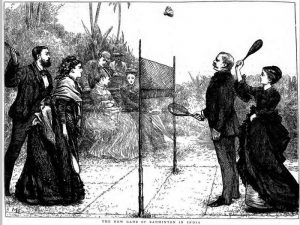 Image Source: Wikipedia
Owing to Britain's control over the world, the game spread to many different countries and became a widely played sport. Soon different countries like England, Scotland, Wales, Canada, Denmark, France, Ireland, the Netherlands, and New Zealand came together to form the first International Badminton Federation in 1934, which is now known as the Badminton World Federation.
Years later the game was introduced as a demonstration at the 1972 and 1988 Summer Olympics. The game was adopted as an official game for the first time at Barcelona Summer Olympics in 1992 and since then it has become a part of the Olympic games.
Watch this video to see how badminton has progressed over the years.
How did Badminton make it to the Olympics?
Just like all the other games that are a part of the Olympics, Badminton had to go through the elaborative process too while facing numerous challenges. Let's take a deeper dive into the journey of Badminton while becoming an Olympic game: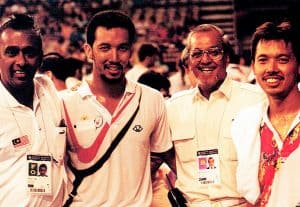 Image Credits: Olympics
The first effort to include badminton in the Olympic games was made in the mid-1960s. In this demonstration event, around 25 players from 11 different countries participated in the events. Players like Rudy Hartono of Indonesia, Gillian Gilks of England of Munich Olympics.
With more than 3000 spectators in attendance, the game managed to create a huge uproar in the stadium. The use of the electronic scoreboard caught the attention of the audiences and it became clear that badminton will soon become a part of the Olympics.
In the demonstration matches Indonesia's Rudy Hartono and Japan's Noriko Nakayama (née Takagi) won the singles titles, Ade Chandra/Christian Hadinata (Indonesia – Men's Doubles) and Derek Talbot/Gillian Gilks (England) won the Mixed Doubles.
The demonstration event did not have women Doubles.
Due to political issues, Badminton was stopped joining the Olympics. It was found that there was a parallel body called the World Badminton Federation which rose against the IBF.
The World Badminton Federation was formed on 24th February 1978 and 13 Asian and six African associations became part of the breakaway group.
After many efforts of rapprochement on both sides, a 'Deed of Unification' was signed in Tokyo by IBF and WBF on 26 May 1981.
The unification rekindled the hopes of getting badminton into the Olympics.
In 1983, IOC President Juan Antonio Samaranch attended the IBF World Championships and after the exceptional skills and gameplay, he was convinced that badminton had a place in the Olympic games.
At the 90th IOC session held on 5th June 1985 badminton was included in the 1992 Barcelona Olympics. It was played as an exhibition sport at the Seoul Olympic Games of 1998. The IOC flag was presented to the IBF at the World Championships in Calgary.
The current state of badminton in Olympic games:
Badminton has witnessed innumerable advancements that have made the game a stellar competitive game. Here are some insights into the current state of the game.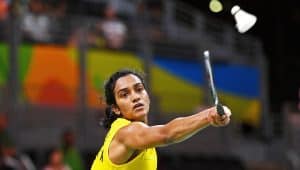 Image Credits: Olympic
Types of Events:
In the Olympics, Badminton is played in three different forms. These forms are also known to influence the rules of the game to a great extent. Whereas rules for badminton kits and equipment are mostly the same.
These events are played by both men and women in the Olympics games.
Dominating Countries:
Though badminton was invented in England, Asian countries like China, Indonesia, and the Republic of Korea, are among the dominating countries in the Olympics. They are closely followed by Great Britain and Denmark.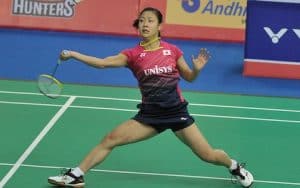 Image Credits: The Telegraph
According to a medal tally China 41 Gold medals, Indonesia has 19, South Korea 19, and other countries have eight or less.
Top players:
From the time of Badminton's inclusion in the Olympics, the game and its audience have seen exceptional players and phenomenal matches. However, to rate the best badminton players of all time it is the number of medals and games played that are considered.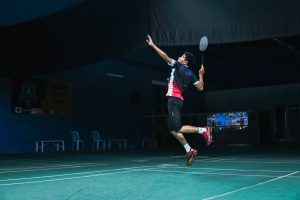 Here are some of the greatest badminton players of all time and their achievements.
Men's Singles:
Lin Dan: 2 Olympic Gold medals, 5 World Championship titles, 4 Asian Championship Golds, 6 Thomas Cup Golds, 5 Sudirman Cup Golds, 2 World Cup Golds, and 6 All England titles.
Lin Chong Wei: 3 Olympic Silver medals, 3 World Championship Silver medals, and 1 World Championship Bronze medal.
Men's Doubles Team:
Cai Yun and Fu Haifeng: 4 World Championship titles, 5 Thomas Cup Golds, 6 Sudirman Cup Golds, a 2008 Olympic Silver medal, 2012 Olympic Gold medal, and 17 Super Series wins including 2 All England titles.
Jung Jae Sung and Lee Yong Dae: Bronze in 2012 London Olympics and 2 World Championship silver medals.
Women's Singles:
Zhang Ning: 2 Olympic Gold medals, 1 World Championship Gold, and 19 big tournament wins.
Wang Yihan: Olympic Silver medal, a World Championship Gold, a World Cup Gold, and 27 Super Series titles
Women's Doubles Team:
Yu Yang and Du Jing: 3 World Championship golds and 41 Super Series titles – including 4 All England titles.
Zhao Yunlei and Tian Qing: Gold 2012 London Olympics.
Mixed Doubles Team:
Zhao Yunlei and Zhang Nan: 2012 London Olympic Gold, 2016 Rio Olympic Bronze, 3 World Championship Golds, and 27 Super Series titles.
Lilyana Natsir and Tontowi Ahmad: 2016 Rio Olympic gold, 2 World Championship titles, and 16 Super Series titles, which include 3 prestigious All England titles.
While these are considered as the legends of Badminton, there are numerous other players who have a progressive trajectory and are considered to be the future of International Badminton. Some of them include KentoMomota, Tai Tzu Ying, Chen Yufei, PV Sindhu, Chen Qingchen and Jia Yifan, and Huang Yaqiong and Zheng Siwei.
Conclusion:
Badminton has seen both roses and thorns in its journey to becoming an Olympic sport. Withthe increasing number of players and competitors around the world, it can be said that badminton will be among the highest played games around the world.
I hope the above information has helped you gain substantial information about badminton and its Olympic journey. If you have queries or suggestions, you can write them in the comments below.