Hey! This site is reader-supported and we earn commissions if you purchase products from retailers after clicking on a link from our site.
Are you looking for a kids tennis racquet for your child? This is the one and only junior tennis racquet guide you'll need to read.
Your choice of tennis racquet is super important to how you play tennis and it's even more important to choose the best junior tennis racquet for kids.
When my parents got me my first tennis racquet, it was wildly too big and too cumbersome for me to swing it properly.
Here are my current top picks for junior tennis racquets in 2019. I've reviewed each of this personally and even tested them out in some of my lessons with younger children.
What Age Should Your Child Start Playing Tennis?
For many parents, it can be a little confusing around the exact age they should introduce tennis to their children. One of the most common questions I get as a instructor is:
Can a 3 year old play tennis?
To parents, I always recommend a minimum age of 4 with the ideal age to introduce children to tennis being 5 to 6.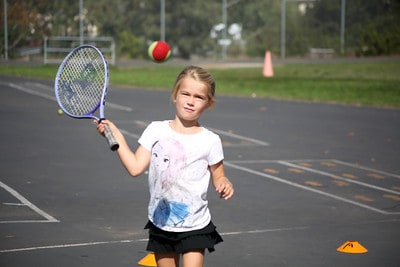 At age 4, most children have good enough motor skills to start learning but they have short attention spans. At this age, you can put a tennis racquet in their hands but most of the time you should just be playing games to improve their hand-eye coordination.
I recommend most children begin playing tennis at age 5 to 6. That's a great age where instructors or parents can introduce tennis in a fun manner.
How to Choose the Right Junior Size Tennis Racquet
If you don't read any other part of this article, read this! The most important aspect of buying a junior tennis racquet is choosing the right size tennis racquet.
Size dictates everything about a tennis racquet. If it's too short, your child won't be able to comfortably extend their arm and they'll find it hard to get the ball over the net. If it's too long, it will be unwieldy, and your child will have trouble even hitting the ball.
If you're looking for a tennis racquet in a store, here's the absolute easiest method to see if a junior tennis racquet will fit your child.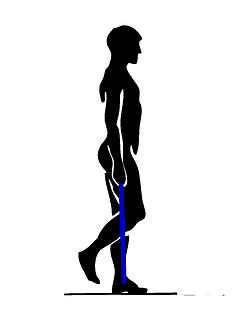 Have your child stand straight up, nice and tall. Place the tennis racquet handle in your kid's hand with the head of the tennis racquet facing towards the ground. Have them extend  their arms by their side. If the head of the tennis racquet is slightly touching the ground or just above, congratulations you're done!
However, if the end of the racquet is not touching the ground, you should probably move up to the next size. Or, if the racquet is too long, move down a size.
Junior Tennis Racquet Size Guide
If you want to buy online and don't have a chance to see the racquet in person first, don't worry! For kids, these follow a standard size guide for junior tennis racquets. Below is a table that shows you the common racquet lengths by age.
| Age | Height | Racquet |
| --- | --- | --- |
| 2 to 4 |   | 19″ Racquet |
| 5 to 6 | Under 3ft 11″ (119cm) | 21″ Racquet |
| 6 to 8 | 3ft 11″ to 4ft 4″ (119cm – 132cm) | 23″ Racquet |
| 8 to 10 | 4ft 4″ to 4ft 8″ (132cm – 142cm) | 25″ Racquet |
| 10 to 12 | 4ft 8″ to 5ft 2 " (142cm – 157cm) | 26″ Racquet |
For more information about choosing the right size for your child, watch this video from USTA:
Talking to Your Child
One thing to remember is that it's important to talk to your child before buying a junior tennis racquet! You should be the one to choose the correct length racquet and size for them, but they should make the final decision.
Do they want the junior tennis racquet with the smiley face on it? Or do they want one which is all yellow which happens to be their favorite color?
If you want your kid to love tennis, it starts with them loving their racquet. And the only way that you can do that is to see what they think of it first.
Best Junior Tennis Racquets
After knowing the correct length for your child and knowing what colors they want(or if they want a smiley face or not), there are still a lot of different rackets out there which are perfect for children.
In my experience as a tennis coach for kids, I've seen good and bad junior tennis racquets. Below are my favorite junior tennis rackets for kids.
Wilson US Open Junior Tennis Racquet
Designed especially for the younger kids who are eager to get onto the court and play, the Wilson US Open Junior Tennis racquet is the perfect starter racquet for kids. It is made out of lightweight aluminum and features a vibrant color scheme that your kids will surely love.
Check Price Now
Primarily, the Wilson US Open Junior racquet is for kids 10 and under and this particular racket is aimed at the beginners just getting on the court.
After buying this junior tennis racquet, I would also highly recommend buying some slower tennis balls specifically for helping your child learn tennis. These come highly recommended because they bounce slower than normal tennis balls. This gives your child more time and helps them use their junior tennis racquet to the best of their ability.
Wilson Burn Junior Tennis Racquet
For the slightly more advanced junior tennis players, the Wilson Junior Burn is a great choice for the best kids tennis racquet that can take a child's tennis ability to the next level. This is the junior version of one of the best selling adult tennis racquets and I promise you, that it performs just as well for kids as the larger version does for adults.
Check Price Now
Kids love the bright orange and red design that their friends can see from afar. And for girls who maybe don't like the color scheme, there's a pink version available just for them. On Amazon, the Wilson Junior Burn racquet is available in 3 different sizes of 19", 21", 25" so be sure to know what size racquet your kid needs before you buy.
The Head Graphene Radical Junior XT  is a 26 inch racket aimed at the 8 or 9 to teenage market. It is a faithful junior version of the adult Radical XT racket which will appeal to kids wanting to use a similar version of an adult racket. HEAD has recently updated this racket to make it better and more suitable for the children's market.
The Radical Junior XT is made from Graphene XT technology which makes it light and comfortable to play with. Whilst not the lightest, it comes in at 8.6 oz which is by no means too heavy or unwieldy for a younger player.  I particularly like the larger head size of 100 inches on this racket  as it makes the ball easier to hit for kids.
As the junior version of an adult racquet, the Head Graphene Radical Junior XT will give your child the same power that some of the pro's have. The main advantage of buying a junior version is that it is perfectly constructed for a younger person's frame.
For kids who have progressed past the beginner stage though, the Head Radical Junior tennis racquet is the next step up. This product offers the perfect mix of maneuvrability and power from the baseline making it a great racket for the junior players looking to progress in their game.
For the slightly older kids(ages 7 – 13), I would highly suggest the highly rated junior tennis racket from Babolat, the Babolat Nadal 26 inch racket.
The frame is made of lightweight aluminium and has the same colour scheme as Rafa's real racket which children will love as they imitate him. It also gives a good amount of power so is ideal for practicing those backhands and forehands with from the baseline.
It's easy to handle as the grip on it is fantastic and sturdy enough to last a good few years until they are ready for the next level up. I think the head size is great for kids too at 105 inches as is the 16 x 19 string pattern because this gives them more area to hit the ball with.
Now this is one cool looking racket that your kids would love to be seen out on court. It has a very striking yellow design that is sure to be a hit with them and make them eager to play more tennis.
The weight of the racket is 8.8 oz so another fairly lightweight racket that they will find easy to use and go through their range of strokes on. The head size is 98 inches which is nice and large for them to connect with the ball on.
It has a 16 x 19 string pattern also which is responsive and balanced when making a shot. The overall feel of the racket is very nice too with it being slightly head light.
Best Junior Tennis Racquets for Kids 4 to 6 Years Old?
For the youngest tennis players among us, I love the Head Novak 21 Inch Junior Tennis Racquet. This junior tennis racquet is lightweight and small making it perfect for children to swing around easily.
This racquet comes strung and can be at your door within 3 days making it cheap, convenient, and easy.
Best Junior Tennis Racquets for Kids 6 to 10 Years Old?
Depending on the height of your child, at this age you will want to go with either a 23″ inch racquet or a 25″ inch racquet. Based on age, most kids 8-10 years old will be fine with a 25″ inch racquet.
At this age and size, I love to recommend the Babolat Nadal Junior. You might have been watching Nadal play in tournaments and now your kid can pretend hes just like Nadal on the court.
Featuring an aluminum frame and Nadal's signature color scheme, you will be able to start your child learning tennis right away.
Best Junior Tennis Racquets for Kids 10+?
Once your children get a little older, it may be time to upgrade them to the junior version of a real tennis racquet. For this, my top recommendation for best junior tennis racquets in 2019 is the new Wilson Clash Junior.
The Wilson Clash made a huge splash when it was released and the junior version is no different. Now, junior tennis players have an option that will give them just as much power as the adult version.
Watch out parents, with this junior tennis racket, your kids may start beating you!
Do You Need Junior Tennis Balls?
Starting out your kids with regular tennis balls is a recipe for disaster. While I go into it a little more in my article on the best tennis balls, here's a quick summary.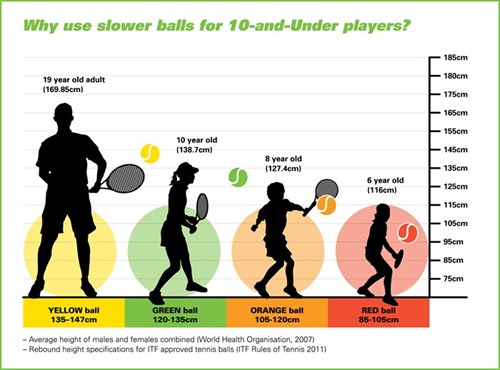 As the graphic above shows, the color of the tennis ball indicates what level it is.
For youngest kids, you should be playing with a red ball – these balls are very soft and move slowly making them easier for kids to hit.
As your children get older, you move towards different tennis balls for children. As your child progresses in tennis, so do the tennis balls. They'll get faster and bounce higher until you're ready to try out the real tennis balls!