Once you start playing tennis and find the best tennis racquet for you, the next step is to find the best tennis balls.

at a glance: our top 5 tennis balls
Knowing the correct tennis balls to use on different court types and in different situations can help any player from a beginner right up to a pro.
Many times it comes down a choice of brand or loyalty to one specific tennis ball type. However, there are certainly situations where you want to choose one tennis ball over another
In this article, we will look at all the things you should consider when looking for the best tennis balls and go over our top picks.
IMAGE
PRODUCT

Editor's Choice

Made with premium materials
Gives consistent bounce
Offers unrivaled durability

VIEW LATEST PRICE →

Best Seller

Official ball of USTA league tennis
Made out of natural rubber
Highly durable

VIEW LATEST PRICE →

Proven in professional level play
Good on indoor, hard and clay courts
Gives a fantastic playing experience

VIEW LATEST PRICE →

Offers a good amount of bounce and spin
Keeps their shape well
Doesn't wear too hard

VIEW LATEST PRICE →

Ideal for juniors or beginners
Made from newly developed 75mm felt
Approved by the United States Tennis Association

VIEW LATEST PRICE →
Tennis Balls by Skill Level
As you would expect in tennis, there are different levels of players prefer different types of tennis balls. This becomes most obvious at the professional level where players won't even play without the correct tennis ball.
What Tennis Balls do Professionals Play With?
Absolutely critical when you reach the highest level of the sport, professionals are fully aware of how the ball they use affects their chances of winning.
Victory at the top level often lies in the smallest margins and these players know they need every advantage they can get. Professional level balls are designed to give players this advantage.
Professionals tend to play with tennis balls like the Penn ATP (used by the World Tour) ,Wilson Regular Duty (used at the US Open), and  Dunlop Premium Extra Duty (official tennis ball of the ATP World Tour)
Professional level balls traditionally last longer and are more hard wearing. They also operate better at different altitudes and offer excellent consistency with playability.
Intermediate Level Tennis Balls
While still offering great quality, these balls are aimed at the regular, experienced player who is not actually a professional. As such, they still offer a great playing experience but at not the quite the same level as the professional balls.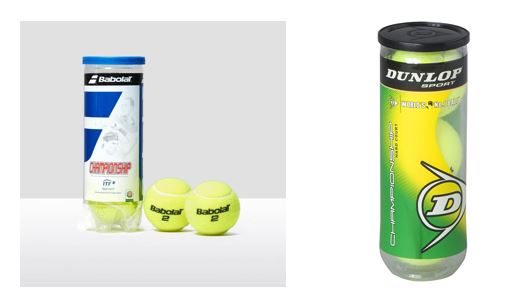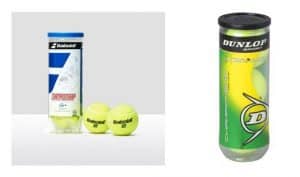 They won't be as durable or last as long as professional balls but are fine if you are a casual but enthusiastic player who likes to get out on court a few times a week. Some great examples of good intermediate tennis balls are the Babolat Championship or Dunlop Absorber.
99% of tennis will typically choose tennis balls in this category. This is where the vast majority of tennis balls reside.
Tennis Balls for Beginners
These balls are perfect for the new player to the game who will appreciate the cheaper price and average durability they offer.
These tennis balls are designed specifically for beginners which mean that they bounce slower making them easier to hit.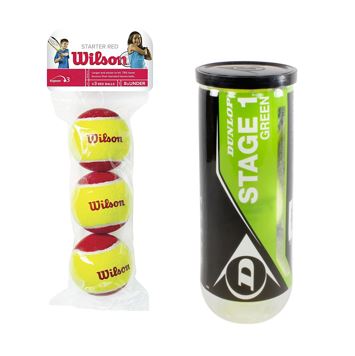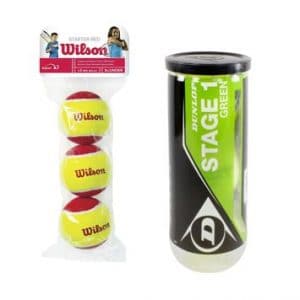 Beginner tennis balls are best used when first starting out with tennis. Using these balls makes it easier for you to learn tennis and get a base level of tennis skill quickly.
Tennis balls for beginners aren't designed to be played with forever. They are supposed to be used to help you progress towards intermediate level tennis balls.
Tennis balls in this category are good to start out and play with a couple of months but may be unneccesary if you're an adult just starting to play tennis or a child who learns the game quickly.
Top 5 Best Tennis Balls Overall: Our Picks
Penn ATP balls are the number one choice for professionals and major tournaments in the sport. They offer unrivaled durability to other brands and last longer throughout play.
Penn ATP tennis balls are made premium materials including technical grade rubber core and outer smart optic felt fabric. They give consistent bounce and amazing playability which makes them a top tennis ball to use during play.
Surprisingly, these high grade materials and craftsmanship don't come at a high price! A combination of all construction, playability, and price put these Penn ATP on the top of the list of best tennis balls overall.
These balls are similar to the Penn ATP ones in that they are professional grade balls. Used in the US open since 1978, the Wilson Regular Duty's have been proved in professional level play for decades now.
Offering optimal performance, they are particularly good on indoor, hard and clay courts. They give a fantastic playing experience and come beautifully onto the racquet when you are playing your shots.
Coming at around the same price of Penn ATP balls, the difference between the two is merely a matter of brand preference. Do you play with a Wilson racquet or a Wilson tennis bag? Then play with these Wilson Regular Duty tennis balls.
The Dunlop Premium Extra Duty tennis balls are the official ball of the ATP World Tour and used by pro tennis players around the world. This Dunlop tennis ball features an HD Pro Core and engineered extra duty felt to ensure consistency throughout play.
The Dunlop Premium tennis balls are specifically engineered for hard court play and are known for their durability through long sets and matches.
Coming in at just under $10 , these balls from Babalot are a great buy.  As an intermediate tennis ball, they are good quality and each tennis ball will last well in play. Babolat is a respected company in tennis and these balls show why.
Offering a good amount of bounce and spin, these are very nice to play with and offer a smooth step up from beginner level. They keep their shape well and don't wear too hard or fast which is a bonus.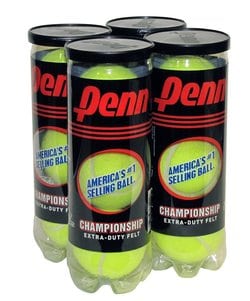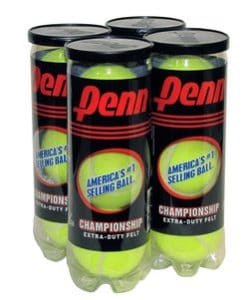 One of the best selling tennis balls in the nation, these Penn Championship Extra Duty balls are found on tennis courts everywhere for good reason. These tennis balls are the official ball of USTA league tennis which is the national organization dedicated to organizing tennis games and tournaments.
These Penn Championship balls are made out of natural rubber for consistent feel on the court. This gives you the perfect bounce every time. These championship tennis balls are also highly durable and will last you a long time with their interlocked wool fiber.
Now, the Penn Championship tennis balls are used around the nation by some of the most popular tennis organizations that exist today. I use these constantly whenever I play or practice. Because of their high quality, the Penn Championship tennis balls easily make the list of best tennis balls.
Take Into Account Court Type
A key factor to take into account when choosing what balls to use is how the court surface you will be playing on affects them. All four main surfaces offer something different in this respect so it's important to know about it beforehand to avoid any surprises.
Best Tennis Balls for Hard Courts
Did you know that, despite the name, hard tennis courts are not the hardest surface tennis is played on? The hardest tennis court are actually clay courts. Hard courts do typically wear down tennis balls quicker though which means picking the best tennis balls for hard courts is very important.
On hard courts, tennis balls tend to  bounce higher and faster because of the density of the material used for construction. The ball rebounds quickly off the harder surface compared to grass or clay meaning you need to be prepared.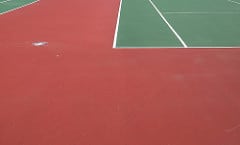 The best tennis balls for hard courts are tennis balls that can handle the hard surface and deliver a predictable bounce constantly. You also want durable balls that will last you a while.
One tennis ball that I highly recommend for use on hard tennis courts is the Wilson Professional Tennis Ball or otherwise known as Wilson Extra Duty Tennis Balls.
Note: Extra duty refers to the extra felt on these tennis balls which drastically improves the durability of each ball.
Extra Duty tennis balls are great for hard courts because this extra felt helps protect each ball and keep them from going flat for longer.
However, be careful of using Wilson Extra Duty balls on clay courts. The extra felt will pick up excess dirt from the clay which will make it heavier than it should be.
The Wilson Extra Duty balls were designed specifically to ensure the best performance on hard courts and they're used on USTA hard court tournaments everywhere(like the US Open).
These tennis balls are definitely the best option for hard courts.
Best Tennis Balls for Clay Courts
Clay courts are most commonly found in Europe and South America. This type of court typically has a soft surface which helps ease the stress on the knees and hips of players.
Personally though, the amount of sliding that happens on clay courts means I don't prefer to play on them. Most players need to adjust their playing style significantly in order to consistently succeed on clay courts.
Because of the soft surface and fragment of clay/dirt on the surface, tennis balls on clay courts can have an unpredictable bounce. In professional tournaments such as the French Open, many a player has been caught out by an unusual or unexpected bounce when lining up a shot. This makes choosing the best tennis balls for clay courts even more important.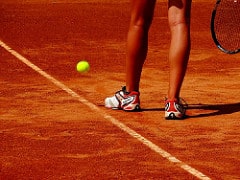 The major characteristic that governs how well tennis balls do on clay is the amount of felt they have. If they have a lot of felt, such as extra duty tennis balls, the felt tends to pick up dirt from the court surface making the ball heavier and behave erratically.
Less felt is always better for clay courts. Because these tennis balls have fewer layers, they tend to pick up less dirt, bounce higher, and behave predictably.
My favorite best tennis balls for clay courts are the Penn Championship Regular Duty Tennis Balls. These tennis balls have it all when it comes to clay courts.
They are made out of natural rubber, have interlocked wool fibers to increase their lifespan, and most importantly….. they're cheap.
We're not trying to break the bank on tennis balls after all. And you don't have to. These Penn Championship balls excel on clay courts.
Best Tennis Balls for Grass Courts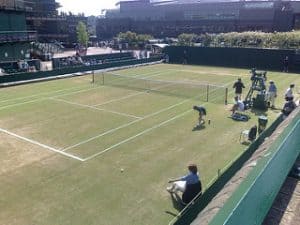 Used most famously at Wimbledon, grass courts are still in use today although they are becoming rarer because of the upkeep.
If you've never played on a grass surface(don't be ashamed, it took me 3 years before I got a chance) it's something of an unusual surface to get used to.
The key characteristic of grass courts is the lower bounce of tennis balls due to the soft surface. Consequently, when playing on a grass surface it can get tiring playing on the baseline all day. To alleviate this, the serve and volley is a very popular gameplan on grass courts to take advantage of the low bounce.
Grass courts are one of the most important surfaces to get a good tennis ball for. Grass courts already result in a lower bounce so if you go out there with some dead tennis balls, don't expect to have a good time! The good news for you is that the top tennis equipment manufacturers have come up with tennis balls especially for grass courts.
Personally, I prefer Wilson's Grass Court Yellow Tennis Balls for 2 main reasons.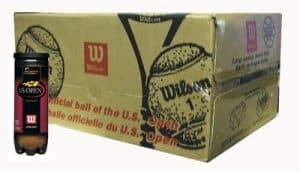 Wilson's Grass Court Tennis Balls are coated with a special felt from Tex Tech Industries. This felt delivers a consistent bounce and feel every time you hit the ball.
Pressureless Tennis Balls
Tennis has always been played with a ball and a racquet. And while racquet technology has rapidly advanced(compare a 1970's racquet to the Head Ti S6, it's amazing), the top tennis balls really haven't.
There is one main offshoot from the typical tennis ball though: a pressureless tennis ball. Let's go into them a little.
A typically tennis ball is constructed out of a two piece rubber shell which is then filled with a pressurized gas. Ever hear that whishhhhh when you open a new can of balls?
Each can of new tennis balls is actually pressurized at the same level of the pressure inside of each tennis ball in order to keep them fresh.
Pressureless tennis balls do away with the gas and instead have a solid rubber core instead of each tennis ball. The way they are designed makes them heavier than pressurised balls but this leads to a longer lifespan also.
Pressureless Tennis Balls vs Pressurized
The differences in the core makes a big difference in how each type of tennis ball feels out on the court.
Initially, pressureless balls have a lower bounce than their pressurised counterparts but this improves over time as the fabric wears down a little. The important characteristic to consider however, is the weight.
A heavier tennis ball means more force when it hits your racquet. And heavier forces on your tennis racquet can lead to increased injury. I would not recommend pressureless tennis balls to anybody who is suffering from tennis elbow(if you are suffering, see our tennis elbow guide for solutions).
Regular tennis balls on the other hand can feel more lively right out of the can. Because they have a hollow core and are lighter, regular tennis ball also allow players to generate more spin and speed on the balls.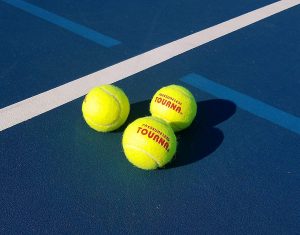 Regular tennis balls are used in every gameplay situation from your local racquet club all the way to the Open Championship tennis tournaments.
The best use for pressureless tennis balls is as practice balls. If you want to save some money and are tired of constantly replacing dead tennis balls, pressureless could be a good choice.
I must say though, it's important to mix it up and use regular tennis balls once a while also. Because once you start playing competitively, that's what you'll be using.
Best Tennis Balls for Kids
Let's face it, learning to play tennis can be hard. As kids, often the tennis ball simply moves too fast so you don't have time to hit it. This can be immensely frustrating for beginners.
Luckily, other people have experienced this same frustration and come up with tennis balls for kids! These are the perfect complement to a good junior tennis racquet.
These tennis balls typically bounce slower to give you more time to hit the ball. Perfect for kids and beginners everywhere, these best tennis balls for kids will get you playing tennis at a high level in no time.
It's important to note that the tennis balls for kids shown below are supposed to be used as an beginner step. As soon as you're ready, move up to a regular tennis ball so that you can get used to the bounce and feel of "real" tennis balls.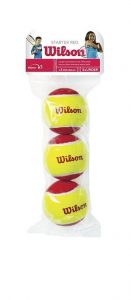 As the name suggests, these balls from Wilson are the ideal ones for junior or new players to the game. Large in size and 75% slower than normal balls, they are easy to hit and see when coming over the net towards you.
Made from newly developed 75mm felt, the balls themselves are low compression which gives them the slower pace and feel.
Approved by the United States Tennis Association, they will be great for kids and give them confidence to build rallies on court.
They also look brilliant with a vivid design and Wilson logo on them so it still feels like a real ball. At under $5, you can't go wrong with this amazing product from Wilson.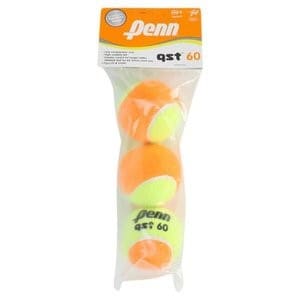 At around $6 for a pack, these tennis balls for kids offer the great value you would expect from beginner tennis balls.
The bright colours make it easy to see the ball when it's flying over the net leading to the tennis ball being easier to hit.
Penn is one of the big names in tennis ball manufacturing leading to the promise of support from a national brand behind these balls.
The low compression core of the Penn Quickstart makes it easy for inexperienced or junior players to build up rallies and hit the ball when it's returned. These kids tennis balls also offer good control so the ball stays on court and isn't flying off everywhere.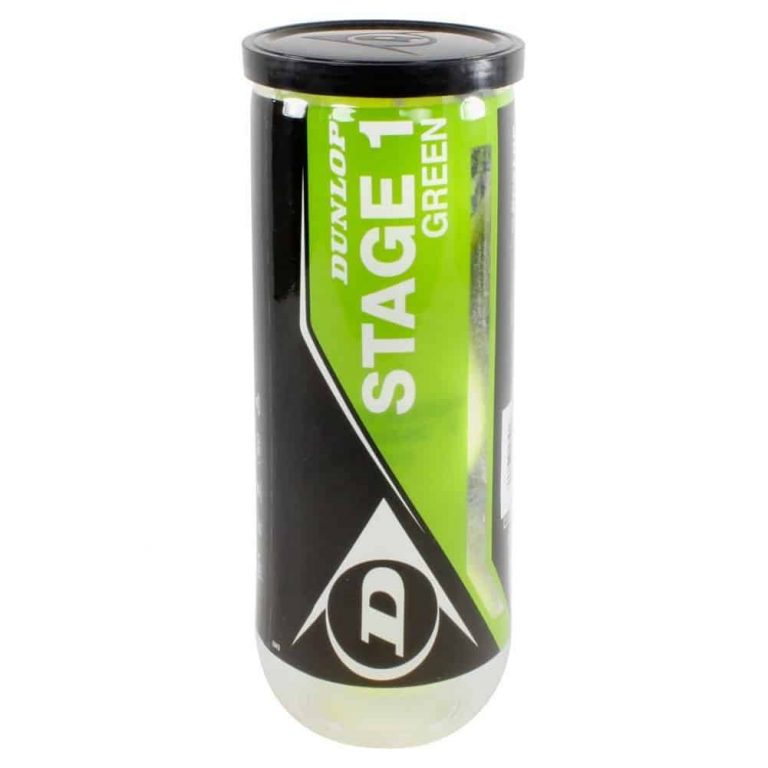 Designed to play with on a full size court, these balls from Dunlop do all you would expect from an entry level ball.
They are a good price at around $5 and are low compression which means they move slower than higher level balls.
The Dunlop Stage 1's are great tennis balls for kids based on their ability to help beginners develop skill and confidence in their tennis game.  If you are new to the game then these would be an ideal ball to use as you start off.
Well-made, they offer the quality and excellence you would expect from Dunlop.
Although it may not be the first thing you would consider when buying tennis equipment, the right sort of ball is crucial.
It is important to pick the correct ones for the level you are at to help you develop your game and progress. Choosing the right balls will also give you a competitive edge to help you win!