Hey! This site is reader-supported and we earn commissions if you purchase products from retailers after clicking on a link from our site.
Pickleball is a lesser known racket sport but not without its dedicated fan base.
Pickleball had its humble beginnings in 1965 when two dads were bored whilst away with family and improvised with what was available.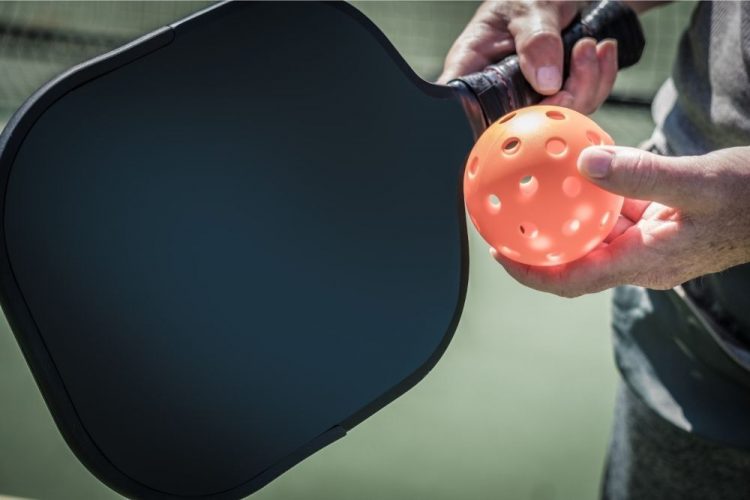 A badminton court, table tennis bat and a wiffle ball were used, resulting in a brand new game invention now known as Pickleball. But you know that already right?
Dedicated followers of the sport well know the importance of spinning a Pickleball. Extreme spin on the ball will make it very difficult for an opponent to predict and return the ball, leading to a missed shot.
However, as players become more proficient at the game they will have the ability to spot a spinning ball and take appropriate action. 
Pickleball can be played to create topspin or backspin, which basically means the ball rotates backwards or forwards when spinning through the air.
When a player hits the ball to create different spins it changes the way the ball bounces when it reaches the other side.
There are various shots that can be played to keep opponents on their toes but what else can support you to play sophisticated shots that'll keep your opponent guessing? You've got it! The right paddle for spin! 
If you're struggling to perfect those spinning shots and you can't quite get the ball to 'play ball' [excuse the pun] you may need to invest in a super duper new paddle that is designed to give you the best chance of technical shots and controlled spins. Let's have a look at 10 paddles that will be a great addition to your Pickleball journey.
Ticci Paddle USAPA approved
Selkirk Amped Paddle
Onix Graphite Z5 Graphite Fiber Paddle with Cushion Comfort Grip
SLK Atlas Paddle
Pro-Lite Prolite Supernova Black Diamond Paddle
TICCI Pickleball Paddle Set 2 Premium USAPA Approved...
Selkirk Amped Pickleball Paddle | Fiberglass Pickleball...
Onix Z5 Graphite Pickleball Paddle (Red) with Cushion Grip...
SLK Atlas Pickleball Paddle | Graphite Pickleball Paddle...
Prolite Supernova Black Diamond Pickleball Paddle (Amethist,...
Selkirk Amped Paddle
Selkirk Amped Pickleball Paddle | Fiberglass Pickleball...
Onix Graphite Z5 Graphite Fiber Paddle with Cushion Comfort Grip
Onix Z5 Graphite Pickleball Paddle (Red) with Cushion Grip...
SLK Atlas Paddle
SLK Atlas Pickleball Paddle | Graphite Pickleball Paddle...
Pro-Lite Prolite Supernova Black Diamond Paddle
Prolite Supernova Black Diamond Pickleball Paddle (Amethist,...
Last update on 2023-09-14 / Affiliate links / Images from Amazon Product Advertising API
Best Pickleball Paddle For Spin
The Ticci paddle is USAPA [approved Pickleball paddles]. The paddle has a fibreglass face and feels firm but lightweight. One great advantage of fibreglass material is it generates the energy needed to play spin shots whilst being lightweight and durable. It has good grip and is easily absorbent. 
Along with the fibreglass this paddle is also made up of polypropylene and a honeycomb structure making it soft but powerful; the best combo in a paddle. 
The Ticci paddle is a preferred brand by many and is ideal for beginners or more proficient players alike. If players suffer any wrist issues then this paddle is lightweight enough to decrease stress, reducing the risk of further injury. It's comfortable for playing for a  long time .Reviews are good, making this paddle a great choice. 
Pros
Lightweight
Durable 
Comfort
Cons  
Less control for experienced players
TICCI Pickleball Paddle Set 2 Premium USAPA Approved...
【USAPA Approved Pickleball Paddles】TICCI pickleball paddle set has passed USAPA certification...
【Premium Fiberglass Face】The paddle face is made of premium fiberglass, good stiffness and...
【Premium Grade Durable Polymer Honeycomb Core】The premium grade interior polymer honeycomb core...
【Comfortable Ergonomic Grip】Ergonomic grip makes the pickleball paddle easy and comfortable to...
Last update on 2023-09-14 / Affiliate links / Images from Amazon Product Advertising API
Selkirk is the leading brand when it comes to Paddles. Made in the US they have a great selection of paddles for all levels of Pickleball players.
Like the others, The Selkirk paddle has a Fibreglass face but not just any fibreglass. The Selkirk boasts the new fiberflex with a new hard wearing material providing great grip.
The polished surface is able to create beautiful ball spin as well as deal with a spinning ball from your opponent with precision. The popular honeycomb construction helps players maintain maximum speed at all times.
The Selkirk handle is longer than other paddles which helps control the ball and facilitates the two handed swing smoothly.
The biggest advantage of the Selkirk amped paddle is the perfect combination of control and power. You do not need to sacrifice one for the other and Selkirk has everything you need for a winning, ball spinning streak at Pickleball.
Pros
Hard Wearing material
Improved control 
Power
Cons
Short handle [tricky for larger hands]
Selkirk Amped Pickleball Paddle | Fiberglass Pickleball...
【 HANDCRAFTED IN THE USA 】 More than the premier Pickleball brand – we are Pickleball. Every...
【 FIBERGLASS PICKLEBALL PADDLE 】 Pioneering an entirely new technology, never before seen in the...
【 X5 HONEYCOMB CORE 】 Built for consistent speed using advanced polypropylene honeycomb...
【 USAPA APPROVED 】 All Selkirk Pickleball paddles are Tested and Approved by the United States...
Last update on 2023-09-14 / Affiliate links / Images from Amazon Product Advertising API
Although most Pickleball Paddles are  comfy to hold, some have been especially designed with comfort in mind. This is true of the Onix Graphite Z5. It's the most used paddle in the Onix brand and is useful for those that need to protect the wrist area. 
It's true to say that there are newer designs with unique shapes and attributes but many players prefer to stick with the simple design of this paddle. It's easier to play with for novice players due to the large hitting area and the heavier weight means that the paddle can generate most of the power.
For beginners,  it's a good paddle to learn how to put spin on the ball as the paddle has a larger hitting area. 
Pros
Comfort 
Large hitting area 
Protective cover 
Cons
Older design 
Heavier than other paddles
Sale
Onix Z5 Graphite Pickleball Paddle (Red) with Cushion Grip...
Dimensions: Paddle length - 15 1/2" | Paddle width - 8 1/8" | Handle length - 5" | Grip...
Composition: Textured Graphite playing surface, Nomex Aramid fiber honeycomb core. Rigid core and...
A True Classic: The Onix Z5 Graphite - the most popular paddle in the Onix Pickleball line for...
Widebody Shape - Classic pickleball paddle shape with large sweet spot. Great for all around play...
Last update on 2023-09-14 / Affiliate links / Images from Amazon Product Advertising API
The SLK is a wide paddle with a soft feel. The large area of 8-¼ inches  means it's easier for players to hit the sweet spot, making it a great paddle for beginners. The long handle makes it easier to control,  and improves grip. 
The mix of strength and precision in this paddle means that it's easy to help improve technique and to practice improving the skill of ball spinning using the paddle to generate power. 
Pros
Soft
Larger sweet spot 
Easy grip 
Control and power
Cons 
Large surface area [could be frustrating for strong players]
Sale
SLK Atlas Pickleball Paddle | Graphite Pickleball Paddle...
【 G5 CONTROL GRAPHITE FACE 】 Built to deliver ultimate control, our SLK Atlas delivers a soft,...
【 POLYMER REV-CORE+ 】 Reliable and proven technology paired with a large sweet spot for constant...
【 LIGHTWEIGHT PICKLEBALL PADDLES 】 Only 7.5OZ for each paddle, these pickleball racquets are...
【 ULTRA CUSHION GRIP 】 Combined with 4.25" grip circumference and 5.25" length. SLK Pickleball...
Last update on 2023-09-14 / Affiliate links / Images from Amazon Product Advertising API
The Prolite Supernova is a little gem of a paddle. Slightly heavier than most paddles with a longer handle, it's perfect for power hitting and ball spinning.
The longer handle enables players to play technical backhand shots and is able to grab balls to add appropriate top or back spin. The Supernova isn't dissimilar to a tennis racket and is extremely consistent,  as well as versatile. 
The Supernova is designed for high end and professional players who want to perfect their game. The paddles are aerodynamic and designed for those players who want to increase speed on court and increase reaction times. 
The solid feel makes it feel secure and can play consistent groundstrokes and spins whilst being proficient in blocking opponent shots. 
Pros 
Long handle 
Aerodynamic 
Solid 
Cons
Long handled and heavy [could be difficult for newer players]
Last update on 2023-09-14 / Affiliate links / Images from Amazon Product Advertising API
The Engage Encore is a unique paddle designed specifically for control and spin. Engage is a top brand in Pickleball paddles and the Engage has been developed with a 'specialized skin' to increase performance.
The roughness of the paddle surface enables the ball to stay in contact longer, allowing more time to accurately calculate the next shot. The increased control has enabled players to have a higher quality game and, most impressively, a higher level of technical spin shots. 
The extra weight of this paddle allows it to sit comfortably in the hands, provides more power, and reduces topspin allowing enhanced accuracy on all shots played. A definite favourite for advanced players.
The paddle has a simplistic design and comes in four shades. Great if you want to add some color to your game. 
Pros
Specialised skin 
Textured surface 
Increased performance 
Different colours available 
Cons
Slightly different feel than most paddles,[ might take a while to get used to]
Last update on 2023-09-14 / Affiliate links / Images from Amazon Product Advertising API
The Prolite Crush is the Rolls Royce of spin paddles. The hitting surface has been designed using a process called SpinTac which changes saturation levels to create a tacky textured surface. This allows you to hit the ball extra hard and increase the ball rotation and spin.
The smaller grip size allows flexibility and increases hand speed. It is a fantastic choice for those who want to play competitively and consistently win games. 
Pros
New SpinTac technology 
Increased flexibility 
Great for spin 
Cons
Crush PowerSpin Pickleball Paddle - Sunrise Model
Core: 13 mm Polypropylene Honeycomb
Facing: Fiberglass with SpinTac Print Surface Technology
Length: 15 1/2" | Width: 7 7/8" | Weight: 7.6-8.2 oz.
Grip Circumference: 4 1/8" Length: 5 1/4" | PROLITE SofTac 32 Cushion Grip
Last update on 2023-09-14 / Affiliate links / Images from Amazon Product Advertising API
The Selkirk S2 has a shorter handle size allowing for a larger paddle face. It's an ideal paddle for those with smaller hand size but may need getting used to if your hands are on the large size. The paddle is designed for professional players but can equally be enjoyed by non-professional strong players. 
The Selkirk comes equipped with the wonderful FiberFlex face which was specifically designed to control spin. This elongated model helps extend reach, minimising misshits and enables a player to apply spin  swiftly and accurately. 
Pros
Short handle
FiberFlex face 
Increased spin 
Cons
Shorter handle tricky for larger hands
Last update on 2023-09-14 / Affiliate links / Images from Amazon Product Advertising API
The Head brand Gravity series was many years in development. The modern technologies used have created a hybrid option that offers the largest sweet spot of all Head's Pickleball paddles.
The new shaped paddle offers immense rebound energy for the ball, allowing for powerful impact whilst retaining a comfortable softness. It also incorporates Extreme 3D Spin technology for the all-important spin on the ball. A great choice for power players. 
Pros
Hybrid/large sweet spot 
Power
3D spin technology 
Cons 
Fast [not suitable for new players] 
Slightly less durable than most
HEAD Graphite Pickleball Paddle - Gravity Lite Paddle with...
HEAD PERFORMANCE: Born out of revolutionizing how we ski and play tennis, HEAD has constantly pushed...
THE GRAPHITE ADVANTAGE: The lightweight carbon pickleball paddles feature HEAD's Graphite hitting...
TEXTURED: Extreme Spin Texture on the face of the paddle offers better grip on the ball for...
DESIGNED FOR PROS: This graphite paddle takes advantage of HEAD's most advanced tech. The Hybrid...
Last update on 2023-09-14 / Affiliate links / Images from Amazon Product Advertising API
The Paddletek Bantam is a high performance paddle. It's medium weight and has reduced vibrations for ultimate power and technical shots. It's a great choice for spin control and speedy returns due to its textured velvet surface. It also comes in a selection of colors to add a touch of sass to your game. 
Pros
Medium weight
Good for improving technique
Velvety surface 
Different colors
Cons 
Powerful [not suitable for those with injuries]
Paddletek Bantam EX-L Pickleball Paddle | Aurora Purple
DURABLE HONEYCOMB CORE: High-grade polymer composite honeycomb of Bantam EX-L pickleball racket...
AMPLE SWEET SPOT: The high-grade Bantam PolyCore provides this pickle ball paddle with an ample...
ULTRA-CUSHION HIGH-TACK PERFORMANCE GRIP: The Paddletek Bantam EX-L pickle ball paddles feature an...
LIGHTWEIGHT DESIGN: This pickle ball racket is designed to provide an optimal weight balance,...
Last update on 2023-09-14 / Affiliate links / Images from Amazon Product Advertising API
Buyer's guide 
If all the above information has confused you beyond belief and you're overwhelmed with the choices, do not fear! Here's a little guide to help you decide which Pickleball paddle is right for you. 
Weight
Most Pickleball experts would agree that choosing the right weight paddle is crucial for gameplay performance. But every player will have their own preference, so it's good to try out paddles before you buy them. If you're ordering online you could consider purchasing several paddles to identify  what weight  feels the most comfortable. 
Generally, lightweight paddles weigh under 7.3 oz and help with ball control. They are ideal for beginners and those that suffer with arm or elbow problems and those suffering with joint issues such as arthritis.
The downside is that a player needs a much stronger swing to achieve the same results as a heavier one. It's also a bit more difficult to hit harder and longer shots, however, if you play more tactically a lighter paddle is a good choice. 
If you don't suffer with injuries or joint problems then once you become better at the game you may want to move onto a mid weight paddle. They usually weigh around 7.3-8.5 oz and are a good option for improving technique and steadily increasing power.
They are also good for creating spin and If you consistently play powerful shots then the mid weight is a good way to prepare you for the heavier paddles. 
The heaviest paddles weigh in at 8.5 oz and over and typically provide more power and less effort to hit the ball. If you play other racquet sports such as badminton, chances are you'll play powerful shots naturally, so use a heavier paddle to utilise existing skills. 
It can be hard to predict what type of player you will be but as a rule of thumb if you play hard and powerful, go for the heavy paddle and for more controlled and technical play use a lightweight. If you're still not sure, go for midweight until you establish some consistency in your playing style. 
Grip size
Grip size is important for comfort as well as for correct wrist action during gameplay. Your specific hand size is relevant because playing with a grip that is the wrong size can cause stress, tension and possibly injury. 
Different grips will allow you to apply certain techniques so establishing your style of play early on is important. If you choose a small grip your wrist is free to work its magic and it makes it easier to play a ball spin as well as helping control the ball.
The ability to move the wrist more freely also allows you to serve with extra power. When it comes to effective topspin you need a solid forehand grip so the right size is essential to achieve this. 
A large grip, on the other hand, will save putting too much strain on the wrist and other joints. It will also help stabilize your stroke but only if it isn't too big for your hand. It's crucial to measure your paddle so you don't inadvertently choose one that isn't' suitable.
If you struggle to find the right size grip there is the option to increase grip size by adding an overgrip, so if in doubt always go smaller not larger as it's impossible to decrease grip size. 
To find the right size grip there are various options for measuring. Search online to find the best way to measure or talk to an expert if purchasing at a shop. They will be able to advise you. 
Material 
Once you've identified what weight and grip you need,now is time to decide what material you want for your paddle. 
Wood has traditionally been used to make paddles and is the cheapest and heaviest around. When starting out it is a good choice and it gives players a chance to find out if they like the sport and want to continue without investing too much money.
However, once you are concentrating on technique and attempting to perfect the all important ball spin, you should move on the revolutionary materials as they are higher quality and achieve much better gameplay. 
Most top level Pickleball players will use a composite paddle which is constructed with a composite core along with a fibreglass face.
These paddles are the preferred choice for the elusive spin as it is easier to achieve with the textured surface. So, if you're concerned with improving the technical part of your play, always choose a composite paddle. 
Perhaps the best selling paddles in recent years is the graphite material. As mentioned in the product review, these paddles are made up of an aluminum or honeycomb core which offer a lightweight feel combined with a strong internal structure.
They're great for learning control and flexibility as well as providing plenty of opportunities to perfect the art of the spin. They also boast a quiet touch which is great to alleviate the noisy nature of a Pickleball game. 
Frequently asked questions
How do you achieve a spin in Pickleball?
When attempting a spin in Pickleball you should use the continental grip [the most common grip in PB] and move the hand from low to high with an open paddle. The contact creates most of the spin.
It's important not to try and create the spin as it should be a natural transition from a shot. Anything that is forced, is likely to be over thought and orchestrated resulting in the ball being hit too high giving the opponent an advantage. 
The controlled spin is the ideal shot and by mastering the basics the spin should happen naturally. An inexperienced player should concentrate on learning the basics and building up their technique gradually.
Mastering the art of the 'slice' shot is fundamental in learning how to return a serve and will automatically put a backspin on the ball. What exactly is a slice? 
Simply put, a slice is a swing that imparts a spin on the ball. It can be forehand or backhand. The reason this is a great return for a serve is that the ball will stay in the air longer and go further,  meaning  the opponent will head backwards.
This then gives the first player more time to get to the kitchen and be in the best position for continued play. 
Playing a slice that results in a back swing also means it's harder for the opponent to return. A spinning ball is unpredictable, placing your opponent on the back foot [as it were]
Conclusion
So, hopefully you now have an idea of what to look for in a Pickleball paddle and the best ones for ball spin. You have an idea on what materials to choose and are able to identify the right grip for you. 
You should also have an idea on how to achieve the spin on the ball. It certainly is a challenging skill to learn, but with the right amount of practice and bags of enthusiasm you'll be ruling the Pickleball court in no time.