Hey! This site is reader-supported and we earn commissions if you purchase products from retailers after clicking on a link from our site.
Pickleball is currently the fastest-growing sport in the United States; but did you know the history of pickleball, and that the game is over half a century old? Believe it or not, pickleball was invented way back in 1965 and took a little while to take off.
But when it did, its evolution took the country by storm. So, how did this uniquely named sport come about? Let's take a look and dive into the history of pickleball.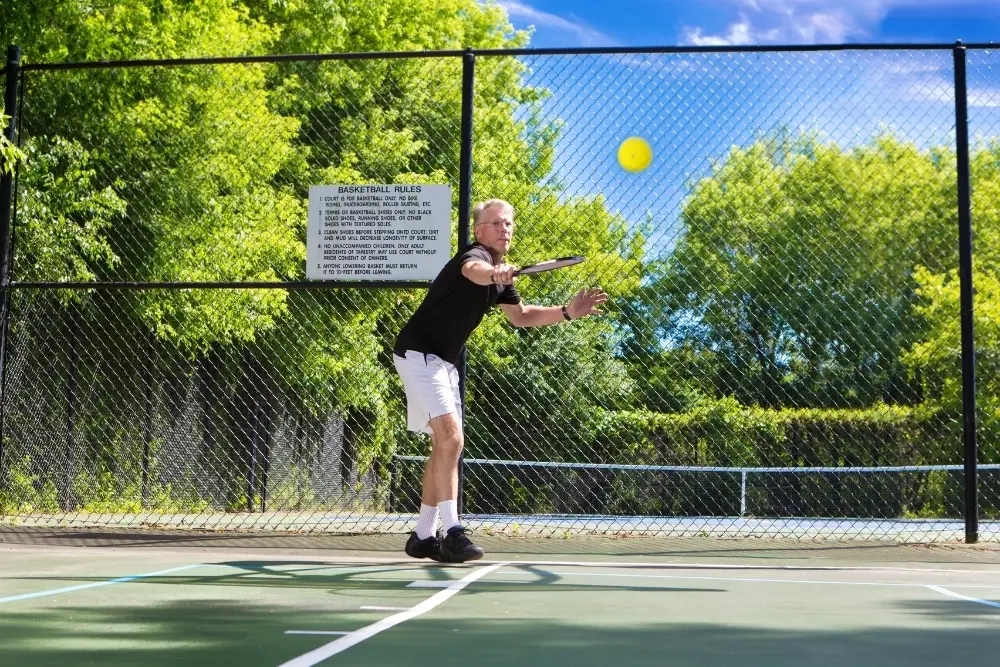 Who Invented Pickleball?
The pickleball story begins in 1965 – Joel Pritchard, a congressman from Washington State, and Bill Bell, a successful businessman, came back home to Pritchard's residence on Bainbridge Island, WA (near Seattle) after playing golf one Saturday during the summer to find their families bored.
Because the home featured an antique badminton court, Joel Pritchard and Bell searched for badminton equipment but were unable to locate a complete set of rackets. They came up with a game using ping-pong paddles and a perforated plastic ball. They initially volleyed the ball over the net, which was set at a badminton height of 60 inches.
The players discovered that the ball bounced well on the asphalt surface as the weekend progressed, and the net was soon lowered to 36 inches. At Joel Pritchard's house the next weekend, Barney McCallum was introduced to the game.
Soon after, the three guys devised regulations based primarily on badminton. They remembered the initial goal, which was to create a game that the entire family could enjoy.
How Pickleball Evolved
By 1967, Joel Pritchard's friend and neighbor Bob O'Brian had built the first permanent pickleball court in his backyard. In 1972, a corporation was established to protect the sport, and the National Observer published the first article about pickleball in 1975. In 1976, Tennis magazine published an article about America's newest racquet sport.
To learn more about pickleball courts sizes and more, visit our guide!
The first known event was held at Southcenter Athletic Club in Tukwila, Washington, in spring 1976. Steve Paronto of Team ONIX finished second, and David Lester of Team ONIX won Men's Singles. Because this was such a new sport and the players understood so little about it, they practiced with huge wood paddles and a wiffle ball at the time of the tournament.
Pickleball was featured in a book called The Other Racquet Sports, which was published in 1978. Sid Williams began playing and organizing events in Washington four years later.
The United States Amateur Pickleball Association, which was dedicated to the sport's growth and advancement, produced the first pickleball rulebook in 1984. From 1984 through 1998, Sid Williams was the organization's first executive director and president. He was followed by Frank Candelario until 2004.
The first composite pickleball paddle was invented by Steve Paranto's father, Arlen Paronto, a Boeing Industrial Engineer. Arlen employed the same fiberglass and Nomex honeycomb panels for his flooring and the structural system as commercial airplanes. Until he sold the company to Frank Candelario, Arlen created 1,000 paddles out of this fiberglass/honeycomb core and graphite/honeycomb core.
Pickleball was played in all 50 states by 1990. Pickle-Ball, Inc. began producing pickle balls in-house using a bespoke drilling machine two years later. Pickleball Stuff, the first-ever pickleball website, was founded in 1999.
Pickleball was first presented in the Arizona Senior Olympics in 2001, attracting 100 participants, making it the largest event ever played at the time. Later on, events would increase to about 300 participants. Pickleball Stuff had compiled a list of 39 known venues to play in North America by 2003: ten states, three Canadian provinces, and 150 individual courts.
The USA Pickleball Association was founded in 2005. The USAPA Rules Committee published an official rulebook three years later. For the first time, pickleball was included in the National Senior Games Association. Pickleball received its first major media exposure when it was featured on Good Morning America in a live segment.
In November 2009, the first USAPA National Tournament drew over 400 players from 26 states and three Canadian regions. Pickleball has grown in popularity and growth since then, with millions of people from all walks of life participating in tournaments all over the world.
Pickleball is one of the fastest-growing sports in the United States, with over 3.3 million participants, according to the USAPA, which has over 40,000 members.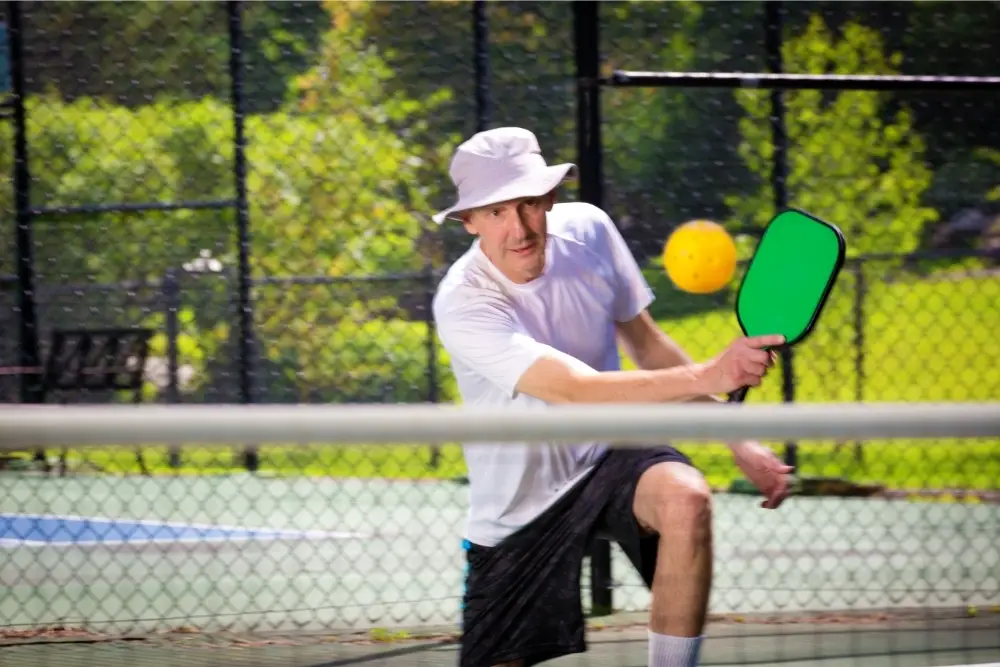 Why Is It Called Pickleball?
The origins of the name vary across different accounts, according to the United States of America Pickleball Association. Joan Pritchard, Joel Pritchard's wife, coined the term "pickleball" to describe their sport because "the combination of several sports reminded me of the pickle boat in crew where oarsmen were chosen from the scraps of other boats." 
However, according to Barney McCallum, the game was named after Pritchard's dog, who was named Pickles, as you would have guessed! Despite the harsh taste of pickles, their dog was friendly and was known to rush away with the ball while it was still in play.
Both accounts of the game's name may be true, depending on who you ask. Pickleball didn't have a name at first, but as the game grew in popularity, an official name was required. It's only fitting that pickleball was named in this manner, given its laid-back attitude.
Why Do People Like Pickleball So Much?
Pickleball is the fastest-growing sport in the United States for a reason. This game is gentle on the body and has a straightforward learning curve, making it suitable for players of all ages.
Tennis, racquetball, and badminton are examples of racket sports that may require hours of practice or classes just to get the hang of. However, because pickleball was created with family enjoyment in mind, learning how to play just takes a few games. It's then really simple to start a game and show off your abilities!
Pickleball is very inexpensive, requires just basic equipment, and is played on a smaller court, making it easily accessible to entire communities. Even if there isn't a dedicated court nearby, many recreation agencies will simply use a tennis court that has been converted to pickleball.
There's no need to worry if you can't find a court that's the proper size for you. You can refit any good surface or court with tape, a portable net, and some time and be ready to play in no time.
One of the most appealing aspects of pickleball is its modest court size. This creates a fast-paced environment in which you may develop your hand-eye coordination, challenge your reflexes, and socialize because you are so close to the other players!
Don't be fooled by the small size of the pickleball court… It's still easy to work up a sweat and have a good time! Once you pick up a paddle, you'll find it difficult to put it down…so stay hydrated and stretch frequently as you play.
Common Pickleball Terminology
Pickleball, as previously said, is a hybrid of tennis, badminton, and tennis. As a result, many of the same phrases are employed. Let's look at the terminology that is commonly used when playing pickleball.
Ace – An Ace occurs when a serve is totally missed or undisturbed by the receiver, just like in tennis, badminton, or volleyball. This earns a point for the serving team.
Dink – A dink is a gentler stroke that sends the ball towards the no-volley zone on the opposite side of the net.
Ad court – The phrase used to describe the left half of your own pickleball court.
Crosscourt – The court diagonal to your own is referred to as the crosscourt.
Deuce court – The right side of your half of the playing area is referred to as the deuce court. Always note that the Deuce and Ad courts are diagonally opposite each other.
Basic Pickleball Rules (Present-Day)
The ball must be served underhanded and diagonally to the opponent's serving court from behind the baseline without bouncing off the court.
The serve must pass through the net and may not land in the kitchen.
When the opponent makes a mistake, points are awarded (failing to return the ball, hitting the ball out of bounds or into the net).
Only the serving team is allowed to score.
The server will continue to serve, alternating service courts each time, until the serving side faults.
Games are played to a minimum of 11 points and must be won by a two-point margin.
After the ball is served, it must bounce at least once on either side before being volleyed. This is referred to as the double bounce rule.
Players are not permitted to volley the ball while in the non-volley zone or on the non-volley line.
Conclusion
It's exciting to celebrate the game's evolution, universal appeal, and the birth of the first pickleball paddle! It's interesting to study the origins of the net, court, and rules, as well as how the game has evolved over time.
Regardless of its growth, pickleball was designed to bring people of various backgrounds together! This is what distinguishes the game from others like it.