Hey! This site is reader-supported and we earn commissions if you purchase products from retailers after clicking on a link from our site.
The growing popularity of pickleball is mainly because it combines the gameplay of four different indoor games. From entry-level players to pros, this game is a perfect break from the daily monotony of life as everyone is guaranteed to have fun and socialize with other people. Considering the great socialization potential of pickleball, wouldn't you want to become the center of attention or stay in the flow at least? Take any of the following pickleball t-shirts to the next game and let the world know where you stand!
Everyone at every social gathering enjoys a good drinking pun, don't they? Grab the attention of dipsomaniacs to farouche ascetics with this attention-grabbing pickleball tee.
Since the men's range of this witty pickleball t-shirt is available in 5 different colors and size ranging from small to 3XL, you know there is one piece waiting for you.
Pickleball ladies can explore the women's range of this humorous pickleball t-shirt available in slightly smaller sizes, small to XL, than the men's range.
Who doesn't want to spread a tint of sunshine and optimism wherever he goes? Turn the eyes of the spectators towards the scintillating personality that you possess by sporting this Happy Pickleball T-shirt.
Choose from the men's cut, which offers a diversified size range from small to 3XL. For women, the shirt size is slightly lesser and ranges from small to XL only. Don't forget to make a family duo by making your little tot wear this Happy People Pickleball t-shirt. For youngsters, size ranges from K4 to K12.
Ladies, Pay attention! Don the apparel of athletic feminism and challenge the orthodox with your swift moves and jaw-dropping pickleball valor with this unique Pickleball t-shirt.
Men, try to keep up! Become the ultimate advocate of feminism by letting your fellow pickleball players know your ideology with this shirt. Pair it with your tot and double the fun!
The women's and men's size range encompasses small to 3XL cuts. For kids, the sizes range from K2 to K12. What's even more interesting is that this shirt is available in five amazing colors to choose from!
Want to add a stroke of sophistication to the madness of community Pickleball tournaments? Spread your artistic aura and good vibes with this sophisticated artistic Pickleball t-shirt.
Wear it yourself or gift it to a fellow art-lover to rock the next pickleball game. You can choose from 5 different color options and sizes range from small to 3XL for both men and women. You can also buy one for your cheeky toddler by choosing any size from K2 to K12.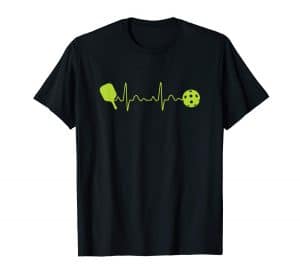 Pickleball for life! Is that the moto you live for? Flaunt your love for this rapidly progressing pickleball game by wearing this elegantly cut pickleball t-shirt. Stomp your opponents by intimidating them with your unerring love for pickleball on the next game.
For pickleball, love-struck men cuts include sizes from small to 3XL. For witty pickleball women players, the cuts range from small to XL sizes. Cuts for young kids include sizes from K2 to K12. 
Booze and Pickleball – what can be better than this? A drink pun-intended pickleball t-shirt! Whether you are planning on bugging your fellow drinkers or simply trying to support your players, this shirt will emphasize on your devotion towards winning the game.
Let the society behold what you truly believe pickleball is all about – responsibility! Explore women's and men's cuts with sizes ranging from small to 2XL. This tank top makes an amazing fit for pickleball tournaments in summer.
From old citizens to adults and kids, pickleball is a refreshing activity for everyone. Wear this shirt to intimidate all the newbies on next game tournament. Make the most score with the complementary confidence boost, which comes along with this shirt.
You can also show your support to the elderly players by gifting them this witty shirt. Choose from a color palette of nine exciting colors. For men and women, cut sizes range from small to 2XL.
Want to let go off some pickleball steam? Challenge your fellow players to play as good as a girl by wearing this shirt. This shirt is an amazing way to stay cool during steamy tournaments and highlight the importance of women players in any match.
Let the world know how much you appreciate solid gameplay by a woman by getting this perfect-fit, pickle-ball tank top. It is available in a stunning range of nine different colors. Choose from a size range of small to 2XL for both men and women cuts.
Turn eyes wherever you go by doubling your cuteness with this super-cute Pickleball Chick t-shirt. If you don't want just to sit around wearing a bland t-shirt on next game while others have all the fun, this shirt will show you new heights of interaction and fun.
This shirt is a great pick for women who do not want to take the glamour out of the pickleball game by exhibiting a combination of striking fashion sense and impressive performance. Women's cut offers sizes ranging from small to 3XL. Men can also grab this shirt within the same size range as women. For toddlers, the size range offered in K2 to K12. You also have a choice to pick from five different colors.
Tired of people tell you that women belong in the kitchen? This shirt will help you break the century-old stereotype of confining women within their homes, cooking, and cleaning for the family members. Make others take your game play seriously by wearing this feminist pickleball t-shirt.
This shirt is a great way to look super-cute as well as super-qualified for a challenging pickleball game. You have the freedom to choose from 9 different color options. The size range is also amazing and includes small to 2XL cuts.
Have you decided which shirt you are going to wear in the next tournament? Hurry up and get it now!