Hey! This site is reader-supported and we earn commissions if you purchase products from retailers after clicking on a link from our site.
Prominent tennis players around the world get their shoes custom-made from the top companies. While the majority of them are from the sponsors, others have to spend a good amount of money to get shoes that offer optimal comfort and impeccable performance.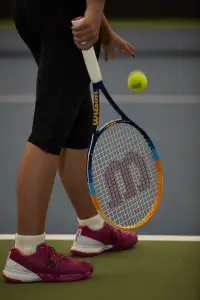 Image Credits: Amazon.com
Comfortable shoes can have a massive impact on your performance. Apart from saving your feet from blisters and scalds, good quality shoes can help you preserve energy and get a good grip on the court for faster response.
To learn how to choose the right tennis shoes, you can watch this video:
While it is highly unlikely of you to spend the same amount as professional tennis players to get shoes that are made to perfection. On the other hand, you can look for shoes that are deemed as 'close to perfection' at an affordable price.
We have cherry-picked the best tennis shoes for women that have procured the highest possible ratings for their quality, comfort, durability, and performance in online stores. You also need to look for the available means to wash them such as throwing them in a washing machine, as cleaner shoes last longer.
Here are the 13 best tennis shoes for women according to customer reviews.
The 13 Best tennis shoes for women according to customer reviews:
The most important factors that can influence your decision of buying a pair of shoes for tennis are durability and comfort, and K-Swiss Women's Hypercourt Express offers you just the same. Its vibrant style coupled with robust construction makes it a perfect choice for a sports diva.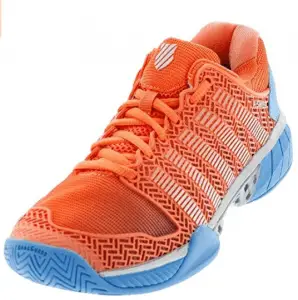 The shoes have been designed using high-quality textiles, molded polyurethane, and synthetic fibers. A blend of these three elements is what gives you lightweight and high-performance K-Swiss shoes.
It has a traditional lace closure system that enables you to get the best fit and also the best playing experience. The shoes come with a specially designed sock liner that is made using Ortholite for excellent comfort and breathability.
K-Swiss Hypercourt Express shoes have been designed for running as it provides the required support to the legs. Its unique design allows you to make quick movement when needed during the match. 
Key Specifications:
Sizes Available: 5 to 12
Colors Available: 9 Choices
Materials: Textile and Synthetic
Ideal Play: Moderate to Aggressive
Pros:
Multiple colors and styles available.
Fitting as expected
Wide toe box
Airy and lightweight
Cons:
---
Asics Women's Gel-Game 6 Tennis Shoe has many features, but the most notable one is the superior traction that is offered by them. It is due to the incredible outsole design that is the best in the market.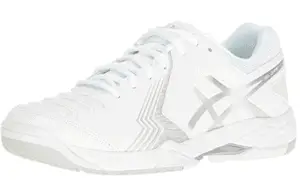 The high-quality rubber on the sole can help majorly with the lateral movement of your feet during the game and can be a lifesaver. This high-quality rubber design makes the shoes very durable and enables it to withstand the rough texture of the court.
It has the latest Midfoot Trusstic system® technology that adds stability to the shoes and helps you while shuffling from side to side. Apart from the exceptional grip, the shoes have a lightweight breathable mesh covering that keeps your feet dry at all times.
The shoes also feature a gel cushion in the forefoot providing extra cushioning. It also aids in lateral propulsion making it easier to move back and forth.
Key Specifications:
Sizes Available: 5 to 12
Colors Available: 3 Choices
Materials: Textile and Synthetic
Ideal Play: Moderate
Pros:
Very comfortable due to generous cushioning
Very lightweight and able to increase speed
Great support
Cons:
They are huge
Feel quite tight around the toe area
---
If you are looking for some serious improvement in your game, the Wilson Kaos Women's Tennis Shoes is one of the first options you need to consider.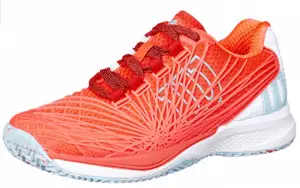 The shoes are stunningly lightweight as they are created using synthetic materials, and can improve your game by a lot. It enables you to better your response with high-intensity and fast gameplay.
In the forefoot, the shoes feature a DynamicFit-DF2 technology that adds comfort and makes your legs feel relaxed. The footbed of the shoes is entirely cushioned but is low enough so that you feel the court as you play.
Kaos also gives you the dual benefit of stability and rebound. It can be used on different types of tennis courts, while its Duralast outsole provides amazing traction and is highly durable. It has been designed with Symbiofit technology as it features lateral webbings in the upper construction to generate best-in-class comfort and midfoot support.
Key Specification:
Sizes Available: 6 to 11
Colors Available: 6 Choices
Materials: Synthetic
Ideal Play: Aggressive
Pros:
Strong rubber sole
Maximum comfort and breathability with synthetic upper
TPU heels for added stability
Pro torque chassis for increased speed
Cons:
The interiors can get very hot in the summer
---
Another superior quality shoes from Asics, but this one truly focuses on covering all the essential aspects of performance. The various features combined in the formation of Asics Women's Gel-Solution Speed 3 makes it worth spending every dime.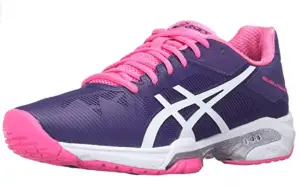 The shoes are made of textile and synthetic components while they come with a durable rubber sole. In this model, the company has included gel cushioning both in the front foot and the rearfoot for maximum comfort without making the shoes too heavy.
It has a PGuard that protects the toes from the stress of propulsion and lateral movement. Apart from the gel, the lightweight of the shoes enables you to dominate the court.
The shoes have the latest P.H.F. (Personal Heel Fit) collar lining for increased support and comfort around the ankles. It has been designed with flexion fit for form-fitting comfort so that you don't have to sacrifice on foot support.
Its durable rubber sole offers excellent grip on all kinds of tennis courts allowing you to move swiftly across the court.
Key Specifications:
Sizes Available: 5 to 12
Colors Available: 7 Choices
Materials: Textile and Synthetic
Ideal Play: Aggressive
Pros:
Lightweight feel
Superior support, stability, durability, and fit
Great traction
Available multiple sizes and color schemes
Great toe area durability
Cons:
Not as breathable
Narrow fit
Ankle cut is higher
---
Adidas shoes are well-known for their commitment to performance, durability, and comfort. All of these elements can be found in its Performance Women's ASMC Barricade.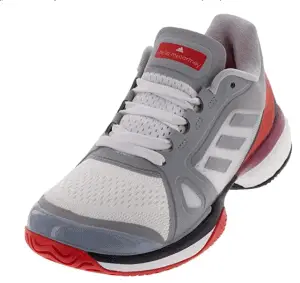 These shoes are made for tennis, and this can be proven by the fact that Caroline Wozniacki wore them during her Australian Open win in 2018. These shoes were designed by Stella McCartney which is why they have a stunning appearance.
For comfort, the shoes have excellent cushioning on the interiors. Apart from the padding, the shoes have a soft perforated mesh that enhances breathability and flexibility.
They are excellent shock absorbers as they come with an ergonomically-shaped TPU heel counter for secure lockdown. Moreover, the TPU capsules are in the heels are bigger than the normal ones and provide more cushioning for your heel.
Undeniably, these shoes have the best grip in business and the ability to offer incredible traction on the court. This commendable grip is a result of the ADIWEAR 6 rubber outsole that offers multidirectional traction and can last very long on abrasive courts.
Key Specifications:
Amazing fitting due to seamless knitted upper
TPU heel counter for stability
Extraordinary comfort level
Durable and flexible
Pros:
Excellent grip
Flexible, durable, and comfortable
Top players love this shoe
Available in multiple colors
Cons:
---
Owing to the comprehensive research put into the production of UA Remix, the shoes offer comfort and grip makes it stand out in this list. The shoes are a fine blend of textile and synthetic materials that give it a premium feel.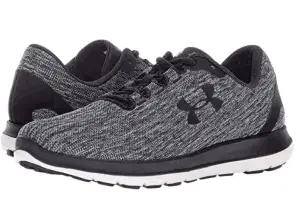 The upper part of the shoes is made from breathable mesh that can help you stand strong and cool on the hottest days. It has a rubber outsole made using the finest quality rubber and can absorb shocks from high jumps and also provides excellent traction.
There is a padded heel included in the shoes that support you when performing sudden movements that happen in a match.
Key Specifications:
Sizes Available: 9 and 12
Colors Available: Grey
Materials: Textile and Synthetic
Ideal Play: Moderate
Pros:
Knit upper mesh
Perforated tongue
Heel overlay
Molded toe-cap
Cons:
Finding the right size can be a hassle
---
The Nike Air Zoom Prestige for women is designed using advanced technology that enhances your performance while the stunning aesthetic design gives you a premium look. It has minimal padding that gives you a better feel of the ground. '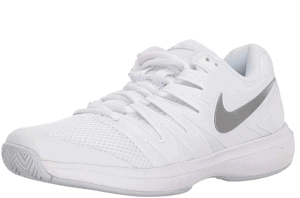 Air Zoom has the best cushioning that you can find in tennis shoes. It allows you to provide excellent responsiveness. It has a mid-foot shank that is designed to give the player a boost of ultimate stability.
The shoes have Phylon midsoles that offer commendable comfort to the feet during the match. Its strong rubber outsole gives the best traction and durability. There is synthetic skin at the front of the shoe that protects your forefoot.
To learn more about Nike Women's Air Zoom Prestige, you can watch this video:
Its durable mesh on the upper part keeps your feet dry and cool. The wide toe-box of the shoe protects your toes from being squeezed inside.
Key Specifications:
Sizes Available: 6 to 11
Colors Available: 8 Choices
Materials: Synthetic
Ideal Play: Moderate
Pros:
Perfect fit
Fewer chances of sweating
Great toe protection
Strong construction
Cons:
The heel may seem deep and can cause discomfort
---
It is specifically designed for hardcore players due to which it has many advanced features. The company has included its signature Climacool technology that keeps the feet dry. It adds stability and durability to the shoes.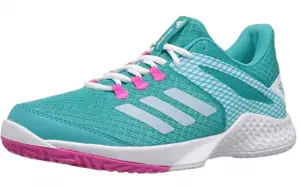 They come with Adituff technology that protects your toes from the shocks and injuries. For the best foot comfort, the sock liner of the shoes is made from EVA. To absorb the shocks from hard landings and strong lateral movements, you can rely on the company's advanced Adiprene+ technology.
Its strong sole has been designed with the Adiwear technology to provide unparalleled durability. The shaft has been designed to measure approximately low-top for excellent arch support. Owing to its unique construction that uses synthetic fibers, the shoes are unbelievably lightweight.
Key Specification:
Sizes Available: 5 to 11
Colors Available: 2 Choices
Materials: Synthetic
Ideal Play: Aggressive
Pros:
Comfortable sock liner for maximum comfort
Air mesh construction for breathability
Excellent balance and support
Adiwear technology for maximum durability
Cons:
---
Suitable for players ranging from beginners and professionals these shoes enable you to perform excellently on the turf. The rubber sole of the shoes gives you a wondrous grip on the court while allowing you to make sudden movements conveniently.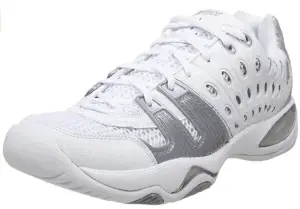 The PRC 1000 outsole is quite convenient, as it adds the durability to the shoes. It has a shoe-top that protects your toes from getting scrubbed on the floor while playing.
For improved comfort and breathability, the shoes are constructed with advanced T10 technology. It also has a wishbone shank for increased midfoot stability during the matches. The shoes have a carefully designed midsole that absorbs the shocks effortlessly.
Key Specifications:
Sizes Available: 6 to 9.5
Colors Available: 2 Choices
Materials: Synthetic
Ideal Play: Aggressive
Pros:
The shoes are highly breathable
Quite a wide color range to choose from
Great ankle support and impact minimization properties
Sturdy and supportive
Cons:
They might feel quite heavy
Suitable mostly for those that have a high arch
---
The New Balance Women WC806 Tennis-W shoes is a perfect amalgam of class, style, and durability. It is ideal for players who want an upgrade from mesh tennis shoes as these are made from 50% synthetic material and 50% leather.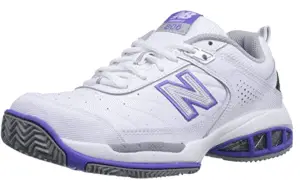 Its rubber sole is highly flexible and proves to be a great alternative if you have the habit of moving a lot on the tennis court. In addition to it, the shoes have ABZORB cushioning that keeps your feet are safe from any kind of shocks that happen due to jumps or sudden movements.
The shoes are made from breathable materials that prevent your feet from getting sweaty or catching a strong odor. Its venting advantage can be attributed to the perforated leather and the dry leather lining that is placed strategically to let the maximum amount of air out.
Key Specifications:
Sizes Available: 5 to 10 (wide and narrow)
Colors Available: 2 Choices
Materials: Synthetic and leather
Ideal Play: Aggressive
Pros:
Very attractive design
Made using durable materials
Superior ability to keep your feet dry and comfortable
Great support
Cons:
---
Impeccable stability and performance are some of the key traits of the Wilson Rush Pro 2.5 Tennis shoes. These shoes come with many impressive features and can be a great addition to your sports gear.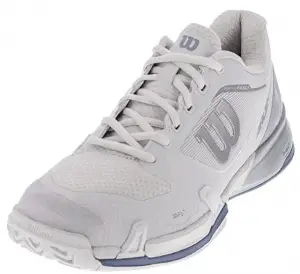 The collar and tongue of the Rush Pro 2.5 are padded with high-quality cushions can make games fun and convenient. It also comes with a textile footbed that can be replaced with the insoles of your choice.
Rush Pro 2.5 is quite lightweight at 10 ounces and can be an excellent choice for beginners who are introducing themselves to the game. Even though they are considerably light they can absorb shocks to a great extent.
The body has been constructed using Pro Torque technology which makes the shoes significantly different from other shoes in this range. The mid-foot shank is very tough and can resist twisting, but it does not compromise with your comfort in any way which is also makes it suitable for players with flatfeet.
Its robust design lets you perform free lateral and front movements, without affecting your speed and efficiency during the games.
Key Specifications: 
Sizes Available: 5.5 to 7
Colors Available: 2 Choices
Materials: Mesh
Ideal Play: Aggressive
Pros:
The insoles are removable
Stable and firm support
Affordable price for budget shoppers
Quite lightweight
Cons:
---
This shoe has all the qualities that any player would look in a perfect tennis shoe. It is designed to offer exceptional performance along with commendable lightweight. These shoes come with FantomFit layered technology that lets the shoe stick your feet like skin.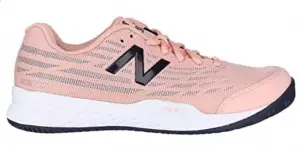 To keep your feet cool during the match, the NB ICE feature vents the hot air from your feet effectively. Its REVLite cushioning technology makes the shoes incredibly comfortable.
Due to the strategic placement of the cushions, the shoes can offer increased durability, responsiveness, and stability. The latest herringbone grip gives you a firm grip on the court while enhancing breathability.
Key Specifications:
Sizes Available: 6 to 11
Colors Available: one option
Materials: Synthetic/ Mesh
Ideal Play: Aggressive
Pros:
Extra flexibility, stability, and comfortability
Available in multiple colors.
Amazing fitting
Outstanding breathability.
Highly grip on the hardcourt surface.
Cons:
Suitable for narrow feet only
---
Babolat shoes are very high in demand not only for tennis but also for other games like pickleball and badminton. This due to the superior quality build and multiple features that Babolat incorporates in every model. The Babolat Jet Mach II All Court is another such specimen from the company.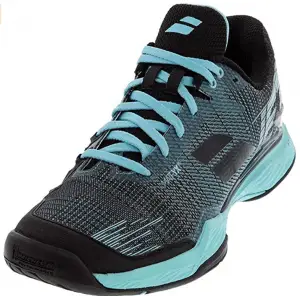 It is the lightest performance tennis shoes in the market and the company has made extensive modifications to make the shoes even lighter. The shoes provide strong support to the legs with its zone-woven ultra-durable Kevlar and polyamide fibers.
The Mach II upper is reinforced with four fiber straps that create the "Stability Arch" system. For added comfort, the shoes have Cushioning KPRS-X a new form of shock absorption system that protects you during sudden movements.
Key Specifications:
Sizes Available: 6 to 11
Colors Available: one option
Materials: Kevlar and polyamide fibers
Ideal Play: Aggressive
Pros:
Highly flexible
Excellent stability and comfortable
Stylish and beautiful
Multiple colors available
Tennis players favorite
Best fitting tennis shoe
Cons:
---
Conclusion:
Finding the perfect tennis shoes for women can be challenging due to many factors that one has to consider. However, if you are looking for an easy way out and find the right shoes you need to look for essential factors like durability, comfort, and traction that can help you during the games.
I hope the above information has helped you learn more about women's tennis shoes and will help you make an informed decision. If you have any queries or suggestions, you can write in the comments.