Hey! This site is reader-supported and we earn commissions if you purchase products from retailers after clicking on a link from our site.
When you want to play tennis but are on a tight budget, it might seem impossible to find shoes that let you own the court. Unfortunately, most tennis shoes from Nike, Adidas, Asics, Mizuno and the rest tend to run closer to $100 these days, especially if you want a pair that does not underperform you during a match. This does not mean, though, that you cannot purchase a wonderful pair of tennis shoes for $50 or under. If you are looking for the best tennis shoes under $50, look no further.
(Before getting into this list, be sure to catch up on the differences between tennis shoes and sneakers! The differences explain why cheap tennis shoes are so hard to find.)
Table of Contents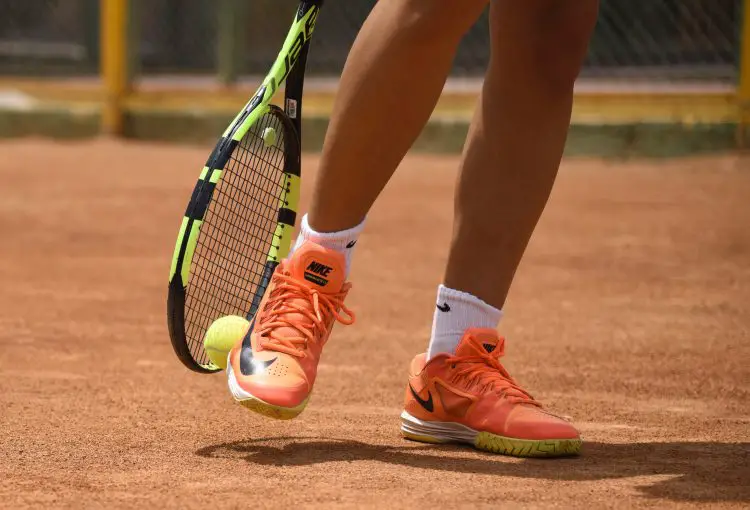 Best Tennis Shoes Under $50 For Men
Searching for men's tennis shoes under $50 means that you won't be seeing the more internationally known brands. But that is perfectly fine. Just because the brand name is not recognizable does not mean that these shoes are not up to snuff on the court. Each shoe has been evaluated by more price. We looked at the durability, traction, comfort, and stability of each shoe before deciding if it deserved a place on this list.
Feetmat may not be as well known as Nike or Adidas, but they do have a global presence. That should put your mind to ease when selecting these comfortable shoes for a game of tennis. Feetmat Men's Lightweight Tennis Shoes are durable, breathable, and form-fit to your foot. The mesh upper increases ventilation, so your feet stay cool even during the hottest of matches.
The outsole is designed to be non-slip, making these shoes more ideal for either hard courts or grass courts. You will notice that the grooves in the tread are more flexible, which adds some lateral foot support.
These shoes are great for people who need an average amount of arch support or when moving abruptly around the court. Baseliners might want to pass up these shoes for something else, but those who zip around the court will love them.
Ladies, do you think these shoes are what you are looking for? Feetmat sells a women's version in this shoe as well, for the same price!
Pros
Stylish design
Breathable and durable materials
Available in several fun colors
Good hard surface grip
Cons
Not designed for people with wide feet
Sale
Feetmat Men's Athletic Shoes Lightweight Sneaker Walking...
Breathable mesh upper:Lightweight support and breathable that make your foot always keeps dry and...
Non-slip: The rubber outsole offers impact cushioning, anti-twist, abrasion-resistant and anti-slip...
Comfortable insole:the soft insole fits well and protect your ankle ,tongues and feet from hurt
Occacion:suitable for daily, walking, running, indoor, sports, outdoor, travel, exercise, workout,...
Last update on 2023-09-16 / Affiliate links / Images from Amazon Product Advertising API
These lightweight shoes from Azooken were not designed for tennis, but recreational players will find them satisfactory enough. In fact, you might want to wear these shoes everywhere. The flexible design allows these shoes to fit snugly to your foot, providing maximum support for all kinds of gaits. The anti-slip sole is also built with shock absorption for running. The grip is ideal for slicker surfaces, so purchase these when you want more control on the court. Your ankles also receive a decent amount of support, so you can work on your baseline game.
Azooken Men's Tennis Shoes are fabricated with a 3D diamond mesh upper for enhanced ventilation. They look similar to Nike sneakers, but they are about half the price. For those who are looking for a touch of style while on the court, these shoes are perfect for you.
Pros
Excellent grip on the sole
Durable construction
Reasonable price
Made with breathable, lightweight materials
Cons
Insoles are not comfortable and may need to be replaced
Azooken Tenis Hombre Zapatos deportivos Entrenador Fitness...
Lightweight shoes style, flexible and breathable will bring you extraordinary running experience.
Anti-slip durable and wear-resisting sole, with air cushion design of shock absorption to protect...
Breathable Knitted Mesh Upper, provides excellent ventilation which is soft to touch.
Full-featured: This shoes with fashion and comprehensive function can be used for running, walking,...
Last update on 2023-09-16 / Affiliate links / Images from Amazon Product Advertising API
The modified herringbone pattern on the sole at the top and bottom of this shoe will provide ample traction on hard and clay court surfaces. These WHITIN Men's Cushioned Shoes also have a knitted upper to provide advanced breathability. Your feet will stay cool throughout the day, whether you are using these shoes for running errands or for playing tennis. The outsole is constructed with a rubberized foam that cushions your footfalls and offers decent durability. Furthermore, there is an internal heel support to keep you standing with good posture.
These shoes are incredibly lightweight—you may forget that you are wearing them. Those with neutral feet will enjoy the supportive foam midsole, too. Overall, these shoes are great for those who are most active on the court, as they enforce a toe-off running motion. With plenty of colors to choose from, you could have a pair of WHITIN shoes for every day of the week.
Pros
Super thick midsole of shock absorption
Superior comfort
Excellent support for the foot when running
Lightweight
Breathable mesh material
Cons
Runs small—be sure to order a size up!
Sale
WHITIN Men's Running Fitness Workout Shoes Sports Gym Size...
Open engineered knit upper offers enhanced breathability and comfort.
Full-length EVA midsole supplies signature cushioning and stability.
Rubberized foam outsole provides long-lasting durability and adequate grip.
Oversized midsole with a lower heel to toe drop provide lightweight and propulsive power.
Last update on 2023-09-16 / Affiliate links / Images from Amazon Product Advertising API
Granted, this is not the highest rated shoe you will find, as the sizing tends to be a little off. However, it is one of the few cheap tennis shoes out there that is actually designed for racquet sports. The shoe is designed to support your movements when playing tennis, badminton, pickleball, or squash, as noted by the honeycomb insole and shock-absorbing anti-torsion TPU rubber. The wide box helps your feet stay neutral in the shoe, so you can move freely, whether you are at the baseline or darting around the court.
The mesh covering adds ventilation. You will find that your feet stay comfortable, even when wearing thicker socks. The sides are built stiff to provide lateral foot support when going side-to-side.
The downside to these shoes is the lack of arch support. You could counteract this by adding your own insoles. If you have flat, wide feet, however, these shoes are going to be ideal. That said, the price is right for these shoes, particularly if you are just starting out within tennis and want a budget-friendly shoe to use.
Pros
Great traction on all kinds of courts
Wide toe box
Lightweight, breathable construction
Designed specifically for outdoor sports
Cons
Sizing runs large
Slow shipping
Last update on 2023-09-16 / Affiliate links / Images from Amazon Product Advertising API
Best Tennis Shoes Under $50 For Women
Same as the men's shoes above, the best tennis shoes for women that are budget-friendly are not designer brands. If you want to splurge, check out our list of the best tennis shoes for women. That being said, that does not mean you will not find quality tennis shoes for under $50. Options, however, are limited, and so you may want to wait until your favorite pair go on sale if none of the ones below tickle your fancy.
The following tennis shoes have been rated based on a number of factors, including comfort, traction, and stability:
Not all the shoes in this listing have the kind of tread that you want for the tennis court, so be sure to look for the styles with the equivalent of a modified herringbone for added grip on a hard or clay court, such as the all black and gray camouflage options. There are a couple of reasons why the STQ Women's Mesh Tennis Shoes are good for those looking for a tennis shoe under $50. The cushioned insoles are supremely comfortable and provide enough support for long games of tennis.
The breathable upper is made with quick-drying mesh, so your feet will not only stay cool, but you won't be swimming in sweat either. The lace-up section is fully adjustable, too, so you can customize how the shoe forms around your foot. Another plus is that the sole is shock-absorbent and moderately springy. The midsole is made to support a natural gait. While these shoes may not have the lateral support that more expensive tennis shoes would provide, they are very lightweight and durable.
Pros
Quick-drying materials
Durable construction
Shock-absorbent elastane heel
Promotes natural movement of the feet when in motion
Cons
Sale
STQ Tennis Shoes Womens Lightweight Comfortable Walking...
Breathable Upper:Breathable liner inside and mesh upper features a quicker dry ,allow your feet...
Adjustable Lace up:These walking shoes design with classic lace-up closure for an adjustable...
Lightweight Tennis Shoes:Lightweight MD midsole.Lightweight and elastic, provide breathable wear...
Durable and Soft Outsole:Durable and non-slip MD rubber outsole.Soft, comfortable elastane heel...
Last update on 2023-09-16 / Affiliate links / Images from Amazon Product Advertising API
Barefoot minimalist shoes for the tennis court? Yes, if you want a featherlight shoe for an all-court style. The tread on the bottom, which is mainly a honeycomb pattern with a zigzag at the toe and heel, provides decent traction for any surface. The downside to these barefoot shoes is that they do not have the same amount of ankle protection as a tennis shoe worth $100 or more.
That said, there are some benefits to using these shoes for a recreational game of tennis or when just learning how to play. The shoe allows for a natural foot shape, so you can build up some strength in your feet. Secondly, they are extremely flexible and hug your feet. Underpronators will find these shoes incredibly comfortable. The toe box is wide, assisting with better posture.
Being that people often use these barefoot shoes for high intensity interval training, hiking, and other vigorous sports, their durability speaks for themselves. For the price, you have nothing to lose.
Pros
Flexible yet durable construction
Ventilated sides
Support for all foot types
Adorable colors and patterns available (as well as white)
Cons
Lacks the ankle support needed for baseline play
Not for advanced tennis players
Looking for a real tennis shoe for under $50? One option is this Adidas Women's Counterpoint Base Tennis Shoe—but only in pure white! The black version is a higher price. Cleanly styled and ready for Wimbledon's all-white dress code, these shoes are designed with intense tennis matches in mind. One of the reasons you might want to go with Adidas is because of their connection with the sport of tennis. The honeycomb sole is good for any court you play on, and the synthetic leather will keep your feet well protected during your matches.
Since the sides are a bit more stiff than the other shoes in this list, you know that these ones are going to give you the best ankle and lateral support. Both baseliners and at-the-net players will enjoy these comfortable shoes. There is also some ventilation built-in to keep your feet cool. Inside the shoe is an Adidas Cloudfoam insole for maximized comfort and support. Your feet will feel less fatigued after a long day.
Looking for a men's version of this shoe? Like the women's version, some of the colors and sizes can be purchased for under $50, but most of them run an average of $60 or higher. Another option is the Grand Court Sneaker from Adidas, though it is currently above $50 (though you may find a color or size on sale for much cheaper).
Pros
Honeycomb tread for excellent traction
Supportive Cloudfoam insole
Traditional tennis shoe aesthetic
Extra padding around the ankle
Cons
Last update on 2023-09-16 / Affiliate links / Images from Amazon Product Advertising API
When you want the ultimate level of stability when zipping around the tennis court, you should consider the Avia Avi-Verge Women's Tennis Shoes. Although these are cross-trainers, they have adequate support and shock absorption for recreational tennis games. The removable memory foam liner is one of the key pieces to this shoe. When wearing them, the memory foam responds to the shape of your foot, cradling it no matter which way you move. This will keep your feet, ankles, and knees better protected while you play.
Made of a lightweight synthetic leather, these shoes won't weigh you down either. You can respond quickly to the ball. Another benefit is the non-marking TPR soleplate. Not only do you get a decent amount of traction on a hard court, you also do not have to worry about leaving scuff marks behind. The anatomical heel cradle also optimizes the shock-absorbing qualities of the EVA midsole.
These are not the most fashionable shoes on the list, but they are excellent for older recreational players who want to get the most support available. They are also very comfortable and can alleviate any pain you might feel while wearing other shoes.
Pros
Removable memory foam liner
Available in wide sizes
Made with Avia Cantilever Technology for better stabilization
Lightweight materials
Cons
Not as durable as other options
Sale
Avia Verge Womens Sneakers - Tennis, Court, Cross Training,...
WOMEN'S CROSS TRAINING SHOES - Sturdy, dependable gym shoes for women that provide ultimate comfort...
REMOVABLE MEMORY FOAM SOCK LINER - For pressure point relief, our MEMORYfōm responds to the unique...
SUPPORTIVE & DURABLE WHITE SNEAKERS FOR WOMEN - The compression molded EVA midsole, anatomical heel...
LIGHTWEIGHT WOMEN'S WALKING SHOES - Available in ladies size 6 to 11 in all white or white with...
Last update on 2023-09-16 / Affiliate links / Images from Amazon Product Advertising API
Tennis Shoe Buying Guide
Ignoring your budget for a moment, there are some things that no tennis player should overlook when buying shoes. It is essential that you find a shoe that not only protects your feet during the game but also does not damage the court. The good news is that excellent shoes are not the same thing as expensive shoes. You can find tennis shoes for $50 and below that have stability, traction, and support for any kind of player.
Check out this helpful video on choosing the right tennis shoes:
Here are some factors to keep in mind when shopping around for you next pair of tennis shoes:
The Court You Play On
The best method for choosing a tennis shoe is to consider the court where you will be regularly playing. Tennis shoes have a variety of outsoles designed for the three court types: hard, clay, and grass. It is important to select the right kind of sole, as it will alter your play style and provide adequate traction.
Hard Court Tennis Shoes
Being that hard courts are among the most popular, a good number of tennis hoes out there are made for hard surfaces. Most hard court tennis shoes will have a partial herringbone pattern as the tread. Herringbone is excellent for providing both grip and speed on the court. You will notice the hard court shoes tend to have decent padding around the heel and midsole to help with energy transfer and shock absorption. The toe is usually reinforced to protect you from the grit of the hard court.
Clay Court Tennis Shoes
For the outdoor clay court, tennis shoes have a full zigzag or herringbone tread. The pattern does two things. First, it gives you the right amount of traction to help you change direction, stop, and serve on clay. Secondly, you can glide with herringbone, so you can make a shot or recover a volley with ease.
Clay court tennis shoes also have a tightly knit upper that provides added stability. You also get a shoe that is designed to keep pieces of clay from getting inside.
Grass Court Tennis Shoes
The softest of the three court types, grass courts require shoes with more grip. Grass courts tend to be a faster play, after all. That is why grass court tennis shoes have pimples or nubs on the outsole, providing traction. There are a couple of disadvantages to buying a pair of grass court shoes, however. First, they can be a bit difficult to find, and they cannot be used on any other court.
Your Foot Type
One of the things you need to do before you begin shopping around for the best tennis shoes under $50 is to know your foot type. There are three forms of feet: neutral, overpronation, and underpronation. To determine your foot type, try the wet test. All you need to do is wet your foot, step on a piece of construction paper, and look at the imprint of your foot.
Optionally, consider how and where your shoes wear down the most.
Here are some characteristics of each foot type:
Overpronator
Your footprint is complete—nothing is absent from your footprint. This is because overpronation occurs when the foot rolls inward with each step. Those who overpronate will need a more stabilizing tennis shoe to keep their ankles from rolling.
Neutral
If you notice that the arch area of the foot is not visible in your footprint, then you have a neutral foot. Those with neutral feet do not over- or underpronate. Because of this, they can use just about any kind of tennis shoe.
Underpronator
Also called supination, underpronation happens when the outer edges of the feet hit the ground more than the bottom of the foot. Should an underpronator look at their footprint, they will notice that much of it is missing. Underpronators will need shoes that provide plenty of lateral ankle support, as well as flexibility.
Your Play Style
Sometimes, the best shoe is going to be the one that supports the way you go after that tennis ball. If you are a light-footed sprinter who enjoys dominating the entire court, you might need a shoe that doesn't weigh you down. For those who are aggressive baseliners, you will need far more ankle support for lateral movements and a durable sole.
Do you consider yourself a serve-and-volley player? Most of the time, these players are dragging their back foot along the court, causing wear and tear to the soles of their shoes. For this play style, you will need a shoe with a reinforced toe cap and decent arch support.
Check out the table below to help you decide what kind of shoe is best for your game style:
| | | | | | | |
| --- | --- | --- | --- | --- | --- | --- |
| Shoe Type | Player | Average Weight | Stability | Durability | Speed | Support |
| Featherlight/Minimalist Tennis Shoe | Men's | 350g (0.77 lbs) | Poor | Good | Excellent | Good |
| | Women's | 300g (0.66 lbs) | Poor | Good | Excellent | Good |
| Lightweight Tennis Shoe | Men's | 350-400g (0.77-0.88 lbs) | Good | Good | Good | Good |
| | Women's | 300-350g (0.66-0.77 lbs) | Good | Good | Good | Good |
| Middleweight Tennis Shoe | Men's | > 400g (0.88 lbs) | Excellent | Excellent | Poor | Excellent |
| | Women's | > 350g (0.77 lbs) | Excellent | Excellent | Poor | Excellent |
Once you have determined what your play style requires, such as lateral ankle support or less weight, you can begin to single out the best tennis shoes under $50 to level up your game.
Ventilation
Although not the most critical thing to consider when looking for shoes, ventilation does factor in if you are playing in a hot climate. After all, most players enjoy tennis in the spring and tennis; winter tennis is far less popular. Thus, you need a shoe that breathes, because running around with shoes heavy from sweat is not fun. Ventilated shoes are usually crafted with breathable mesh that brings in cool air while you move while also giving the hot air a place to go.
If you are less worried about ventilation but still want to keep your feet cool while you play, think about color. A dark tennis shoe is going to retain much more heat than one that is made with light-colored materials.
Putting Your Best Shoe Forward
Can you find cheap tennis shoes that will not ruin your feet? Yes! As you can see with the lists above of the best tennis shoes for under $50, there are some options out there. That said, these shoes are not all designed for tennis, meaning that, if you are truly interested in the game, you should opt to spend a little more later on. Budget tennis shoes do not have the same amount of cushioning and support as those that are a bit more expensive.