Hey! This site is reader-supported and we earn commissions if you purchase products from retailers after clicking on a link from our site.
Pickleball, as you are probably already aware, can be played both indoors and outdoors. The first thing that comes to mind when we think of an outdoor pickleball court is that its surface is usually made of post-tension concrete or asphalt. Indoor courts, on the other hand, are typically made of gym floors or even concrete. 
While pickleball is normally played on a hard surface such as concrete or asphalt, a relatively small group of fans are exploring grass as a suitable surface for pickleball. So, what about picking up a game of pickleball on the grass?
Is it possible? Let's find out.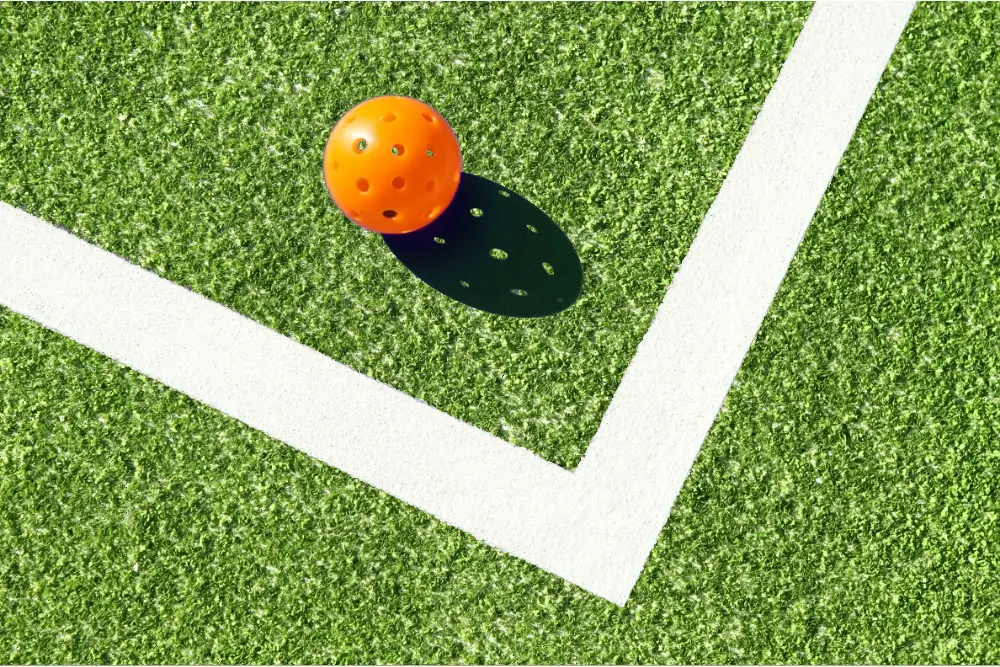 Can Pickleball Be Played On Grass?
If you can get the grass to level off and compress, you might be able to play some enjoyable pickleball, but grass could cause bounce issues at the highest, most serious level.
In essence, there is nothing to prevent you from playing non-serious pickleball on a grassy surface. However, you will find competitive, professional pickleball contests played on it due to the diversity of bounce.
 If you actually want to try playing pickleball on a grass surface, see if you can get a tennis court – a difficult and expensive choice.
Also, if you are considering your own lawn, try to chop off the surplus grass by mowing it and leveling it to the point that it lowers bounce hazards as much as possible.
A conventional pickleball made to be played on hard court surfaces might not work on grass because it would fall flat on most occasions without bouncing up too much. Alternatively, you could opt for a rubber ball.
The advantage of playing with a rubber ball is that it provides bounce even on grass, something the plastic of a standard pickleball will not allow.
However, care must be given to ensure that the ball is not excessively heavy and that it is as close to the original pickleball's 25-gram weight as possible.
That being said, if you're playing pickleball on a grassy surface, you're probably going to want to pick everything up on the volley rather than allowing the ball to bounce and cause some confusion.
Can I Make My Own Pickleball Court?
If you want a somewhat more professional setup where you can prevent the significant unpredictability of bounce, you could create a makeshift hard court. It does not have to be a court, simply a hard surface constructed of concrete or asphalt that is large enough to meet the measurements of a pickleball court.
A pickleball court typically spans 44X20 feet, and the non-volley zone or kitchen is a straight line parallel to the net, 7 feet away. The net is set in the center and stands approximately 34 inches tall from the ground.
Fencing is essential for multi-court pickleball because it keeps the ball within the playing area and ensures security for both players and spectators. There are several varieties of pickleball court fencing to select from, but wire fences are the most prevalent since they allow players and spectators to see into and out of the court.
They also allow light to readily travel through. A contractor that has experience creating pickleball courts can assist you in selecting and installing pickleball fencing. Just make sure it's made of rust-resistant materials to keep players safe.
Use chalk to draw these lines, and you're done – you don't have to bother about the rest of it; just go play pickleball! Although this is not the most exact method of constructing your own court, it is still a better alternative for playing a moderately serious game of pickleball than on grass.
The following step is to determine the non-volley zone. To do so, walk the baseline measuring tape or string towards the net until you reach a halt 7 feet from the net.
Mark the line as you go. Now, measure halfway down the net and mark it. Measure from that point to the midway point you left on the baseline.
Finally, draw a line from the end of the non-volley line to the baseline. This will be your court alley. All that remains is to repeat the process on the opposing side of the court.
After that, you're ready to play pickleball with your buddies. Obviously, if you're interested in a more serious game of pickleball and want to create your own pickleball court, we recommend opting for the professional, asphalt variety.
What Lines Do I Need To Draw For A Pickleball Court?
A pickleball court's typical lines are as follows:
On both ends of the court, baselines run parallel to the pickleball net.
On both sides of the court, sidelines run perpendicular to the pickleball net.
Non-Volley Line: These lines should be 7 feet from the net and run parallel to the net on each side of the net between the sidelines.
Non-Volley Zones: These are pickleball court regions enclosed by two sidelines, the non-volley line, and the net.
Centerlines: These are the lines that run between the non-volley line and the baseline on each side of the net.
Service courts are located on either side of the centerline and are flanked by a non-volley line, a sideline, and a baseline.
Conclusion
A non-serious game of pickleball on grass, or a family taking a break and knocking it out, are all possibilities. If you have a lawn in your backyard that can be transformed into a pickleball court.
However, at a higher level of play or even practice, it's difficult to see how the sport can be played on grass without additional bounce unpredictability.