Hey! This site is reader-supported and we earn commissions if you purchase products from retailers after clicking on a link from our site.
Light yet powerful the Graphene Radical racquetball racquet is used by some of the most famous professionals in racquetball. Is it right for you though? See if you have what it takes to handle this Head racquetball racquet in this Head Graphene Radical racquetball racquet review.
| IMAGE | PRODUCT | Pros | Cons |   |
| --- | --- | --- | --- | --- |
| Top Pick | Head Graphene Radical | Extremely powerful, immense control, great for aggressive players | have to swing hard and fast | Check Price |
Head Radical Racquet Specifications
Let's start by going over the technical specs of this racquetball racquet. We'll go over each specification and what they mean.
Weight: 160g unstrung
Racquet Length: 22inches
Balance Point: 2 points Head Heavy
Shape: Tear Drop
Strung Surface: 106 sq in
Now the Head Graphene Radical actually comes in three different weights similar to the Head Extreme racquetball line.
Generally speaking, the lighter the racquet is the more maneuverable it will be on the court. The heavier it is, the more power it'll have. For more information see my article on how to choose a racquetball racquet.
Playing with the Head Radical Racquetball Racquet
This racquet feels very similar to the Head Black Widow racquetball racquet I've already reviewed here. To recap, I loved the Black Widow, but it was too fragile for me to continue playing with long term. With the Graphene XT Radical series though, Head had some more time to experiment and perfect the carbon fiber technology that made the black widow so fragile.
Now I can totally trust in the Graphene XT Radical racquetball racquet and take pretty much any shot that I want from anywhere on the court. I love this racquet, it is light, maneuverable, and 100% accurate. When I'm setup, I can nail any shot I want. Even when I'm not set up for a shot, this racquet still puts the ball in the direction I want to shoot.
Making a racquet lighter means that there are some trade-offs with durability. This racquet is much stronger than the Head Black Widow but it is still weaker in some ways than a composite racquet of the same weight. The benefit you gain however, is that carbon fiber is a much stiffer material than the normal composite, so there is some power and accuracy gained from a carbon fiber racquet over a composite racquet. This really translates to how the Head GrapheneXT racquetball racquet feels on the court.
Head Radical Racquetball Design
The Graphene XT Radical 160 is a new design from Head from 2016, and it can handle competition at the highest level. Consider that this is Paola Longoria's signature racquet and she is the Number 1 woman in both the USAR and the IPRT. To compare to tennis, she's basically the way better Maria Sharapova of the racquetball world.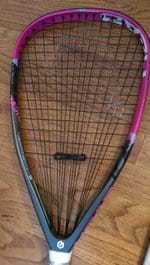 The shape is a standard teardrop shape that is very round. I haven't really seen this racquet too much in the tournaments that I attend but that could be a symptom of it being relatively new and most other people shying away from the price tag. As I've said before, a racquet does not make or break a good player! As long as the racquet can hold up to the shots that you are trying to hit, you can win a match.
Something that Head introduced before this racquet is the ability to change the string pattern of their racquets. All modern racquets from head come factory strung in a 16×16 pattern. With the last few generations though, there is an option to string them in a 12×16 pattern. This opens up the strings, allowing them to move more and give much more power.
The trade-off here is that you'll lose just a touch of control when you first change to this pattern but by just practicing, it is possible to overcome that drawback. The other trade-off is that because the strings will be moving more, they will break faster.
I normally have to restring my main racquet about once every 6 months but with a 12×16 patterns I had to restring about once every 5 months. It's not really that noticeable for me, but if you are someone who is going through strings every other month, going to the 12×16 pattern is something you may have to think a little harder on.
The racquet on the right is strung in the normal 16×16 pattern.
Who Should Play With the Head Graphene Radical Racquetball Racquet?
I recommend this racquet to an intermediate or advanced player. As long as you prefer lighter racquets. This racquet is still more fragile that a composite material racquet would be but that is just how carbon fiber is as a material.
If you feel like your 170g or 175g racquet is a touch too heavy or you are just looking for a little bit of extra speed and maneuverability. This is the racquet you should be using. Having such a light racquet be balanced provides incredible amounts of control over the ball, it's almost surreal.
If you are a beginner, I would recommend starting with an older racquet of the same shape, the Head Liquid Metal series  is a good place to look, they are older designs but still the same shape and very durable.