Hey! This site is reader-supported and we earn commissions if you purchase products from retailers after clicking on a link from our site.
If you want to build a tennis court then it's important to know what the average costs are so you can properly budget for the project as well as knowing what to expect depending on what kind of court you want to build.
Tennis courts can cost as little as $25,000 and as much as $120,000 with the large range being due to the fact that the material and size of the court will determine just how much the project will cost overall.
Let's dive in our definitive guide on how much would it cost to build a tennis court.
There are also some additional factors such as acrylic surfacing which is an extra layer placed on top of harder surfaces which adds more to the final total.
In this guide, we'll be taking you through everything you need to know about the cost of building a tennis court.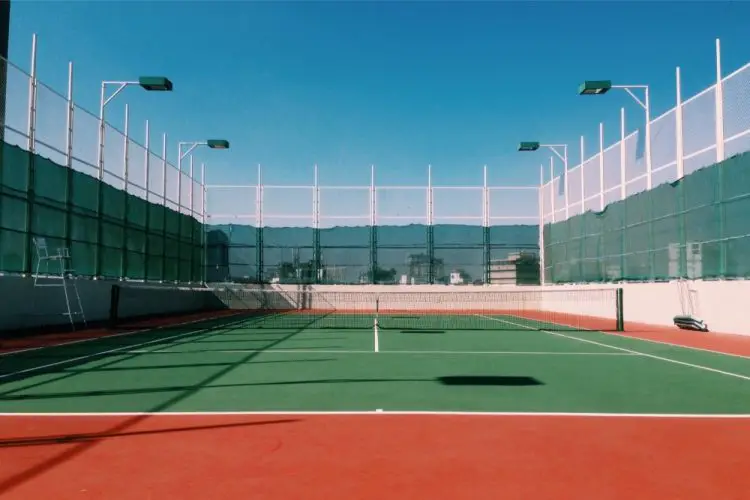 Artificial Grass or Astroturf Tennis Court Costs
One of the most common kinds of a tennis court is artificial grass or astroturf tennis court. On average, a regulation grass tennis court can cost between $75,000 to $100,000.
The great thing about artificial grass and astroturf surfaces give you a great place to practice on grass-like surfaces without having to worry about watering or other maintenance. However, bear in mind that there is a slight difference between playing on real grass and playing on artificial grass or astroturf.  
Asphalt Tennis Court Costs
Asphalt tennis courts have a large range when it comes to costs with the prices varying between $40,000 to $100,000. On average, asphalt tennis courts cost around $65,000 when built to regulation size.
The great thing about asphalt tennis courts is that they are cheaper than concrete tennis courts as they cost around 20% less on average. However, they do have a shorter lifespan. The recreational brightness can range between 350 to 450 lux while home courts only require 250 lux. 
Clay Tennis Court Costs
Another popular kind of tennis court is clay which can cost between $30,000 to $75,000 with a yearly maintenance fee ranging from $1,000 to $2,000.
Costing a bit less than asphalt tennis courts, clay tennis courts take a bit longer to set up and the maintenance costs can be more expensive than other kinds of courts. Clay can also be badly affected by harsh weather conditions. 
Grass Tennis Court Construction Costs
The classic kind of tennis court is a real grass court. Despite the natural material, a grass tennis court can cost between $50,000 to $150,000 and requires daily maintenance and watering.
Grass is one of the most sought after surfaces as it seems like the easiest to construct; however, this couldn't be further from the truth. It's important to make sure that a grass tennis court is made on a level surface with evenly cut grass.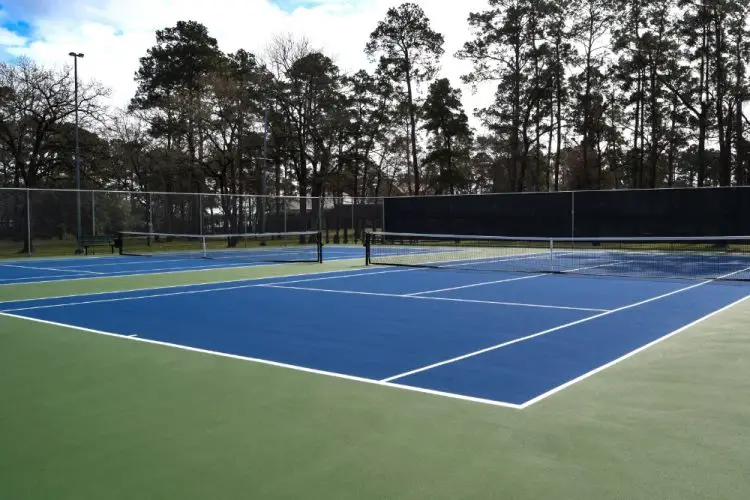 Post-Tensioned Concrete Tennis Court Costs
The last type of tennis court that you can consider is a post-tensioned concrete tennis court which is one of the most expensive options as it can cost between $60,000 to $120,000. Concrete is expensive because it lasts longer and doesn't require as much maintenance as other surfaces such as asphalt. 
Backyard Tennis Court Fencing Costs
Tennis court fencing is something that requires a lot of consideration as it can vary greatly in price starting anywhere from $5,000 to $15,000 for a regulation court or $2,000 to $8,000 for a half court. You can choose from materials such as a vinyl covered chain link which provides ultimate protection and can ensure that you don't lose too many balls. 
Tennis Court Lighting Costs
Sport court lighting costs between $2,000 and $15,000. That includes the lights, wiring and switches, all of which are important for playing at night. Most residential installations fall between $2,000 and $6,000.
Commercial courts tend to exceed $10,000. Regulation brightness ranges from 350 to 450 lux but recreational (home) applications only need 250 lux.
Tennis Court Paint Costs
Deciding what kind of tennis court you want is just the start of calculating your costs as there are many other factors that need to be considered. One such factor is tennis court paint as the court will need to be repainted annually which can cost between $350 to $600.
Acrylic Tennis Court Surface Costs
If you are building a harder tennis court surface, you should consider layering it with acrylic. This will protect the surface from harsh weather conditions and mean that there is less maintenance in the long run.
However, the cost of an acrylic surface can cost a lot upfront due to the amount of protection it provides. Acrylic surfacing can cost anywhere between $4,000 to $10,000.
FAQs About Tennis Court Costs
What Type Of Tennis Court Is The Best?
When it comes to figuring out which tennis court is the best, it is dependent on a variety of factors including the budget, players and location. If you are building a tennis court at home then choosing a harder surface is best as the annual maintenance costs are lower; however, grass surfaces are great for those who prefer to play on a natural surface. 
Does A Tennis Court Add Value To Your Home?
Tennis courts can add a lot of value to your home depending on the quality of the construction and the size of the court. They can add between $20,000 to $150,000 to your home's total value.
Conclusion
Overall, knowing the different price points of tennis court materials will help you to remain within your budget. Also, be aware of the maintenance costs and annual repairs as these can add up a lot, especially if you opt for a cheaper court.
Think about what kinds of surfaces you enjoy playing tennis on and how often you plan on using your court which will help you to better your skills while ensuring that you have as much of an enjoyable experience as possible.