Hey! This site is reader-supported and we earn commissions if you purchase products from retailers after clicking on a link from our site.
Tennis is a popular and internationally recognised sport and enjoyed by many but it isn't the only racket sport around and there are alternative lesser-known games that you may be unfamiliar with.
Pickleball has been played for years and is a well-loved activity amongst enthusiasts. But is pickleball easier than tennis? and is it simple to switch between the two? Let's help you decide for yourself with a little extra information.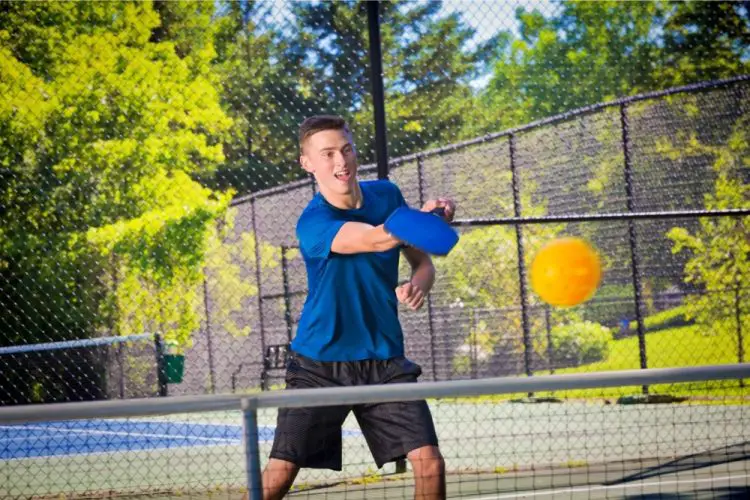 What Is Pickleball?
Pickleball is a fun social activity that combines elements of tennis, badminton and table tennis. Unlike the others, it's played with a paddle that contains tiny holes. The ball is small and plastic also with tiny holes. 
The sport has been around a long time and was invented in 1965 in America where a group of friends were improvising when they failed to find equipment for a tennis or badminton game.
The combo of different rackets and balls they discovered influenced one of the men's wives to call the new invented game Pickleball.
The name refers to the pickle boat where traditionally boat crews were chosen from leftovers of other boats; you learn something new every day! Needless to say, the name has nothing at all to do with pickles!
What Are The Rules?
Pickleball rules are not dissimilar to other racket sports but there are some differences.  If you're familiar with tennis and badminton then PB should be fairly easy to pick up. 
Unlike tennis, the serving is always underhand. It's served diagonally and a point is scored if the opponent fails to return, it hits the net,  or goes out of the court. 
You must always win by two points and it's the first team to 11 that wins. Another difference to other racket sports is the use of the 'non-volley zone (or kitchen). The non-volley zone exists because after each serves each side must take one groundstroke. 
The non-volley zone is the area of 7 feet of the net on both sides. You aren't allowed to play volleys in this area.
When serving,  all contact must take place below the waist and feet must be positioned behind the line 
As with badminton, you switch courtside after each serve. In doubles, each partner will switch sides after each service that's won. 
The ball must bounce once when received after the service and after that bounces are optional. 
So, these are the basic rules,  so how can you establish which is easier to play? Pickleball or tennis? The most obvious way is to become proficient in both sports and then compare. What are the specific similarities between the two?
Similarities & Differences 
Probably the most noticeable difference between the two sports is the size of the court. A Pickleball court is half the size of a tennis court so from that perspective it's definitely easier to get around a PB court, especially in a game of singles. 
Another different feature is the net. The net is set much lower down than in tennis but it certainly doesn't mean it's easier to get the ball over it. In fact, one of the biggest challenges in Pickleball is keeping the ball low enough to avoid smashes from opposing players.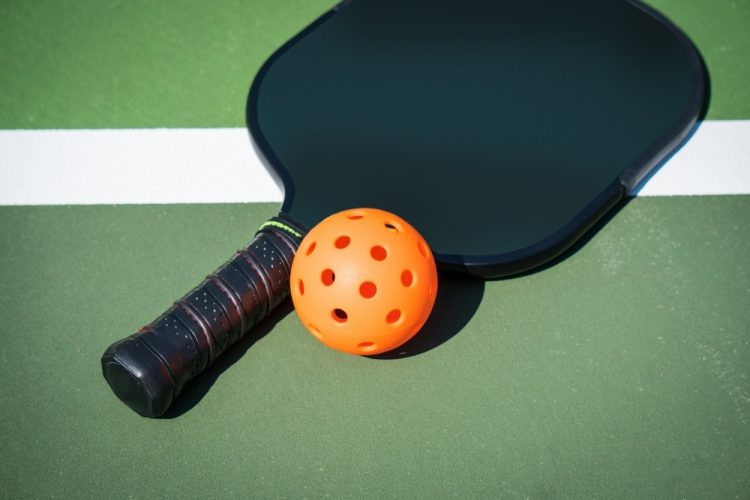 Another big difference with PB is there is very little smacking the ball back from baselines. Anyone that plays like this will lose at Pickleball.
All shots are played at the kitchen line (the line that is separated by 7 feet from the net) this exists because in Pickleball you aren't allowed to stand and smash from the net. 
A big part of tennis play is the bounce. In PB the ball has very little bounce so if you aren't volleying you should hit it with enough force to allow it to spring back over the net; another advantage of having a lower net position. 
There is no game, set, match like there is in tennis. The first side to reach 11 wins (and must always win by 2 points) and you can only gain a point if your side is serving. 
In tennis, a player will use his body to try angle shots a certain way. A sideways shot is common in tennis but the same rule does not apply to PB. The ball in a PB game isn't as bouncy as a tennis ball.
If the PB ball is too close to you, you will be unable to produce much power to place it where you need to. The best technique for PB players is to hit the ball in front with the correct arm technique; not an easy transition if you play another racquet sport. 
When it comes to deciding which game is easier it's fairly subjective however there are a few things to consider:
Difficulty
The game of Pickleball can very frustrating and there is quite a lot to think about. The complex nature of it can make it feel difficult to grasp and lead to frustration, so you may feel better able to tolerate a game of tennis. 
If you play both games you may find it challenging to keep to the rules in PB and stay away from the net and remain within the right zones. With enough practice though,  it will become second nature.
Intensity 
Although Pickleball requires control and is a very fast game there is no doubt that it's less intense than tennis and is the preferred sport for those who need to slow down due to health problems, or are unable to move around so much on a large court. 
If you are advancing in age PB is a great choice to keep agile and moving with less of a risk of injury. The pace is consistent, and although fast, generally consists of forwarding and back rotations. 
PB requires more focus on shot placement than in tennis. Tennis needs strength and power to play efficiently but PB will require concentrating on positioning and tactical skills. 
Having considered some similarities and differences it's up to you if you decide Pickleball is easier than tennis. But both games offer players a challenging workout and are a great way to meet new people and keep fit, there's no doubt about that.