Hey! This site is reader-supported and we earn commissions if you purchase products from retailers after clicking on a link from our site.
Pickleball as a sport borrows its philosophies from numerous sports such as Badminton, Squash, Racquetball and most importantly Tennis. While many consider the sport to be a rip-off, Pickleball is unique in its own way.
Almost every aspect of the sport differs from those mentioned above, these include paddles, balls, net size, playing surface to name a few. Especially when it comes to tennis, we can bifurcate the difference into minor and major parts. Let's check out the minor differences first:
| | | |
| --- | --- | --- |
| Element | Pickleball | Tennis |
| Double Fault | No | Yes |
| Serves | Each player in the team gets to serve at least once | Each player serves in a particular game |
| Scoreboard | Has three numbers: Your team's score, opposing team's score and whether you're serving or returning | Has three numbers: Sets, Games, and Points |
| Court Dimension | Similar in both singles and doubles competition | Different for both singles and doubles competition |
| Serve | Overhand serve not allowed | Only overhand serve is allowed |
| Atmosphere | Loud play, cheers accompanied by music | Focused, Silent accompanied by claps upon points scored |
| Playing Area | Can be played indoors and outdoors | Generally played outdoors |
| Shots | Body shots are intended | As professional courtesy, shots are aimed away from the player |
| Intensity | Not as intense | Tennis requires a great amount of conditioning |
The aforementioned differences are the minor ones. Having learned about them, let us move towards the major differences.
Pickleball vs Tennis: Major Differences
1. Pickleball Balls vs Tennis Balls
Any tennis player starting with his/her pickleball journey will be startled with a pickleball ball's movement. They are often caught by surprise especially because they aren't expecting the ball to bounce so low.
The reason why the ball doesn't bounce high is that pickleball balls have a shell instead of possessing a core like tennis balls. Unlike tennis balls which have a rubber core, pickleball paddles are made out of hard plastic meaning that they don't compress as much as tennis balls when struck.
Tennis has a single ball popularly known as 'Tennis Ball' whereas Pickleball has two different types of balls – Indoor and Outdoor. Indoor balls carry larger holes so to prevent the wind from affecting the balls whereas Outdoor balls have smaller holes so that the outdoor condition doesn't whiffle the ball away.
Pickleball balls have less lifespan as compared to tennis balls since they are made of plastic. They crack easily over a period of time and do not last as long as the tennis balls.
2. Pickleball Paddles vs Tennis Racquets
The 'Ping' of paddles and 'thock' of racquets are perhaps the most satisfying noises to hear on court. Difference between the sounds can be accredited due to the vast difference between the two. In the image below, you can see a tennis racquet on the right and a pickleball paddle on the left.
Pickleball paddles are almost half the length of a tennis racquet. Tennis racquets are circular/oval whereas pickleball paddles are more rectangular. Tennis racquets have longer handles as compared to the pickleball paddles.
It's not just the shape and size in which both types of equipment differ but behavior as well. Instance, when you strike a ball with a tennis racquet, the ball compresses and causes the string to bend. On the contrary, when you hit a shot with a paddle, the pickleball ball doesn't compress as we learned earlier, it pops off and deflects.
In pickleball you cannot grip and spin the ball as much as you like since the moment of contact doesn't last as long as in tennis. In tennis, the tennis ball remains on your tennis racquet longer giving players more spin, control, and power over individual shots.
Apart from the shots, the construction of both equipment is vastly different too. Pickleball paddles have a core made of aluminum, Nomex, and polymer. Some of the best tennis racquets are constructed out of lightweight alloys such as titanium.
3. Pickleball Court Size
Pickleball court size is significantly smaller than tennis. While many pickleball matches are played on tennis courts, pickleball courts have their own unique dimensions built for the sport. The dimension of a pickleball court is 13.41m x 6.10m whereas the dimension of a tennis court is 23.77m x 8.23m. In the image below, you can see the difference in size.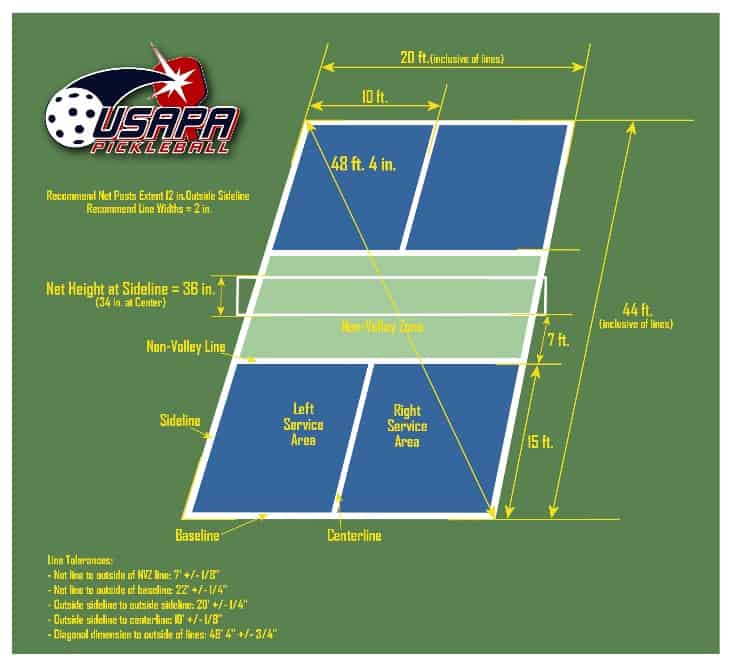 Image Credit: usapa.org
Now an exciting thing is that whether it's singles or doubles play, the pickleball court size remains the same. However, with tennis the size changes based upon the format.
4. Pickleball Net Size
Pickleball's net size is considerably smaller than tennis. However, don't let the size of the pickleball net fool you. The efforts need to get the ball to the other side of the net is as hard as tennis. In fact, shot execution in pickleball is much more difficult than tennis.
5. Non-Volley Zone
The Non-Volley Zone or the Kitchen area as it's known plays a significant role in a pickleball game. A kitchen rule implies that a player cannot hit a volley while they're in a no-volley zone. Contrastingly, tennis has more freedom of movement.
In terms of shot execution, you don't necessarily need to rule the net and smash balls in tennis. However, that's how games are won and lost in pickleball. The rule might be confusing at first, but you can refer to our pickleball rule guide for further clarification.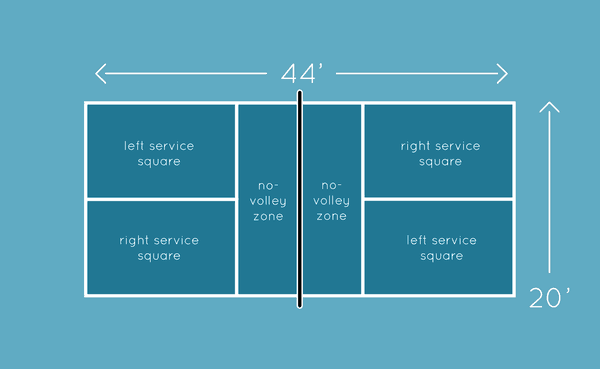 Image Credit: gammasports.com
6. Playing Position
In tennis, you tend to play deep to return your opponent's shots and frequently come near the net based upon the shots. However, in pickleball, you play at the kitchen line and do not sit deep. In pickleball players never sit on the baseline as seen in tennis.
If you're getting confused with what a kitchen line is, it's the line which ends the no-volley zone as you can see in the point above. In pickleball, over 95% of the shots are won when playing from the net. And it's not by accident but rather due to the advantageous position. When you're standing near the net:
You can smash the high ball easily
You can execute shots quickly
You can get the ball to the other side with ease
Moreover, when you're playing at the net, your opponent will have a hard time returning his shots. Thus, positioning yourself at the net is everything in pickleball.
7. Speed of the game
While tennis serves are over 100 mph but player movement in pickleball is volatile due to the small size of the court and the quickness of the game. One moment, players might be executing shots calmly and in the very next moment, you can find them launching missiles at each other. A lot of it has to do with the distance between you and your opponent. If both of you are standing at the kitchen line, there's just a 14 feet difference between you and your opponent.
Now imagining that you're using a paddle weighing approx. 7.5oz, you can smack the ball very quickly while standing so close to your opponent. Professionals will tell you that it's more about the positioning and the placement of the shots that matter as compared to raw power.
8. Role of a serve
In Tennis, the serve matters a lot. In fact, players with great serving speed and technique score a lot of points with aces. However, that rarely happens at the pro level in pickleball. Since overhand is not allowed, it's more about how you place your serve to get it across the line than power hitting. In pickleball, even among the top pickleball players, the serve isn't all that powerful and consequently doesn't have the same importance that it does in tennis. While serving, all you need to focus on is serving right and not committing any error.
9. Shot Execution
In tennis, players move so you can hit balls moving the side of you. Generally, moving the body sideways before you hit the ball. However, in pickleball, you want to maintain a fine distance from the ball before executing the shot. This makes generating power extremely difficult because the room to maneuver is much less as compared to tennis.
10. Fouls & Unforced Errors
Games in pickleball are usually won through unforced errors committed by your opponent. However, in tennis, fouls and unforced errors do not decide the fate of the match by and large. Thus, in pickleball, the extreme emphasis is laid on getting the basic shots right without any unforced error. On the contrary, tennis requires a mixture of basics and advanced techniques including power, shot techniques and placement.
11. Nature of Competition
Pickleball is largely played as doubles competition whereas Tennis players are used to playing singles all the time. However, playing singles is a very different experience compared to playing doubles. With the ball not bouncing high, singles competition in pickleball does demand a great degree of strength, speed, stamina, and discipline from its players.
To learn more about doubles tennis, visit our how to play doubles tennis guide!