Hey! This site is reader-supported and we earn commissions if you purchase products from retailers after clicking on a link from our site.
Having just been started last year, Monarch is the youngest "big name" brand in the pickleball world. Since its launch in 2018, the brand has launched four pickleball paddles in two different ranges along with much other pickleball equipment such as pickleball sets, balls, covers, and so on.
Having just entered the fray, everything looks bright for team Monarch which has two well-known players on board already.
DICK's Sporting Goods and Monarch Exclusivity
DICK'S Sporting Goods, a leading omnichannel sporting goods retailer is the brand behind Monarch. DICK's also sells a wide range of pickleball paddles from competitive brands such as Selkirk, Gamma, and Head, which are all world-renowned brands. Monach is DICK's Sporting Goods entry into the pickleball space.
As opposed to Selkirk, Gamma, and Head, which have their independent website, Monarch just has a Facebook page as of now with no dedicated website. If you want to buy a Monarch pickleball paddle, you'd need to do it from the Dicks Sporting Goods website.
Monarch Pickleball Paddles Are a Designing Marvel
My experience with Monarch paddles has been bittersweet. I won't be over-exaggerating when I say that these are some of the best-designed paddles in the pickleball world today. What makes them more exciting is the fact that they aren't made from a single material. As I shared, there are 4-different product lines with one just introduced just a couple of months ago.
Image Credits: Dicks Sporting Goods
Monarch Pickleball Paddles – Not Afraid to Experiment
These paddles are diverse with some having an aluminium while others have a polypropylene core. Just the initial diversity in these 4 paddles is enough to signify what's upcoming for the brand at-large. They aren't scared of experimenting in the early stages and as a result have rolled out some exceptionally well-designed pickleball paddles which are fused with latest technologies.
These paddles can be used from anywhere between beginner to professional level.
Professionals who use Monarch Paddles
As of Monarch's latest social media update, there are two pickleball pros who have joined Team Monarch. First is the legendary Scott Golden, who is one of many faces in the sport of pickleball, known for his perseverance and unmatched professionalism.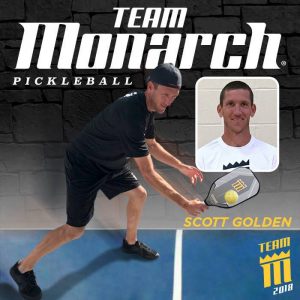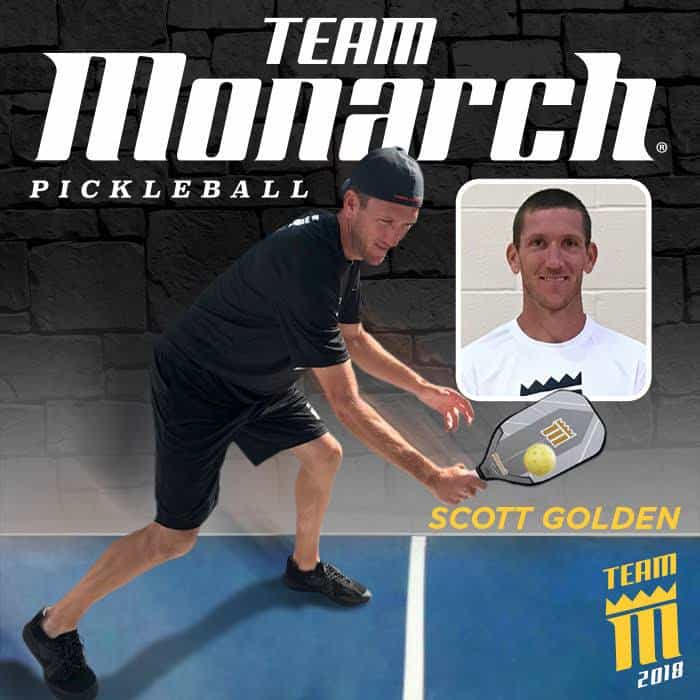 Image Credit: Monarch Facebook
And the recent one to join team Monarch is a player colloquially known as Mt. Eden – Eden Lica, perhaps one of the most gigantic pickleball players towering over his opponents at 6'5 and 250 lbs. Lica is known for his overall discipline, exceptional skill and mental toughness which makes him a standout player in the world of pickleball.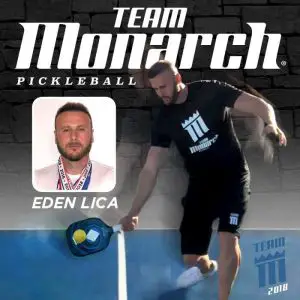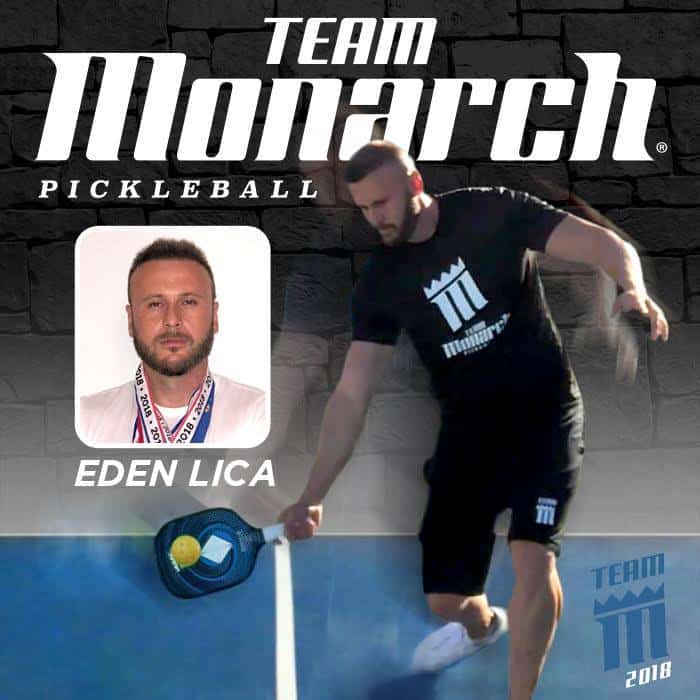 Image Credit: Monarch Facebook
Monarch Pickleball Paddles – Overview
Monarch refers to its team as #TeamMonarch or #Monarchy and abides by it's core principles of durability, playability, and consistency. Its entrance into the world of pickleball has stirred things up as the brand is focused on providing quality pickleball paddles at an affordable price.
As shared earlier, the Monarch as 4 different paddles and an additional wooden paddle as part of their pickleball pack. For now, let's check out the four different monarch pickleball paddles and get a sneak peek at the newest addition to the Monarch Brand – the Golden Axe
Monarch Mercenary
Monarch Dragon Slayer
Monarch Long Sword Pro
Monarch Crown Jewel Pro
Monarch Pickleball Paddles
1. Monarch Mercenary
Featured the latest technology in pickleball, the Monarch Mercenary is a lightweight paddle that features an aluminum honeycomb core along with a wide body. Its Graphite surface and new-gen core help it to deliver power and control.
The Monarch Mercenary with its larger hitting area allows for a bigger sweet spot than the elongated paddles, which makes it a preferred choice for beginners as well as advanced level players. Moreover, it features Gamma's cushion contour stitched rib grip which provides a solid feel during the active play.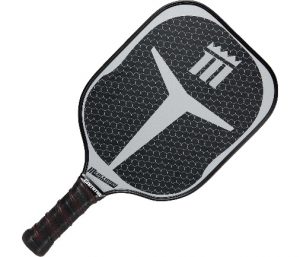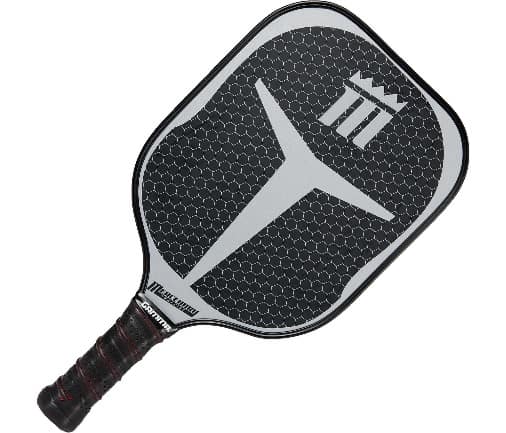 Monarch Mercenary | DSG.com
The Monarch Mercenary is a strong paddle weighing between 8-8.05oz. With that said, it's neither too lightweight nor heavyweight. With Mercenary, you can time your shots to perfection in a comfortable, controllable manner with a great feel. If you want control in your game, I would definitely recommend this paddle.
Ratings:
| Aspects | Performance |
| --- | --- |
| Shot Control | 9.4 |
| Shot Power | 9.4 |
| Shot Spin | 9.3 |
| Paddle Grip | 9.5 |
| Sweet Spot | 9.5 |
| Price Range | $$$ |
2. Monarch Dragon Slayer
Monarch Dragon Slayer is my favorite pickleball paddle in the Monarch line in terms of graphics. However, its not far behind in terms of performance either. It features a well-balanced composite construction which is excellent for pickleball players just starting their journey.
Though it doesn't have the Mercenary like pop, it does offer the power combination of finesse and power. At it'sheart, it features a technologically advanced polypropylene core with fiberglass surface giving it the capability to hit strong power shots while remaining lightweight.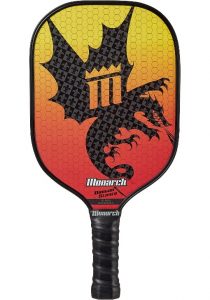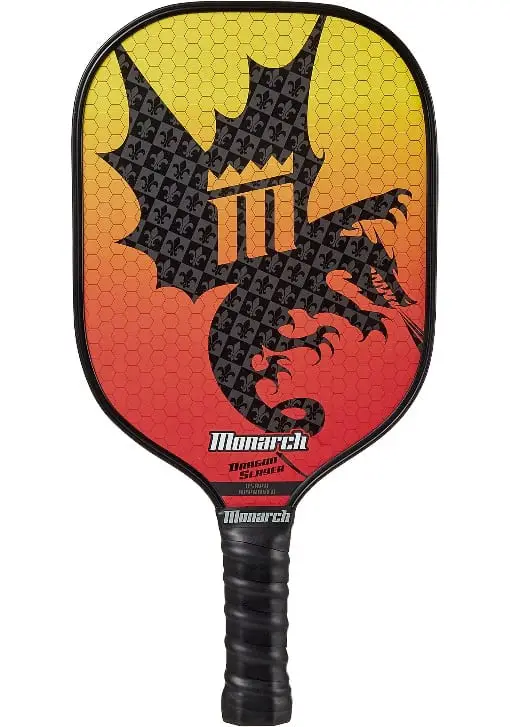 Monarch Dragon Slayer | DSG.com
The Monarch Dragon Slayer has a length of 15.5" which is quite standard followed by a width of 7.75", which is .25" less than a regular wide-body paddle. For the grip, it features the premium Monarch PU Grip which is unique to the Monarch brand. The Dragon Slayer can be used for both outdoor and indoor pickleball and can be used by player playing at any level.
Ratings:
| Aspects | Performance |
| --- | --- |
| Shot Control | 9.5 |
| Shot Power | 9.5 |
| Shot Spin | 9.4 |
| Paddle Grip | 9.3 |
| Sweet Spot | 9.4 |
| Price Range | $$ |
3. Monarch Long Sword Pro
An iconic paddle name that does an iconic job. The Monarch Long Sword Pro simply doesn't disappoint in its appearance because of its elongated design. The Monarch Long Sword pro is made of fiberglass and graphite surface layers, which makes it the best of both worlds.
It has a polypropylene core which allows for precision, controlled shots with power. Furthermore, the Gamma Contour grip makes the paddle really comfortable to hold with all its cushioning.
Monarch Long Sword Pro | DSG.com
If you're a player who loves to finesse shots, especially including dink and spin shots, this is the best Monarch paddle out there. Owing to its textured surface, not only is it able to generate a pop but also lets players spin the paddle with a fine touch that was not possible before.
What makes the Long Sword Pro so interesting is that it's made from a mixture of elements that make it stronger yet lighter. As for specifications, it just weighs around 8oz. With the length of 17" and the width of 7" it's a standard elongated paddle. However, as we discussed earlier, it packs much more of a punch than other elongated pickleball paddles on the market today.
Ratings:
| Aspects | Performance |
| --- | --- |
| Shot Control | 9.6 |
| Shot Power | 9.6 |
| Shot Spin | 9.6 |
| Paddle Grip | 9.6 |
| Sweet Spot | 9.3 |
| Price Range | $$ |
4. Monarch Crown Jewel Pro
The latest pickleball paddle to be unveiled by Monarch was the Crown Jewel Pro. With Eden Lica as its face, the brand is marketing the product vouching for better spin, power and overall control. Upon using this product, I realized that it falls somewhere between the excellence of mercenary and Long Sword Pro but it simply isn't in the same league as those paddles.
At its list price, it's clear that the Monarch Crown Jewel Pro is supposed to be competing with Gamma and Head pickleball paddles. And while it does deliver, with a polypropylene core and textured fiberglass surface, it simply falls a little flat in comparison.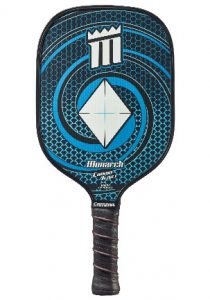 Monarch Crown Jewel Pro | DSG.com
Like other Monarch paddles, yes it does feature Gamma grips but those aren't enough. As a brand's flagship paddle, the Crown Jewel Pro simply doesn't live up to it's name.
Ratings:
| Aspects | Performance |
| --- | --- |
| Shot Control | 8.6 |
| Shot Power | 8.6 |
| Shot Spin | 8.6 |
| Paddle Grip | 8.6 |
| Sweet Spot | 8.5 |
| Price Range | $$$$ |
5. Monarch Golden Axe (sneak peak)
The Monarch Golden Axe hasn't yet been made available but is expected to hit the market soon. As you can see in the image below, the Golden Axe meets the USAPA regulation. Along with that, we can see that the upcoming paddle will feature a rougher surface which will mark a clear departure from the smooth finishes of the past Monarch pickleball paddles.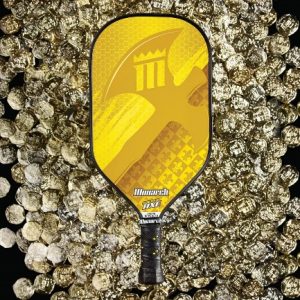 Image Credit: Monarch Facebook
Furthermore, the image shared by the page highlights the following features:
Fused layers of graphite and fiberglass capable of delivering extra burst of power whilst allowing you to maintain control. This is quite similar to their existing line of products.
The PolyCore technology will reduce the weight of the paddle considerably and will add to the power and overall control, which is a benefit.
Lastly it showcases the thick core of the paddle which more or less points towards shot accuracy and force absorption. Even if you end up mistiming your shots a bit, the thick core can possibly come to your rescue.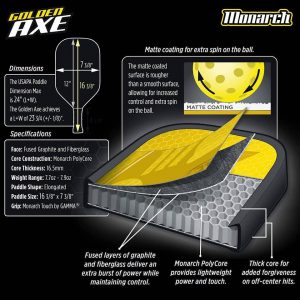 Image Credit: Monarch Facebook
Monarch Pickleball Paddle Set
Now this is a product that I'd recommend to everyone who has started or is looking to get started with the sport of pickleball. The basic pickleball set features two wooden paddles and two balls so you can play pickleball on the go. I personally am not a big fan of wooden paddles to begin with but the cost at which the company is selling it makes it worth it.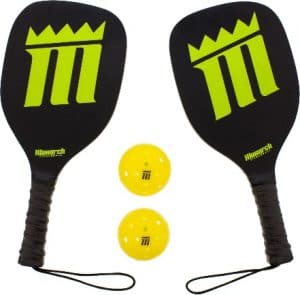 Monarch Pickleball Sets | DSG.com
Personal Verdict
I personally love the initial rollouts from Monarch. I simply hope that they keep their upcoming products in the same quality bracket as the initial ones and I don't see any reason why the brand cannot succeed in the long run.
You should definitely check these paddles out, they're fresh, they're dynamic and they do have what it takes to improve your pickleball game at an extremely affordable price.